Apple stock forecast 2021: the start of a new era?
Subscribe to Weekly Highlights
The major market events for the week ahead right in your inbox.
Subscribe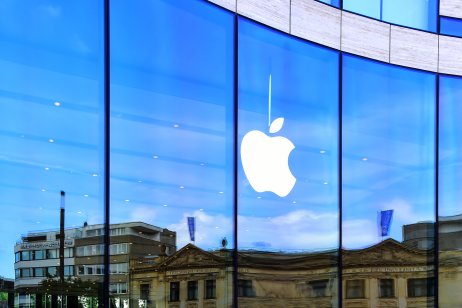 Content
Apple is one of the most controversial stocks on the market. While some got spooked by the falling iPhone sales numbers, others predict a whole new era for the $2tr (£1.5tr, €1.7tr) company.
Looking forward to the Apple stock forecast in 2021, we will analyse the stock's performance and major drivers that may give you an answer to the question "Will Apple stock go up?" If yes, then how high can it climb?
Apple stock forecast 2021: is Apple a good stock to buy?
Apple is so big that it is hard to believe in a big breakout for a stock that takes a lot to move the needle. However, this is exactly what may happen in 2021.
According to the latest Apple share price forecast by Luke Lango, InvestorPlace markets analyst, Apple is moving towards record-breaking earnings in 2021, which will result in a huge rally for the AAPL stock.
What are the major implications?
Hardware business boom, triggered by the biggest iPhone launch in a decade. The first day of 5G iPhone preorders registered two million units, which is 100 per cent up from last year. The increasing work-from-home, learn-from-home trends also bode well for selling more Macs and iPads.

Software services boom. A new Apple One bundle can be a successful all-in-one subscription service package. A bundle, including Apple Music and Apple TV+, will cause a surge in TV viewers and further sign-ups. Another popular service is Apple Fitness+, which satisfies the growing demand for high-quality workout-from-home videos.
If you share this super-optimistic Apple shares forecast, you could consider buying the dip in late 2020, caused by election uncertainty and Covid-19 headwinds.
What is your sentiment on Gold?
Vote to see Traders sentiment!
Apple stock predictions after the record-breaking fourth quarter earnings report
At the end of October 2020, Apple announced financial results for its fiscal 2020 fourth quarter. The company shared an outstanding record of $64.7bn in revenue and $0.73 earnings per diluted share. This quarter, international sales accounted for 59 per cent of Apple's revenue.
Commenting on the company's successful quarter, Apple CEO Tim Cook said: "Apple capped off a fiscal year defined by innovation in the face of adversity with a September quarter record, led by all-time records for Mac and Services. Despite the ongoing impacts of Covid-19, Apple is in the midst of our most prolific product introduction period ever, and the early response to all our new products, led by our first 5G-enabled iPhone lineup, has been tremendously positive."
Surprisingly, after the report was released, Apple shares plunged 5.6 per cent, despite the company's earnings per share and overall sales exceeding Wall Street predictions. The plunge was caused mainly by a decline in iPhone sales, as consumers wait for the new iPhone models to become available.
Apple stock analysis: do lower iPhone sales threaten the AAPL performance?
iPhone sales have been steadily decreasing for the past three years. However, the last quarter showed a remarkable 21 per cent decrease, compared to the same period a year ago. Does it mean people don't want to buy iPhones anymore? Not at all.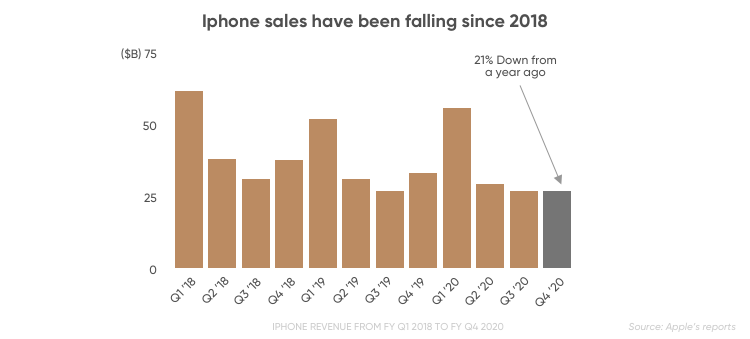 The thing is, the sales fell mostly because the cycle of phone upgrades has extended. It means that people just keep their iPhones longer than they used to.
The image below shows that people are just fine with their old models. While in 2017, the latest models counted for 19 per cent of all iPhones worldwide, in 2019 this percentage fell to 7.5 per cent. Besides, the most popular iPhone was still a three-year-old iPhone 7.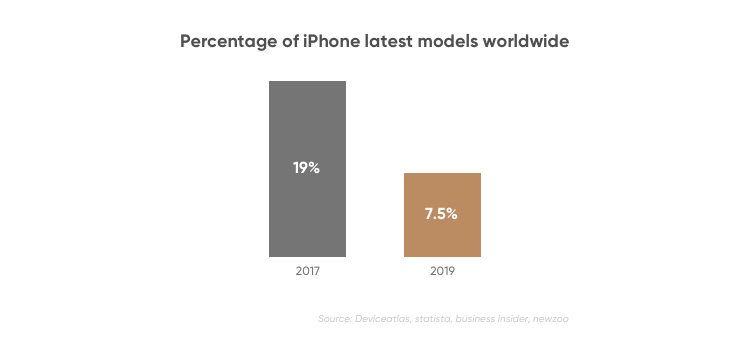 People become less motivated to change their old iPhone models to the latest one, unless there is some long-awaited and critical innovation, which will be worth them spending hundreds or even thousands of dollars.
Will the announced Apple iPhone 12 with a superior 5G experience become a game changer? Yet to be seen.
Still, what we do know exactly right now is that Apple is still on top with the constantly growing rate of active devices globally. At the start of 2020 this number passed the1.5 billion mark.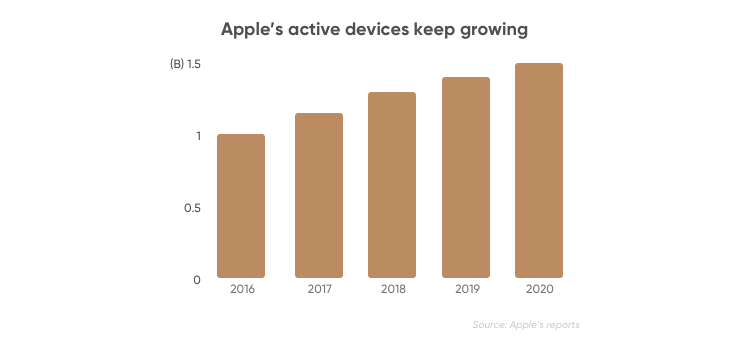 More active devices mean that more people use Apple services, which brought 23 per cent more profit than iPhone sales in the third quarter of 2020.
AAPL stock forecast: will the Apple share price go up?
As we move forward to the middle of November, shares of the iconic iPhone maker are trading at $117.13, which is 15 per cent down from its peak of $137.98 at the beginning of September.
The two-month bearish trend follows the big news about Apple becoming the first US company to surpass $2tr in market capitalisation in August.
During the hectic election week, AAPL stock surged from $107.3 to $119 in four days. Apple shares found strong support at the $100 level, and there is a view that Apple will climb up to $120 in the coming weeks. If the price surges above this level, this may serve as a clear buy signal as the stock will be able to move up to $130.
Otherwise, if the price goes below $100, this should be considered as a sell signal, with the price potentially going down to $90.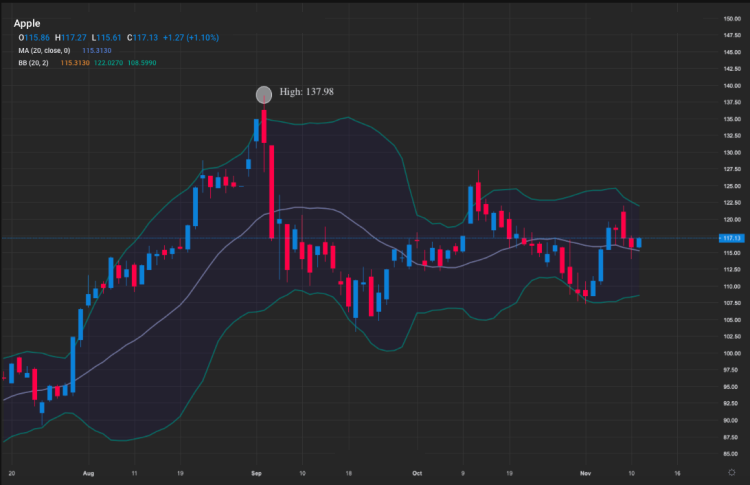 Looking forward to the Apple share price prediction, we can see that 36 analysts, surveyed by CNN Money, offer the median price target for Apple stock at $133 within the next 12 months, which represents almost 15 per cent growth from its previous closing price of $115.
The highest analysts' target for Apple stock projections is $150 and the lowest one is $74.10. Still, 39 analysts sharing their consensus rating for AAPL stock in 2021 agree that it is a buy.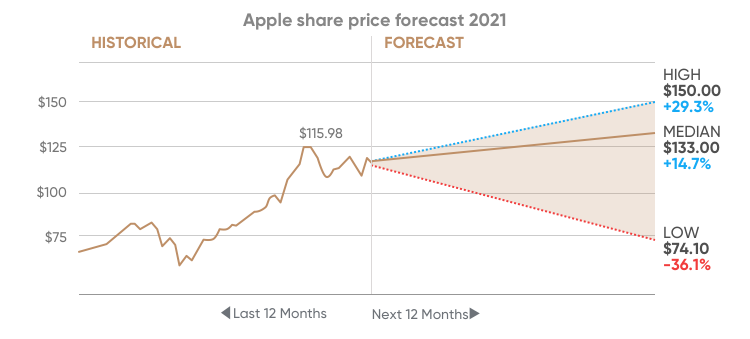 Another analytical service, Walletinvestor is also bullish about the Apple share price forecast in 2021. It gives a $139 median price target for the next 12 months, considering Apple a good long-term investment. According to its Apple stock outlook, the stock's price will rise to $233 during a five-year period.
Apple shares: buy or sell?
From positive views to a spoonful of tar from Goldman Sachs. The bank has been a long-standing bear on Apple, reaffirming its sell rating after the latest AAPL earnings results and the delayed launch of new iPhone 12.
Giving his view on whether the Apple stock is a buy or sell, Goldman Sachs analyst Rod Hall said that the stock is on the verge of collapse. Believing in a nasty fall, he estimated that the stock's price may decline 36 per cent from its current price near $118, giving the price target from $80 to $75.
The analyst's major concern is disappointing iPhone sales. After the Apple's earning call, Hall said: "Apple's commentary points toward the weaker 5G iPhone cycle we have been forecasting rather than the 'Super Cycle' expected by consensus."
However, even if iPhone sales put some pressure on Apple stock performance, we should take into account the strong Mac and iPad sales during the coronavirus lockdowns and the booming Apple Services business, which can support the company's profit growth.
Therefore, even considering the risks, investors should not rush to sell their Apple shares soon, because the longer-term view is still bright.
Read more: Pfizer and BioNTech stocks analysis: a profitable vaccine?