Ankr price prediction: can it head to $1?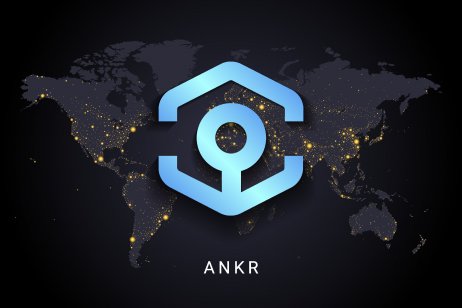 The cryptocurrency market is in a state of turbulence. Bitcoin lost almost $10,000 in value from 3 to 4 December, falling to a low of $42,874.
Bitcoin has declined roughly 37% from an all-time high of $68,789 in the last 30-days, according to CoinMarketCap.
Similarly, Ankr (ANKR) decreased dramatically over the last week, plummeting from the $0.2133 high on 27 November to a $0.08978 low on 4 December, a 57% drop. The ANKR coin rebounded to $0.1113 at close on 6 December.
This article covers the fundamentals of the Ankr token, a technical examination of its price action, recent news and price drivers, and the latest Ankr coin price prediction.
What is Ankr?
Ankr offers multi-cloud blockchain infrastructure for node deployment and quick API access to blockchains and DeFi protocols, including Ethereum (ETH), Avalanche (AVAX), Polkadot (DOT) and Binance Coin (BNB).
Ankr is designed to use underutilised processing capabilities in data centers and edge computers to enable developers and enterprise clients to install blockchain nodes at a cheaper cost than public cloud providers.
Ankr uses a reputation-based mechanism to guarantee the system's security. Actors are selected according to their contributions to nodes, increasing the chance that only trustworthy players are chosen. Additionally, a performance test ensures that their diverse computing resources are distributed evenly, depending on their workload.
The ANKR token drives the Ankr platform, which facilitates liquidity. It's distributed as a reward to cloud-computing providers and other stakeholders.
Additionally, the ANKR token allows anybody to participate in the Ankr ecosystem via the development of DApps, the operation of nodes or staking.
The ANKR token can also be used to pay for Ankr platform services, like node deployment and API services, and participate in on-chain governance and function as network security.
According to Ankr's
webpage
: "Ankr makes accessing Web 3.0 easy. We offer distributed, multi-cloud blockchain infrastructure for one-click node deployment and management as well as instant API access to major blockchains and DeFi protocols for developers. Ankr is a Web 3.0 infrastructure provider. We offer a globally distributed network of nodes for multi-chain access across 40+ blockchains."
Ankr price analysis: technical view
While the token was launched in 2017, it didn't gain significant traction until 2021. It's been a remarkable year for the ANKR token, as its price experienced a strong rally in the first quarter of the year as seen on the Ankr chart below.
According to CoinMarketCap, the ANKR coin was valued at $0.009 on 1 January 2021 and $0.225 on 28 March 2021, a 2400% rise in less than three months.
Bears eventually gained control, and by 20 July the ANKR price fell below $0.05.
On 27 November, Ankr hit $0.2133, almost retesting its all-time high, but prices fell as the rally failed to hold.
At the time of writing (7 December), Ankr is trading at $0.1171, down over 50% from its November peak. Ankr has a market cap of $955m, making it the 94th most valued crypto project according to CoinMarketCap.
According to Investing.com's daily technical analysis, as of 7 December, Ankr's daily simple and exponential moving averages displayed a 'sell' signal, except the 100- and 200 day MAs, which were still in the buy zone.
Other daily technical indicators had a similar narrative, with the relative strength index (RSI) and average directional index (ADX) indicating sell signals.
Monthly moving averages and technical indicators showed a different story, with ten out of 12 moving averages and six out of seven technical indicators indicating a 'buy'.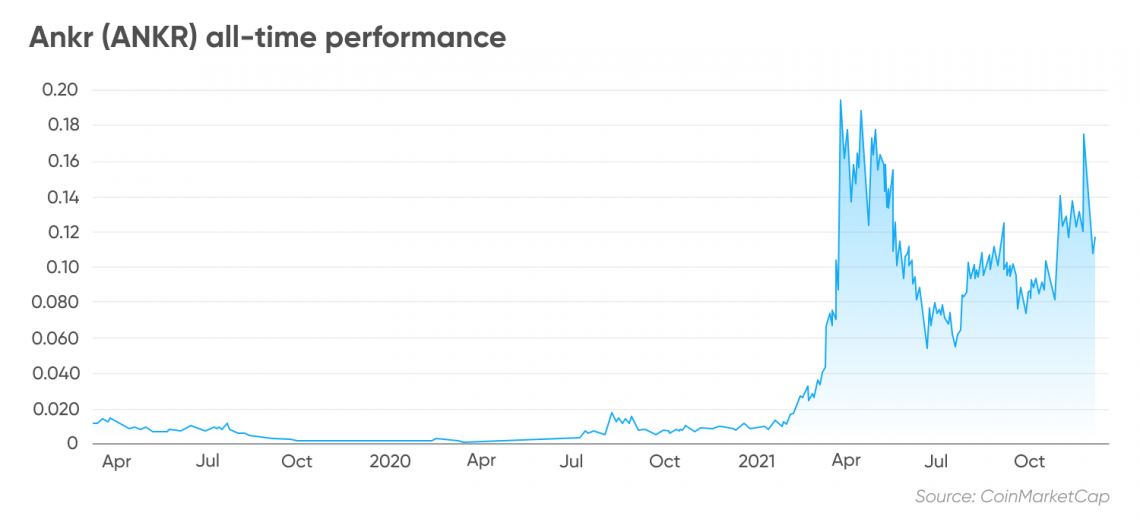 Ankr coin news and price drivers
Direct potential competitor to AWS
The cloud computing business is currently dominated by several providers, such as Amazon Web Services.
Ankr can be a direct rival to AWS since it leases out underused hardware from cloud computing companies. Wastage is a significant concern in every industry, and Ankr helps mitigate this issue.
Additionally, most centralised cloud computing services have a few points of failure if several major sites lose power. This danger is mitigated for decentralised cloud computing players such as Ankr.
Using a decentralised network of providers, Ankr aims to deliver network stability and reasonably priced cloud computing services to businesses seeking decentralised solutions.
Staking rewards and listing on Tokens.com
On 30 November 2021, Tokens.com, which invests in revenue-generating crypto assets, bought 3,022,453 Ankr tokens for crypto staking.
Staking is the process of locking crypto tokens to a specific blockchain protocol to validate transactions. Users that stake their tokens are typically rewarded with more tokens.
As a cross-chain DeFi staking platform, Ankr provides investors with a greater rate of return by charging no commission and leveraging over 30 nodes to maximize rewards.
Additionally, Ankr enables users to create and run validator nodes on their preferred blockchain, earning passive money without incurring commission costs.
Co-founder's tweet raised the trading volumes
Facebook's rebranding to become Meta was accompanied by Mark Zuckerberg's statement about an extended social metaverse, to which Ankr co-founder and CEO, Chandler Song, replied in a tweet, "crypto deserves its own meta."
ANKR's transaction volume surpassed $2bn the day after Song's tweet, substantially beyond its median, according to CoinMarketCap.
Launch of Ankr V2 to aid the growth of Web 3.0
On 27 October 2021, Ankr introduced Ankr V2, a decentralised web service portal for Web3 development that allows developers to establish multi-chain systems and services.
Ankr also announced that it would provide more than $10m in grants over the next two years to support the construction of a decentralised supercomputer and to encourage the production of tutorials and teaching around Web3 development.
Ankr partners with Sacramento Kings
In October, Ankr also launched a multi-year partnership with The Sacramento Kings, a professional NBA franchise.
The two companies will collaborate to create instructional material regarding cryptocurrencies and blockchain technology.
Apart from organising events and developing different initiatives to educate sports lovers about the benefits of blockchain and cryptocurrencies, they will also conduct an annual event where students and developers will be invited to learn about the latest advances in the crypto space.
Ankr price prediction: Analyst sentiment
Commenting on the ANKR future price projections, Capital.com's analyst Mikhail Karkhalev said:
"Cloud computing on blockchain has long been something new and incredibly promising, although there is still no clear leader. It is difficult to compete with giants such as Amazon Web Service, for example.
"Since the ICO market boom in 2017, there is at least one similar project that got funding of $40 million, but never took off - it's SONM. Perhaps the market was not yet ready for a similar project then, but it has changed now, so the potential for Ankr remains. The only question is whether Ankr can compete with the giants from the traditional market."
Ankr price forecast: targets for 2022, 2025, and 2030
As of 7 December, several algorithmic forecasting tools shared bullish Ankr crypto price predictions.
Wallet Investor gave an upbeat Ankr price pprediction forecasting the token to hit $0.2015 target price by the end of 2022, $0.30012 at the end of 2023 and $ 0.498 at the end of 2025. Although the forecasting service did not Ankr predictions for 2030, its longer term ANKR/USD forecast suggested the token could reach $0.599 by the end of 2026.

DigitalCoin expected ANKR to reach $0.2014193461 by the end of 2022, $0.2452460725 by the end of 2023, $0.3416204259 by the end of 2025 and $0.5048207460 by the end of 2028.

Price Prediction was also optimistic about the ANKR token price prediction. The average price of Ankr token was forecast for $0.17 in December 2022, $0.35 in December 2024, $0.50 in December 2025 and $3.23 in December 2030.
When looking for Ankr (ANKR) price predictions, bear in mind that analysts and algorithm-based forecasts and outlooks can be wrong. Their Ankr projections are based on making fundamental and technical studies of a cryptocurrency's past performance. Past performance is no guarantee of future results.
It's important to do your own research and always remember your decision to trade depends on your attitude to risk, your expertise in the market, the spread of your investment portfolio and how comfortable you feel about losing money. You should never invest money that you cannot afford to lose.
FAQs
Is Ankr a good investment?

Ankr skyrocketed to become one of the most valuable cryptocurrencies in 2021 after gaining more than 2,400% in the first three months. Ankr's objective is to revolutionise the emerging web 3 landscape and contribute to decentralised cloud services.

According to algorithm-based forecasts outlined above, ANKR has a potential value due to its fundamentals and current technical setup. However, cryptocurrencies are volatile in nature and past performance never guarantees future results. You should always do your own research.
How many Ankr coins are there?

Ankr has a total supply of 10trn tokens and a circulating supply of 8,16bn tokens, according to CoinMarketCap.
Can Ankr reach $1?

Based on the ANKR/USD forecast of PricePrediction, as of 7 December, Ankr is expected to hit $1 by 2027.
How high can Ankr go?

any cryptocurrency forecast and price target might be wrong. Nonetheless, PricePrediction believes that Ankr's price might reach $3.23 by 2030.
Read more: Floki Inu (FLOKI) price prediction: What's next in 2022?