Amazon stock forecast: Where next for AMZN amid massive layoffs?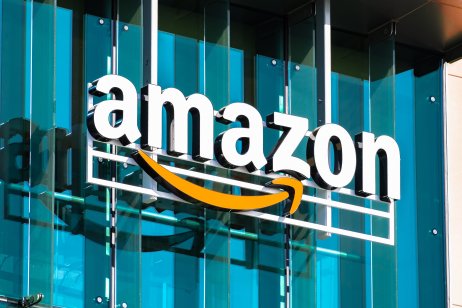 In 2022, the Amazon (AMZN) stock price dropped by nearly 50% as markets shrunk and fears of a global recession grew. So far in 2023, the e-commerce giant has announced plans to make more than 25,000 members of staff redundant in two rounds of savage cuts.
In January, CEO Andy Jassy confirmed that the company would let go more than 18,000 employees, the biggest reduction in Amazon's workforce in its history. And in March, the company announced a further 9,000 people would be got rid of.
Is this a signal that it expects to take a stronger hit as the global recession unfolds, or are the layoffs an attempt to stimulate business performance?
Here we take a look at the potential Amazon stock forecast and news that could have an impact on the AMZN stock price.
Amazon (AMZN) live stock price
About Amazon
The company was founded as an online book shop in 1994 by entrepreneur Jeff Bezos, making it one of the first companies buying and selling goods online.
In its early years, Amazon operated out of Bezos's garage in Bellevue, Washington, USA.
The firm officially debuted in October 1995, and in two months was earning $20,000 a week in sales. On 15 May 1997, the company went public at $18 a share, listing on the Nasdaq.
However, it would be several years before Amazon would turn a profit. In the fourth quarter of 2001 – amid the bursting of the dot com bubble that saw the collapse of many e-commerce companies – Amazon posted a profit of $5m.
The company would continue introducing new products over the following years, launching products and services, including two-day membership delivery Amazon Prime in 2005, electronic reading device Amazon Kindle in 2007, and electronic voice assistant Echo & Alexa in 2016.
Amazon also branched out into music and film with Amazon Music and Amazon Instant Video.
What is your sentiment on AMZN?
Vote to see Traders sentiment!
Amazon stock slashed in half in 2022
Amazon stock is currently trading at the same level it enjoyed in the spring of 2020, when markets across the board fell as governments across the world put in lockdowns in response to the Covid-19 pandemic.
Although the stock enjoyed a bull run in 2021, reaching a record $188.65 intraday high on 13 July that year, 2022 was very different, with the war in Ukraine, soaring inflation and aggressive monetary tightening seeing AMZN drop from $167.55 at the start of the year to $84 at the end.
Following the first redundancies announcement, AMZN stock went on something of a bull run, reaching an intraday high of $99.32 on 18 January. At the end of the month, the stock price broke past $100 for the first time since November, reaching an intraday high of $114 on 2 February. Since then, the Amazon stock news has seen the share price go on something of a decline and, on 23 March, it closed the day at $98.71.
Amazon stock price, 2018 - 2023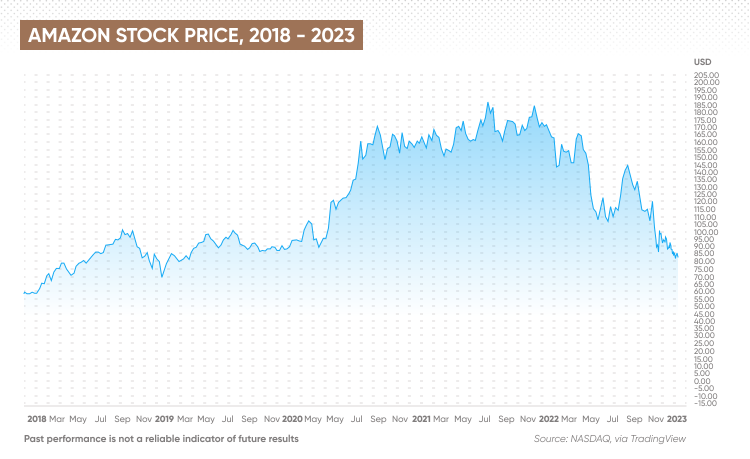 Past performance is not a reliable indicator of future results
Massive layoffs and the markets
In the press release confirming Amazon's plan to lay off 18,000 employees, Jassy encouraged investors:
"These changes will help us pursue our long-term opportunities with a stronger cost structure; however, I'm also optimistic that we'll be inventive, resourceful, and scrappy in this time when we're not hiring expansively and eliminating some roles."
Market participants reacted negatively to the announcement, with the AMZN stock price falling 2.37% on the day.
AJ Bell investment director Russ Mould said in a note shared with Capital.com that even though the workforce reduction is the biggest in history, it becomes a "drop in the ocean" when viewed in the context of the 1.5 million total Amazon employees. He added:
"It's also important to consider where the cuts are being made. They are mostly in areas like human resources as well as its Amazon Go and Amazon Fresh physical stores, and the latter represent something of an experiment for the company."
Mould pointed out that the retail giant is likely to focus on its core e-commerce and Amazon Web Services cloud operations, noting that the announcement will be viewed positively by the shareholders as it signals higher returns.
"Still, these job cuts represent a significant increase on previously outlined levels. It shows Amazon is taking the current economic challenges seriously. As is often the case, the news was pleasing to shareholders who will prize any efficiencies which can increase their slice of the returns generated by the business."
Announcing the second wave of redundancies, Jassy said: "This was a difficult decision, but one that we think is best for the company long term."
He added: "As our internal businesses evaluated what customers most care about, they made re-prioritisation decisions that sometimes led to role reductions, sometimes led to moving people from one initiative to another, and sometimes led to new openings where we don't have the right skills match from our existing team members.
"This initially led us to eliminate 18,000 positions (which we shared in January); and, as we completed the second phase of our planning this month, it led us to these additional 9,000 role reductions."
US recession fears hurt the stock
In late April 2022, Amazon's stock fell 14% on the day the company released its financial results for the first quarter of 2022. Back then, the company reported a $3.8bn net loss due to a $7.6bn markdown of its investment in Rivian (RIVN), the electric vehicle startup in which the company has a large stake.
The stock price has not recovered with the US Federal Reserve (Fed) bringing interest rates to 4.25%-4.5% at the December meeting. The aggressive monetary tightening coupled with the war in Ukraine has turned global investor sentiment sour, raising concerns about the US recession.
Amazon is a large e-commerce business with revenues primarily coming from its North American business. The performance of the US economy is highly relevant to determine how the company will perform financially in the future.
"Powell remained adamant, as we have noted, that he expects to maintain a significantly restrictive policy stance until incoming data support a high degree of confidence that inflation will fall to 2% on a sustained basis", analysts from S&P Global commented in a December note.
"Indeed, not a single FOMC participant expects to start cutting interest rates before 2024, in contrast to investor expectations that rate cuts could begin as early as next September."
Meanwhile, around 30% of the global economy could be poised to enter a recession according to the International Monetary Fund (IMF), while the largest three economies in the world – the US, China, and the European Union – will be growing at a slower rate compared to 2022.
Amazon's income falls
Amazon reported its results for the fourth quarter of 2022 on 2 February 2023. Net sales increased by 9% $149.2 billion, compared to $137.4 billion in fourth quarter of 2021.
Operating income dropped to $2.7bn, compared to $3.5bn in the last three months of 2021, while net income dropped to $0.3 billion in the fourth quarter, or $0.03 per diluted share, compared to $14.3 billion, or $1.39 per diluted share the previous year. The net income included a pre-tax valuation loss of $2.3 billion from non-operating income from the common stock investment in Rivian Automotive, compared to a pre-tax valuation gain of $11.8 billion from the investment in fourth quarter 2021
Amazon stock forecast round-up
Let's take a look at some of the Amazon stock forecasts for 2023 and beyond. Remember that forecasts very often end up being wrong, because prices can, and do, go down as well as up.
According to data compiled by TipRanks on 24 March 2023, the consensus analyst forecast for Amazon stock price was bullish. A total of 37 out of 38 analysts rated the stock as a buy, while one gave it a hold rating. The consensus AMZN stock forecast for the next 12 months stood at $136.86 a share. Meanwhile, the highest Amazon stock forecast for 2024 was $192, with the lowest at $106.
Analysts have been lowering their price targets for Amazon in the past year. According to data from MarketBeat, UBS Group, Evercore ISI, JPMorgan & Chase, and Piper Sandler have been among the firms to cut their 12-month Amazon share price forecasts from November 2022 to March 2023.
Among the algorithm-based forecasting services, Gov Capital was holding a bearish short-term Amazon stock predictions stock based on an analysis of multiple technical indicators as of 24 March. The website anticipated the stock to trade at $123.029 at the end of December 2023. Their Amazon stock forecast for 2025 was more bullish, expecting shares to be valued at $402.355 by the end of the first quarter, closing the year at $410.092.
The forecaster was far more optimistic about Amazon's long-term future, suggesting that the stock could hit $889.273 in five year's time.
Final thoughts
Note that analysts' and algorithm-based Amazon stock forecasts can be wrong and shouldn't be used as a substitute for your own research. Always conduct your own due diligence before trading, looking at the latest news, technical and fundamental analysis and a wide range of expert commentary.
Remember, past performance does not guarantee future returns. And never trade more money than you can afford to lose.
FAQs
Is Amazon a good stock to buy?

According to data compiled by TipRanks as of 24 March, the consensus analyst forecast for Amazon stock price was bullish. A total of 37 out of 38 analysts rated the stock as a buy, while one gave it a hold rating. However, remember that analyst views can be wrong and only you can decide whether Amazon stock is a suitable investment for you. Keep in mind that past performance does not guarantee future returns. And never trade more money than you can afford to lose.
Will Amazon stock go up?

As of March 24, the consensus AMZN stock forecast for the next 12 months stood at $145.87, according to the analyst views compiled by MarketBeat. Meanwhile, the highest Amazon stock forecast for 2023 was $270 while the lowest stood at $106. However, you should remember, that analyst Amazon stock projections can be wrong and should not be used as a substitute for your own due diligence.
Should I invest in Amazon stock?

Whether Amazon is a suitable investment for you depends on your risk tolerance, investing goals and portfolio composition. Always perform your own due diligence by doing your own research before investing. Remember, past performance does not guarantee future returns. And never trade more money than you can afford to lose.