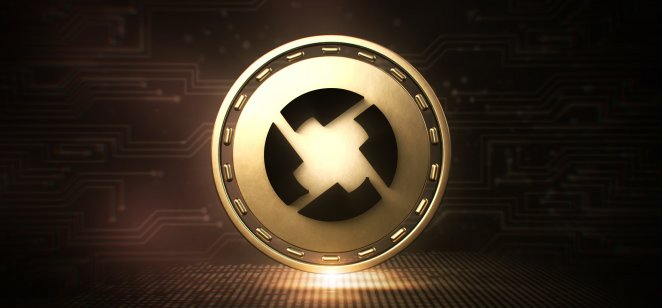 Content
The 0x (ZRX) cryptocurrency gave up gains made in late March but it spiked last week to its highest level since December after it announced a partnership with Coinbase (COIN) on non-fungible tokens (NFTs) and received $70m in financing.
What is the 0x cryptocurrency? What is a realistic target price for this coin in the near future following the recent volatility?
In this article, we look at the recent ZRX crypto news and analysis, as well as some of the latest price predictions.
What is ZRX and what is its value for the industry?
0x aims to provide an infrastructure for the emerging crypto economy to let users trade ERC-20 tokens and other assets on the Ethereum blockchain without using traditional cryptocurrency exchanges.
Its smart contract technology offers a base for decentralised finance (DeFi) to manage a new breed of financial services such as loans, savings, insurance, trading and so on, using cryptocurrencies as collateral.
Introduced in 2017, the ZRX cryptocurrency coin is a digital token that runs on the Ethereum blockchain and powers the open-source 0x protocol. The protocol allows different decentralised exchanges to interoperate, connecting liquidity providers.
According to 0x Labs – the organisation behind the protocol – it has powered the infrastructure for dozens of DeFi applications so far and enabled more than $120bn in trading volume among more than 2.3 million traders.
The token was initially used to vote on protocol updates and pay trading fees for transfers using the protocol, then in 2019 the version 3 update to the project added staking capability for liquidity providers to receive tokens as a reward. The network has so far paid more than $1m in fees to ZRX holders and market makers.
There were 847.5 million ZRX tokens in circulation on 28 April, representing 85% of the maximum one billion supply, according to CoinMarketCap. ZRX had a market capitalisation of $714m, making it the 96th largest cryptocurrency by value.
The project expanded its focus in 2020 to build on top of the protocol to encourage adoption and drive growth in several ways. It launched the DeFi-native Periscope trading desk, which uses the 0x protocol to increase liquidity and price competitiveness.
The 0x aggregation API allows developers to create exchange functionality for DeFi applications and crypto wallets, including the 0x Labs Matcha consumer product, which identifies the best prices across exchange networks. Matcha facilitated more than $2.8bn in trades in six months. Version 4 of the 0x protocol was also introduced last year with a new modular architecture to expand the ways developers can work.
In August, 0x became a founding partner of global payments infrastructure firm Celo's DeFi for the People initiative, which aims to bring DeFi to the 6 billion smartphone users worldwide. Ox announced it was live on the Celo network on 18 November and on 3 December 0x announced:
"In addition to recently launching Celo support on 0x API, we've expanded our partnership to allocate $4.5m in joint funding to the community-owned 0x DAO. The funding, consisting of $3m in CELO and $1.5m in ZRX, will be used to bring six billion new users onto 0x-powered applications running on the Celo blockchain."
On 31 January, 0x revealed plans to introduce multi-chain swaps for non-fungible tokens powered by the version 4 protocol on all 0x-integrated blockchains. The upgrade offers efficient use of gas (processing fees) to make it more affordable to swap NFTs on Ethereum and six other Ethereum Virtual Machine (EVM) blockchains and Layer 2 networks. Layer 2 networks run on top of blockchains to provide enhanced features like scalability and interoperability.
The initial deployment will be on the Ethereum blockchain, with Binance Smart Chain (BSC), Polygon, Fantom, Avalanche, Celo and Optimism to follow. Will Warren, co-founder and co-CEO of 0x Labs said:
"Our motivation in bringing NFT support to 0x Protocol v4 is to provide an open technical standard for NFT markets that is technically robust, non-extractive, and consistent across EVM blockchains. Since blockchains have limited throughput, NFT communities will be forced to spread out across many distinct networks. 0x Protocol v4 will serve as public exchange infrastructure and bring uniformity and feature parity to NFT markets across all EVM blockchains."
More recently, the ZRX price climbed after cryptocurrency exchange Coinbase launched its much-anticipated social marketplace for NFTs powered by 0x. The announcement said:
"With powerful multi-chain NFT swap support and the most robust feature-set of any NFT exchange protocol, 0x was the obvious choice to power the new marketplace. Additionally, with 0x Protocol v4 being up to 54% more gas efficient, Coinbase marketplace users will enjoy low trading costs."
That was followed on 26 April by 0x Labs raising $70m in Series B funding led by Greylock. The financing will enable 0x Labs to expand its team and its product and service offerings, including its token search engine Matcha; 0x API, which provides multi-chain aggregated liquidity as a service; and its open source 0x protocol for decentralised exchanges.
How have these developments affected the ZRX/USD price?
The ZRX price chart shows that the token launched at $0.11 in August 2017 and quickly made gains, reaching an all-time high of $2.53 in January 2018, as cryptocurrencies soared across the board. It remained volatile for the rest of the year. The ZRX token price stabilised during 2019, moving between $0.15 and $0.30 for most of the year.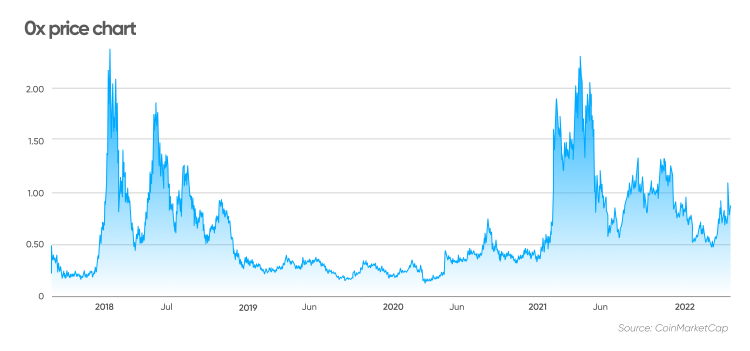 What is your sentiment on 0x/USD?
Vote to see Traders sentiment!
In 2020, ZRX traded up from $0.14 in April to a high of $0.74 in August but slipped back to $0.33 by December. However, it doubled in January 2021 in line with the broader rally across the crypto market when bitcoin reached an all-time high. The rally continued into February, with ZRX climbing from $0.70 to $1.88 before it dropped during the May sell-off and bottomed out at $0.53 on 20 July.
The price climbed above $1.30 in the September and November crypto market rallies, but it was unable to hold the gains as the markets turned bearish, dropping to $0.45 on 24 January after starting 2022 at $0.8045. But ZRX has since turned higher again, rising to $0.9477 on 3 April. The price dipped to $0.6556 on 18 April, but rebounded to $1.18 on 21 April, moving above the $1 mark for the first time since 4 December. The price has since moved back to the $0.84 level.
What is the potential for the ZRX coin future? Let's look at the latest 0x price projections for the coming months.
Short-term ZRX price prediction: Сan the ZRX price rebound, or will it fall further?
Technical analysis from CoinCodex showed that short-term sentiment on ZRX was extremely bullish at the time of writing on 28 April. There were 27 indicators showing bullish signals compared with two bearish signals. But CoinCodex was bearish in its 0x price prediction, estimating that the value of the coin could drop by 18.7% to $0.688426 by 3 May.
What about the long-term outlook? Will the ZRX price go up?
ZRX coin price prediction 2022-2025, 2030
Algorithm-based forecasting site WalletInvestor projected that the ZRX coin value could end the year lower at $0.652 but rise to $0.952 by the end of 2023. By the end of 2025, ZRX could trade at a new high of $1.577 and in five years' time it could reach $2.305.
DigitalCoin was bullish in its ZRX price forecast, predicting that the coin could average $1.11 in 2022 and $1.23 in 2023, climbing to $1.58 in 2025 and $3.90 in 2030, based on historical data.
PricePrediction's long-term ZRX outlook was also bullish. Based on deep artificial intelligence-assisted technical analysis, the site projected that the ZRX price could rise from an average of $0.72 in 2022 to $1.04 in 2023, $1.50 in 2024, $2.02 in 2025 and $12.69 in 2030.
When looking for ZRX coin price predictions, it's important to bear in mind that cryptocurrency markets remain extremely volatile. That makes it difficult to accurately predict what a coin's price will be in a few hours, and even harder to give long-term estimates. As such, analysts and algorithm-based forecasters can and often do get their predictions wrong.
The bottom line: Is ZRX a good investment?
Whether the ZRX token is a suitable investment for you depends on your risk tolerance and how much you intend to invest, among other factors.
In volatile cryptocurrency markets, it is important to do your own research on a coin or token to determine if it is a good fit for your investment portfolio. We recommend that you always do your own research. Look at the latest market trends, news, technical and fundamental analysis, and expert opinion before making any investment decision.
Keep in mind that past performance is no guarantee of future returns. And never invest money you cannot afford to lose.
FAQs
What is the ZRX coin used for?

ZRX is the native cryptocurrency coin for the 0x protocol, which provides the blockchain infrastructure for decentralised exchanges.
How can you buy ZRX cryptocurrency?

You can buy the ZRX coin on cryptocurrency exchanges such as Binance and BitMax.
How high can a ZRX coin go?

At the time of writing, long-term forecasts differed in how high they expected ZRX to trade, emphasising the importance of doing your own research to take an informed view of the coin's potential.
Can 0x (ZRX) reach $5?

At the time of writing, PricePrediction suggested the coin could gain in value to trade above $5 in 2028. In the meantime, DigitalCoin did not see ZRX reaching this level even by 2031.

The differing forecasts emphasise the nature of crypto markets volatility. Forecasters can and do get their ZRX predictions wrong. You should do your own research to make informed trading decisions. Keep in mind that past performance is no guarantee of future returns.