Zilliqa price prediction: What is zilliqa (ZIL)?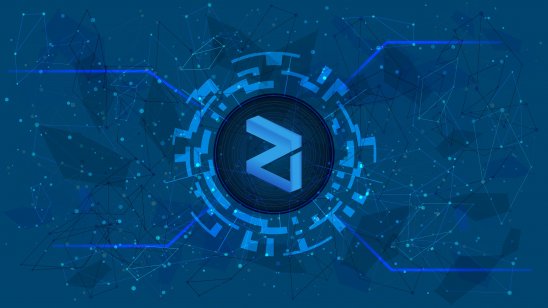 It has enjoyed something of a resurgence in 2023, but what is zilliqa (ZIL)?
Let's see what we can find out, and also examine some of the zilliqa price predictions that were being made as of 9 January 2023.

Zilliqa explained
Zilliqa was founded by researchers from the National University of Singapore in 2017. The blockchain, which utilises smart contracts, was designed to operate quickly and smoothly, even when there were a lot of people using the network.
Sharding, which involves dividing a network into smaller consensus groups called shards, each capable of processing transactions in parallel to one another, is the "cornerstone" of Zilliqa's design, according to its whitepaper.
Zilliqa claims to be the first public blockchain to successfully implement sharding.
According to Zilliqa's whitepaper: "The advantage of sharding is that if the initial network can be divided into several smaller subsets of nodes, then, each subset can process non-conflicting transactions in parallel. Ability to process transactions in parallel yields linear scalability."
Zilliqa differentiates itself from its rivals by way of a special-purpose smart contract language called Scilla, which according to the network "guarantees the safety of smart contracts".
The protocol also uniquely combines the proof-of-work (PoW) and practical Byzantine fault tolerance (PBFT) consensus mechanisms. According to Zilliqa, its network uses PoW only for security measures and employs PBFT for consensus. Zilliqa said PBFT achieves faster consensus in shards, distributes rewards more evenly to miners and has a lower energy footprint than PoW.
Zilliqa uses PoW to prevent Sybil attacks on its network. A Sybil attack is a security threat to an online network. Attackers create a large number of pseudonymous identities to gain control over a network. If an attacker manages to gain about 51% of a blockchain network's computing power, or hash rate, they can change the order of transactions, prevent transactions and even reverse transactions.
According to Zilliqa's whitepaper, published in August 2017, the network's native token is called zilling or ZIL. However, rather like Ethereum's native token being called ether but more often referred to by its blockchain's name, we will refer to ZIL as zilliqa.
ZIL is used to pay for transaction processing and to run smart contracts on the network. ZIL is also used to pay for products and services on various dApps built on Zilliqa.
Holders can stake their ZIL coins to earn rewards. A delegator has to stake a minimum of 10 ZIL tokens to ensure that gas fees required to withdraw rewards do not outweigh the incentives, Zilliqa said. According to its website, the routine blockchain transaction fee on Zilliqa's network is 0.1 ZIL.
gZIL tokens, or governance ZIL, is the network's governance token. It gives holders the power to propose and vote on network changes. According to Zilliqa, gZIL launched in October 2020 and was minted for roughly a year to reward early adopters and incentivise long-term token holders.
gZIL is no longer being minted and its circulating and maximum token supply is about 560,000 tokens. gZIL can be bought on centralised exchanges as well as decentralised exchanges.
ZIL was first made available to the public via a token generation event in late 2017. In all, 60% of ZIL's maximum supply of 21 billion tokens were generated as interim ERC-20 tokens, which were later migrated to Zilliqa's mainnet via a token swap event in February 2020.
A total of one billion ZIL tokens were allocated to the following groups:
40% of the maximum supply of ZIL, which amounts to 8.4 billion tokens, was allocated to incentivise mining activity on the network. This allocation was not generated during the 2017 token generation event

A maximum of 30% of ZIL tokens was allocated to early investors

10% of ZIL tokens went to Anquan Capital, the company that developed the technology behind Zilliqa

12% of ZIL tokens went to Zilliqa Research, the network's marketing and development team

5% of ZIL tokens went to founding members of Zilliqa and "future employees"

3% of ZIL tokens went to advisors including Switzerland-based crypto brokerage firm Bitcoin Suisse.
Zilliqa price history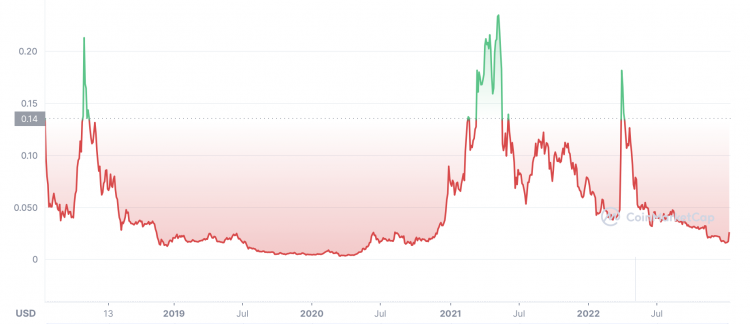 Let's now cast our eyes over the ZIL price history. While past performance should never be taken as an indicator of future results, knowing what the crypto has done in the past can give us some useful context if we want to either interpret an existing zilliqa price prediction or else make one of our own.
When ZIL first came onto the open market in early 2018, it was worth about $0.135. Although it soon dipped, it surged to $0.19 in May 2018, but the price then dropped back to around $0.005 and pretty much stayed there throughout 2019 and 2020.
In early 2021, though, the cryptocurrency market experienced a boom phase and ZIL responded well, reaching an all-time high of $0.2563 on 6 May 2022 before the market took a downturn and it ended up closing the year at $0.07479.
2022 was a year that most crypto investors will want to forget and ZIL was not immune from the turmoil, with a series of market crashes hitting the price of the coin.
While there was a rally to $0.2281 on 1 April in the wake of the announcement of Zilliqa's Metapolis metaverse project, things soon fell apart and it fell to a low of $0.02962 on 18 June 2022. There was a recovery after that, but the collapse of the FTX (FTT) exchange led to it falling to a low of $0.01541 on 30 December 2022 before it closed the year at $0.01583, representing an annual loss of nearly 80%.
The New Year saw more cause to be optimistic, though, and a swathe of announcements relating to projects and games on the blockchain saw it trade at around $0.02563 on 9 January 2023. The coin's resurgence continued over the next two months or so, with it peaking at $0.03667 on 23 February before the collapse of Silvergate bank saw it drop to $0.02151 on March 10. By the middle of April, though, the coin had made yet another recovery and was worth about $0.034 on 19 April. Despite that day's significant bitcoin (BTC) selloff causing prices to drop across the board, the coin had managed to rise over the previous 24 hours.
At that time, there were a little under 15.87 billion ZIL in circulation, out of a total supply of just over 17.4 billion.
This gave the coin a market capitalisation of around $541m, making it the 86th-largest crypto by that metric.
Zilliqa price prediction round-up
With that all out of the way, let's take a look at some of the zilliqa price predictions that were being made as of 19 April 2023. It is important to remember that price forecasts, especially when it comes to something as potentially volatile as crypto, often turn out to be wrong. Also, keep in mind that many long-term crypto price predictions are made using an algorithm, which means they can change at a moment's notice.
First, CoinCodex had a somewhat gloomy short-term zilliqa price prediction for 2023, suggesting that the coin could drop to $0.031776 by 24 April before falling further to $0.023428 by 20 May. Perhaps surprisingly, the site's technical analysis was neutral, with 24 indicators making bullish signals against 10 making bearish ones.
Meanwhile, DigitalCoinPrice made a zilliqa coin price prediction which suggested that the coin could reach $0.0703 this year before reaching $0.12 by 2025. The site then made a zilliqa price prediction for 2030 which said the coin could reach $0.35 that year.
Next, CryptoPredictions had a ZIL price prediction that saw it reach $0.043179 by the end of 2023. The site then made a zilliqa price prediction for 2025 which saw the crypto start the year at $0.04177697 before closing it at $0.049578.
Finally, Wallet Investor had a zilliqa crypto price prediction that suggested the coin was in for a tough 12 months, with it forecast to fall to $0.00499 by April 2024.
When considering a ZIL coin price prediction, it's important to keep in mind that cryptocurrency markets remain extremely volatile, making it difficult to accurately predict what a coin or token's price will be in a few hours, and even harder to give long-term estimates. As such, analysts and algorithm-based forecasters can and do get their predictions wrong.

If you are considering investing in cryptocurrency coins and tokens, we recommend that you always do your own research. Look at the latest market trends, news, technical and fundamental analysis, and expert opinion before making any investment decision. Keep in mind that past performance is no guarantee of future returns, and never trade with money that you cannot afford to lose.
FAQs
Is zilliqa a good investment ?

It is hard to say. A lot will depend on whether or not the coin can continue its upward momentum, along with the performance of the crypto market as a whole.

Remember, you should always carry out your own thorough research before making an investment. Even high-market-cap cryptocurrencies can be affected by bear markets, so investors should be prepared to make losses and never purchase more than they can afford to lose.
Will zilliqa go up or down?

No one can tell right now. While some forecasting sites like DigitalCoinPrice were upbeat as of 19 April 2023, others such as WalletInvestor were far more bullish. Remember that price predictions often end up being wrong and that prices can, and do, go down as well as up.

In volatile cryptocurrency markets, it is important to do your own research on a coin or token to determine if it is a good fit for your investment portfolio. Whether ZIL is a suitable investment for you depends on your risk tolerance and how much you intend to invest, among other factors.

Keep in mind that past performance is no guarantee of future returns, and never invest money that you cannot afford to lose.
Should I invest in zilliqa?

This is a question that you will have to answer for yourself. Before you decide whether or not to invest in zilliqa, you will have to carry out your own research, not only on zilliqa but also on other crypto coins and tokens.

Never invest more money than you can afford to lose, because prices can go down as well as up.