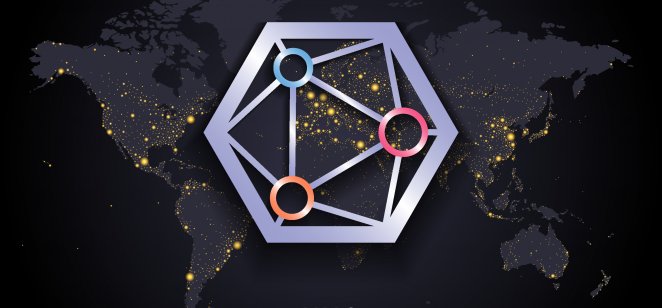 Content
The XYO Network, one of the world's largest blockchain node networks, has seen the price of its cryptocurrency – XYO – soar at the end of July on an exchange listing and then pull back, although it remains higher than before the spike.
The token gained as much as 145% in one day, then gave up more than 27% the following day. Even after the rally the price remains 73.6% lower than at the start of 2022.
What is XYO Network and what has been driving the price volatility? What is a realistic XYO coin price prediction?
In this article, we look at recent XYO crypto news and the outlook for the token price in the future.
What is XYO? The XYO Network was created in 2017 by XY Labs founders Arie Trouw, Markus Levin, and Scott Scheper. The protocol runs on the Ethereum blockchain. The first XYO ERC-20 tokens were minted in 2018. XYO is a "geospatial oracle network" that enables developers to build blockchain applications that run smart contracts using location-based data and shared incentives. The oracle links the real-world location data to the blockchain.
In May, XY Labs announced that its revenue increased by 73% in 2021 to $5.6m, with earnings before interest, tax, depreciation and amortisation (EBITDA) increasing by $10.6m to $5.8m. XYO says it is one of the largest blockchain networks in the world, with over 4 million nodes compared with 15,500 on Bitcoin and more than 9,600 on Ethereum.
When we talk about having 4M+ nodes, and that it makes #XYO one of the largest node networks in the world, it may be difficult to understand why that's such a staggering number.

Over 4 million nodes is virtually unheard of for a node network like XYO, and we built it with you. pic.twitter.com/r3rdASpXGh

— XYO (@OfficialXYO) August 7, 2022
XYO has developed a geomining Coin App to enable users to mine the XYO cryptocurrency on their mobile devices. The app uses XYO's technology to verify users' locations to prevent location spoofing. The app contributes anonymous data to the open-source XYO Network to protect users' safety.
Users can buy subscriptions to Coin App for faster mining and monthly geodrops.
Let's take a brief look at how geomining works.
Geomining explained
What is geomining and how does it differ from typical cryptocurrency mining? Crypto mining involves earning coins as a reward for computers solving cryptographic equations to validate blockchain transactions. Geomining crypto allows mobile devices to earn coins as a reward for validating location data as they move around. The devices build up a record of real-world location data on the blockchain, verifying that the device was in a specific location at a point in time.
XYO geomining enables smart contracts to be executed based on location data that is used as Proof of Value. XYO mining has applications in sectors such as ecommerce, to verify the location of an item in the supply chain. Suppliers could verify whether the item has been delivered or locate it if it becomes lost.
Geominers can use their coins to buy physical goods or convert them to a tradeable digital asset.
What is your sentiment on XYO/USD?
Vote to see Traders sentiment!
XYO token price soars on exchange listing
In 2018, the XYO Network token price began trading at $0.0047 and, after spiking in December 2018, entered a period of decline, falling to a low of $0.000115 on 12 March 2020. The price of XYO was then range bound around the $0.0002 level for the rest of the year.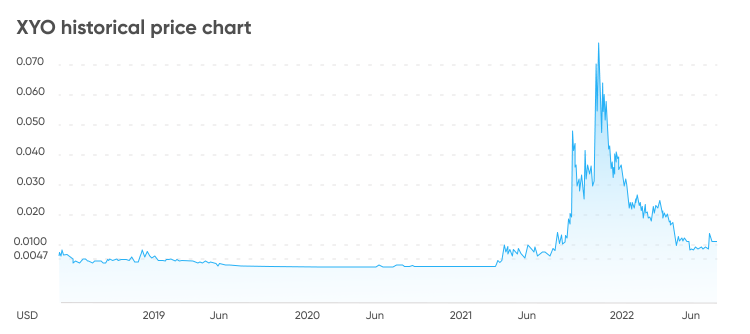 As co-founder Arie Trouw noted, OXY "grew alongside other new crypto-projects that popped up as a result of the boom, and when the 'crypto winter' occurred in 2018, we survived with supplementary income across our projects when other projects saw huge losses or even completely died from the volatility of cryptocurrency prices."
"Come 2019, our growth efforts surpassed our expectations and we didn't quite hit the technology development we needed to match the overwhelming interest and demand from new customers. We downsized, and for the next two years, we focused on two things: developmental growth and profitability as a company."
The XYO price moved up in March 2021 as cryptocurrency markets rallied. Then, after another dip, it began to rise sharply over the summer. It spiked to an all-time high of $0.058517 on 10 September, after the XYO token was listed on cryptocurrency exchange Coinbase the previous day. On 10 September, crypto exchange Gate.io added the coin to allow users to buy XYO coins on margin. As well as trading, it added support for lending and borrowing, so that holders of the token could earn passive income. XYO was listed on digital asset exchange ZB.com on 15 September.
The XYO price fell back to $0.02298 on 7 October, then bounced to $0.04392 on 9 October. It slipped to the $0.02 level before taking off in the November cryptocurrency rally to an all-time high of $0.07791 on 12 November. The price then dropped as the markets retreated, ending the year at $0.03389. While the price moved up to $0.03665 on 2 January, it has since been in decline.
XYO dropped to $0.01987 on 24 February and though it climbed to $0.02402 on 2 April, it resumed its decline and dropped back to $0.006723 on 12 May when cryptocurrencies plunged in response to the Terra Luna crash.
XYO was trading around $0.006244 on 27 July, then jumped to $0.01545 on 28 July, its highest level since May. European cryptocurrency exchange Bitvavo listed XYO on 27 July, and there were rumours that the token would also be listed on Binance, although this failed to materialise.
The XYO price dropped back to $0.01117 on 29 July and has been trading around $0.008-0.009 so far in August.
On 1 August, Binance announced it will delist the Amp cryptocurrency in response to the US Securities and Exchange Commission (SEC) naming Amp as one of nine tokens it considers to be securities in a fraud case filed against a former Coinbase employee. XYO is also among the nine tokens, weighing on sentiment.
Is XYO worth investing in? What do forecasts indicate about the future xyo coin value?
XYO price prediction: what's next for the coin?
Sentiment on the XYO token price was bearish at the time of writing on 11 August, based on CoinCodex data, with 20 technical analysis indicators showing sell signals, and 10 buy signals. But CoinCodex's XYO price prediction indicated that the token could trade up by 2.85% at $0.009178 by 16 August, before slipping back to $0.008374 in one month.
Wallet Investor's XYO price prediction for 2022 indicated that the coin could move up to $0.0118 by the end of the year, but then slide to $0.000651 by the end of 2023. The algorithm's XYO price prediction for 2025 pointed to the price falling further to $0.000519.
Based on historical data, the XYO token price prediction from DigitalCoinPrice suggested that the coin could average $0.0116 in 2022, rising to $0.0131 in 2023 and $0.0179 by 2025. The forecasting service's XYO price prediction for 2030 estimated that the token could average $0.0414 by the end of the decade.
The long-term XYO coin price prediction from forecasting website Price Prediction estimated that the price could average $0.033 in 2025, down from $0.011 in 2022 and $0.016 in 2023, but then climb to $0.21 by 2030.
The XYO price prediction from GovCapital estimated that the price could rise to $0.0235 by the end of the year and then move up to $0.052 by the end of 2023. By the end of 2025 the price could move up to $0.127, according to GovCapital's deep learning processes by technical analysis.
When looking for a XYO crypto price prediction to inform your trading, it's important to keep in mind that cryptocurrency markets remain extremely volatile, making it difficult to accurately predict what a coin's price will be in a few hours, and even harder to give long-term estimates. As such, analysts can and do get their predictions wrong.
We recommend that you always do your own research to come up with an informed XYO price prediction. Consider the latest market trends, news, technical and fundamental analysis and expert opinion before making any investment decision. Keep in mind that past performance is no guarantee of future returns. And never invest more than you can afford to lose.
FAQs
Is XYO a good investment?

Whether the XYO token is a suitable investment for you depends on your personal financial circumstances, asset diversification and risk appetite. Cryptocurrencies are highly volatile assets, making them riskier than other forms of investment. You should evaluate the level of risk you are prepared to accept before investing and never invest what you cannot afford to lose.
Will XYO go up or down?

You should keep in mind that the volatility of cryptocurrency prices makes them difficult to predict, and forecasters can get their predictions wrong. Whether you believe those predictions is a decision only you can make.

As always, you should be aware that the past price performance is no guarantee of future returns. And never invest more than you can afford to lose.
How many XYO coins are there?

There are currently 12.84 billion XYO coins in circulation, out of a total supply of 13.96 billion, according to CoinMarketCap.
Does XYO have a future?

The future of XYO will depend, among other factors, on the adoption of the network and sentiment on the wider cryptocurrency markets. It is important to do your own research to form a view of XYO's viability.
Further reading: