Ripple price prediction 2021 and beyond: all the way up to $30?
In the first 10 months of this year, the performance of Ripple's XRP was rather disappointing. From January 1 to October 31, the coin had risen by 24 per cent while its peers Bitcoin (BTC) and Ether (ETH) had soared by 92 per cent and 195 per cent respectively.
However, in November, the value of XRP skyrocketed, with the coin reclaiming its previously lost title of the third-largest cryptocurrency. This has.many investors wondering: what will the XRP future price be? Was this month's stellar hike just the beginning of a wild bull rally? If so, is now the right time to invest in this digital asset?
In this article, we examine the coin's performance so far in 2020 and check out what factors will influence its value going forward. We also review what the latest XRP price prediction for years ahead looks like now.
XRP performance in 2020: not a laggard any more
Ripple's cryptocurrency started this year hovering around the $0.20 level. It then soared up to $0.34 in mid-February, with many of the project's supporters prophesying a bright XRP outlook for the following months.

However, the unforeseen broader market crash happened in March 2020, driven by the Covid-19 outbreak and rising global economic uncertainty. Cryptocurrencies were not immune to the event, with many shedding in value significantly. On March 13, XRP fell as low as $0.11 per coin, losing its status of the third-largest cryptocurrency to Tether (USDT).
The digital currency then recovered its losses to trade in the $0.19-$0.20 range throughout the next four months. At the end of July, it gained upward momentum, allowing it to surpass the $0.30 mark in August. During September and October, the XRP coin price retraced to trade between $0.23-$0.25.
Coming as a surprise to many, things took a turn for the better in November. On the first day of the month, XRP was trading at $0.23 but by November 24 its value had surged 220 per cent, reaching highs of $0.76, according to CoinMarketCap.
It is worth noting the price divergence on different exchanges. The coin's intraday high was $0.78 on Binance and $0.73 on Bitstamp, while on Coinbase, the currency went all the way up to $0.90, right before plunging 30 per cent. The rally on the latter exchange was then reported to be driven by the platform's users.
Among the key factors behind the coin's hike were the XRP's $45.6 million buybacks and the rising address shown in on-chain data.
On November 22, Santiment, a crypto analysis service provider, reported that the number of unique addresses transacting in XRP reached 24,408, the highest figure since May. Moreover, in a tweet posted on November 25, it was revealed that XRP's daily social volume had soared to outperform ETH.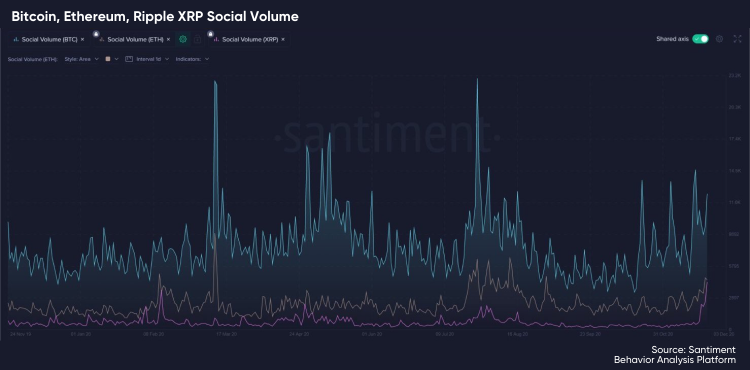 At the time of writing, November 26, the coin's price is $0.54, representing growth of 184 per cent year-to-date. However, XRP crypto is still down 85 per cent from its all-time high of $3.84 in January 2018.
It is a known fact that the latest developments in Ripple play a crucial role in determining its native coin's valuation. Thus, before diving into the XRP price forecast, let's recap what has been recently going on with the project and what factors will likely set the tone for the coin's future.
What is your sentiment on EA?
Vote to see Traders sentiment!
XRP forecast 2021: what will drive the coin's value going forward?
Ripple's main goal has always been the creation of a payment system that would be used by banks to facilitate the transfer of funds in both domestic and international markets. Throughout the years, the project has earned the trust of many renowned financial institutions, such as Banco Santander (SAN), JP Morgan (JPM), HSBC Holdings (HSBA), Mizuho Financial Group (8411), Sumitomo Mitsui Financial Group (8316) and the global money transfer giant MoneyGram.
In August 2020, it was revealed that India's largest bank, HDFC Bank Limited (HDB), had joined RippleNet. In November, after years of speculation and rumours, Ripple confirmed its cooperation with the Bank of America (BAC) as the US second-largest bank had also become one of RippleNet's clients.
Speaking of the adoption, only a few days ago, the Official Monetary and Financial Institutions Forum (OMFIF) published a report that sees blockchain technology as a solution for multiple industries. Only for the banking system, the OMFIF believes that the DLT technology, on which XRP operates, could address five key issues, namely "security, speed, transparency, traceability, cost and risk management" and added that "Ripple is seeking to position itself as an alternative to SWIFT".
The report notes that banks can replace SWIFT with an XRP pool, making transactions more efficient: "The bank only has to hold its domestic currency and maintain one account with XRP, with only enough XRP to service its largest expected payment obligation. The process minimises the number of intermediaries and their markup on spreads".
In September, a report published by Reuters showed that the European Commission was ready to work on a new framework that would encourage digital finance. It said: "By 2024, the EU should put in place a comprehensive framework enabling the uptake of distributed ledger technology (DLT) and crypto-assets in the financial sector. It should also address the risks associated with these technologies."
If the EU comes up with the new legal framework and more financial institutions choose to work with technology such as that offered by Ripple, the XRP future will look brighter than ever.
Rolling out a whole new service?
On November 6, Ripple Labs surprised many by filing a trademark application for a new product called PayString.
"PayString trademark registration is intended to cover the categories of electronic financial services, namely, monetary services for receiving and disbursing remittances and monetary gifts in fiat currencies and virtual currencies over a computer network and for exchanging fiat currencies and virtual currencies over a computer network."
Moreover, earlier this year, Ripple announced that it was going to expand into the lending business. The company revealed in its blog post a new Line of Credit service available for customers using On-Demand Liquidity (ODL) on RippleNet.
Will the long-awaited IPO finally happen?
In November's episode of the podcast "The Scoop", Brad Garlinghouse, the CEO of Ripple, said that no blockchain or crypto company went public this year because of the coronavirus outbreak. However, he added that Ripple is still looking forward to an IPO, but the timing remains uncertain.
So, how will all the project's latest developments and future plans reflect on the XRP price in 2021? Let's check out what the Ripple forecast looks like according to the market experts.
Ripple price prediction 2021-2025: expect the unexpected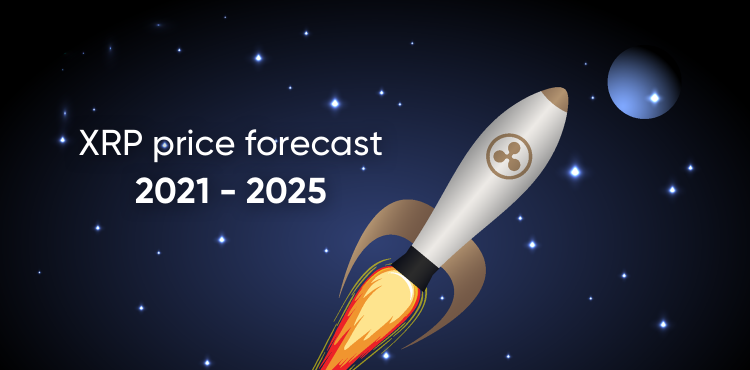 After peaking on November 24, the coin has lost some of its shine. However, according to Credible Crypto, the correction that the XRP price went through is "perfectly healthy".
In the long term, the famous crypto analyst with 77.8K followers on Twitter expects XRP to reach a price of $25-$30. But before this happens, Credible Crypto predicts a drop in the market of up to 30 per cent, adding: "You have the right idea for the pullback region. Many alts will dump hard but XRP/BTC is on support so it may not be affected as badly as other alts."
Such a plunge in the crypto market could present great buying opportunities for new investors: "To be able to buy $XRP anywhere between $0.38-$0.55 is a blessing. If you get this chance, you best take it. No guarantees we get the lower end of this range, so DCA'ing down is your best bet."
Earlier this year, Will Meade, a former Goldman Sachs employee and billionaire hedge fund manager, made his first crypto purchase, buying XRP and expecting it to soar in value in the near term: "I made my first crypto purchase ever this week $XRP Ripple. I know very little about crypto but I believe a rising tide lifts all boats, so if Bitcoin goes back to its all-time highs then XRP should as well and that would be a 15 bagger 1,500 per cent."
Based on his estimates, such an increase would take XRP all the way up to $3 in the foreseeable future.
While many crypto enthusiasts support such a bullish Ripple prediction, suggesting the coin is ready to hike past $1, a few online resources that base their predictions on technical analysis and historical data remain less optimistic.
An online forecasting service, Wallet Investor, has taken a bearish stance in its Ripple crypto price prediction. Referring to the coin as a "bad, high-risk one-year investment", the website predicts XRP to trade well above $0.70 in the first days of 2021, right before taking a dramatic plunge.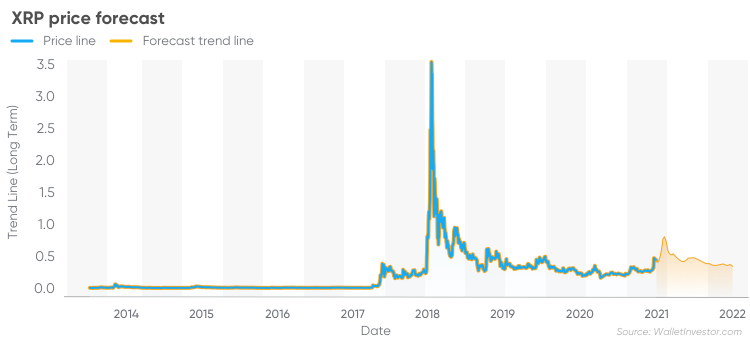 According to the website's longer-term Ripple price prediction, the coin is expected to trade at an average of $0.30 by the end of 2021. After starting 2022 at $0.50, the service sees XRP dropping below the $0.1 level in August, recovering to close the year at $0.37. Looking even further, the XRP projected value is set to be within the $0.50-$0.60 range in November 2025.
Longforecast.com seems to have the most bearish XRP crypto price prediction, suggesting the coin to end 2020 at $0.38, further sliding to close 2021 at $0.26 and hit $0.08 in December 2023.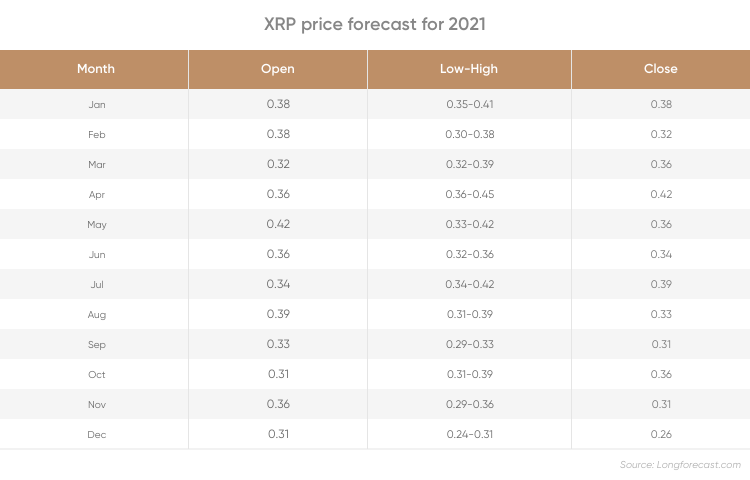 TradingBeasts.com sees the coin closing December 2020 at an average of $0.63, with the maximum price target of $0.79 and the minimum of $0.53. Based on its Ripple coin price prediction 2021, the cryptocurrency is set to end the next year hovering around $0.66.
On the other hand, according to CoinSwitch's forecast, XRP might touch the $2 mark in 2021, trade around $3 in 2023 and soar up to $4.52 in 2025, driven by new partnerships and emerging technologies.
Read more: Bitcoin price prediction 2021: unanimously strong, but to what extent?