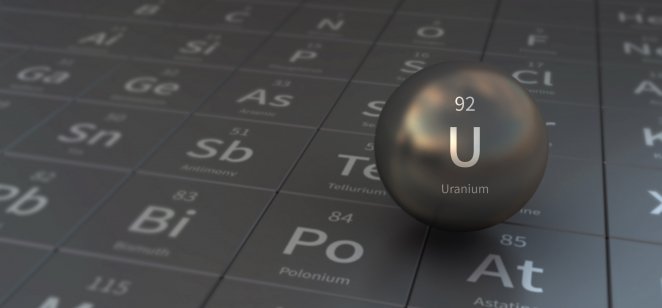 Uranium has held its price into May after a sharp drop in April and today (10 May) is at $54.15 a pound.
In March, uranium prices surged to their highest level since the nuclear disaster in Japan's Fukushima plant in 2011. The heavy metal's price rose after the US said it was considering sanctioning Rosatom, Russia's state-owned atomic energy company, as part of its broader sanctions against the country.
The ongoing conflict between Russia and Ukraine continiues to raise concerns about supply disruptions for energies and commodities, including uranium used in power plants to generate electricity. This comes as countries all over the world are considering utilising nuclear power plants to reduce their reliance on fossil fuels such as oil, gas and coal.
It's worth remembering that uranium is not traded on the open market like other commodities but rather buyers and sellers negotiate privately.
Where will the uranium prices go next from having been the highest in more than a decade? Read this analysis to learn more about the uranium price prediction for 2022.
What is uranium?
According to the World Nuclear Association, uranium is a heavy metal that has been used as a concentrated energy source for more than 60 years. German chemist Martin Heinrich Klaproth discovered the nuclear fuel in 1789 when analysing a mineral called pitchblende.
The chemical element is silvery-white and can be found in soil, rock and water. It is extracted from uranium-rich minerals, such as uraninite. Uranium ore can be mined either open-pit or underground. It is then crushed and treated in a mill to extract the valuable uranium from it. The uranium mined is processed, stored and sold as uranium oxide concentrate (U3O8).
What uranium is used for?
Uranium was first used to colour ceramic glazes and tint early photographs. However, it was not until the mid-20th century that its potential as an energy source was realised. Today, it is used to generate electricity in commercial nuclear reactors and create isotopes used in medicine, industry and defence.
Uranium is only sold to countries that have signed the Treaty on the Non-Proliferation of Nuclear Weapons (NPT), which aims to limit the spread of nuclear weapons introduced on 1 July 1968. The NPT's signatories are subject to international inspection to ensure they only use uranium for peaceful purposes.
In nuclear reactors, uranium is used to generate about 10% of the world's electricity. There are 440 nuclear reactors globally, with a total output capacity of 390,000 megawatts (MW) operating in 32 countries. Another 55 reactors are currently under construction, with 100 planned, according to data from the World Nuclear Association on 21 September 2021.
Australia has the world's biggest uranium resources, accounting for 28%. Kazakhstan ranks second in terms of resources with 15%, but the country is the world's top uranium producer. Kazakhstan accounted for roughly 40% of global uranium output in 2020.
Uranium market: Supply-demand projection
The World Nuclear Association released The Nuclear Fuel Report: Global Scenarios for Demand and Supply Availability 2021–2040 in September last year. The report forecast uranium demand from the world's nuclear reactors was expected to rise to 79,400 metric tonnes of elemental uranium (MTU) in 2030 and 112,300 MTU in 2040. In 2021, global uranium demand from nuclear reactors was estimated at 62,500 MTU.
On the supply side, however, global uranium production plunged to 47,731 MTU in 2020 from 63,207 MTU in 2016 due to a prolonged price depression, which discouraged exploration activities. Additionally, the onset of the Covid-19 pandemic in 2020 restricted mobility and cut uranium production.
According to Trading Economics, uranium prices took a nosedive following the Fukushima nuclear plant meltdown in May 2011 and stayed low until 2021.
A joint report by the Nuclear Energy Agency (NEA) and the International Atomic Energy Agency (IAEA) in 2020 showed that global uranium output met nearly 90% of world reactor demand, dropping from 95% in 2017. The remainder was supplied from secondary sources, including excess government and commercial inventories.
The report also stated that meeting world reactor requirements up to 2040 would consume about 87% of the total 2019 identified resources base recoverable of 6,147,800 tonnes of uranium metal (MTU).
Concerns about supply resurfaced with the ongoing crisis between Russia and Ukraine.
Keith Bowes, managing director of Australian uranium miner Lotus Resources, said the market is not worried about the production from Russia and Ukraine since they are not vital producers – instead, it is concerned with Russia's role as an essential provider of uranium-enrichment services.
Uranium enrichment is a process used to increase the concentration of Uranium-235 – the most significant uranium fissile isotope for reactor fuel and nuclear weapons. In a discussion with Stockhead TV, Bowes said:
"But what is absolutely important is that Russia is very, very critical in terms of the enrichment phase. So, they enriched somewhere between 35% and 40% of the world's uranium to produce the enriched product that then goes into making the fuel cells. So that's where the real scare is."
The US, which mulled over sanctioning Rosatom, generates 20% of its electricity from nuclear reactors.
Uranium price history overview
Unlike other commodities such as gold, nickel or copper, there is no formal exchange to trade uranium. Instead, the fuel trade is negotiated directly between buyers and sellers. New York Mercantile Exchange (NYMEX) recently offered a uranium futures contract.
Additionally, a small number of private businesses and organisations such as UxC LLC independently monitor the uranium market and develop price indicators.
The fuel can be sold under a spot market contract that typically consists of only one delivery or a long-term contract that ranges from two to 10 years. About 85% of all uranium is sold under a long-term contract.
The uranium price hit an all-time high in May 2007 at $148 per pound and began steadily declining. Prices continued to fall after a powerful earthquake in Japan in 2011 caused a nuclear fuel meltdown at the Fukushima plant. Uranium price spent a decade languishing between $15/pound to $30/pound level, tumbling from $57/pound in May 2011.
Uranium's value started to rise in the last quarter of 2021, hitting a nine-year high of $48/pound in September. The price spiked after Toronto-based investment fund Sprott Asset Management LP began buying up millions of pounds of excess supply for a new trust, S&P Global reported. Political instability in the world's biggest uranium producer, Kazakhstan, has also driven up uranium prices.
Uranium price eased to $45/pound level in the last days of 2021 and in January 2022. It started to climb towards $50/pound in early March following the invasion of Ukraine and hit $60/pound on 11 March. It was the highest price since mid-2011.
David Talbot, managing director, Equity Research at Toronto-based Red Cloud Securities, said in the Market Mindset discussion:
"Prior to the Russian invasion, I don't think there was a lot of risk premium built into the spot price. Most price appreciation seemed to respond to spot buying. But I don't think that's the case now."
"If last year was all about physical buying, this year we believe the security of supply is the theme. The name of the game this year… this time, [is] I think the disruptions might be driven by geopolitics."
According to Talbot, only 15 countries produced uranium in 2020, with a combined output of 123 million pounds. However, about 72% of those pounds came from countries that refused to support the recent United Nations resolution that denounced Russia's attacks on Ukraine.
At the time of writing on 25 March, the price had eased to $59.10/pound.
Talbot added that higher uranium prices might help miners to restart idle mines, bringing supply to narrow a gap of 40 million pounds between current supply and demand.
Uranium price outlook
In its uranium price outlook, Trading Economics predicted the fuel could trade at $59.30/pound by this quarter. The economic data provider set the uranium price target at $64.36/pound in 12 months.
In his uranium price projections, David Talbot of Red Cloud Securities expected the fuel to average $45/pound for 2022 and $50/pound in 2023. The price is expected to rise to $55/pound and $60/pound in 2025. He did not provide a uranium price forecast for 2030.
Note that analysts' forecasts can be wrong. Forecasts shouldn't be used as a substitute for your own research. Always conduct your own due diligence before investing. And never invest or trade money you cannot afford to lose.
FAQs
Is uranium a good investment?

Uranium prices had bottomed in the past decade, but have started to reverse the decline in the last quarter of 2021. Whether it's a suitable investment for you depends on your investing goals and risk profile. You should do your own research and never invest what you cannot afford to lose. And, as always, keep in mind that past performance is no indicator of future returns.
Why has the uranium price been going up?

Geopolitical uncertainties with political upheavals in number-one producer Kazakhstan and the conflict between Russia and Ukraine are affecting supply-and-demand balances. Countries are also seeking to restart or add nuclear capacity amid sky-high coal, oil and gas prices, which also contributed to the price rally.
Will uranium prices go up?

David Talbot of Red Cloud Securities expects uranium prices could rise in the coming year. However, analysts' forecasts can be wrong. Always do your own research before investing.
What affects the prices of uranium?

As with other commodities, mining production disruptions such as natural disasters or political unrest can affect uranium prices. In addition, electricity demand, which subsequently increases the need to build power plants, also affects uranium prices.
Read more