Tron price prediction: What is tron (TRX)?
Subscribe to Weekly Highlights
The major market events for the week ahead right in your inbox.
Subscribe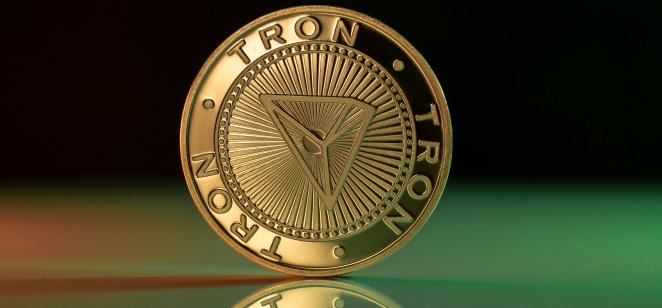 Content
Tron coin had a brief boost in late October when the blockchain announced a new partnership with the Huobi (HT) Heco blockchain. Since then, the market has slowed down once again to new lows. The fall of FTX has been a major catalyst for fresh scepticism in the community – but Justin Sun has recently made his support of FTX clear.
So what is tron (TRX)? Let's take a look, and examine tron price predictions being made as of 14 November 2022.
TRON explained
TRON was founded in September 2017 by the Chinese entrepreneur Justin Sun, previously chief representative for the Ripple cryptocurrency XRP in the greater China region.
The decentralised TRON platform focuses on file sharing and entertainment content. The TRON blockchain launched in June 2018. In July of that year, it integrated with the peer-to-peer file sharing network BitTorrent.
BitTorrent, founded by Bram Cohen, was sold to Tron in 2018. BitTorrent launched its own native cryptocurrency, BTT, in February 2019 on the TRON blockchain, using its TRC-10 standard.
TRON uses three-layer architecture: a storage layer, core layer and application layer. There are several modules in the TRON core layer, including smart contracts, account management and consensus, according to the company's whitepaper, which offers TRON potential for growth.
TRON runs on a delegated proof-of-stake (DPoS) consensus, in which 27 super representatives (SRs) produce blocks on the chain. Every six hours, TRX account holders can freeze their accounts and vote for SRs. The protocol generates a new block every three seconds, and each block awards 32 TRX to SRs. This process allows for faster throughput than some other blockchains.
The TRON Foundation, which was taking the lead in developing the project, was dissolved in July 2021.
Blockchain networks form a core of the emerging decentralised third-generation internet (Web 3.0). As part of that transition, the TRON blockchain has made the shift to a decentralised autonomous organisation (DAO) model. TRON became a fully decentralised network with a community-governed DAO in December 2021.
"TRON DAO is what distinguishes TRON from Web 2.0 tech companies as it fully demonstrates decentralisation, the essence of blockchain," TRON said in an announcement.
"TRON DAO is tipped to leverage the TRON protocol to decentralise the internet while boosting the effective governance for community members."
TRX is the blockchain's native cryptocurrency issued by the TRON DAO. It is used to power transactions and applications on the blockchain. TRX can be used to purchase any TRC-based token issued on the blockchain.
Tron price history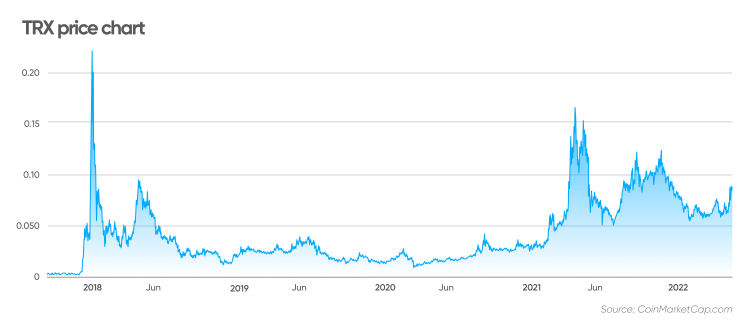 While past performance should never be taken as an indicator of future results, knowing tron's price history can help give us some much-needed context when it comes to either making or interpreting a tron price prediction.
TRX was initially an ERC-20 coin on the Ethereum blockchain when it launched in late 2017, but was migrated to the TRON mainnet when it went live in June 2018.
The coin reached an all-time high of $0.30 on 5 January 2018, as cryptocurrency prices rallied. It dropped to $0.021 the following month as the markets sold off. The price jumped to $0.101 at the end of April 2018 but fell to trade around $0.02-0.03 until the markets rallied strongly again in early 2021.
| | |
| --- | --- |
| Long position overnight fee | -0.0500% |
| Short position overnight fee | -0.0500% |
| Overnight fee time | 22:00 (UTC) |
| Spread | 0.00000720 |
| | |
| --- | --- |
| Long position overnight fee | -0.0500% |
| Short position overnight fee | 0.0140% |
| Overnight fee time | 22:00 (UTC) |
| Spread | 0.0015079 |
| | |
| --- | --- |
| Long position overnight fee | -0.0500% |
| Short position overnight fee | 0.0140% |
| Overnight fee time | 22:00 (UTC) |
| Spread | 0.00426 |
| | |
| --- | --- |
| Long position overnight fee | -0.0500% |
| Short position overnight fee | 0.0140% |
| Overnight fee time | 22:00 (UTC) |
| Spread | 66.00 |
TRX climbed to $0.1799 in mid-April 2021. It slipped to $0.049 as markets bottomed out in July. The price rose to $0.129 during the November rally but fell as the markets sold off after bitcoin (BTC) reached a new all-time high. TRX ended 2021 at $0.0754.
So far, 2022 has been a poor year for crypto in general and TRX has performed erratically. It sank to a low of $0.05645 in the wake of Russia's invasion of Ukraine in February, but then recovered to $0.0793 on 31 March. There was another price burst in early May after the announcement of TRON's USDD algorithmic stablecoin, with the coin reaching a peak of $0.09087. Despite the depegging of the UST stablecoin and the collapse of the associated LUNA cryptocurrency causing a market crash, TRX got away relatively lightly, dropping to a low of $0.06612 before recovering to a high of $0.09094 on 1 June.
News that the Celsius Network (CEL) crypto lending platform had cancelled withdrawals confirmed the bear market and the coin sank to a low of $0.04744 on 14 June. There had initially been some recovery, with October's news that Tron would merge with the Huobi (HT) Heco blockchain.
Researchers at crypto intelligence platforms Arkham Intelligence and Nansen have recently established that Justin Sun had in fact moved $6m worth of stablecoins from TrueFi lending pools before the FTX-Alameda bankruptcy announcement. However, Sun remains supportive of the wider crypto community's initiative to maintain keystone projects. Binance CEO Changpeng Zhao has recently announced an industry recovery fund to help rebuild the industry – and Justin Sun has confirmed his commitment to the fund. As of 14 November, tron is trading at $0.04903.
Tron price predictions
Before we look at some of the tron price predictions that were being made on 14 November 2022, it is important to remember that price forecasts, especially when it comes to something as potentially volatile as cryptocurrency, very often turn out to be wrong. It is also important to bear in mind that long-term crypto price predictions are often made using an algorithm, which means that they can change at a moment's notice.
CoinCodex had a short-term tron price prediction for 2022 that said the token could go down, with it potentially descending to $ 0.035788 on 14 December. Tron price prediction sentiment is currently bearish according to the site, with 5 technical analysis indicators signalling bullish, and 28 signalling bearish signals. The longer term forecast is more optimistic, with a tron price prediction for 2023 of between $ 0.087810 and $ 0.152168.
CryptoNewsZ had made a tron coin price prediction that suggested the crypto could get as high as $0.12 this year before potentially reaching an average of $0.15 in 2023. The site then claimed TRX could have been worth around $0.17 in 2024. It made a tron price prediction for 2025 that saw the token worth somewhere around $0.24, before possibly getting to $0.26 in 2026.
PricePrediction.net made a TRX price prediction which saw the coin potentially trade at $0.055 this year, $0.081 next year and $0.12 the year after that. By 2025, the site said, tron could be worth $0.18, possibly reaching $0.26 in 2026, $0.38 in 2027 and $0.54 in 2028 and potentially closing the decade at $0.54. The site made a tron price prediction for 2030 of $1.16, with the coin predicted to hit $1.70 in 2031.
Finally, WalletInvestor had a more gloomy and bearish tron crypto price prediction, saying it thought that TRX could fall over the course of the next year, with it reaching a mere $0.0312 by November 2023.
When considering a TRX token price prediction, it is important to keep in mind that cryptocurrency markets remain extremely volatile, making it difficult to accurately predict what a coin or token's price will be in a few hours, and even harder to give long-term estimates. As such, analysts and algorithm-based forecasters can and do get their predictions wrong.
If you are considering investing in cryptocurrency tokens, we recommend that you always do your own research. Look at the latest market trends, news, technical and fundamental analysis, and expert opinions before making any investment decision. Keep in mind that past performance is no guarantee of future returns. Never trade with money that you cannot afford to lose.
FAQs
Is tron a good investment?

It is hard to say. A lot will depend, not only on how the partnership with Heco works, but also how the overall cryptocurrency market behaves in the future.

Remember, you should always carry out your own thorough research before making an investment. Even high market cap cryptocurrencies have proved vulnerable to the current bear markets. Investors should be prepared to make losses, and never purchase more than they can afford to lose.
Will tron go up or down?

It is difficult to tell. While sites like PricePrediction.net are positive about the coin's future, the likes of WalletInvestor are more downbeat. Remember that price predictions very often end up being wrong, and that prices will go down as well as up.

In volatile cryptocurrency markets, it is important to do your own research on a coin or token to determine if it is a good fit for your investment portfolio. Whether TRX is a suitable investment for you depends on your risk tolerance and how much you intend to invest, among other factors. Keep in mind that past performance is no guarantee of future returns. And never invest money that you cannot afford to lose.
Should I invest in tron?

Before you invest in tron, you should make sure you research not just TRX but other blockchain coins.

Ultimately, though, this is a question that you will have to answer for yourself. Before you do so, however, you will need to conduct your own research and never invest more money than you can afford to lose because prices can go down as well as up.
Related reading