Content
What is Barclays?
Barclays plc is a British multinational banking and financial services company. It specialises in investment banking, retail banking, investment management, wealth management and credit cards. The company's business segments include Barclays UK and Barclays International, with headquarters in the world's key financial centres: London and New York.
Today, the business has operations in more than 40 countries worldwide. It employs about 83,500 people and serves more than 48 million customers around the globe. The bank has a presence in much of western Europe, including Germany, Spain, France, Italy and Portugal, and in Asia, including India, Japan, South Korea and China. Barclays also has operations across North America and in a number of Middle Eastern and African countries.
Barclays shares are traded on the London Stock Exchange under the ticker symbol BARC and on the New York Stock Exchange under the ticker symbol BCS. The company is a constituent of the FTSE 100 Index and the FTSE Eurotop 100 Index.

Barclays stock trading hours
With Capital.com, you can trade Barclays shares between the regular UK trading hours: Monday through Friday from 8:00 to 16:30 (GMT). This gives you plenty of time to monitor the company's activity and stay on top of the events that may affect short-term movements in the share price.
How to trade Barclays shares CFDs?
Individuals have two options when trading Barclays in the stock market. Firstly, they can buy the company's shares on the exchanges where they are listed: for instance, on the London Stock Exchange. In this case, they actually own a share in the company. This can be considered a long-term investment, as the individual is usually waiting for the price to rise over time.
Alternatively, they can trade a contract for difference (CFD) on a particular stock and speculate on the price difference of the underlying asset. A CFD is a financial contract, typically between a broker and an investor, where one party agrees to pay the other the difference in the value of a security, between the opening and closing of the trade.
Trade Barclays PLC - BARC CFD
Investing in Barclays shares CFDs gives you the opportunity to trade the stock in both directions. Regardless of having a positive or negative view of the company's future, you can try to profit from both upward and downward price movements.
You can either hold a long position, speculating that the BARC price will rise, or a short position, speculating that the price will fall. This is considered a short-term investment as CFDs are used within shorter timeframes.
Another key difference between trading a long position with a CFD and buying a security from the stock exchange is the leverage that is employed. CFDs are traded on margin, which means that a trader can open larger positions with their capital.
Looking for a reliable CFD trading provider to invest in Barclays shares? If so, just spend three minutes of your time to sign up and start your journey of Barclays shares trading with Capital.com. Try our award-winning trading platform or download our mobile app, which will become your smart CFD trading assistant.
Why trade Barclays shares CFDs with Capital.com
Advanced AI technology at its core: a Facebook-like News Feed provides users with personalised and unique content, depending on their preferences. If a trader makes decisions based on biases, the innovative News Feed offers a range of materials to put him back on the right track. The neural network analyses in-app behaviour and recommends videos, articles and news to help polish your investment strategy, allowing you to refine your approach to Barclays shares trading.
Trading on margin: providing trading on margin with the help of CFDs, Capital.com gives you access to the stock market even with a limited amount of funds in your account.
Trading the difference: when choosing to trade Barclays shares CFD, you do not buy the underlying asset itself, meaning you are not tied to it. You only speculate on the rise or fall of the BARC share price. CFD trading is nothing different from traditional trading in terms of strategies. A CFD investor can go short or long, set stop and limit losses and apply trading scenarios that align with his or her objectives.
All-round trading analysis: the browser-based platform allows traders to shape their own market analysis and forecasts with sleek technical indicators. Capital.com provides live market updates and various chart formats, available on desktop, iOS and Android.
Focus on safety: Captal.com puts a special emphasis on safety. Licensed by the FCA and CySEC, it complies with all regulations and ensures that its clients' data security comes first. The company allows money withdrawal 24/7 and keeps traders' funds across segregated bank accounts.
History of Barclays
Barclays traces its origins to 1690. Then, a goldsmith banking business was established in London by John Freame and Thomas Gould. In 1736, James Barclay became a partner in the business.
The company in its present form was incorporated in 1896 after several banks, including Gurney's Bank of Norwich and Backhouse's Bank of Darlington, merged into a joint-stock bank under the name Barclays and Co. In 1917 the company assumed the name Barclays Bank Ltd. In 1982, it was converted into a public limited company.
Over the following decades, Barclays has developed into one of the largest financial services groups in the United Kingdom. In order to expand its market share and diversify its product portfolio, the company has made numerous corporate acquisitions.
Some of the most notorious purchases done by Barclays were the London, Provincial and South Western Bank in 1918, British Linen Bank in 1919, Mercantile Credit in 1975, the Woolwich in 2000, Lehman's North American investment-banking and trading divisions in 2008 and ING Direct UK in 2012.
Barclays stock price history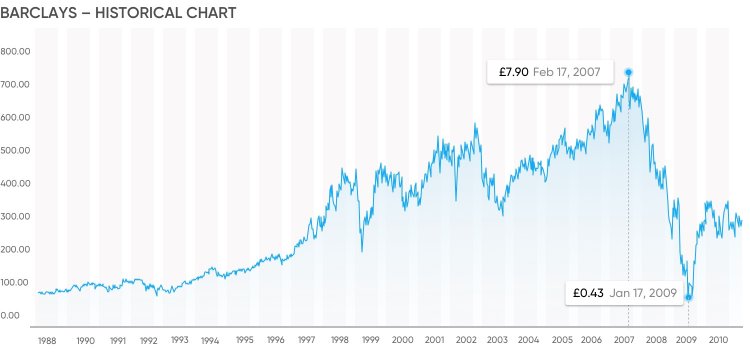 In regards to Barclays stock price history, just like any other publicly traded company, it has experienced lots of volatility.
In November 1953, Barclays went public on the London Stock Exchange under the ticker symbol BARC. The company later decided to get its secondary listing on the US stock market. For that, since September 1989, Barclays stock has been also traded on the New York Stock Exchange under the ticker symbol BCS.
As Barclays share history suggests, the company's stock had the most impressive rally starting from the mid-1990s, eventually reaching an all-time high of £7.90 in February 2007. However, following the global financial crisis the shares quickly lost their value, falling as low as £0.43 by January 2009.
Ever since, Barclays share value has been chaotically fluctuating in the range between £1.34 to £3.48. From April 2018 to August 2019, the stock had mainly been in a downtrend, with a few short-lived price hikes. After hitting its eight-years lowest of £1.36 on August 25, the Barclays share price gained upward momentum, ending 2019 at almost £1.80.
FAQ
What factors affect the Barclays (BARC) share price?

As with any equity, quarterly earnings announcements as well as the financial performance of the wider stock market are two crucial factors to watch when deciding how Barclays stock will perform. Overall demand for banking services, market sentiment, fundamental valuation and expectations about the future are among the factors that can influence the stock price.

In addition, geopolitical turmoil and economic turbulence can also negatively impact Barclays shares. Weak economic growth forecasts, Brexit uncertainty, low interest rates and tightening regulations tend to pose downward pressure on the company's stock performance.
Who are Barclays' competitors?