Binance, KuCoin and OKX cryptocurrency exchanges have listed the new luna 2.0 token (LUNA2) on their platforms, pushing its price to as high as $11.97 on 30 May.
Since then, however, the token has slumped 40% as pre-crash LUNA and UST token holders continue to sell off new coins to make up for their losses during the Terra Luna crash.
Terra Luna launched the new cryptocurrency on 28 May, renaming the old tokens as Terra Classic. The new coin started trading at $17.8, briefly spiking to $19.53 within the first hour of trading. Since then, however, the token has slumped 64% off its peak to $7.03 as of 1 June.
Terra Luna's revival plan
Previously, the Terra Luna community has approved of the revival plan that involves a Terra Luna's hard fork from the failed token, the creation of a new blockchain Terra 2.0 and a new luna token.
Earlier this month, LUNA crash made headlines, sending shockwaves through the wider cryptocurrency space, with bitcoin (BTC) and ethereum (ETH) crumbling and cryptocurrency trading platform Binance (BNB) forced to suspend trading.
The old luna coin was part of a dual-token system along with Terra's US dollar-pegged stablecoin Terra USD (UST).
Terra USD is an algorithmic stablecoin, which means that its peg to the US dollar was ensured by algorithms and game theory, using a series of smart contracts to keep the price at $1.
When UST unpegged from the USD on 9 May, UST redemptions massively inflated LUNA supply, driving the price down by 99%. The UST crash happened as the algorithms could not keep up, forcing the Luna Foundation Guard and its governance team to sell their bitcoin reserves to save the stablecoin.
This caused BTC to drop to $27,000 and wiped out nearly $400bn of the total cryptocurrency market value.
What is LUNA 2.0?
In a new plan proposed by Kwon, the Terra blockchain undergoes a hard fork, with the launch of Terra 2.0 and the old luna tokens being renamed into luna classic (LUNC). Kwon's fork proposal has passed with 65.5% majority approval.
The snapshot for Terra 2.0 provided by Kwon gives an idea of how the chain upgrade would work and states that the new Terra will be created without the algorithmic stablecoin.
The Terra Builders Alliance have provided technical details on integration, decentralised applications (dApps) migration, and a guide to rebranding the original Terra chain as 'Terra Classic'.
The old token was renamed into Luna Classic (LUNC), and while the original Cosmos chain will continue to operate, the option to mint or burn coins will be disabled. The new blockchain was launched on 28 May.
1/ Yesterday, we said Terra 2.0 is coming. Tomorrow, it arrives.

The community has been working around the clock to coordinate the new chain's launch. Subject to potential change, we expect Terra to go live on May 28th, 2022 at around 06:00 AM UTC.

— Terra ???? Powered by LUNA ???? (@terra_money) May 27, 2022
Terra Station, Terra Finder, the project's block explorer, and Terra Observer, the project's feeder for dApps, will all have full functionality under the new network, according to Terra's team.
How will LUNA Classic work?
What is Terra Luna Classic (LUNC)? It's simply a new name for the failed LUNA coins, which are being replaced by the new luna coins on the Terra 2.0 blockchain. The new tokens are being airdropped to UST and LUNA holders from 28 May, according to Terra's Twitter.
10/ Q: When will the airdrop occur?

A: The LUNA airdrop will occur on the first block of the new Terra chain, expected on or around May 28th, 2022 at 06:00:00 GMT.

— Terra ???? Powered by LUNA ???? (@terra_money) May 27, 2022
There are predetermined groups that are receiving airdrops of the new LUNA coins:
Community pool is receiving 30% of the token distribution, with 10% earmarked for developers.

Pre-crash or pre-attack LUNA holders are receiving 35% of the new LUNA tokens.

Pre-crash UST holders are receiving 10% of the new tokens.

Post-crash LUNA holders are receiving 10% of the new tokens, including staking derivatives – 30% of the tokens are being unlocked at genesis, with the remaining 70% vested over two years, with a six-month cliff.

Post-crash UST holders are receiving 15% of the tokens – 30% of those are unlocked at genesis, and 70% will be vested over two years, with a six-month cliff.
Terra airdropped the new coins to all holders with at least 10,000 of luna tokens or less "to ensure that small luna holders have similar initial liquidity profiles".
The governance also removed Terraform Labs' (TFL) wallet from the whitelist for the airdrop, to make Terra a fully community-owned chain. Additionally, a large portion of the token was allocated to Terra dApp developers to make the ecosystem successful in the long run and provide network security.
Binance, OKX and KuCoin list new luna tokens
While the airdrop has boosted the new token to as high as $19.53 after Terra's core release, the coin quickly slumped to the low of $3.93 and has been trading between $4 and $7 before the Binance listing, which pushed Terra 2.0 coin to as high as $11.97.
In the latest LUNA 2.0 news, the world's biggest cryptocurrency exchange Binance has listed the new Luna 2.0 token in its "Innovation Zone", a space for more experienced and risk-tolerant traders to get exposure to new token offerings and innovative projects.
OKX and KuCoin cryptocurrency exchanges also listed the new luna coin. Both will support Terra's airdrop of the new tokens in line with Binance.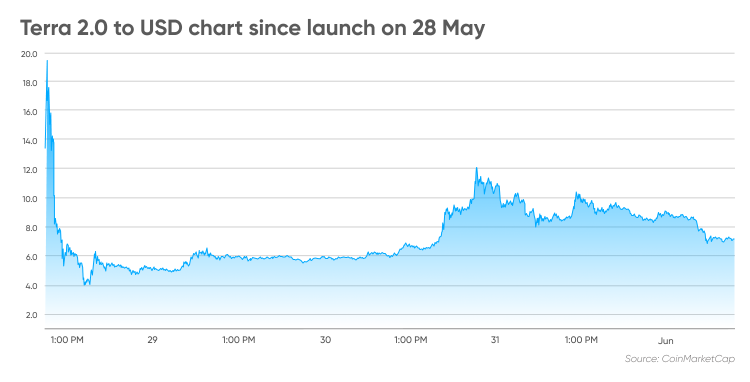 The token however, continued to slump, losing 40% of its value from the post-listings peak, as airdrop receivers report selling off their new tokens to make up for the losses during UST and LUNA crash.
Zero plans to buy $luna 2.0, but I will dump any airdrop if I get something on Binance.

— Lark Davis (@TheCryptoLark) May 29, 2022
Terra 2.0 forecast
"No matter what the price is and how the fork is going to turn out, the more immediate thing to do is to stabilise the projects in their current ecosystem."
by
Anndy Lian, chairman at BigONE Exchange
The future of Terra (LUNA) depends on its successful rebrand and launch. With the community's support for Terra's fork, the team is on the recovery path. Popular Terra Classic projects such as Astroport, Nebula, Prism, RandomEarth along with several others, will be migrating to the new Terra.
As the new LUNA coin is at the very early stage, it is extremely difficult to forecast its further direction. As of 1 May, an algorithm-based forecasting service Price Prediction suggested that the new coin to average at $14.62 in 2022, rising to an average of $43.56 in 2025, and averaging at $293.19 by 2030.
However, these predictions are based on algorithms and do not consider the current scenario. A rebranding attempt to save the crypto and regain the community's trust will depend on how the revival plan plays out.
Anndy Lian, chairman of the Netherlands-registered crypto trading platform BigONE Exchange said that Terra community is remaining strong, yet he's uncertain for how long.
"They are willing to make changes on their own. Some of them even go to the extent of sending their own wallet to the burn address to help reduce the supply. This is the kind of commitment you see on the ground," he told Capital.com in a note.
"But such moves by the community are temporary and will not last long given that the core issues are not resolved. They have to clearly state how the funds were being managed, who was and is involved in the whole process."
Lian believes that in order for Terra Luna's fork to work, the project needs trust and transparency, which would ensure an upbeat outlook and speedy growth.
"Many people out in the market are just concerned about the price. The truth is no matter what the price is and how the fork is going to turn out, the more immediate thing to do is to stabilise the projects in their current ecosystem, let them migrate their dApps and apps to the new blockchain so that they do not have any downtime," Lian added.
Note that price predictions can be wrong and shouldn't be used as a substitute to your own research. You should always conduct your own due diligence. Keep in mind that cryptocurrencies are extremely volatile, and never invest or trade money you cannot afford to lose.
FAQs
Is Terra LUNA 2.0 a good investment?

Whether the new LUNA coin is a suitable investment for you depends on your risk tolerance, portfolio size and goals, and experience in cryptocurrency markets. Remember to always do your own research before any investing or trading decision, and never invest or trade money you cannot afford to lose.
What happens to old LUNA tokens?

As Terra is undergoing a hard fork, the old LUNA coins are rebranded into Luna Classic, trading under the ticker LUNC. Some of the former LUNA and UST holders received a portion of the new LUNA 2.0 token airdrop.
When will LUNA 2.0 be released?

As per the Terra Ecosystem Revival Plan 2, Terra LUNA 2.0 was airdropped on 28 May.
How to get Terra 2.0 (Luna 2.0) tokens?

The first new LUNA coins were airdropped to pre-crash and post-crash LUNA and UST holders and the developer community on 28 May.