SpaceX valuation: Tender offer for Elon Musk's Space Exploration Technologies Corp values shares at a lofty $77.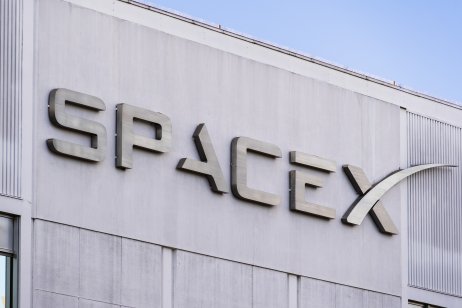 Elon Musk's Space Exploration Technologies, known as SpaceX, is offering to sell insider shares in a tender that would value the company at $140bn.
The offer values the shares at $77 each, according to the latest Bloomberg report – a substantial lift in the SpaceX current valuation of $127bn in July.
Discussions had ranged up to $85 a share, according to previous reporting by Reuters, indicating the company's value has moved back from $150bn. SpaceX has not revealed how much funding it intends to raise from the offering.
The SpaceX valuation makes it one of the highest-valued private companies in the US.
What is SpaceX?
Founded by Musk in 2002, Space Exploration Technologies designs, manufactures and launches vehicles, rocket engines, spacecraft, and communications satellites. The company aims to commercialise space transportation and enable exploration of the Moon and the colonisation of Mars.
SpaceX sends rockets and spacecraft into orbit for private companies, as well as NASA and other government agencies. SpaceX is driving innovation in the use of reusable booster rockets to save on operational costs. The company works on behalf of NASA to transport astronauts to and from the International Space Station and runs private space tourism trips.
SpaceX owns the Starlink satellite Internet service provider, which has launched thousands of its satellites into orbit since January 2020, providing Internet connectivity to more than 40 countries. Starlink has enabled Ukraine to maintain Internet access since the Russian invasion in February 2022. As of June, SpaceX said it had 400,000 Starlink subscribers, up from 250,000 in March.
What is your sentiment on TSLA?
Vote to see Traders sentiment!
SpaceX valuation: World's largest unicorn
SpaceX has received more than $9.8bn from 32 financing rounds, according to data compiled by Crunchbase, as of 14 December. The most recent was a $250m private equity round with three investors in July 2022.
SpaceX valuation history indicates that the company's worth surpassed the $1bn mark in 2010. It has since increased from around $33.3bn in May 2019 to $46bn in August 2020, $100bn in late October 2021 and $127bn in July 2022. SpaceX's market value has quadrupled in three years. It's one of the few companies to have gained in value in 2022.
At $140bn, the valuation of SpaceX would draw level with ByteDance as the world's largest unicorn (a startup or private company with a market value over $1bn). It has overtaken aerospace giants Boeing (BA) ($111bn) and Lockheed Martin (LMT) ($126bn).
SpaceX is among the most in-demand companies for secondary share offerings as investors look to gain exposure in their portfolios, according to a tweet by the podcaster and micro VC fund manager Harry Stebbings.
Don't want to jinx it, but SpaceX is positioned to grow strongly, no matter what macroeconomic conditions are like

— Elon Musk (@elonmusk) December 13, 2022
The SpaceX stock valuation in Musk's personal holdings was around $61.6bn, based on an estimate in the Bloomberg Billionaires index that he owned a 44% stake in the company, as of December 2022. Musk's SpaceX holding was in addition to his stakes in Tesla (TSLA), the Boring Company and Twitter. The increase in SpaceX valuation would boost his net worth by around $7bn, offsetting some of the recent losses in the value of Twitter and Tesla.
The share offering aims to help SpaceX employees and shareholders to cash out their shares, according to the reports. SpaceX has often provided liquidity for employees and early-stage investors to sell their shares on the secondary market without waiting for the company to list on a public stock exchange.
Musk reportedly told SpaceX employees in June that the company could spin off Starlink into a separate publicly-listed business in 2025 or later, once its cash flow is more predictable, to finance its expansion plans.
Investors and customers of Tesla and SpaceX have expressed concern that Musk's acquisition of Twitter has taken his attention away from the other businesses. Tesla's share price has fallen by 60% this year, in part as Musk has sold shares in the electric vehicle manufacturer to finance his $44bn acquisition of the social media platform.
Tesla (TSLA) live stock price
Musk has brought high-level executives and engineers from SpaceX, Tesla and The Boring Company into Twitter to help run the company, according to CNBC.
Tesla bull Gary Black, managing partner at growth-focused investment advisor The Future Fund, suggested that the share sale is a way for Musk to unlock SpaceX value rather than selling more of his Tesla stock to raise cash to finance Twitter.
A positive sign that @elonmusk selling SpaceX shares rather than more $TSLA at $168. That said, Elon not doing the math if he believes $TSLA massive decline since he bought TWTR (TSLA -26.5% vs NDX +1.4% since 10/28) is due to Fed int rate hikes and Chinese real estate market. pic.twitter.com/m90ZJQFGLA

— Gary Black (@garyblack00) December 13, 2022
Will SpaceX go public?
Despite the lofty valuation of SpaceX, there are no indications that the company could go public in the near term.
In the past, chief operating officer Gwynne Shotwell told CNBC that SpaceX is unlikely to go public until it is flying to Mars regularly. Musk has also indicated that the company's long-term objectives are not suited to the short-term demands of public shareholders. If the company does go public in the future, it would be some time after any initial public offering (IPO) of Starlink.
As a private company, SpaceX does not publicly disclose its revenue, but it could have brought in a few billion dollars from launch sales and the Starlink Internet service. PayloadSpace analysis estimated in October that the company's 2022 revenue could total $3.25bn, comprising $2.27bn from mission launches and $980m from Starlink.
The company could need to bring in external capital to cover its costly operations and development, and generate more free cash flow from increasing its Starlink subscriber base.
Rapidly growing space industry
Since its Falcon 9 launch in 2010, SpaceX has pioneered a substantial drop in launch costs that is making space far more accessible. The industry could reach $1trn by 2040, a 5% compound annual growth rate from 2020, according to a report from US investment bank Citigroup:
"Revenue from manufacturing, launch services, and ground equipment will make up the majority of the revenue growth in the satellite sector. However, the fastest growth rate is expected to come from new space applications and industries, with revenue forecast to rise from zero to $101 billion over the period."
Space investment has previously been dominated by government agencies and the world's wealthiest countries. But with the growing attention on SpaceX, Blue Origin and Virgin Galactic (SPCE), increased knowledge and the speed of development, venture capital has become the largest source of investment. Citigroup added:
"There has been about $24 billion of commercial private investment in space over the last decade, of which ~80% came from venture capital…. One drive of this investment growth has been the growing awareness of the potentially significant impact from lower launch costs on space accessibility. These favorable costs were highlighted by SpaceX's Falcon 9 launch in 2015."
The growing interest from private investors looking to gain exposure to such a rapidly expanding industry that was not previously accessible to private investors could boost SpaceX's future valuation as it continues to seek more funding.
Bottom line
Note that analysts' predictions can be wrong and shouldn't be used as a substitute for your own research. Always conduct your own due diligence before trading, looking at the latest news, technical and fundamental analysis, and a wide range of commentary.
Remember, past performance does not guarantee future returns. And never trade money you cannot afford to lose.
FAQs
What is the valuation of SpaceX?

SpaceX is offering to sell insider shares in a tender that would value the company at $140bn, up from $127bn in July 2022.
Who owns SpaceX?

Founder and CEO Elon Musk owns around 44% of SpaceX, according to an estimate by Bloomberg, as of December 2022.
Will SpaceX go public?

There were no indications that SpaceX will go public in the near term. The company has suggested that it will spin off its Starlink satellite Internet service provider as a public company in 2025 at the earliest.