Solana price prediction: Can SOL rebound?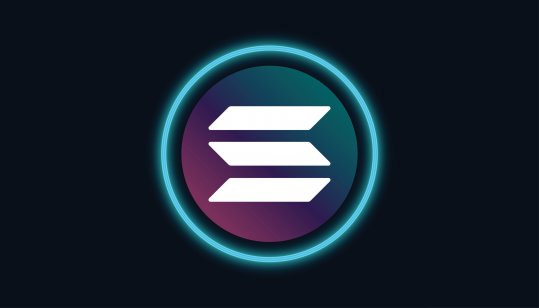 Solana's SOL coin lost more half its value in the wake of the collapse of the FTX crypto exchange in November 2022, but has recently managed to mount a relative comeback, climbing from $8.39 on 29 December to peak at $26.93 on 20 February 2023, with the coin making another surge around the time of the launch of Solana's mobile phone.
The token's initial woes started when it lost nearly half its value in less than a day as the market panicked in the wake of the proposed takeover of the FTX (FTT) exchange's by Binance (BNB), then shrank further when Binance pulled out of the deal, crashing by almost 70% in total from $38 to below $13.
Solana's problems came about, at least in part, because of its ties with FTX. On 14 November 2022, Solana admitted it had assets worth $1m stuck in FTX when the exchange went down.
Although this represented less than 1% of Solana's assets, Solana also had 134.54 million serum (SRM) tokens and 3.43 million FTT tokens on the exchange as of 6 November 2022, the day that withdrawals were suspended from FTX, as well as 3.24 million shares in FTX.
Could Solana become a Cardano side-chain?
According to figures from the analytics site DeFiLlama, there was $295.38m locked in the Solana ecosystem on 12 April 2023, up from $266.85m on 3 February, but less than the $301m locked in on 1 December and down significantly from about $10bn in November 2021 and $1bn on 6 November 2022.
Solana's co-founder Raj Gokal said on 7 December, that the collapse of FTX could, ultimately, turn out to be a good thing for the crypto industry. He told Fortune: "We've always heard really negative criticism about FTX's involvement in the ecosystem, and that concentration of ownership stake. So it feels like ripping the Band-Aid."
Cardano (ADA) founder Charles Hoskinson suggested on 9 December that Solana could become a sidechain on his platform, tweeting: "Come on @solana speak the words. Become a sidechain."
The Maple crypto-lending platform announced on 15 December that it would stop issuing loans on Solana, citing the transition of the Ethereum (ETH) blockchain to a proof-of-stake (PoS) consensus mechanism as a driver for the change.
Bankman-Fried support
SOL's losses may have been exacerbated by the support it received from Sam Bankman-Fried, the now-disgraced former CEO of FTX. As recently as August 2022, Bankman-Fried said solana was "the most underrated" crypto.
Before that, Alameda Research, part of the FTX empire, had been one of the main investors in the Solana blockchain, while a report from CoinDesk said that FTX itself had invested more than $1bn in SOL.
As of 17 April 2023, Alameda still held a little under 45 million SOL locked and staked, representing 71.9% of all locked staked solana and 9.9% of all staked SOL, according to Solana Compass, although a report from The Daily Hodl suggested that those coins could well be in the hands of liquidators.
Not only had Bankman-Fried invested in Solana-based projects, but his exchange had also launched a marketplace for Solana-based NFTs (non-fungible tokens). That could well be concerning for SOL and its investors, with some doubts over the blockchain's future in the wake of the collapse.
The crypto's position would not have been helped by news on 11 November that the Crypto.com exchange had suspended withdrawals of tether and USD via the Solana blockchain, although other stablecoin withdrawals would be unaffected.
The announcement on 29 November that the Solana-based Serum exchange had become "defunct" after the fall of FTX would also have caused problems.
That said, it was not as if Solana itself had been having a good time recently; the network suffered another major outage and one of its lending protocols saw a $100m hack in October. As a result, almost two thirds of an expert panel no longer had full trust in the blockchain, according to Finder.
Let's take a look at solana, and also run a ruler over some of the solana price predictions that were being made as of 17 April 2023.
Solana explained
Unlike many other popular blockchains, which operate using proof-of-work (PoW) or proof-of-stake (PoS) consensus mechanisms, Solana was among the first to introduce a proof-of-history (PoH) algorithm, which allows the blockchain to operate quickly while staying secure and decentralised.
It was founded in 2017 by Anatoly Yakovenko, a former Qualcomm (QCOMM) employee and Dropbox (DBX) software engineer, and his colleague Greg Fitzgerald. Solana's main goal was to create an open-source project that implemented a new, high-performance, permissionless blockchain.
Because of its PoH algorithm, the Solana blockchain can process 2,000 transactions a second, marking it as a competitor to Ethereum (ETH), the second-largest cryptocurrency by market capitalisation.
Ethereum has become the leader in decentralised finance (DeFi) because of its compatibility with smart contracts, which enable the building of decentralised applications (dApps). However, Ethereum's popularity also made its blockchain expensive and slow to use, which encouraged the emergence of alternatives such as Solana.
According to Solana's official website, the platform is "the fastest blockchain in the world and the fastest growing ecosystem in crypto, with thousands of projects spanning DeFi, NFTs, Web 3.0 and more." In addition to being fast, Solana also boasts average fees of less than $0.00025.
Solana's ecosystem covers a number of lending protocols, DeFi projects, NFT marketplaces, Web 3.0 apps and decentralised exchange (DEX) projects. It also includes Phantom, a Solana wallet built for DeFi and NFTs, and Audius, a decentralised music-sharing platform.
But Solana now faces more competiton, as Ethereum is upgrading to a PoS consensus mechanism, making it much quicker, less costly and less energy-intensive. Once the transition is fully complete in 2023, Ethereum claims it will have speeds of up to 100,000 transactions per second.
Solana is powered by its native cryptocurrency. SOL is used to pay for transaction fees and any purchases in the Solana ecosystem, as well as for staking.
One worry is that the Solana blockchain has been prone to network outages. In 2022, Solana suffered nine outages in one two-month period, seven of which were described as "major". At one point in May last year, Solana had to admit that the blockchain had fallen "approximately 30 minutes behind wall clocks, because of longer-than-normal block times." While the lag did not affect the blockchain's operation, it could have an impact on annual staking rewards. Solana pays rewards to stakers on each epoch, which has 432,000 blocks. Based on Solana's designed block time of 400 milliseconds, there should be 182 epochs in a year, but longer block times would reduce the number of epochs, leading to reduced earnings.
Solana price history
While past performance should never be taken as an indicator of future results, knowing the recent SOL price history can help give us some very important context when it comes to either making a solana price prediction of our own or interpreting one that is already out there.
The price dropped in response to the update of 26 May, from $47.98 on 25 May 2022 to $43.49 on 26 May and $40.98 on 27 May. SOL fell below $50 on 11 May as cryptocurrency markets suffered from the impact of the collapse of the Terra UST and LUNA tokens, and the US Dollar Index (DXY) hit a 20-year high.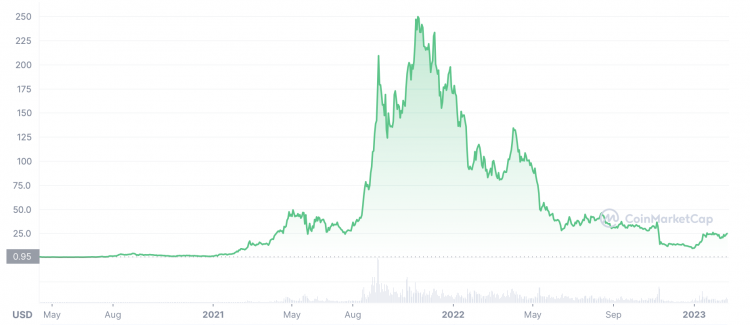 Volatility increased as the token fell to a low of $26.06 on 14 June 2022. SOL then rallied to $47.10 on 19 July, but was unable to reach the $50 level and slipped back to $42.40 at the end of July. Stagnation followed before the price collapsed to $12.51 on 9 November 2022, a long way down from its all-time high of $260.06 a year earlier. It reached a high of $18.81 on 10 November 2022 before moving down to trade at a low of $15.51 on 11 November after the FTX bankruptcy announcement.
The token continued to trade between $11 and $15 until mid-December, after which its price dropped substantially, reaching $8.14 on 29 December 2022. However, a tweet by Ethereum's founder, Vitalik Buterin, suggesting he considered the blockchain to have "a bright future", coupled with interest in the Solana-based dog coin BONK, helped a recovery of sorts, and it rallied to $17.36 on 9 January before falling back down to around $16.10 on 12 January.
It managed to break past $20 for the first time since November on 14 January and buoyant market conditions saw it stay above that level, peaking at $26.65 on 29 January before dipping somewhat to stand at around $24.50 on 3 February 2023. Later that month, the news that the Helium (HNT) protocol was to migrate to Solana on 27 March saw the price boost to $26.93 on 20 February 2023. In March, the collapse of the Silvergate bank shook the crypto market and SOL dropped to a low of $16.12 on 10 March. After that, there was a recovery to $23.83 on 20 March, but not even the news that it had overtaken Ethereum in numbers of active wallets could stop the solana coin from trading at around $20.70 on 6 April 2023. On 11 April, though, SOL shot up by a little more than 10% over the course of the day, opening at $20.88 and closing at $23.02, before continuing to grow to peak at $25.46 on 14 April. By 17 April, the price has fallen a little and it was trading at around $24.85.
At that time, according to data from CoinMarketCap, there were a little over 392.3 million SOL in circulation, with a total supply of about 539 million. This gave the coin a market cap of about $9.7bn, making it the 10th-largest crypto by that metric.
Solana price predictions
Before we look at some of the SOL price predictions that were being made as of 17 April 2023, remember that price forecasts, especially for something as potentially volatile as cryptocurrency, often end up being wrong. In addition, many long-term crypto price predictions are made using an algorithm, which can change at any time.
CoinCodex had a gloomy short-term solana price prediction for 2023. The site said the coin could drop to $23.79 by 22 April before collapsing to $12.39 by 14 May. The site's technical analysis for solana was, perhaps surprisingly, neutral, with 20 indicators making bullish signals compared to eight sending bearish ones.
DigitalCoinPrice was more upbeat in its solana crypto price prediction. Based on historical figures, the solana price prediction from the crypto data provider indicated that the token could trade at around $52.76 in 2023. Its solana price prediction for 2030 saw the coin potentially climbing to $246.50.
The solana coin price prediction from CoinPriceForecast was also optimistic. The projection suggested that the coin could trade at $41.95 by the end of 2023 and the site's solana price prediction for 2025 indicated that the price could rise to $54.64 by the end of that year and continuing to grow to close the decade at a potential $68.08.
Wallet Investor, though, had a SOL price prediction that argued the crypto was in for a tough 12 months, with the coin potentially collapsing to around $1.92 by the middle of April 2024.
When looking for SOL coin price predictions, remember that cryptocurrency markets remain extremely volatile, making it difficult to predict accurately what a coin's price will be in a few hours, and even harder to come up with a long-term target price. Analysts and algorithm-based forecasters can and do get their expectations wrong.
If you are considering investing in cryptocurrency tokens, we recommend that you always do your own research. Look at the latest market trends, news, technical and fundamental analysis, and expert opinion before making any trading decision. Keep in mind that past performance is no guarantee of future returns, and never risk money that you cannot afford to lose.
FAQs
Is solana a good investment?

It is hard to say. A lot will depend on whether it can recover from recent losses, how it responds to FTX's bankruptcy in the long-term and how the market behaves in the future, as well as how popular its Saga mobile phone is.

Remember, you should always carry out your own thorough research before making an investment. Even high-market-cap cryptocurrencies can be affected by bear markets, so investors should be prepared to make losses and never purchase more than they can afford to lose.
Will solana go up or down?

While the likes of DigitalCoinPrice were optimistic as of 14 April 2023, other forecasters such as Wallet Investor were far more downbeat. It is important to remember that price predictions often turn out to be wrong, and that prices can and do go down as well as up.

In volatile cryptocurrency markets, it is important to do your own research on a coin or token to determine if it is a good fit for your investment portfolio. Whether SOL is a suitable investment for you depends on your risk tolerance and how much you intend to invest, among other factors.

Bear in mind that past performance is no guarantee of future returns and never invest any money that you cannot afford to lose.
Should I invest in solana?

This is a question that you will have to answer for yourself. Before deciding whether or not to invest in SOL, you will need to do your own research, not only on solana but also on other crypto coins and tokens.

Never stake money you cannot afford to lose, because prices can go down as well as up.