SLP coin price prediction: What next for Smooth Love Potion?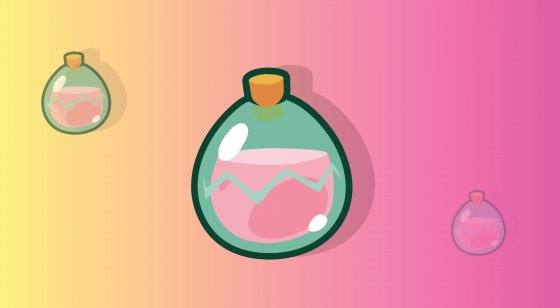 The smooth love potion (SLP) coin used in the Axie Infinity gaming metaverse is trading at $0.002474 at the time of writing on 10 January 2023.
The SLP cryptocurrency was launched in December 2019 as a utility token in Axie Infinity to enable game players to breed its non-fungible token (NFT) characters, known as Axies.
However, players began collecting SLP tokens to cash out on exchanges, affecting the game's tokenomics. The developers have since limited the ways players can earn SLP and launched a new season of the game in August, again adjusting the way the token works.
What is SLP and how does it work in Axie Infinity now? What is the outlook for the price? In this article, we look at the project's recent developments and provide an SLP price prediction round-up.
SLP forms Axie Infinity play-to-earn economy
The SLP coin, previously known as 'small love potion', is a utility token that players in the Pokémon-inspired Axie Infinity universe can earn as rewards for gameplay. Axie Infinity is built on the Ethereum blockchain. SLP is an ERC-20 token. Players can use SLP to breed digital pets called Axies, NFTs that they can sell to other players in the Axie Infinity Marketplace. New players need to buy Axies to join the game. There is no cap on the supply of SLP tokens.
In its whitepaper, Axie Infinity wrote:
"Axie was built as a fun and educational way to introduce the world to blockchain technology. Many of the original team members met playing Crypto kitties, and it was their first time ever using Blockchain for anything other than pure speculation."
The blockchain-based design enables Axie to reward players for their contributions to the ecosystem, which has taken the lead in popularising the 'play-to-earn' model for NFT games. "Axie has attracted thousands of players from developing countries in the pursuit of a new income stream during the Covid pandemic," according to the whitepaper.
The rapid growth in the game's popularity has created a 'scholarship' model, in which 'managers' rent out their Axies to 'scholars', who use them to earn income.
Launched in 2018 by game studio Sky Mavis, Axie Infinity surpassed CryptoPunks, one of the first major NFT collections. On 16 September, Axie had a total traded volume of more than $4.25bn, compared with $2.93bn for CryptoPunks, according to data from DappRadar.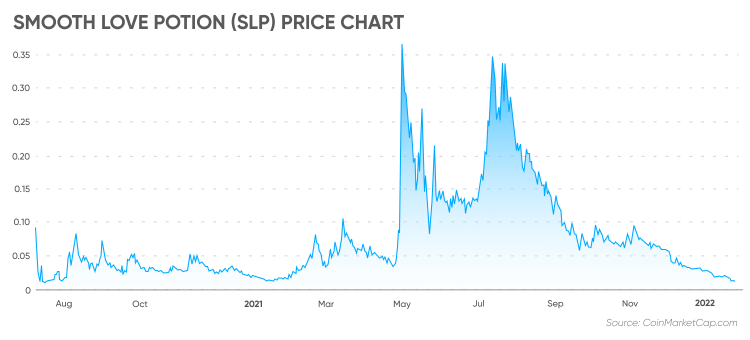 SLP price crash affects gaming interest
The SLP price has been volatile over the past two years, ranging between $0.009543 and $0.1996 in the second half of 2020 until the cryptocurrency markets rallied. The token soared from $0.03633 on 19 April 2021 to its all-time high of $0.4191 on 1 May 2021.
The price collapsed to $0.06245 on 23 May 2021 as the markets retreated. It soared again to $0.4088 on 13 July but fell again despite a summer rally on the broader markets, dropping to $0.05821 by 21 September.
A November rally in metaverse-related tokens followed the renaming of Facebook's (FB) parent company to Meta Platforms (META). The SLP price rose to $0.1352 on 4 November, but a bearish turn across the cryptocurrency markets pulled the price lower. SLP ended 2021 at $0.027 and has continued to decline, trading around $0.01 in recent days.
SLP ended 2021 at $0.027. On 3 February 2022 it dropped to $0.008795 before another rally on 10 February saw the price spike to $0.04044. But the token was unable to maintain the price gain, dropping to $0.01578 on 13 March.
SLP rose to $0.02919 on 4 April, but dropped to $0.003993 on 12 May when cryptocurrencies sold off in response to the crash of the Terra Luna ecosystem.
SLP largely traded around $0.003 to $0.004 until 12 August, when it reached a high of $0.005648. The price dropped back to around $0.0036 following the 13 September sell-off.
Axie Infinity developers attempted to address the sharp drop in the value of SLP. In September 2021, the developers adjusted the Axie breeding fee, reducing the AXS cost from two to one and increasing the SLP cost on a scale of 600 SLPs to breed one Axie, up to 6,300 SLPs for six Axies.
According to the Axie Infinity blog, the fee was adjusted in response to a slowdown in growth. There were concerns over an imbalance in the rate that SLP tokens were being minted and burned daily, large fluctuations in the breeding fee caused by volatility in the AXS and smooth love potion value, and the rise in AXS to 80% of the breeding fee, "which has taken away from SLP's utility within our economy".
"Many players that are new to Axie have expectations of the in-game economy that are unrealistic and would not be conducive to long-term growth. Thanks in advance for your understanding as we learn together how to balance the economy in both the short and long term."
On 12 August 2022, the developers announced the transition of Axie Infinity to its Phase 3, and the shift of SLP from Axie Infinity Classic (V2) to Axie Infinity Origin (V3)
"One major benefit of transitioning to Origin from Classic is expanded abilities to balance the SLP economy. Thus, the design of the SLP rewards system with Origin is being tuned in a way to align with that goal," they wrote in their newsletter.
"Similar to Classic, SLP will continue to only be distributed in PvP ranked mode when players win battles, and the higher rank that one is competing in, the more SLP rewards they will receive per win."
A major difference will be that SLP is required to craft various Charms and Runes. The new mint system will be reduced from 14 days to seven. "However, no SLP will be allowed to be minted during Season 0 (30 days) as [they] monitor the system."
In June, a newsletter update revealed that Season 0 would introduce NFT Runes and Charms that require SLP to craft. "Origin SLP emissions will be tuned conservatively to better balance the economy. Emissions are projected to be much lower overall than Classic and will be focused on rewarding skilled players that move up the Ranks."
So, what do some forecasters predict for the future of the SLP token price? We provide an SLP coin price prediction round-up below.
Smooth love potion price prediction: Will the token price rebound?
As of 10 January 2023, a technical SLP price analysis from CoinCodex was 'neutral', with 16 technical analysis indicators signaling 'bullish' signals, and 11 signaling 'bearish', while the Fear & Greed Index showed 'fear'.
CoinCodex's smooth love potion price prediction indicated that the token could drop in the next month and hit $ 0.003174 by 9 February.
Algorithm-based analysis service Wallet Investor was bearish in its smooth love potion price prediction for 2023, projecting that the token could average $0.000513 by the end of the year. The website predicted that the price could be $0.000318 by the end of 2024 and $0.0009050 by the end of 2025.
Gov Capital's smooth love potion price prediction questioned the token's future viability, estimating that the price could crash to zero in a year.
In contrast, the SLP coin price prediction from DigitalCoinPrice expected the coin to move higher based on historical data, suggesting that the price could average $0.00847 by 2025. The forecaster's smooth love potion price prediction for 2030 had the price averaging $0.0250.
Price Prediction's SLP crypto price prediction estimated that the price could average $0.003 in 2023, based on its deep learning technical analysis. The service's smooth love potion price prediction for 2025 was positive on the long-term outlook, with the token rising to $0.006 and reaching $0.042 by 2030.
When using a smooth love potion price prediction to inform your trading, it's important to keep in mind that cryptocurrency markets are extremely volatile, making it difficult to accurately predict what a coin's price will be in a few hours and even harder to give long-term estimates. As such, analysts can and do get their predictions wrong.
We recommend that you always do your own research and consider the latest market trends, news, technical and fundamental analysis, and expert opinion before making any investment decision. And never invest more than you can afford to lose.
FAQs
Is Smooth Love Potion a good investment?

Cryptocurrencies are highly volatile assets and very risky investments. Whether SLP token is a suitable fit for your investment portfolio depends on your personal circumstances and risk tolerance. You should evaluate the level of risk you are prepared to accept before investing. And never invest money that you cannot afford to lose.
Will Smooth Love Potion go up or down?

No one can say for sure. The direction of the SLP price will depend on the popularity of the Axie Infinity game, the issuance of SLP tokens in the game's new developments, as well as sentiment on the broader cryptocurrency markets led by bitcoin. Always research the latest Smooth Love Potion price prediction before investing.
Should I invest in Smooth Love Potion?

How you invest is a personal decision depending on your risk tolerance and investing strategy. You should do your own research to take an informed view of the market and decide whether SLP is an appropriate fit for your portfolio.