Shiba Inu price prediction: Can the meme coin build on recent gains?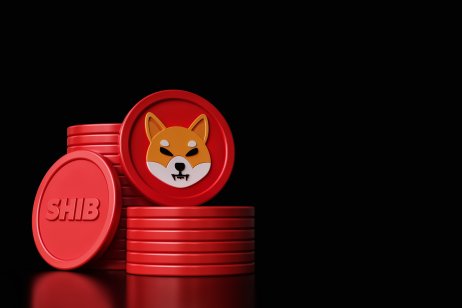 It's the crypto token designed to take meme coins to another level, but what is shiba inu (SHIB)? Let's see what we can find out, and also see what might happen soon. What is the future of shiba inu? No one can tell with any certainty, but we will take a look at some of the shiba inu price predictions that were being made as of 4 April 2023.
Shiba inu explained
Shiba inu was launched in August 2020. The memecoin is a play on the Dogecoin (DOGE) meme, which is itself a parody on cryptocurrency in general. Coins themed around the Japanese Shiba Inu dog breed gained popularity in 2021 as the market blossomed and DOGE turned from a joke into a serious player.
Shiba Inu is built on the Ethereum (ETH) network, which means that it is a token, rather than a coin. You might see references to a shiba inu coin price prediction, or have people ask "what is the future of shiba inu coin", but they are wrong.
According to its website, Shiba Inu initially had a supply of one quadrillion tokens. Half of the total supply was locked in the Ethereum-based DEX Uniswap while the other half was sent to Ethereum's co-founder, Vitalik Buterin, "for safekeeping".
In July 2021, Buterin donated 50 trillion SHIB coins, which represented 5% of its total supply, to India's Covid-19 relief fund. Buterin also sent 40% of Shiba Inu's total supply to a "dead wallet", which is also referred to as burning, according to Shiba Inu's website.
The project has evolved from the SHIB decentralised meme token into an ecosystem that incorporates the LEASH and BONE tokens. Shiba Inu's network also has a decentralised exchange (DEX) called ShibaSwap and a non-fungible token ( NFT) incubator called the Shiba Incubator.
Shiba Inu has additionally set up a non-profit volunteer organisation called the Shiba Inu Rescue Association, which is dedicated to saving abandoned, neglected and abused Shiba Inu.
Anonymous founder
Ryoshi is the founder of Shiba Inu. Like Bitcoin's (BTC) alleged founder, Satoshi Nakamoto, Ryoshi has chosen to remain anonymous. Anonymity is not uncommon in the cryptocurrency sector. Many users are drawn to blockchain payment networks such as Bitcoin, as they promote decentralisation and privacy.
As of 23 February 2023, it has been over a year since Ryoshi's last blog post on the online publishing platform Medium. Ryoshi has also deleted all tweets and replies on Twitter.
One of Ryoshi's last Medium posts, published on 30 May 2021, read: "I am not important, and one day I will be gone without notice. Take the SHIBA and journey upwards frens."
Shytoshi Kusama, a lead Shiba Inu developer, wrote in a blog post celebrating the one-year anniversary of Ryoshi's last Medium post:
"The ethos of Ryoshi to remain anonymous and have no input on the direction of Shib, makes our mythos even more mystic and impressive. We've built from nothing, never paid an exchange for a listing, and revolutionised 'meme' tokens by growing exponentially."
In terms of the SHIB price history, it is important to remember that past performance should never be taken as an indicator of future results. However, knowing what the token has done in the past can help give us some very important context if we want to either interpret a shiba inu price prediction or else make one of our own.
When SHIB first came onto the open market in August 2020, SHIB was worth around of $0.0000000001. It stayed close to that level for most of the first nine months of its existence. But then something happened.
When DOGE rallied in early May 2021, people started to look around for the next Dogecoin – and a lot of them settled on SHIB. This meant on 8 May, the day Elon Musk appeared on Saturday Night Live, the price exploded, going from $0.000005246 to $0.00001883 – a rise of roughly 260%.
While Musk's appearance on the American TV institution hit DOGE's price, SHIB continued to expand – reaching an all-time high of $0.0000388 on 10 May 2021.
However, the crypto market took a big hit on 19 May 2021, and Shiba Inu was affected along with the rest. It dropped to $0.00000622 on 21 May before climbing to $0.00001159 on 24 May.
On 17 June 2021, Coinbase's surprise listing of SHIB on its exchange led to the coin price rising from $0.00000728 to $0.000009331 in just over an hour – an increase of 28%. But this sudden boom was followed by a fall.SHIB struggled, along with much of the rest of the market, across the summer of 2021. However, by autumn, the token spiked to an all-time high of $0.00008845 on 28 October 2021.
SHIB gained momentum after Musk tweeted a photo of his Shiba Inu puppy in a Tesla on 4 October 2021, and on news of a potential listing on the crypto exchange Robinhood.
However, 2022 was a bad year for crypto across the board, with a series of market crashes impacting most coins and tokens and SHIB was not immune. Starting the year at $0.00003342, it struggled through a series of market crashes and it closed the year at $0.000008087, representing a loss of more than 75% over the course of 2022.
On the other hand, the crypto market has shown some signs of recovery in 2023 so far. It reached a high of $0.00001562 on 4 February, its highest price since August but then slipped to a low of $0.00001189 on 9 February. News that the Shibarium layer 2 scaling solution, a platform which would, in effect, take Shiba Inu transactions off Ethereum, carry them out, and put them back on Ethereum, would be released at an unspecified date in late February or early March boosted not only BONE, Shibarium's native token, but also SHIB itself and, on 23 February 2023, SHIB was worth about $0.0000134. Shibarium was, perhaps inevitably, delayed and, on 23 March, developers said the platform's documentation was in order and it would be released soon. By 24 March, SHIB was worth a little more than $0.00001, with the collapse of the Silvergate bank having been something which had hit the price over the previous month. On 4 April 2023, the token was worth around $0.00001145.
At that time, there were a little over 589.5 trillion SHIB in circulation out of a total supply of just over 589.6 trillion. This gave the token a market cap of around $6.75bn, making it the 14th largest crypto by that metric.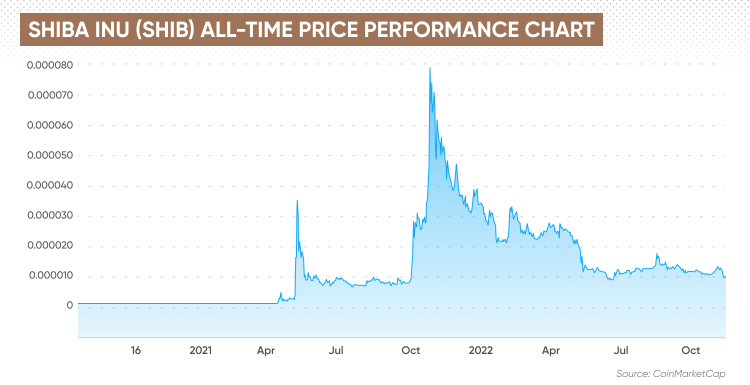 Shiba Inu price prediction round-up
With that all out of the way, let's now take a look at some of the shiba inu price predictions that were being made as of 4 April 2023. It is important to remember that price forecasts, especially when it comes to something as potentially volatile as crypto, very often end up being wrong. Also, many long-term crypto price predictions are made using an algorithm, which means that they can change at a moment's notice.
First, CoinCodex had a somewhat mixed short-term shiba inu price prediction for 2023, saying that it could fall to $0.00001039 by 9 April and then recover to $0.00001427 by 5 May. Perhaps unsurprisingly, the site's technical analysis was neutral, with 19 indicators sending bullish signals compared to eight making bearish ones.
Next, WalletInvestor made a shiba inu crypto price prediction that was pretty clear in its predictions of doom. The site said SHIB could be in for a tough 12 months, dropping to a mere $0.000000921 by early April 2024.
DigitalCoinPrice was bullish about SHIB's price performance in the future. Its shiba inu price prediction for 2030 thought the token could trade at an average price of $0.000117 that year.
Finally, CryptoPredictions.com had a shiba inu price prediction for 2025 that saw it potentially start the year at $0.00001488, reach $0.0000167899 by June and possibly close the year at $0.0000188885.
When considering a SHIB token price prediction, it's important to keep in mind that cryptocurrency markets remain extremely volatile, making it difficult to accurately predict what a coin or token's price will be in a few hours, and even harder to give long-term estimates. As such, analysts and algorithm-based forecasters can and do get their predictions wrong.
If you are considering investing in cryptocurrency coins and tokens, we recommend that you always do your own research. Look at the latest market trends, news, technical and fundamental analysis, and expert opinion before making any investment decision. Keep in mind that past performance is no guarantee of future returns. And never trade with money that you cannot afford to lose.
FAQs
Is shiba inu a good investment?

It is hard to say. A lot will depend on whether Shibarium can be a success and boost SHIB's price, along with how the crypto market performs as a whole.

Remember, you should always carry out your own thorough research before making an investment. Even high market cap cryptocurrencies can be affected by bear markets. So investors should be prepared to make losses and never purchase more than they can afford to lose.
Will shiba inu go up or down?

No one can really tell right now. Although sites like CryptoPredictions.com are upbeat, the likes of WalletInvestor are far more gloomy. Remember that price predictions are very often wrong and that prices can, and do, go down as well as up.

In volatile cryptocurrency markets, it is important to do your own research on a coin or token to determine if it is a good fit for your investment portfolio. Whether SHIB is a suitable investment for you depends on your risk tolerance and how much you intend to invest, among other factors. Keep in mind that past performance is no guarantee of future returns. And never invest money that you cannot afford to lose.
Should I invest in shiba inu?

Before you decide whether or not to invest in SHIB, you should do your own research, not only on other memecoins.

Ultimately, though, this is a question that you will have to answer for yourself. Before you do so, however, you will need to conduct your own research and never invest more money than you can afford to lose because prices can go down as well as up.