Revain price prediction: What is revain (REV)?
Subscribe to Weekly Highlights
The major market events for the week ahead right in your inbox.
Subscribe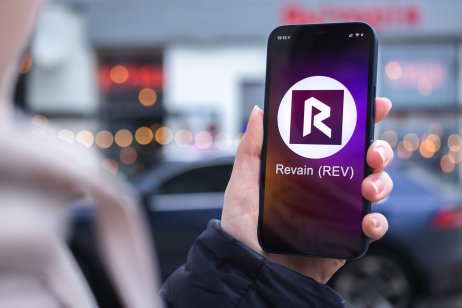 Content
It wants to help make sure online reviews are fair, unbiased and accurate, but what is the revain (REV) cryptocurrency?
Let's see what we can find out about this token, and also examine some of the revain price predictions that were being made as of 6 January 2023.
Revain explained
Revain is a blockchain-based platform that aims to provide unbiased information in the form of user reviews of products, companies and cryptocurrencies.
The project was founded in 2017 by a group of Russian tech entrepreneurs headed up by Rinat Arslanov. According to the firm, the product reviews industry is plagued with paid-for commentary posted by marketing agencies who are hired to promote a particular product and enhance its credibility in the eyes of consumers.
In addition, Revain claims that the reviews space is highly centralised and that the companies who sell the products typically control the reviews they receive. This reduces transparency and dramatically affects the accuracy of users' commentary.
The Revain system uses blockchain technology to create unchangeable records of reviews for different products and services posted by companies. According to the firm's own statistics, as of January 2023 more than six million reviews had been posted on the platform by more than 44,000 people. The company also claims that nearly 177,000 companies have registered on its platform, while it has showcased over 5.7 million products to be reviewed.
Every blockchain-based platform needs its own native crypto, and Revain has the conveniently named revain token, which trades under the ticker symbol REV. It is mainly used to pay authors for leaving reviews on the platform. The platform's AI-powered technology browses through thousands of reviews every day. It filters out low-quality comments, compensating high-quality reviews only.
REV is an ERC-20 and TRC-20 token, meaning that it operates on the Ethereum and Tron networks. The project is also working to create a BEP-20 token for the BNB Chain (BNB), formerly known as Binance Smart Chain. This means that it is not a coin, so any references to such things as a "revain coin price prediction" are wrong.
Revain price history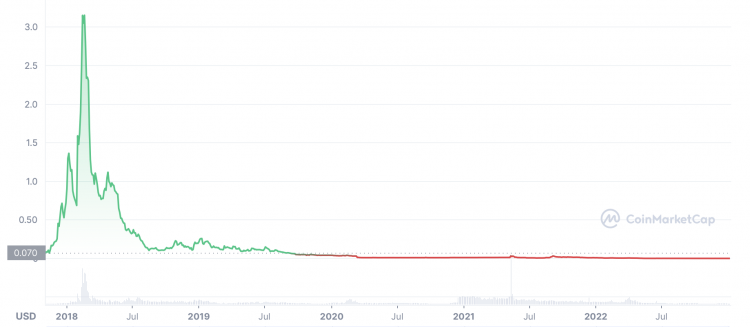 REV price history from launch to present - Credit: CoinMarketCap
Let's now cast our eyes over the REV price history. While past performance should not be taken as an indicator of future results, knowing what the token has done during the time it has been in operation can help us if we want to either interpret a revain price prediction or make one of our own.
REV first came onto the open market in November 2017. When it launched, it was worth around $0.10. It was not long after this that the crypto market experienced a notable bubble, and revain was caught in the upwards movement, reaching an all-time high of $4.49 on 18 February 2018.
The token then went down, much like the wider market, and, by August that year, it was trading at around $0.15. There were some peaks and troughs, but the coin's overall direction was downward, with it slipping below $0.10 in 2019, and by the end of 2020 it was trading at $0.01165.
The crypto market blossomed in early 2021, but REV was not one of the cryptos which saw massive price gains at that time. It mostly traded at less than $0.015 until early May when, on 11 May, the price spiked to $0.05607. Considering it had been trading at $0.01297 just two days earlier, this was significant progress, but things soon fell apart and it spent the summer in the doldrums, with a particular low point coming on 21 July, when it sank to a low of $0.00567. After that, though, there was a recovery, with a periodic high of $0.03576 on 4 September 2021, before it fell back down to close the year at $0.009249.
If people were hoping REV could have a profitable 2022, they were sadly mistaken. The token was already on a downhill tangent when a series of market crashes left it at a low of $0.001251 on 19 June. Although there was some recovery after that, November's collapse of the FTX (FTT) exchange left the market, and revain, reeling. REV dropped to an all-time low of $0.0002185 on 17 November.
Following that, the crypto started to behave rather unpredictably, going through a series of spikes which included highs of $0.001124 on 28 November and $0.001209 on 25 December and lows of $0.0004861 on 29 November and $0.0004876 on 26 December before closing 2022 at $0.0005284, representing a year-on-year loss of around 95%.
The volatility continued into the New Year, with a high of $0.0008472 on 5 January 2023 followed by it trading at around $0.00054 on 6 January 2023. At that time, there were 85,061,485,690 REV in circulation, representing the total supply. This gave it a market cap of around $46m, making it the 336th-largest crypto by that measurement.
Revain price prediction round-up
With that all said and done, let's take a look at some of the revain price predictions that were being made on 6 January 2023. It is important to remember that price forecasts, especially for something as potentially volatile as cryptocurrency, often turn out to be wrong. You should also remember that many long-term crypto price predictions are made using an algorithm, which means they can change at any time.
First, CoinCodex had a mildly optimistic short-term revain price prediction for 2023, suggesting that the token could move to $0.000728 by 11 January before crawling up to $0.000729 by 6 February. The site's technical analysis was, perhaps surprisingly, bearish, with 25 indicators making downbeat signals against just eight making bullish ones.
Next, CryptoPredictions had a revain token price prediction that argued the crypto could reach $0.00182 by January 2024. The site then made a revain price prediction for 2025 that saw it start the year at $0.001338797 and close it at $0.00209, before suggesting it could potentially reach $0.0023899 two years later.
Meanwhile, PricePrediction made a revain crypto price prediction that suggested the token could reach $0.00083938 this year before hitting $0.001 next year and $0.002 the year after that. By the end of the decade, the site said REV could be worth $0.009, before it made a revain price prediction for 2030 which saw it break through the one-cent barrier to trade at $0.013.
Finally, Wallet Investor had a rather pessimistic REV price prediction, claiming that the token was in for a tough 12 months, with it forecast to drop to just $0.0000432 by early January 2024.
When considering a revain (REV) price prediction, it's important to keep in mind that cryptocurrency markets remain extremely volatile, making it difficult to accurately predict what a coin or token's price will be in a few hours, and even harder to give long-term estimates. As such, analysts and algorithm-based forecasters can and do get their predictions wrong.
If you are considering investing in cryptocurrency tokens, we recommend that you always do your own research. Look at the latest market trends, news, technical and fundamental analysis, and expert opinion before making any investment decision. Keep in mind that past performance is no guarantee of future returns, and never invest money that you cannot afford to lose.
FAQs
Is revain a good investment?

It is hard to tell. The revain crypto has been rather volatile over the six weeks or so leading to 6 January 2023, and a lot will depend on how the market performs as a whole.

Whether REV is a suitable investment for you depends on your risk tolerance and how much you intend to invest, among other factors. Keep in mind that past performance is no guarantee of future returns, and never invest money that you cannot afford to lose.
Will revain go up or down?

What REV does next could depend on the development of the Revain project and the trends on the broader cryptocurrency markets, which the price tends to follow. Keep in mind, too, that price predictions often end up being wrong and that prices can and do go down as well as up.

In volatile cryptocurrency markets, it is important to do your own research on a coin or token to determine if it is a good fit for your investment portfolio. Whether REV is a suitable investment for you depends on your risk tolerance and how much you intend to invest, among other factors.

Keep in mind that past performance is no guarantee of future returns, and never invest money that you cannot afford to lose.
Should I invest in revain?

This is a question that you will have to answer for yourself. Before you do so, however, it's important to stay on top of the latest Revain project news and cryptocurrency market developments to decide whether you should invest in the token.

Never invest more money than you can afford to lose, because prices can go down as well as up.
Related reading