Ravencoin price prediction: What is ravencoin (RVN)?
Subscribe to Weekly Highlights
The major market events for the week ahead right in your inbox.
Subscribe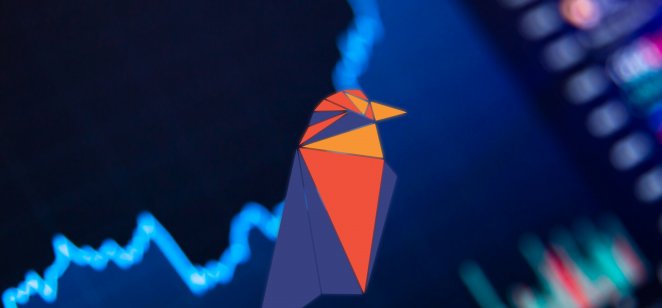 Content
It allows people to create their own crypto tokens, but what is ravencoin (RVN)?
Let's see what we can find out, and let's take a look at some of the ravencoin price predictions that were being made as of 23 November 2022, too.
Ravencoin explained
Developed by 430 Bitcoin developers, the Ravencoin blockchain launched in April 2018.
According to the project's whitepaper, Ravencoin is a blockchain-based protocol that allows developers and users to create tokens for virtually any asset they like.
These tokens can then be transferred to third parties using the Ravencoin network, which is a fork of Bitcoin's original code. Among other things, the project changes the number of coins issued from 21 million to 21 billion, while reducing the time that it takes for a block reward to be mined.
The Ravencoin project retains some of Bitcoin's features, including periodical halvings and a network that runs on the proof-of-work (PoW) protocol on order to mint its native cryptocurrency, the conveniently-named ravencoin (RVN).
Through Ravencoin, developers can create tradable tokens that track the price of off-chain assets such as gold, silver, euros and collectibles. The tokens could potentially facilitate and reduce the cost of trading these assets.
The network claims that virtually anything that has a value can be converted into a token on the Ravencoin blockchain. It's the project's core value proposition.
Ravencoin price history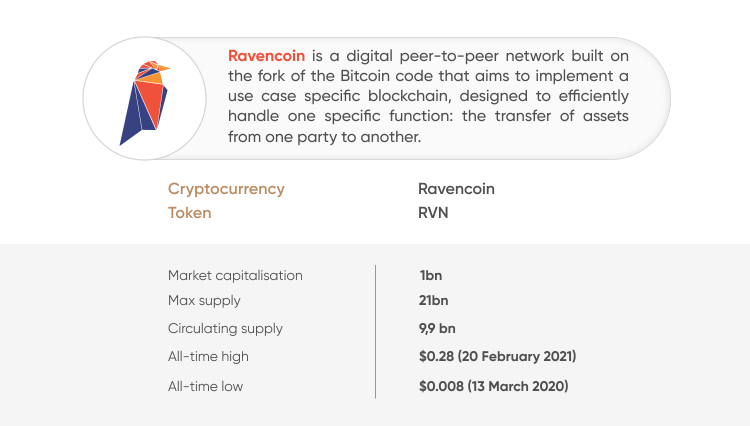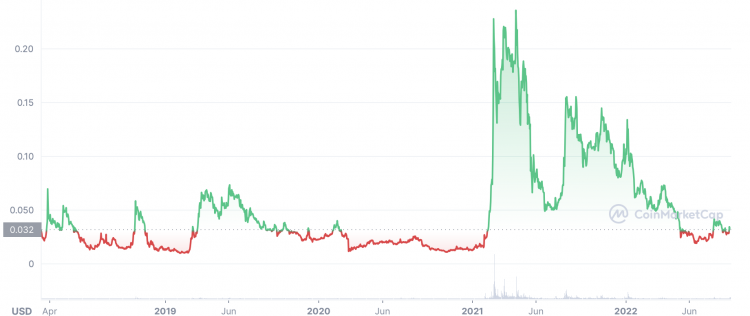 Ravencoin price history from launch to present - Credit: CoinMarketCap.com
Let's now cast our eyes over some of the RVN price history. While past performance should never be taken as an indicator of future results, knowing what the coin has done in the past can give us some context for an existing ravencoin price prediction, or help us make one of our own.
Early 2021 was a boom time for the crypto market in general, and for ravencoin in particular. The coin's price moved from $0.03 on 5 February 2021 to an all-time high of $0.2854 on 20 February – an 862% gain in less than a month.
One of the reasons why the line on ravencoin's price chart started to jump at that time may have been the decision by multiple traditional brokerage companies to temporarily halt trading activity in certain stocks during the short-squeezing frenzy, including GameStop (GME) and AMC Entertainment (AMC).
The tokenisation of assets through ravencoin could have allowed traders to exchange their investments through the blockchain. But there is no evidence that the industry was moving in that direction.
This may be one reason why the price declined from that peak to as little as $0.13 by the end of February last year. Traders were forced to revise any ravencoin (RVN/USD) forecast to incorporate a scenario in which the world does not rely on the blockchain to trade stocks.
Ultimately, though, there was a downturn and RVN closed the year at $0.107.
On 11 January 2022 ravencoin's halving reduced the block reward from 5000 RVN to 2500 RVN. As a block is created roughly every minute, and halvings take place every 2.1 million blocks, the next will be in around four years.
While halvings can sometimes cause a crypto's price to shoot up, ravencoin ultimately went down. It reached a low of $0.01728 on 15 June, as the cancellation of withdrawals on the Celsius (CEL) crypto lending platform confirmed the bear market following the crash caused by the depegging of the UST stablecoin and the collapse of the LUNA cryptocurrency.
| | |
| --- | --- |
| Long position overnight fee | -0.0500% |
| Short position overnight fee | 0.0140% |
| Overnight fee time | 22:00 (UTC) |
| Spread | 0.00335 |
| | |
| --- | --- |
| Long position overnight fee | -0.0500% |
| Short position overnight fee | 0.0140% |
| Overnight fee time | 22:00 (UTC) |
| Spread | 0.0012247 |
| | |
| --- | --- |
| Long position overnight fee | -0.0500% |
| Short position overnight fee | 0.0140% |
| Overnight fee time | 22:00 (UTC) |
| Spread | 0.2803 |
| | |
| --- | --- |
| Long position overnight fee | -0.0500% |
| Short position overnight fee | 0.0140% |
| Overnight fee time | 22:00 (UTC) |
| Spread | 60.00 |
Since then, there has been some recovery, which got a boost on 4 September 2022 following the announcement that RVN would get its own specialist hardware crypto wallet. This saw the price shoot from a opening of $0.02886 to a high of $0.03754.
Things got even better in the middle of the month, as the migration of Ethereum (ETH) from proof-of-work to proof-of-stake (PoS) saw the ravencoin blockchain emerge as a potential safe haven for former ETH miners, with it reaching a high of $0.07529 on 14 September. Since then, though, things have gone downhill with the the collapse of the FTX (FTT) exchange sending RVN down to $0.01906 on 9 November. On 23 November, though, the news that Binance (BNB) had launched its own Ravencoin mining pool saw the coin shoot up to around $0.02325.
At that time, there were 11.91 billion RVN in circulation, representing the total supply. This gave the coin a market cap of about $276.8m, making it the 103rd largest crypto by that metric.
Ravencoin price predictions
With that all said and done, let's take a look at some of the ravencoin price predictions that were being made as of 23 November 2022.
It is important to remember that price forecasts, especially when it comes to something as potentially volatile as cryptocurrency, are often wrong. Also, long-term crypto price predictions are often made using an algorithm, which means that they can change at a moment's notice.
First, CaptainAltCoin had a rather downbeat initial RVN crypto price prediction. The site suggested that it could drop to $0.0132 by February 2023 before potentially making something of a recovery to $0.0171 by November 2023.
The site then went on to make a ravencoin price prediction for 2025 that saw the coin trading at $0.0285 that year, before things took another small slide down to $0.0262 in November 2027.
By 2030, CaptainAltCoin said, things could have turned around, with the forecast suggesting RVN could be $0.0713 that year. It also made a ravencoin price prediction for 2040 of $0.1426.
Next, PricePrediction had a RVN coin price prediction that said the crypto could hit $0.022 in 2022, $0.032 in 2023 and $0.046 in 2024. In 2025, the site suggested a possible ravencoin price of $0.067, before it potentially reached $0.10 in 2026, $0.15 in 2027 and $0.21 the year after that, potentially closing the decade at $0.30.
The site then made a ravencoin price prediction for 2030 that saw the crypto possibly trade at $0.45, before it argued it could reach $0.67 the following year.
Meanwhile, CoinCodex made a rather mixed RVN price prediction, suggesting the coin could climb to $0.023639 on 28 November before dropping to $0.018048 on 24 December. The site's technical analysis was bearish, with 19 indicators making downbeat signals against 13 making bullish ones.
Finally, WalletInvestor was a lot gloomier in its ravencoin price prediction for 2030. The site said it believed the crypto could face a pretty poor 12 months, with a one-year price forecast of $0.0016 by November 2023.
When considering any RVN price prediction, it's important to keep in mind that cryptocurrency markets remain extremely volatile, making it difficult to accurately predict what a coin or token's price will be in a few hours, and even harder to give long-term estimates. As such, analysts and algorithm-based forecasters can and do get their predictions wrong.
If you are considering investing in cryptocurrency tokens, we recommend that you always do your own research. Look at the latest market trends, news, technical and fundamental analysis, and expert opinion before making any investment decision. Keep in mind that past performance is no guarantee of future returns, and never trade with money that you cannot afford to lose.
FAQs
What is the future of ravencoin?

Ravencoin's blockchain is a project that offers the possibility of tokenising real-world assets and items that can be then transferred between parties relatively easily and cheaply. However, Ravencoin is hardly the only platform that lets developers and users tokenise assets. Tezos and CommerceBlock are among Ravencoin's rivals, which can be used for the exchange and storage of tokenised assets.

The project is yet to prove its fundamental value. Any plausible Ravencoin price prediction for 2023 and beyond will depend on the network's success in achieving widespread adoption, among other factors.

Note that past performance never guarantees future results.
Is ravencoin a good investment?

Cryptocurrencies are volatile financial instruments whose value is hard to estimate. Earnings neither support crypto projects nor can be used to estimate their fair value.

An investment in a cryptocurrency like Ravencoin, whose adoption is still in its early stages, is something that should be considered with great caution. It is important that traders only risk money they can afford to lose.

Potential investors might also consider implementing risk management tools, such as the use of stop-loss orders and limited position sizing, to keep potential losses in check.

Remember, you should always carry out your own thorough research before making an investment. Even high market cap cryptocurrencies have proved vulnerable to the current bear market, so investors should be prepared to make losses and never purchase more than they can afford to lose.
Will Ravencoin go up or down?

It is hard to tell. A lot will depend on whether its recovery from recent losses can be sustained, as well as the performance of the crypto market as a whole.

In volatile cryptocurrency markets, it is important to do your own research to determine whether a coin or token is a good fit for your investment portfolio. Whether RVN is a suitable investment for you depends on your risk tolerance and how much you intend to invest, among other factors.

Keep in mind that past performance is no guarantee of future returns, and never invest money that you cannot afford to lose.
Should I invest in Ravencoin?

Before you decide whether or not to invest in ravencoin, you need to do your own research, not only on RVN but also on other crypto coins.

This is a question that you will have to answer for yourself. Before you do so, you will need to conduct your own research. Never invest more money than you can afford to lose, because prices can go down as well as up.
Related reading