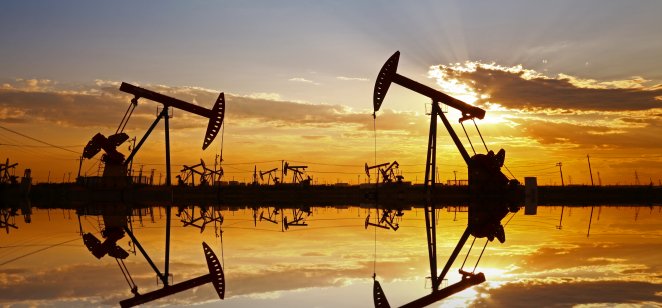 Oil prices continue to hover around 14-year highs after unwinding supply chains and Russia's invasion of Ukraine threw demand and supply relationships completely off balance.
As countries hit by the imbalance begin to alter their supply chains, can stability be found soon? Or will a resurgent China and seemingly unending conflict create a permanent, higher base for the major commodity?
Oil price analysis
The oil price trend has historically been tied to wider political and economic events, including the 1973 Organisation of the Petroleum Exporting Countries (OPEC) crisis and the recession instigated by the 2007 to 2008 banking crisis. Prices have also been prone to seasonal effects based on fluctuating demand for heating.
Prior to the coronavirus pandemic, oil had enjoyed five years of relatively low prices, peaking around $75 in October 2018, but typically hovering around the $40 to $60 range between 2015 and 2020.
There were periods of higher prices linked to the global financial crisis of 2008 and Russia's 2014 annexation of Crimea.
Historic circumstances during the Covid-19 pandemic materially reduced demand for travel and the transport of freight. The commodity turned negative for a brief period in April 2020, hitting -$37.63 on 20 April as producers tried to offload excess barrels.
The commodity proceeded to gradually nudge itself back up the curve as restrictions loosened and the winters of 2020 and 2021 approached. But the oil price was sent into overdrive by Russia's invasion of Ukraine, hitting highs last seen during the 2008 financial crash. The price has risen more than 61% in the year to date, surpassing $120 a barrel for the first time since 2008.
As of 28 June, an oil technical analysis of West Texas Intermediate (WTI) crude, one of the oil benchmarks, showed bullishness in the commodity. Oscillators were indicating 'buy', including a Relative Strength Index (RSI) of 70.756 and a moving average convergence divergence (MACD) of 13.19. Moving averages (MAs) were a strong buy.
WTI crude was approaching its R1 resistance of $123.7, with historically high levels marking further resistance above, and could follow WTI forecasts.
Major price drivers
The ongoing Russia-Ukraine conflict
Russia's invasion of Ukraine had a knock-on effect on every asset class, from equities to precious metals. However, its impact was perhaps most felt in the energy sector.
Russia is the world's third-largest producer of oil, behind Saudi Arabia and the US, according to the International Energy Agency (IEA). It is also the world's largest oil exporter.
The US ban on Russian oil in March was followed by the EU's agreement to ban 90% of it by the end of this year, which resulted in increased pressure on global prices. A resolution of the conflict seems unlikely in the short term, meaning global oil prices could remain heightened.
G7 nations are currently discussing a potential price limit on Russian oil, which, if approved, would be potentially enforced through limits on the availability of European services, such as insurance for Russian oil shipments.
Warren Patterson, Head of Commodities Strategy at ING Group's research arm THINK, voiced his concerns about the timing of the potential limit in a recent note:
"...it would likely take some time to come to an agreement. It would require the EU to renegotiate its last round of sanctions, and some member countries may be reluctant to do so, given how long it originally took EU countries to finalize its Russian oil ban."
OPEC face pressure
OPEC has been in a months-long battle with Western countries over the speed at which it ships its supply of oil. The oil producers hold nearly 80% of the world's crude oil reserves.
The alliance agreed to take 10 million barrels a day off the market in April 2020 to cope with plummeting demand as production and travel shut down across the globe. OPEC is still in the midst of reintroducing supply to the market, and has been reluctant to do so at the pace demanded by Western allies.
Sanctioned countries coming out of the cold
Countries once locked out of Western markets are being given hope that the war in Ukraine has created a window of opportunity.
There have been reports of the lifting of restrictions on Venezuela to engage in oil-for-debt swaps, with sources telling Reuters that a ban could be lifted for some companies as early as July. Venezuela, which, according to BP, has the world's largest oil supply, re-entering the global oil market could have serious implications for its price.
The US is also expected to increase the amount of oil Iran is allowed to ship, according to Mike Muller of Vitol, speaking on a podcast produced by Gulf International.
What is your sentiment on Oil - Brent?
Vote to see Traders sentiment!
Warren Patterson voiced his doubts about the ramping up of the Iranian oil exports in the near future, commenting that it would only increase by the start of next year:
According to EU diplomats, Iranian nuclear talks are set to restart in the coming days, after failing earlier this year. Given the strength in oil prices, Iran may feel that they are in a stronger position when it comes to negotiations. The sticking point in talks has been Iran wanting the US to remove the Islamic Revolutionary Guards Corp from its terrorist list. Given that talks have been on and off for the last year or so, we expect that discussions will likely be drawn out, and so we are assuming that the supply of Iranian oil will only start increasing in early 2023.
Meanwhile, in an interview with Europe 1, French finance minister Bruno Le Maire said the country was talking to Dubai about replacing Russian crude with imports from the UAE state.
Each of these avenues could work to push down projected oil prices.
China ramps up supply
The chaos that has unfolded in recent months has been alleviated by the lower demand during the spring and summer months. As winter approaches, demand for oil to heat homes will go up, driving up its price, according to the US Energy Information Administration (EIA). But those factors could pale in comparison to an uptick in demand by China.
A study by Carbon Brief released in May showed that China has seen its longest sustained drop in carbon dioxide emissions in a decade. Increases in the use of clean energy partly contributed to the drop, but the main causes were the slowdown in construction and sustained lockdowns, which pushed down demand for oil.
As normality resumes, a big uptick in China's demand could spell more trouble for oil moving forward.
Analyst views and forecasts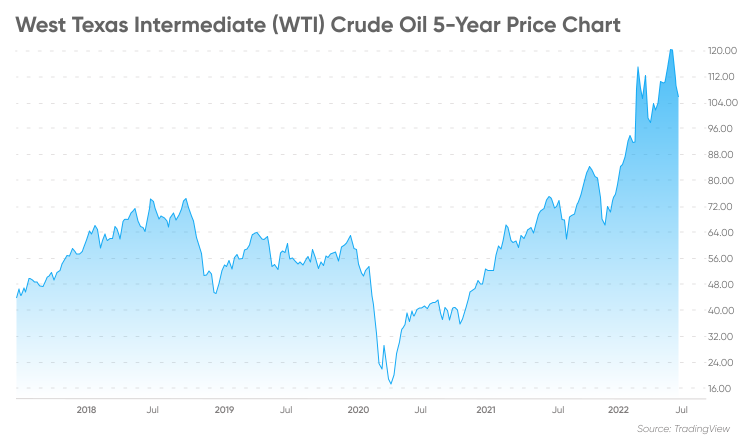 Russ Mould, head of investments at AJ Bell, looked at the performance of oil through stocks driven by the commodity, like Shell and BP, and how much their performances were linked to a crude oil price forecast.
"The contrast could hardly be greater and while financial markets continue to obsess about interest rates and quantitative tightening, oil is the biggest issue around right now, not least because central banks cannot print crude so any influence they have is limited to demand, and not supply," Mould said in a note.
"Oil stocks are responding to this dilemma for policymakers by marching higher. Shares in Shell and BP are both back to pre-pandemic levels and Shell is nudging toward its prior all-time peaks (even if BP is some way short of that).
"But when oil stocks are studied in a wider context, it seems as if investors do not really believe that crude will remain in the ascendent for too long, possibly in the view that the long-run move away from hydrocarbons to alternative, renewable sources of energy is still on track."
Susannah Streeter, senior investment and markets analyst at Hargreaves Lansdown, said in a note that movements to offset Russian dependence weren't reaping huge benefits yet, driving higher oil price expectations.
"The latest trigger to push up prices appears to have been Saudi Arabia's decision to increase prices for its crude sales next month, despite the pledge by OPEC, the oil cartel, to increase production by 50% in July and August.
"With Western powers sending long range missiles to Ukraine, it underlines the entrenched state of the war, which is adding to supply concerns in the market, particularly given the compromise deal that has been reached by the EU on a Russian oil embargo.
"Demand energy is expected to rebound in China with more covid restrictions being lifted particularly in Beijing, and although a dramatic snap back in economic growth isn't forecast, the recovery from lockdowns is likely to fuel worries about whether there will be enough oil supplies to meet appetite in the world economy."
In a Brent crude oil price forecast that targeted a price of $103 a barrel in the second half of 2022, the EIA said oil price movements were largely dependent on the situation in Russia. A long-term oil price forecast for 2023 by the EIA gave a WTI forecast price of $93.24.
"Actual price outcomes will largely depend on the degree to which existing sanctions imposed on Russia, any potential future sanctions, and independent corporate actions affect Russia's oil production or the sale of Russia's oil in the global market," said the IEA.
Both Citigroup and Barclays raised their oil barrel price predictions for this year amid ongoing delays to a deal with Iran, with Citi predicting an average price of $113 per barrel, and Barclays giving a Brent crude price target of $111 for this year and the next.
In a report to clients, Goldman Sachs predicted that the price of oil could hit $140 this summer.
In its oil market forecast given as part of its 2021 Annual Energy Outlook, the EIA predicted that the Brent and WTI prices could be $61 and $59 respectively in 2025, while in 2030 Brent could rise to $73 and WTI to $71.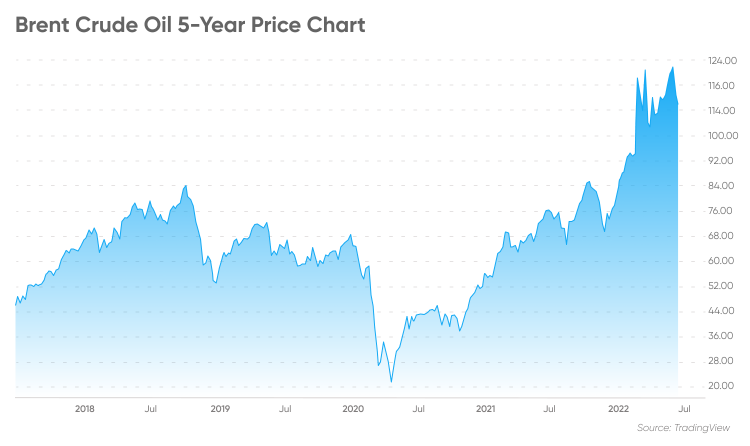 Note that analysts' oil price projections can be wrong. Forecasts shouldn't be used as a substitute for your own research. Always conduct your own due diligence before investing. And never invest or trade money you cannot afford to lose.
FAQs
Is crude oil a good investment?

Oil prices have been volatile, and their future direction is based on highly unpredictable developments between Russia and Ukraine. In the short term, most brokers' oil price outlook is that the price could continue to rise, though its price could fall over the long run.

Whether crude oil is a good investment for you or not will depend on your portfolio composition, investment goals and risk profile. Different trading strategies will suit different investment goals with short or long-term focus. You should do your own research and never invest what you cannot afford to lose.
Why has the oil price been going up?

The price of oil was rising before Russia invaded Ukraine as demand returned faster than supply to the global economy. The ongoing conflict has seen the price skyrocket to 14-year highs as supply becomes increasingly uncertain.
Will oil go up to $140 a barrel?

In a report to clients, Goldman Sachs predicted oil could reach $140 a barrel this summer. However, analysts' forecasts could be wrong and have been inaccurate in the past. Always do your own research and never invest more money than you can afford to lose.