Natural gas price 2023 outlook: Can a recession ease the energy crisis?
Subscribe to Weekly Highlights
The major market events for the week ahead right in your inbox.
Subscribe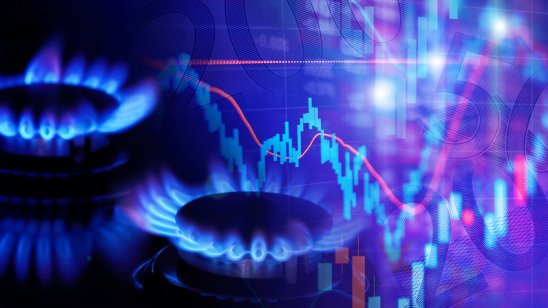 Content
Natural gas was one of the strongest markets in 2022, substantially outperforming other commodities as well as more traditional asset classes such as stocks and bonds.
Natural gas prices have risen considerably since the conflict in Ukraine started in February 2022. This event precipitated a catastrophic energy crisis in Europe throughout the course of the summer, which impacted worldwide markets and has yet to be resolved.
In the United States, the Henry Hub price of natural gas had a wild year. After soaring by as much as 170% from $3.5/MMBtu in early January to $9.97/MMBtu in August, the highest level since July 2008, US natural gas prices plummeted by 40% between their summer peak and early December.
EU Dutch TTF prices, Europe's benchmark for natural gas, skyrocketed from roughly €70/MWh prior to the start of the war to an all-time high of €350/MWh in August before falling to €130/MWh in early December.
Europe's energy crisis, weather-related winter demand, and technical issues continue to have a huge impact on the global natural gas market.
Will natural gas be able to repeat its excellent performance next year, or will a recession in the first quarter of 2023 accelerate the decreasing trend that began in the autumn?
Natural gas: 2022 Year in Review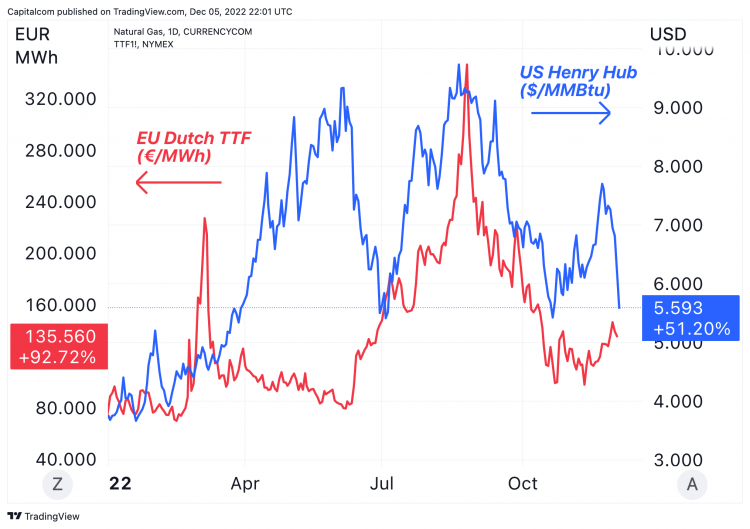 Natural gas price chart & performance in 2022: Henry Hub vs Dutch TTF in 2022 (data as of December 5, 2022) – Photo: Capital.com, Source: Tradingview
Natural gas was one of the best-performing asset classes in 2022.
As of December 5th, the year-to-date increase in US Henry Hub natural gas prices was 51.2%, the highest annual increase since 2016 and up from the 47% recorded in 2021. EU Dutch TTF prices have climbed by 92.7% year to date, but lower than the 262% spectacular performance experienced the previous year (2021).
Among energy commodities, only coal (135%) outperformed natural gas in terms of year-to-date returns. Natural gas was followed by heating oil (30%), crude oil (3%), gasoline (-1%), and ethanol (-27%).
The real start of the natural gas crisis in Europe actually was in the summer of 2021, when a drop in wind energy generation led to an increase in gas consumption at the same time that Russia began to restrict supply.
The Ukraine crisis has further exacerbated an already tight market, with Gazprom opting to suspend gas supply via the Nord Stream pipeline before summer 2022, forcing Dutch TTF prices to reach an all-time high of almost €350/MWh on August 23, 2022.
As natural gas prices in Europe skyrocketed, European buyers sought alternatives, ultimately importing enormous volumes of liquified natural gas (LNG) from the United States in order to meet mandated reserves ahead of the winter.
Henry Hub prices have risen as a result of increased price premiums of LNG exports from the United States to Europe. The Northern Hemisphere's mild winter so far has prevented an early seasonal depletion of gas supplies in Europe and the United States, which are still at adequate levels. As a result, natural gas prices have been under pressure, falling rapidly from the sky-high levels seen in the summer.
What is your sentiment on Natural Gas?
Vote to see Traders sentiment!
Natural gas 2023 fundamental analysis: A balancing act between winter and recession
High levels of gas reserves in the US and Europe have given the natural gas market a cushion in the short term to prevent price spikes leading up to the winter of 2022–2023. Nevertheless, natural gas demand is very sensitive to factors such as the typical severity of winter and the geopolitical concerns produced by the conflict in Ukraine.
As of early December 2022, Europe's gas storage levels were 92% full, a very high level for the time of year and near to 10-year highs due to milder weather conditions heading to the winter.
Most EU countries' gas storage levels are well above their 5-year averages, but key questions depend on how European reserves will be refilled after winter, assuming that Russian supplies do not resume.
In fact, when operating at full capacity, Nordstream 1 and 2 were able to cover up to 31% of total European gas demand. Thus, if the pipelines are irretrievably lost, European will have to act swiftly to fill the structural gas shortfall.
European gas reserves are high heading into winter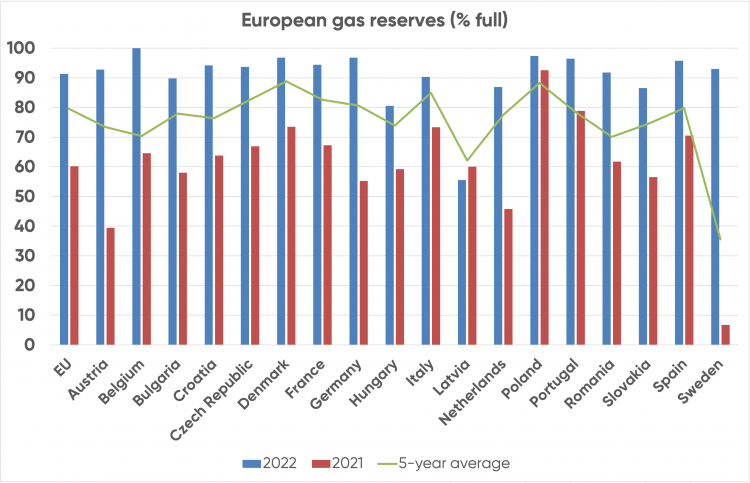 European gas storage levels (% full) as of December 5, 2022 – Photo: Capital.com, Data: AGSI+ https://agsi.gie.eu/data-overview/eu
When winter ends in Europe, at around the end of the first quarter of 2023, the need to replenish gas reserves could result in a rise in seasonal demand for natural gas from other suppliers, such as LNG from the United States and Asia.
As European gas reserves dwindle, seasonal demand may drive up gas prices in Europe ahead of the summer. The natural gas market could confront a fresh period of acute tightness, exerting upward pressure on prices, if China reopens its economy in the first half of 2023 and gas production is not increased substantially elsewhere.
However, a US recession may weigh on US natural gas demand, forcing prices to decline, but a price premium greater than the pre-Ukraine war period is expected to exist for a longer period of time in this market.
US Natural gas price performance during the most recent US recession
US recession
US Natural gas price
performance (% change)
Jul 1990-Mar 1991

-6.9%

Mar 2001-Nov 2001

-42%

Dec 2007-Jun 2009

-47%

Feb 2020-Apr 2020

+3.8%
Source: Tradingview
Since natural gas is an energy commodity, its price is influenced by the economy's growth rate. Other things being equal, increased economic growth raises demand for natural gas, placing upward pressure on prices.
A recession, on the other hand, leads to less consumption and, as a result, poorer performance, as has historically been the case in previous US economic recessions.
Natural gas prices have fared badly in three of the four previous US recessions. Natural gas prices in the United States declined by about 7% during the early 1990s recession.
The Henry Hub price decreased by 42% from March to November of 2001. During the Great Financial Crisis, the price of natural gas fell by 47% between December 200 and June 2009.
In the first months of the pandemic in 2020, from February to April, the price of the Henry Hub increased by nearly 4% since rising household gas consumption as a result of lockdowns more than compensated for the drop in industrial demand.
Natural gas price seasonality: Why winter is not bullish for prices
Natural gas price monthly seasonality analysis since 1990 – Photo: Capital.com
The seasonality of US natural gas prices is quite strong, yet contrary to popular beliefs, winter months have historically been unfavorable for this market.
When analyzing the performance of Henry Hub natural gas prices from 1990, the months of November through February showed negative average performances, with monthly returns of -0.3%, -4.4%, -3.5%, and -2.9%, respectively. Since winter stock levels are normally highest in December and January, these two months experienced the lowest natural gas average performance.
In contrast, natural gas tends to rise in the spring when reserves are at their lowest after the winter, and again at the end of the summer between August and October when reserves must be replenished in anticipation of the upcoming winter.
September has the highest natural gas monthly performance (+11.6%) and gain frequency (72%), followed by October with 7.5% performance and 66% gain frequency.
Natural gas: Rising correlation between Henry Hub and Dutch TTF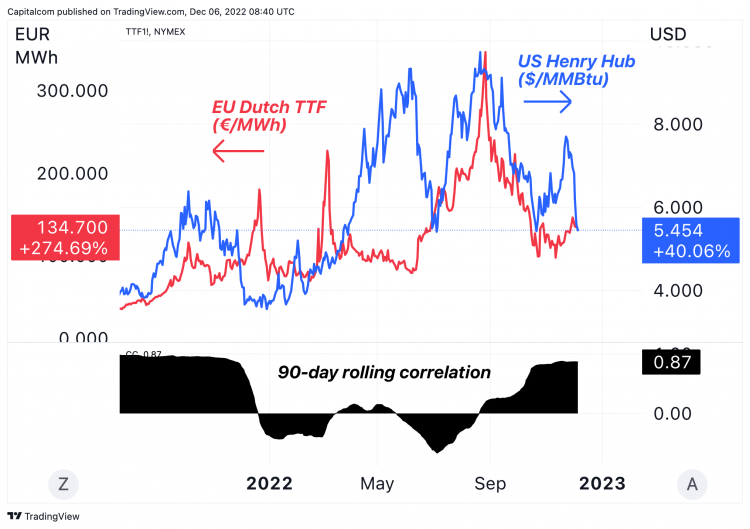 Natural gas prices (TTF vs Henry Hub) and their 90-day rolling correlation coefficient – Photo: Capital.com, Source: Tradingview
The relationship between the two major natural gas benchmarks, the EU Dutch TTF and the US Henry Hub, has increased this year, with the 90-day rolling correlation coefficient rising to 0.88 as of early December 2022 from negative levels at the beginning of the year (-0.38).
Even in the past, there were periods in which the natural gas prices in Europe and the United States moved in tandem, such as between the summer of 2021 and November of 2021, and between September and November of 2020.
Currently, the link between the two gas markets is contingent on a number of factors relating to the equilibrium of supply and demand. Specifically, the focus is mostly on European developments, which were the primary factor in the summertime escalation of natural gas prices in the United States.
The amount of gas reserves in Europe, the weather, especially whether or not the winter will have colder or warmer temperatures than average, are very sensitive factors to changes in the price of Dutch TTF, which has an impact on the demand for LNG from the United States and, consequently, on domestic Henry Hub prices.
Natural gas 2023 forecasts and technical analysis: Rangebound market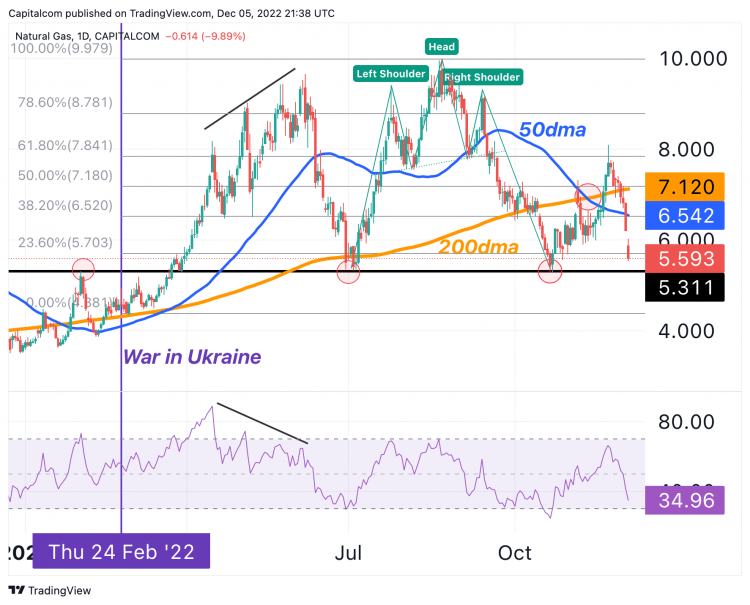 Natural gas technical analysis outlook as of December 5, 2022 – Photo: Capital.com, Source: Tradingview
In the daily natural gas price chart updated to December 5, 2022, the recent price action witnessed eight consecutive sessions in the red, with prices falling rapidly and breaking below the moving supports of two moving averages (50dma and 200dma) and some key Fibonacci retracement levels, such as the 50% retracement of the post-Ukraine war rally to August highs.
Natural gas completed a head-and-shoulders pattern in the summer, falling back below $5.30/MMBtu price support. Bearish RSI divergence between April and June 2022 preceded that technical pattern and also resulted in significant bearish price action to the $5.30 support level.
This level indicates a particularly important confluence zone, as demonstrated by the double bottom in October and July, as well as the strong technical resistance between November 2021 and March 2022.
If the conflict in Ukraine continues, it's quite unlikely that prices would fall back to the $4.3 level, which is the area at which they traded on February 24, 2022, when Russia invaded Ukraine. As a result, bulls may resurface on dips between $5 and $5.30. If that doesn't happen and natural gas prices break below $4.30, the 2022 lows of $3.5 may serve as a major support level.
Looking at the upside, the insane price levels witnessed in the summer of $9.5 or more are also unlikely to be retested, since they correspond to an unprecedented supply crisis in Europe which caused a jump in US domestic prices due to higher LNG exports.
A sideways market trend with prices ranging from $4.30 to $8 appears to be a probable scenario for US natural gas in the first quarter of 2023. The bullish market phase may occur after the first months of next year when gas reserves in Western economies begin to dwindle and demand for refilling stocks resumes its cyclical comeback.
FAQs
Will natural gas prices go up or down in 2023?

After riding a rollercoaster during 2022 due to the war in Ukraine and the supply crisis in Europe, gas reserves are quite sufficient at this time of the year.

If winter temperatures are above average, this should reduce price concerns. A cold winter, on the other hand, might result in a sharp fall in reserves and a resurgence of demand for gas supplies, with US natural gas prices expected to rise as a result of increased LNG exports to Europe.
Will natural gas prices drop below pre-Ukraine war levels?

A price premium on natural gas might remain if the conflict in Ukraine persists. The pre-war trading levels of $4.3/MMBtu for the US Henry Hub and €70/MWh for the Dutch TTF are difficult to retest in the absence of a resolution to the conflict. Natural gas prices may still fall substantially in the event of a global recession.
Will natural gas prices rise to summer 2022 levels?

The summer of 2022 saw an extraordinary increase in natural gas prices in Europe and the United States, owing to a major supply crisis triggered by Russia, Europe's main gas supplier.

The rush to secure gas from other sources in order to refill gas reserves ahead of the winter has caused foreign suppliers to demand a significant price premium from European buyers.

The August 2022 trading levels of roughly $10/MMBtu for the Henry Hub and more than €350/MWh for the Dutch TTF necessitate an acute worldwide supply tightness, which is unlikely given that production has adjusted to meet the new market reality.