Microsoft stock price in 5 years: Where next for the US tech giant?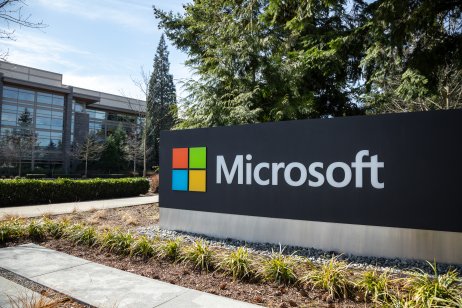 Technology giant Microsoft (MSFT) has taken a battering on the stock market this year, despite the iconic firm having seen its revenue and profit rise.
The US giant's shares tumbled nearly 25% from $334.75 at the start of January to $253.21 on 2 December 2022. However, MSFT gained close to 14% in November alone, which could point to a potential reversal in the stock's price trend.
Analysts have largely attributed this year's weakness to the global antipathy towards growth stocks, and appear optimistic about future prospects.
Microsoft (MSFT) Live Stock Price Chart
In our Microsoft stock 5-year forecast overview, we analyse the company's most recent results, consider the views of analysts and try to predict where the share price will go next.
The Microsoft story
Microsoft, which was founded by Bill Gates in the mid-1970s, is best known for its suite of software products, which includes Word and Excel.
It's made up of three main divisions: Productivity and Business Processes, Intelligent Cloud, and More Personal Computing.
Productivity and Business Processes includes Office, SharePoint and Microsoft Teams, as well as LinkedIn, the business-focused social network that Microsoft bought for $26.2bn in 2016.

Intelligent Cloud is the company's public, private and hybrid server products and cloud services, which are relied upon by many businesses and developers. These include services such as Azure.

More Personal Computing is consumer-focused and includes Windows, as well as devices such as the Surface tablet and various PC accessories. It also embraces gaming, such as Xbox hardware.
Historical price of MSFT stock
Earlier investors in MSFT stock have had every reason to celebrate over the past five years. Shares have risen by over 245%, from $72.68 in July 2017 to $253.21 at the time of writing on 2 December 2022.
As of the time of writing, the company has generated trailing returns of 26.15% over the past 10 years, ahead of the 19.53% industry average, according to Morningstar.
So, what will happen to the Microsoft stock price in five years' time? Will it recover ground lost this year, or is there further pain to come?
A lot will depend on the company's ability to keep growing the business and generating decent returns, as well as the stock market's view on the wider sector.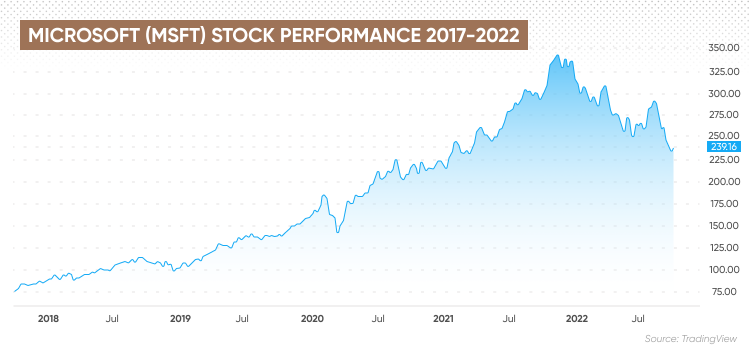 Latest news: Regulators probe planned acquisition
Earlier this year, Microsoft announced it was acquiring Activision Blizzard (ATVI), the maker of popular video games such as Call of Duty, for $68.7bn.
At the time, Satya Nadella, Microsoft's chair and chief executive, highlighted the importance of the deal to the company's longer-term future.
"Gaming is the most dynamic and exciting category in entertainment across all platforms today and will play a key role in the development of metaverse platforms," he said.
However, the acquisition faces scrutiny from global regulators. They include the UK's Competition and Markets Authority (CMA), which launched an inquiry into the deal on 6 July 2022.
The authority will consider "whether the creation of that situation [merger] may be expected to result in a substantial lessening of competition within any market or markets in the United Kingdom for goods or services".
The US Federal Trade Commission (FTC) and the European Union are also performing their own investigations into the deal. The FTC is likely to file an antitrust lawsuit to block Microsoft's $69bn takeover bid for Activision Blizzard, Politico reported on 23 November, citing people familiar with the matter.
The EU opened a full-scale investigation into the acquisition earlier in November, according to Reuters. The EU competition enforcer said it would decide by 23 March 2023 whether to clear or block the deal.
What are Microsoft's latest earnings?
The company announced revenue of $51.9bn for the fourth quarter in its Earnings Release FY22 Q4 – a 12% increase over the corresponding period last year.
Its operating income came in 8% higher at $20.5bn. The net income figure was 2% more at $16.7bn, while diluted earnings per share came in at $2.23, representing a 3% improvement.
Amy Hood, Microsoft's executive vice president and chief financial officer, said the company saw strong demand for and "increased customer commitment" to its cloud platform.
"Commercial bookings grew 25% and Microsoft Cloud revenue was $25bn, up 28% year over year," she said. "As we begin a new fiscal year, we remain committed to balancing operational discipline with continued investments in key strategic areas to drive future growth."
Challenges Microsoft has encountered
However, Microsoft noted that in the fourth quarter of fiscal year 2022, "evolving macroeconomic conditions" and other unforeseen items had an impact on financial results.
These included unfavourable foreign exchange rate movements and extended production shutdowns in China that continued through May, along with the effects of a deteriorating PC market in June.
Reductions in advertising spend contributed to a negative impact on LinkedIn, while the decision to significantly scale down Russian operations due to the war in Ukraine also had costs attached.
"We recorded operating expenses of $126m related to bad debt expense, asset impairments and severance," Microsoft stated. "As part of a strategic realignment of our business groups, we recorded employee severance expenses of $113m, excluding Russia."
Microsoft Cloud leading the way
On an earnings call with analysts, Satya Nadella highlighted that Microsoft Cloud surpassed $25bn in quarterly revenue for the first time.
"When I talk with customers, it's clear there is real opportunity to help organisations in every industry use digital technology to overcome today's challenges and emerge stronger," he said.
He insisted no company was better positioned than Microsoft to provide such help. "From infrastructure and data to business applications and hybrid work, we provide unique, differentiated value to our customers," he said.
Nadella also pledged to "invest to take share and build new businesses" in categories where the company has long-term structural advantage.
"Lastly, we will manage through this period with an intense focus on prioritisation and executional excellence in our own operations to drive operational leverage," he added.
Microsoft stock price in 5 years
Microsoft was a 'moderate buy', based on the views of 33 analysts compiled by MarketBeat as of 2 December 2022. Of the 33 analysts polled, 30 ranked it a 'buy', with three classing the stock as a 'hold'.
The consensus price target was that the stock could rise close to 20% to $300.64 over the coming year, although some believed the price could hit $411.00. The lower range forecast a value of $234.00.
The most recent rating on the stock was issued by UBS Group's Karl Keirstead, who set a 12-month price target of $300, indicating a potential 23.94% upside on the report date.
According to the algorithmic forecasts of Wallet Investor, MSFT stock was a "good long-term (one-year) investment" that could rise 17% to $298.244 over the next 12 months.
But what will Microsoft stock be worth in 5 years? Wallet Investor predicted it could more than double to $502.288 by mid-November 2027.
Of course, when considering Microsoft stock predictions, it's important to bear in mind that analysts' forecasts can be wrong.
Microsoft long-term stock forecast: What do the analysts say?
Danni Hewson, a financial analyst at AJ Bell, pointed out that even slow growth was being "cheerfully embraced" by investors.
"Microsoft's got plenty of headwinds to push through but a big focus on improving margins in a tight labour market is likely to help the company find a higher gear over the next few months," she said.
Hewson believes there are plenty of potential positives for the business as far as a Microsoft 5-year stock forecast is concerned.
"Its cloud business is growing nicely and whilst PC sales and gaming revenue are likely to remain suppressed during the current cost of living crunch, businesses will be thinking hard about ways they can harness tech to their advantage," she said. "Netflix has already picked Microsoft as its partner of choice for its new ad-supported option."
Dan Romanoff, senior equity analyst at Morningstar, put a fair value price of $352 on MSFT stock and viewed the shares as attractive.
"We believe that Microsoft's fundamentals remain sound, as the company's performance was hurt mainly by things beyond its control, such as a stronger US dollar, persistent supply chain issues, further scaling back in Russia and general macroeconomic pressures," he said in a note.
When looking for Microsoft stock predictions, it's important to bear in mind that analysts' forecasts can be wrong. Analysts' MSFT projections are based on making a fundamental and technical study of the stock's performance, but past performance is no guarantee of future results.
It's important to do your own research and remember that your decision to trade depends on your attitude to risk, your expertise in the market, the spread of your portfolio and how comfortable you feel about losing money. You should never trade more than you can afford to lose.
FAQs
Is Microsoft a good long-term investment?

It's important to do your own research and always remember that your decision to trade depends on your attitude to risk, your expertise in the market, the spread of your investment portfolio and how comfortable you feel about losing money. Never invest money that you cannot afford to lose.
What will Microsoft stock be worth in 10 years?

It's impossible to know. The stock has risen 245% over the past five years (as of 2 December 2022) but there are no guarantees of a repeat performance. Many factors will influence a stock price over longer periods.

Remember that past performance is not a reliable indicator of future results. Always do your own research before making an investment decision, and never invest or trade more than you can afford to lose.
Can Microsoft stock reach $1,000?

It's certainly not expected to in the near term. The algorithmic forecasts of Wallet Investor (as of 2 December 2022) looked five years ahead and predicted the price could more than double to $502.288 by mid-November 2027.

However, your trading decision should be based on your own analysis. Never invest money that you cannot afford to lose.
Will Microsoft stock split?

No plans have been announced for a further stock split. The most current split was a two-for-one common stock split in 2003. This was the ninth time Microsoft had split the stock since the company went public back in March 1986.