Worried about an upcoming MT4 and MT5 ban? Here's the MetaTrader alternative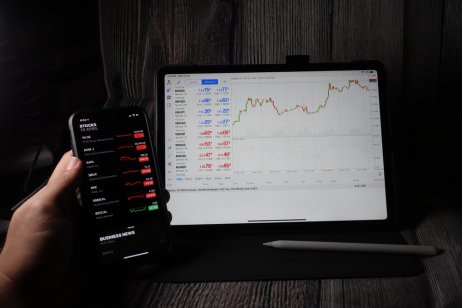 The Apple (AAPL) iOS Store has removed MetaTrader4 and MetaTrader5 – so what MT4 alternatives do traders now have?
Apple's MetaTrader removal from App Store: What you need to know
After almost two decades of success with traders and forex brokers, an MT5 and MT4 ban could be around the corner. There has been a lot of speculation about the reasons for the MT4's removal from the App Store, the latest being a $1m crypto cyber scam, as reported by Forbes. Initially, it was claimed that the move was linked to the Western sanctions on Russia, but this claim has been refuted.
Contacted by Capital.com, a MetaQuotes spokesperson said:"The company received a letter from Apple on Friday, September 23, stating that the firm's trading apps do not comply with the App Store Review Guidelines."
"Our company is working on restoring both the MetaTrader 4 and MetaTrader 5 mobile apps for iOS on the Apple App Store as soon as possible, all existing MetaTrader 4 & 5 mobile users of the iOS app are not affected."
They added: "We do not believe that Apple's actions are linked in any way with the Western sanctions on Russia."
MetaTrader iOS – the MT4 and MT5 apps – have been removed from the App Store. The trading platform's desktop version is still available to download and the Google Play version hasn't been affected. Apple hasn't released a formal statement.
This could be a good moment to start searching for MT4 alternatives.
Traders should do their own research and use their judgement before choosing a trading platform. Forex brokers offer different products, assets and services for different needs, and there's no "one size fits all" approach.
What is your sentiment on AAPL?
Vote to see Traders sentiment!
MT4 alternatives to consider: Forex brokers with high-tech trading tools
One of the features that has made MT4 an immensely successful forex trading platform is the offer of automated trading. Traders can use Expert Advisors combined with technical indicators to develop, test and apply their own algorithms on MT4, making it the benchmark for online forex trading.
However, it's important to remember that MT4 is not a forex broker. It is a third-party trading platform that connects to a broker for forex trading. You can't place any real trades within the MT4 and MT5 trading platform unless you open a live account with a forex broker. Therefore, faced with a MT4 and MT5 ban, forex traders could opt for platforms that offer advanced trading software and high-tech trading tools.
The top in-house trading platforms that qualify as MT4 and MT5 alternatives have developed the right tools to enable a seamless account integration with other platforms.
A possible solution? Connect Capital.com to TradingView
TradingView is one of the world's most popular charting platforms, combined with a social network where people share ideas, custom scripts to enhance charts and exchange views. Just like with MT4 and MT5, you can connect it to your trading account and use advanced charts to spot potential trading opportunities across global markets. This is why TradingView is perhaps the most viable alternative in the case of an MT4 and MT5 ban, as long as, of course, you are able to connect it to your trading account.
Capital.com offers account integration with TradingView that enables you to:
Trade in a demo or live environment

Access advanced charts, build and share indicators and signals with one of the biggest trading communities in the world

Apply technical analysis tools

Connect with a large investor social network on desktop, mobile or tablet devices
It's a powerful combo for those who are looking to build on their trading experience with high-tech trading tools and software.
Voted Most Innovative Tech 2021 by TradingView and best Mobile Platform/App 2022 by Investment Trends, Capital.com is a leading platform in trading technology. It gives traders access to 3,000+ global markets and it has received top ratings for Value for Money.
Other alternatives to MT4 and MT5: Our own platform
Capital.com offers access to MT4 and TradingView, giving our customers as many options as possible in a premium online trading environment.
Our platform is already equipped with the same high-tech tools that you can use for free. We are an award-winning platform in technology* and innovation** with more than 6 million registered users globally. Moreover, we provide human customer service, which is almost instantly accessible and able to deal with any potential issues promptly and efficiently.
A free Capital.com account gives you:
An easy-to-use interface with high-quality charts & technical indicators

Seamless trade execution on every device

Safe and stress-free deposits/withdrawals

A choice of 6,000+ global markets

Trade with free how-to guides, daily market news and videos.

Free demo accounts to build your skills

Always here for you with 24/7 customer support in 15 languages
To download Capital.com, go to AppStore or GooglePlay, get the app and create a free trading account in minutes.
Deciding what your trading strategy is could be a good place to start. Note that this article gives no investment advice. When looking for MetaTrader alternatives, make sure you conduct your own research before creating an account with a new platform.
*Investment Trends award 2021
** TradingView awards 2021
FAQs
Why were MT4 and MT5 removed from the App Store?

Apple has not released an official statement yet, but it could be linked to a cyber crypto scam.
Will MT4 and MT5 still work on Android?

The apps do not appear to have been removed from Google's Play Store. Android users should be able to run them without problems.
Is there a better professional platform than MT4 and MT5 for traders?

TradingView is a popular alternative to MT4 and MT5. It is often used by traders. However, you should always do your own research to find the MetaQuotes alternative for MT4 and MT5 platforms that suit your personal trading style and goals the best.