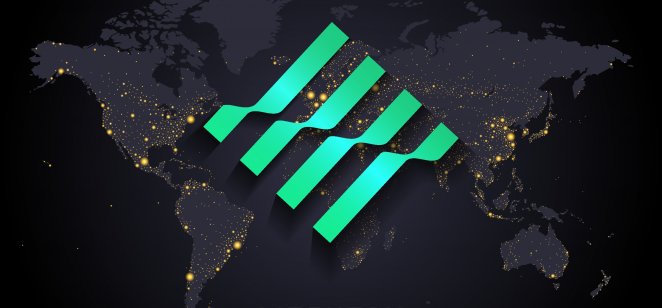 Content
Fear of inflation and global economic instability has caused a sell-off in the cryptocurrency markets, pushing the price of major coins, including bitcoin (BTC) and ethereum (ETH), to their lowest levels since 2020.
Litentry (LIT), a decentralised identity aggregator, has seen a dramatic collapse in its price since the start of the year. At the time of writing (20 June), it's trading around $0.9459, down more than 68% year-to-date (YTD). The LIT token suffered extreme volatility during Terra's LUNA and USD flash market collapse on 13 June, and it bottomed to a low of $0.6549.
Will the LIT token rebound, or will it fall further? This article covers the project's fundamental and technical analysis to help you form an informative litentry coin price prediction.

What is Litentry (LIT)?
Litentry is a decentralised identity aggregator (DIA) that allows users' identities to be linked across numerous networks.
DID aggregation is the process of integrating numerous digital identities from different networks. Using a decentralised identifier (DID) indexing protocol and a distributed DID validation blockchain developed by Substrate, Litentry offers an interoperable identity aggregation solution.
According to Litentry's
whitepaper
: "As people have already generated massive amounts of data in various decentralised systems, a way must be found to connect these data so that they can flow across different systems and platforms, while user privacy and data sovereignty are preserved. This approach can truly reflect the core value of
Web3
."
Litentry allows users to maintain their identities for decentralised applications (dApps) across several blockchains. It has built a three-layer infrastructure for credit computation in which identity data transitions from a fragmented, dispersed state to an organised one.
Litentry obtains identity scores from numerous data analysis platforms and aggregates them. It computes the identity score using its own weighting algorithm. It encrypts the data to enhance privacy.
Litentry's identity aggregation technique has several use cases:
Whitelisting for airdrops: Litentry identity verification system allows crypto projects to identify target users and exclude irrelevant parties in an airdrop. It also provides creators of the Web3 ecosystem with a novel TaskFi platform, where users need to perform tasks and claim the reward.

Social interaction: Based on Litentry's cross-chain identity protocol, 'My Crypto Profile' feature allows users to find another Web3 identity.

Identity data analytics: Litentry's DID aggregated identity data can be retrieved and analysed by open data platforms to offer insight into cross-chain identity activities.

Public profile: Litentry's identity linking solution serves as the primary registrar entry for open, decentralised domain name systems, enabling them to index the public data into the domain name.

On-chain governance: Litentry's real-time credit computation method offers a visible, verifiable credit that might be used to assess the voter's voting power.
LIT is the native token of the Litentry protocol. It serves several use cases, including fee payment for credit computation, rewards for index identity databases, staking and DeFi lending.
Litentry coin news and price drivers
The project has released several important updates lately, which might affect the litentry token price.
Live on Polkadot parachain
Litentry announced in June 2022 that it had completed its parachain launch and went live on the Polkadot (DOT) platform. According to Polkadot, "a parachain is an application-specific data structure that is globally coherent and validatable by the validators of the Relay Chain."
The benefit of a parachain is its ability to interact or communicate with other Polkadot Parachains. Furthermore, it contributes to the security of the whole network.This partnership gives Litentry the access to many parachains and security features on the Polkadot network.
Litentry has completed its parachain launch and now running on Polkadot! Contributors to the Litentry Parachains Batch 3 Crowdloan in April will be able to start claiming their LIT token rewards from the 30th of June. Congrats to all winners of Batch 3 ????????@Polkadot #Parachains pic.twitter.com/uicYdmjZaa

— Litentry (@litentry) June 4, 2022
Partnership with Web3Go
Litentry joined forces with Web3Go in November 2021. Web3Go is an open platform for data analytics that focuses on the structuring, visualisation, sharing, and collaborative analysis of on-chain data.
As a result of this collaboration, Web3Go would function as an external node delivering identity-related data analysis services for the Litentry Network as a data analyser. The identity data analysis would be an integral part of Litentry's method for calculating an aggregated identity score.
LIT/USD price analysis
According to ICO Drops, Litentry's initial coin offering (ICO) concluded in February 2021. Based on the earliest available price chart data from 2021, the LIT token enjoyed a bullish momentum for a few days after its launch. Its price spiked from $3.07 on 4 February to its all-time high of $14.73 on 16 February, an increase of nearly 380%. However, the price declined to $6.87 on 28 February 2021.
Another bull run sent the price to $12.78 on 12 April. However, the broader cryptocurrency market turned bearish during this period, and amid an increased sell-off pressure, the price declined to $2.57 on 23 May.
The litentry cryptocurrency didn't manage to repeat the success of its early days and ended 2021 at $2.96.
The beginning of 2022 was not easy for the cryptocurrency market, as most coins declined. The LIT token kept falling, reaching $1.10 on 13 March.
Between March and early April, LIT gained a little momentum, and reached $1.97 on 3 April. However, extreme pressure and volatile market conditions pushed LIT to an all-time low of $0.3893 on 12 May.
At the time of writing (20 June), the LIT token was trading at $0.9344 and had a market capitalisation of $34m.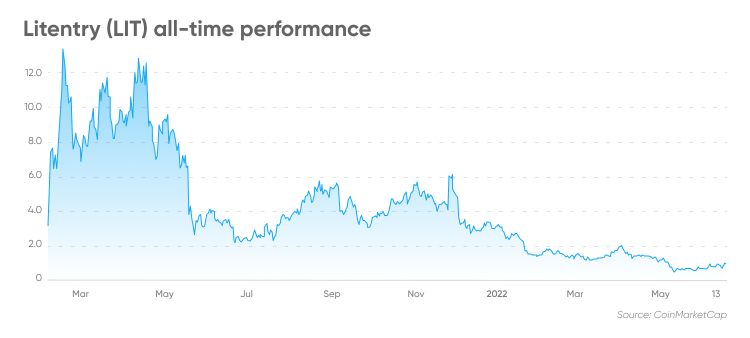 Litentry price prediction: Targets for 2022, 2025 and 2030
According to CoinCodex's short-term LIT forecast on 20 June, LIT had a 'neutral' sentiment, with 18 technical indicators giving bullish signals and eight bearish.
The 100- and 200 daily simple moving averages (SMA) gave 'sell' signals. The volume-weighted moving average (VWMA), average directional index (ADX), and the Hull moving average (HMA) gave 'buy' signals.
According to the short-term LIT crypto price prediction by CoinCodex, the litentry cryptocurrency could increase by 11.98% to reach $1.08 by 25 June.
Meanwhile, several algorithm-based forecasting services provided mixed a longer-term litentry price prediction 2022 and beyond.
According to Wallet Investor's litentry prediction, the LIT token could be a 'bad' long-term investment. It estimated that the coin's average price could decline to $0.0628 by the end of 2022 and $0.0293 by the end of 2025. Its five-year litentry crypto price prediction indicated that the token could reach $0.0168 in June 2027.
The litentry coin price prediction from Price Prediction was moderately bullish, as of 20 June. It suggested that the average price in 2022 could be $0.58 and $0.84 in 2023. Its LIT prediction expected it to trade at $1.93 in 2025 and $11.32 in 2030.
In line with Price Prediction, the LIT coin price prediction from DigitalCoinPrice also indicated that the token could rise. It estimated a future target price at $1.25 in 2022, $1.38 in 2023, $1.82 in 2025 and $4.41 in 2030.
When looking for litentry price predictions, bear in mind that analysts' and algorithm-based expectations can be wrong. Their projections are based on fundamental and technical studies of the token's past performance. Past performance is no guarantee of future results.
It's essential to do your research and always remember your decision to trade depends on your attitude to risk, your expertise in the market, the spread of your portfolio, and how comfortable you feel about losing money. You should never trade more money than you can afford to lose.
FAQs
Is litentry (LIT) coin a good investment?

Litentry is a decentralised identity aggregator (DIA) platform that launched in February 2021. A few weeks after its inception, its price action turned bearish. Since then, it has failed to gain significant momentum. Moreover, it declined to an all-time low of $0.3893 on 12 May.

Whether LIT token is a good investment for you depends on your personal outlook and risk appetite. You should do your own research and evaluate the level of risk you are prepared to accept before trading. And never trade more money than you can afford to lose.
Will litentry coin go up or down?

As of 20 June, several algorithmic forecasting tools, including DigitalCoinPrice and Price Prediction, were bullish on LIT token target price over the next few years. However, Wallet Investor held a bearish outlook and expected it to drop in value. Please be aware that predictions can be wrong.

Whether LIT token is a good investment for you depends on your personal outlook and risk appetite. You should do your own research and evaluate the level of risk you are prepared to accept before trading. And never trade more money than you can afford to lose.
Will litentry (LIT) hit $10?

Algorithmic forecasting services, including DigitalCoinPrice and Price Prediction, as of 20 May, suggested the token had potential for gains. According to PricePrediction, LIT could exceed $10 by 2030.