Lido DAO price prediction: LDO price rockets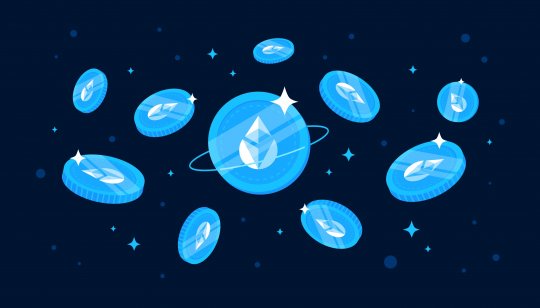 Staking plays a large role in the world of decentralised finance (DeFi), as it allows investors to earn passive yield with their cryptocurrencies.
Lido has taken this one step further, with users still able to utilise their funds in other protocols despite them being staked. As well as integrating with the new ETH fork, AKA Ethereum 2.0 or The Merge, Lido now supports layer-2 blockchains, including Arbitrum and Optimism.
Its Lido DAO (LDO) token made steady gains during the lead-up to The Merge last September, but its price then began to wane.
However, on 2 January 2023, Lido DAO beat MakerDAO to become the largest DeFi platform by total value locked (TVL) to the tune of $39.53bn, according to DeFi Llama. As of 4 January 2023, LDO is trading at approximately $1.39, up 10.81% in the past 24 hours.
What is Lido DAO (LDO)?
Lido was designed to bring more utility to staking, giving investors more use cases without jeopardising their passive income.
Usually, staked cryptocurrencies are locked up and unusable in other DeFi ecosystems, unless unstaked. Lido DAO, on the other hand, allows users' funds to remain liquid despite being staked. It has collaborated with numerous protocols to enable this, including MakerDAO, Curve and AAVE.
The Lido DAO page on CoinMarketCap says:
"Lido lets users stake their ETH – with no minimum deposits or maintaining of infrastructure – whilst participating in on-chain activities, eg lending, to compound returns."
To achieve this, users deposit their funds into the Lido protocol and receive a derivative in return. Investors can then use this derivative across supported platforms, while earning yield from their initially staked funds.
Lido's governance process
Managing this system is Lido's own decentralised autonomous organisation (DAO). Those who hold its LDO token gain access to this organisation and have voting power over the future of the protocol.
The DAO decides various parameters including fees on the platform, whether to integrate oracles (third-party services that connect a blockchain's smart contracts to external sources) or assign key nodes. It is also responsible for funding research, developments and other incentives with the accumulated fees.
The supporting documentation for Lido says:
"The DAO is the logical compromise between full centralisation and decentralisation, which allows the deployment of competitive products without full centralisation and custody on the exchanges."
LDO's volatile history
LDO price chart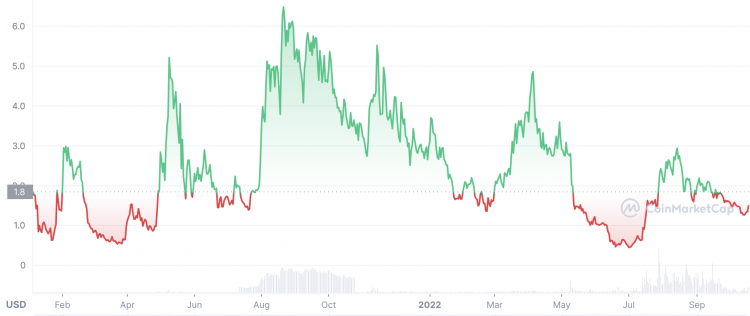 Source: CoinMarketCap

The governance token opened on CoinMarketCap at $1.84 on 5 January 2021 and struggled to get past this launch price during the next few months.
Its first significant rally started in late April 2021, as users voted on whether to launch the protocol on Solana. The proposal passed and LDO peaked at $5.61 on 8 May 2021.
It was able to surge past this psychological barrier again in August. LDO saw a breakout as the protocol announced plans to further its decentralisation, such as upgrading to a non-custodial approach. It also ran a referral programme, which started on 3 August.
LDO climbed to a high of $7.24 on 20 August 2021.
November 2021 saw LDO's largest rally to date as Lido experienced a surge in the total value locked (TVL) into the protocol. The governance token rocketed to its all-time high of $18.62 on 16 November 2021.
Despite plummeting below its launch price at the beginning of 2022, it was able to overcome this slump in March. Lido integrated with the Polygon blockchain on 2 March. Its TVL rocketed from $13.95bn on the day it integrated to a peak of $20.83bn on 5 April 2022, according to DeFi Llama. LDO reached $4.90 the same day.
However, it resumed its bearish trend in late May when its ecosystem was exposed to the Terra blockchain collapse. Lido's TVL eventually fell below $10bn.
It has started recovering since then. On 18 July 2022, Lido announced plans to expand across Ethereum layer-2 networks, in an effort to reduce gas fees and expand its DeFi ecosystem. It reached a peak of $3.09 on 14 August.
It began trending once more as it integrated the Ethereum Merge on 15 September 2022. This came with benefits for users. Lido DAO revealed in a blog post that "The Merge will result in a higher APR/staking yield for active stakers."
Lido then realised its layer-2 plans at the beginning of October. It launched its DeFi services on the Optimism and Arbitrum networks to improve acessibility and reduce gas fees.
It
tweeted
: "Lido has been working towards a full L2 roll-out to support the expansion of Ethereum while providing access to unique strategies possible through liquid staking."
At the time of writing on 4 January 2023, LDO was trading at $1.39. The cryptocurrency was up 46% in the past week, and 24.3% over the previous 30 days. It follows the announcement of the upcoming Ethereum Shanghai upgrade in March.
Most recently liquid staking derivatives have had a nice uptrend.

This is thanks to the Shanghai upgrade expected in a few months which will enable withdrawals of staked ETH.

As withdrawals are enabled, many believe more users will stake their ETH.

LDO +26%
RPL +12%
SWISE +66% pic.twitter.com/tl2d3KSlRC

— ????‍????.eth (@CroissantEth) 2 January 2023
Lido DAO price prediction
At the time of writing on 4 January 2023, there was a bullish sentiment from some Lido DAO coin price predictions, with a steady rise anticipated over the next decade.
TechNewsLeader said that LDO could average $4.88 this year and hit $32.52 in five years' time. Its Lido DAO price prediction for 2030 gave an optimistic maximum value of $69.29.
CaptainAltcoin's Lido DAO price prediction for 2023 said it would drop to $0.84 in March. But it is expected to eventually pick up momentum and hit $7.99 by 2030.
A Lido DAO price prediction for 2025 from DigitalCoinPrice estimated an average price of $4.82. LDO was expected to reach $13.89 in 2030 and hit $19.79 the following year, the site said.
Meanwhile, AMB Crypto's Lido DAO crypto price prediction said the LDO token could climb from $6.30 this year to $10.01 in 2025. By 2030, the coin was predicted to surpass $31.78.
When considering a LDO price prediction, it's important to keep in mind that cryptocurrency markets remain extremely volatile, making it difficult to accurately predict what a coin or token's price will be in a few hours, and even harder to give long-term estimates. As such, analysts and algorithm-based forecasters can and do get their predictions wrong.
If you are considering investing in cryptocurrency tokens, we recommend that you always do your own research. Look at the latest market trends, news, technical and fundamental analysis, and expert opinion before making any investment decision. Keep in mind that past performance is no guarantee of future returns, and never trade with money that you cannot afford to lose.
FAQs
How many Lido DAO are there?

At the time of writing, there was a circulating supply of 823.9 million LDO, and a maximum supply of 1bn tokens.
Is Lido DAO a good investment?

LDO is a governance token that was designed for users of its staking platform. Holders can vote on its fees, whether to integrate new blockchains and the management of its treasury. However, before making any decision to invest in LDO, you should conduct thorough due diligence first.

Additionally, cryptocurrencies can be highly volatile and prices can go down just as easily as they can go up. Analysts and algorithm-based forecasters can and do get their predictions wrong. Keep in mind that past performance is no guarantee of future returns. Always do your own research, and never invest what you cannot afford to lose.
Will Lido DAO go up or down?

At the time of writing, most online forecasters, such as TechNewsLeader and DigitalCoinPrice, predicted a rise. But LDO has previously proved to be rather up and down, so investors should avoid purchasing more LDO than they can afford to lose.

Tokens can prove to be unpredictable, and cryptocurrencies can be highly volatile, meaning prices can dip just as easily as rise. Analysts and algorithm-based forecasters can and do get their predictions wrong. Past performance is no guarantee of future returns.
Should I invest in Lido DAO?

Lido enables users to keep their staked funds liquid and participate in other protocols, while still earning a yield. Its LDO token was designed to manage this platform. Yet, it has proved vulnerable, for example, to the Terra LUNA crypto collapse of May 2022.

In volatile cryptocurrency markets, it is important to do your own research on a coin or token to determine if it is a good fit for your investment portfolio. Whether the LDO token is a suitable investment for you depends on your risk tolerance and how much you intend to invest, among other factors.

Keep in mind that past performance is no guarantee of future returns, and never invest any money that you cannot afford to lose.