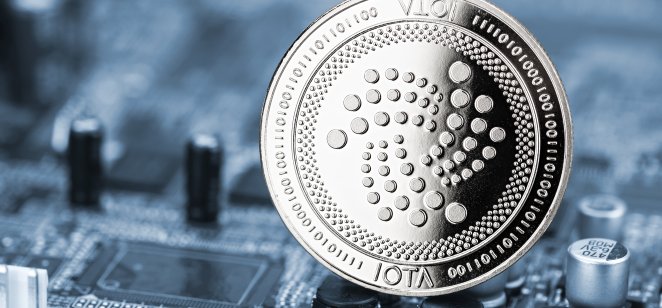 MIOTA, the token of the decentralised ledger for the Internet of Things, IOTA, has lost the momentum it built up in March, and through April it has lost 35% of its value falling to $0.61 today (28 April).
Its trend had been bearish with a series of declining spikes since last April when the price was over $2.5. It has surged seveal times since then but with declining peaks and is now heading towards the value it had in June 2017.
So what should expectations be now for a realistic target price in the near future?
Here we take a closer look at the coin's technical setup, news and developments, and review the latest IOTA price prediction and analysis.
What is IOTA?
The IOTA token is the cryptocurrency that powers the project's decentralised ledger. This network is primarily designed to support the Internet of Things (IoT) by providing a feeless ecosystem through which micro-data can be exchanged and recorded easily and fast.
Launched in 2016, the IOTA mainnet was started with $500,000 in funding obtained from seed investors who donated 5% of the IOTA Foundation's tokens.
The IOTA Foundation is a non-profit organisation. It aims to provide an ecosystem that supports further advancements in the IoT field, given that transaction costs, scalability, and other similar issues have been an obstacle to the progress of this technology over the past few years.
A total of 2.779 billion tokens is the maximum supply for IOTA. They have been fully distributed. IOTA does not require the intervention of miners to validate transactions. Transactions are self-validated through IOTA's underlying technology known as Tangle.
In theory, IOTA solves most of the issues of the "traditional" blockchain when it comes to processing large transaction volumes required to power the entire IoT ecosystem.
However, there are still security issues associated with Tangle. Some of these concerns are reportedly being addressed by the upcoming upgrade of the Chrysalis project.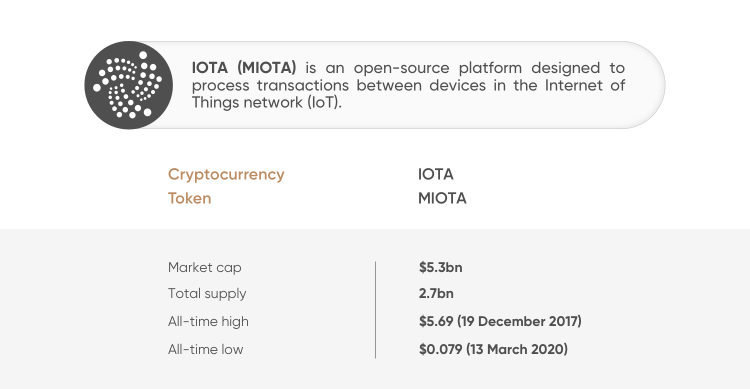 Based on MIOTA's current price (as of 28 April) and its total maximum supply, the entire network is valued at $1.68bn and 56th in the ranking of cryptocurrencies. That is less than a sixth of the project's maximum historical market cap of nearly $15bn, which it reached in late 2017.
The IOTA project was co-founded by current chairman David Sønstebø, Dominik Schiener, Serguei Popov, and Serge Ivancheglo. Schiener and Popov have since left the board.
IOTA news: Chrysalis network upgrade
The 5 February 2021 announcement marked a possible turning point for the price of the IOTA token. The network's upgrade began addressing the issues of scalability and security.
The developing team has been updating the community via its website on any progress made on the Chrysalis project, reporting monthly status updates, and details on migrations and developer documentation.
On 21 April 2021, senior management announced that its ecosystem is ready for real-world uses as a result of the Chrysalis upgrade. This enterprise-ready ecosystem was launched on 28 April. Along with other improvements, the management team claims that power consumption has been reduced by 60%.
"We now have an enterprise-ready platform that will please both industry and consumer users with its enhanced functionally, industry-standard upgrades, and energy efficiencies. Our engineers have worked diligently to build the foundation for Coordicide and beyond", said the Co-Founder and Chairman of the IOTA Foundation, Dominik Schiener.
On 2 December IOTA announced it was planning to launch in 2022 a permissionless multi-chain network to build, connect and deploy smart contracts, and call it Assembly. It will have its own token, the $ASMB, of which around 70% will be distributed to the community. The announcement on Twitter was so popular claimed the company that the Assembly account got "restricted".
On 10 December Assembly tweeted that it had received $100m in funding from early backers including Huobi Ventures, LD Capital, HashKey Capital, Signum Capital, and HyperChain Capital. This comes on top of earlier commitments of $18m funding from "several private investors".
On 31 December in a blog the organisation said its top priority for 2022 is to "increase the utility of the IOTA token, network and ecosystem". It added its "early focus will be on bringing developments to the mainnet as fast as possible and ramping up education, training, development and empowerment."
On 13 January the IOTA Foundation announced that it has been chosen to compete with four other projects in the second of three rounds of the EU blockchain pre-commercial procurement process. In Phase 1 the IOTA Foundation and six other projects were chosen from over 35 applicants.
Phase 2A, which lasts six months, will concentrate on research, prototype development and lab testing, supported by the European Commission.
There is a full round up of the organisation's activities in 2021 on its website.
On 3 February 2022 the IOTA Foundation the not for profit behind the decentalised ledger technology (DLT), announced it had made a £1 million philanthropic grant to Imperial College in London to explore how DLT can help promote the circular economy. It said: "This grant will fund an initiative to combine research expertise from across the College to create the I3-LAB (Imperial-IOTA-Infrastructures Lab) within the Dyson School of Design Engineering."
IOTA price prediction
The likelihood that IOTA could become the go-to network to power IoT devices and platforms is particularly high at this point. The completion of the landmark Chrysalis upgrade could be the reason why the token has been behaving so bullishly of late.
With a total market capitalisation of $1.68bn and 56th in the ranking of cryptos as of 28 April, the project does not appear to be overvalued. It may be a promising project to watch in the crypto space due to its real-life applications and upside potential.
IOTA future price: the analysts' views
Referred to as one of the most promising crypto projects for IoT, IOTA has enjoyed bullish market sentiment supported by numerous analytical resources as of 28 April.
In its IOTA coin price prediction Wallet Investor viewed IOTA as an "awesome" long-term investment. It estimates MIOTA may hit $1.12 within 12 months and climb up to $2.88 in five years.

Digital Coin's MIOTA price prediction said the coin could average $0.8 in 2022, move up to $0.89 in 2023, $1.18 in 2025 and eventually hit $2.8 in 2030.
It's important to keep in mind that cryptocurrency markets remain extremely volatile, making it difficult to accurately predict what a coin's price will be in a few hours, and even harder to give long-term estimates. As such, analysts and algorithm-based forecasters can and do get their IOTA predictions wrong.
We recommend that you always do your own research, and consider the latest market trends, news, technical and fundamental analysis, and expert opinion before making any investment decision. And never invest more than you can afford to lose.
FAQs
IOTA's unchanged maximum supply guarantees that any spike in demand will not be weakened by an increase in supply from increased mining activity. No miners are needed to power the IOTA network.
The fact that the IOTA network has real-life uses that go beyond trading or serving as a 'store of value' makes this project particularly interesting. The ecosystem's current market capitalisation doesn't seem lofty when considering its potential.
Although nobody can predict with any certainty where the price of a volatile and early-stage cryptocurrency will land, IOTA's growth projection appears to be bullish based on this latest network upgrade and its position as an enterprise-ready project.