Immutable x price prediction: What is immutable x (IMX)?
Subscribe to Weekly Highlights
The major market events for the week ahead right in your inbox.
Subscribe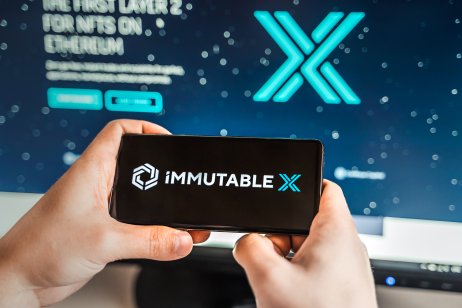 Content
It aims to make operating with NFTs quicker and simpler, but what is immutable x (IMX)?
Let's see what we can find out, and also examine some of the immutable x price predictions that were being made as of 19 December 2022.
Immutable x explained
One of the biggest stories in crypto in 2021 was the rise of non-fungible tokens, or NFTs for short. These rights to links of unique pieces of digital art hit the headlines last year and helped give the world of cryptocurrency a boost. While NFTs have taken something of a beating in the succession of bear markets that have hit crypto over the course of 2022, they are still a pretty big deal.
That said, although NFTs have managed to attract an audience that would otherwise probably not be interested in cryptocurrency and blockchain technology, there are some problems that they face.
For instance, one of the most popular mediums for NFT-related operations is the Ethereum (ETH) blockchain. The problem here was that, in order to operate in a way that was both secure and decentralised, Ethereum operated pretty slowly, which meant that doing something there was both more time-consuming and more expensive than it would otherwise be.
This has changed somewhat since the blockchain moved from a proof-of-work (PoW) consensus mechanism to a proof-of-stake (PoS) one in September 2022 but, nevertheless, the slowness of Ethereum's previous method of operation meant that there was a gap in the market for a way of making things work better.
Immutable X is one of many platforms that were created as a way to counteract that particular problem. The idea behind this system is to take transactions off Ethereum, complete them on the new network, and then put them back on the original blockchain. This makes it what is called a layer-2 scaling solution.
What makes Immutable X a little bit different is that it is designed to make NFT trading easier. The system promises to be legally compliant as it operates and facilitates a liquidity pool via a global order book of NFTs as well as supporting all Ethereum-based crypto wallets. The system funds itself by taking a 2% stake of all NFT sales and trades.
Every blockchain-based platform needs to have its own native cryptocurrency, and Immutable X has the conveniently named immutable x token, also known by its ticker handle of IMX. IMX is used to pay fees on the Immutable X system, and its holders are able to vote on changes to the network. As well as that, it can be staked in return for rewards, which are also paid in IMX, after staking was introduced to the platform in July 2022. It can also be bought, sold, and traded on exchanges.
Something that is important to note here is that, since Immutable X operates on Ethereum, that technically makes IMX a token rather than a coin. You might hear references to such things as an "IMX coin price prediction" but such terms are, technically speaking, incorrect.
Immutable X is run by Immutable, an Australian-based company that specialises in NFTs and was founded in 2018 by James and Robbie Ferguson. IMX first came onto the open market in late 2021 after it held an initial coin offering (ICO) which raised $13m.
What is your sentiment on IMX/USD?
Vote to see Traders sentiment!
Immutable x price history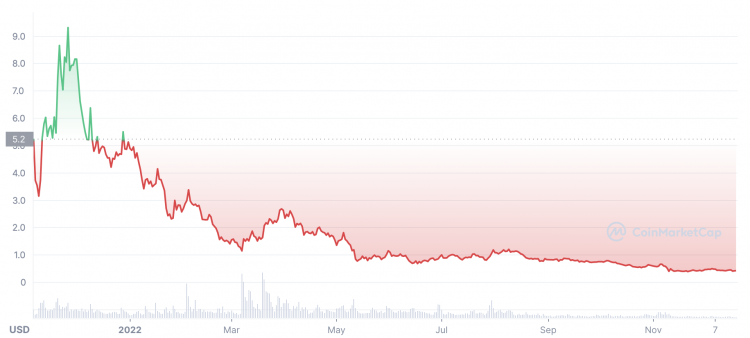 IMX price history from launch to present – Credit: CoinMarketCap
Let's now cast our eyes over the IMX price history. While past performance should never be taken as an indicator of future results, knowing what the token has done in the past can help give us some much needed context when it comes to either interpreting an immutable x price prediction that is already out there, or else making one of our own.
Immutable x first came onto the open market in November 2021 and, on 26 November it reached an all-time high of $9.50 before it settled down and closed the year at $4.90.
It very much looks like 2022 has been a year that crypto would like to forget, and things have not gone well for IMX. Although it reached a high of $5.06 on 2 January, things have fallen down from there, with IMX dropping to a low of $1.10 on 7 March before making something of a comeback to $2.82 on 31 March. The token's price then dropped down, and things got worse when a series of market crashes saw it bottom out at $0.6366 on 14 June 2022.
There was something of a recovery after this, with IMX hitting $1.29 on 31 July, but yet another fall happened and on 5 November, it was trading at $0.7228. Then, the collapse of the FTX (FTT) exchange shocked the market yet again and, on 21 November it was down to $0.3781. After that, there was a bit of a fightback and it reached a high of $0.5151 on 5 December before dropping to around $0.43 on 19 December 2022.
At that time, there were a little over 731.4 million IMX in circulation out of a total supply of two billion. This gave the token a market cap of about $313.5m, making it the 82nd-biggest crypto by that metric.
Immutable x price prediction round-up
With that all over and done with, let's now take a look at some of the immutable x price predictions that were being made as of 19 December 2022. It is important to remember that price forecasts, especially when it comes to something as potentially volatile as a cryptocurrency, often end up being wrong. Also, note that long-term crypto price forecasts are often made using an algorithm, which means that they can change at a moment's notice.
First, CoinCodex had a fairly optimistic short-term IMX price prediction that suggested that the token could reach $0.482233 by 24 December and then hit $0.551183 by 18 January 2023. The site's technical analysis was, perhaps surprisingly considering its price forecasts, bearish, with 19 indicators making downbeat signals against just seven making bullish ones.
Next, DigitalCoinPrice made a immutable x token price prediction that said the crypto could trade at $0.51 this year before reaching a potential $1.04 next year, $1.46 in 2024 and $1.85 in 2025. By 2027, the site said, IMX could be trading at $2.28 before hitting a possible $3.17 in 2028 and $4.35 in 2029. The site then went on to make an immutable x price prediction for 2030 of $6.12, before arguing that it could reach $8.26 in 2031.
Meanwhile, CoinArbitrageBot had a supremely bullish IMX crypto price prediction which argued that it could reach $2.32 in 2023 and $4.14 in 2024. The site then went on to make an immutable x price prediction for 2025 that saw the token trade at a little under $6.69 before reaching $10.82 in 2026. How much credence you give this prediction will depend on whether you believe that IMX can climb by more than 400% over the course of the next year and by more than 2,000% in four years.
Finally, Wallet Investor had a far more bearish immutable x price prediction for 2023, saying that it thought the token was in for a tough 12 months, and could drop to as low as $0.046 by 19 December 2022.
When considering an IMX token price prediction, it's important to keep in mind that cryptocurrency markets remain extremely volatile, making it difficult to accurately predict what a coin or token's price will be in a few hours, and even harder to give long-term estimates. As such, analysts and algorithm-based forecasters can and do get their predictions wrong.
If you are considering investing in cryptocurrency coins and tokens, we recommend that you always do your own research. Look at the latest market trends, news, technical and fundamental analysis, and expert opinion before making any investment decision. Keep in mind that past performance is no guarantee of future returns, and never trade with money that you cannot afford to lose.
FAQs
Is immutable x a good investment?

It is hard to tell. A lot will depend on whether Ethereum's 'Merge', or switch to a proof-of-stake consensus mechanism, will remove the need for Ethereum-based layer-2 scaling solutions, as well as how the market in general behaves in the future.

Remember, you should always carry out your own thorough research before making an investment. Even high market cap cryptocurrencies can be affected by bear markets, so investors should be prepared to make losses and never purchase more than they can afford to lose.
Will immutable x go up or down?

No one can truly say right now. As of 19 December 2022, while the likes of CoinArbitrageBot were upbeat in their assessment of what the future value of immutable x might be, other sites such as Wallet Investor were far more downbeat.

Remember that price predictions often turn out to be wrong, and that prices can and do go down as well as up. In volatile cryptocurrency markets, it is important to do your own research on a coin or token to determine if it is a good fit for your investment portfolio. Whether IMX is a suitable investment for you depends on your risk tolerance and how much you intend to invest, among other factors.

Keep in mind that past performance is no guarantee of future returns, and never invest money that you cannot afford to lose.
Should I invest in immutable x?

Before you decide whether or not to invest in immutable x, you will need to do your own research, not only on IMX but on other layer-2 crypto tokens and networks.

Ultimately, though, this is a question that you will have to answer for yourself. Before you do so, however, you will need to conduct your own research. Never invest more money than you can afford to lose, because prices can go down as well as up.
Related reading