How many litecoins are there? LTC circulation analysis
Subscribe to Weekly Highlights
The major market events for the week ahead right in your inbox.
Subscribe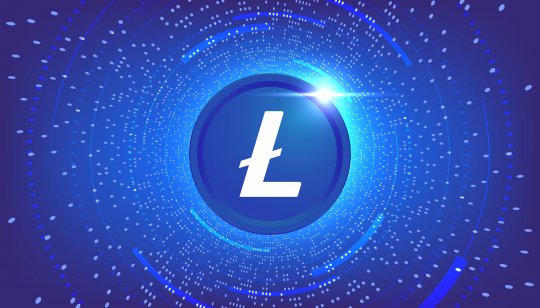 Content
Litecoin (LTC), the second oldest cryptocurrency to date, enjoyed a bullish momentum gaining around 40% in November ahead of its third halving due to take place in 2023. The event will reduce the rate of new LTC being minted, and will have a direct effect on LTC tokenomics.
LTC/USD live price
So how many litecoins are there in the world? Here we take a look at LTC circulating supply and what the halving event will mean for the price.
What is Litecoin?
Litecoin was created by former Google (GOOGL) engineer Charlie Lee in 2011 as a token that could act as "the silver to bitcoin's gold". The second oldest cryptocurrency after bitcoin (BTC) is considered to be one of the very first altcoins, created as a cryptocurrency fork from bitcoin's open-source code.
According to its whitepaper, litecoin is a peer-to-peer digital currency that allows for fast and near-zero cost transactions to anyone in the world. Similarly to bitcoin, litecoin uses a Proof-of-Work (PoW) consensus mechanism, however, claims to be able to handle a larger transaction volume than its counterpart.
The PoW consensus mechanism solves a number of mathematical equations in order to create new litecoins. Once those are solved, Litecoin tokens are rewarded to users.
Litecoin's algorithm, called Scrypt, requires specially designed software and hardware for the mining of litecoins. The process entails the validation of transactions in the blockchain as well as closing and opening new blocks.
Scrypt was designed to withstand large-scale, custom-made hardware attacks on the cryptocurrency, making it more secure. The algorithm also supports litecoin's fast transaction speed, allowing for new blocks to be created in 2.5 minutes versus bitcoin's 10.
Litecoin is considered to be highly liquid, meaning it can be easily used by a number of merchants and is even accepted by non-profit organisations such as American Red Cross.
What is your sentiment on LTC/USD?
Vote to see Traders sentiment!
Bullish momentum in November 2022
LTC came out on top in November 2022, boosted by optimism over its upcoming third halving event in which 50% of newly minted litecoins will be cut.
Since dropping to $51.62 on 22 October 2022, LTC has managed to regain over 45% of its value, surging to $76.80 on 2 December 20222. Considering the overall negative trend in crypto markets, this was seen as a commendable move by many in crypto circles.
However, when looking at the overall LTC to USD chart, the cryptocurrency has fallen by around 47% since the beginning of 2022, from $146 at the start of January to around $76.80 on 2 December. It's been affected by the crypto winter, inflationary pressures and the crash of the TerraUSD (UST) stablecoin.
On 10 May 2021, the cryptocurrency reached its all-time high of $387.87, surging by more than 80% from a low of $70 in November 2021, ahead of many other coins, which reached their all-time highs in November 2021.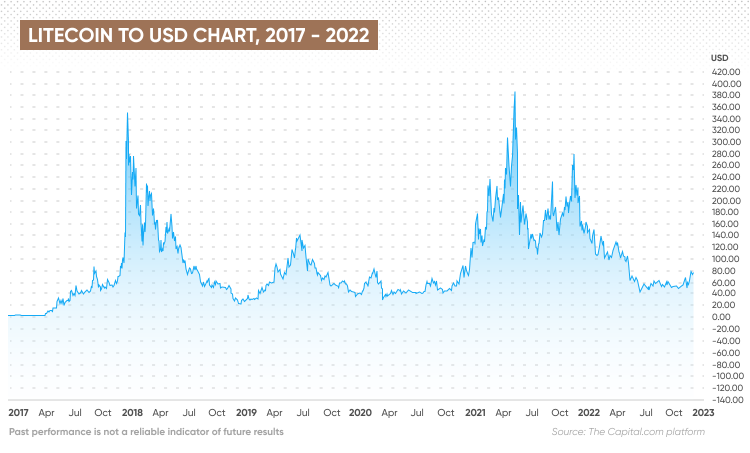 After topping in May 2021, the token fell to $119 by mid-July before surging by 121.2% to $263.31 on 16 November 2021. Since then, however, LTC embarked on a bear trend, losing over 40% of its gains. It was down to $148 by the end of 2021.
How many litecoins are there?
So, how many litecoins are available? According to data provided by CoinMarketCap as of 2 December, the number of available LTC tokens in total amounted to 84 million, making it a deflationary asset, like bitcoin.
Approximately every four years or 840,000 mined blocks, the total number of litecoins released into circulation is cut by half in a process otherwise known as halving – something bitcoin also undergoes.
According to Morgan Stanley's Investing in Cryptocurrency report, the point of halving is to create a "supply shock" which will aim to raise the value of the asset. Each time litecoin experiences its halving event, its amount of block rewards is cut in half.
Since its launch in October 2011, litecoin has undergone two halving events. The first one took place in August 2015, when the number of LTC per block was cut to 25 from the initial 50. The second halving happened in August 2019, when LTC rewards were reduced to 12.5 LTC a block.
Each LTC halving event occurred after a volatile journey in the LTC/USD price chart. A similar trend can be seen ahead of the cryptocurrency's third halving event, due to take place in July 2023.
Following the third halving, the 12.5 LTC tokens issued will be cut to 6.25 litecoins. But, how many litecoins are in circulation?
As of the time of writing (2 December), data on CoinMarketCap showed that the total number of LTC tokens in circulation exceeds 71 million.
Latest news on litecoin token supply
The halving event could be a key factor in defining how many litecoins there are, and dominating LTC news and analysis in 2023. According to a tweet published by litecoin on 26 November 2022, the next halving event is due to take place in 250 days from then.
An anonymous crypto enthusiast noted on Twitter that LTC "is forming similar pre-halving bottom structure like we saw in 2015 & 2019 bottom".
In more recent news, on 1 December 2022, Litecoin proclaimed itself as "the fastest-growing crypto payment method in the world". On 30 November, the platform noted that US based transfer giant Money Gram had made crypto purchases a possibility for its customers on its mobile application, allowing users to trade three cryptocurrencies, including LTC.
On 29 November, Litecoin announced that LTC had had "zero downtime in over 11 years of existence. The longest uninterrupted uptime in crypto." On 27 November, the platform said that LTC difficulty had reached yet another all-time high of 20.00 million at block 2,376,538.
On 21 November, Litecoin noted that in the past month it has been integrated into three new businesses, including Moneygram, Google Cloud and Blockcbank.
At the end of October, LTC was listed on the Block Bank app, allowing new users to trade the cryptocurrency.
In other news, litecoin announced in May 2022 that it had finalised its privacy-focused Mimblewimble Extension Blocks (MWEB) update, which aims to make the platform better at delivering payments in a confidential manner. However, the upgrade continued to be developed beyond May too.
Final thoughts
Note that while it's useful to keep track of how many litecoins there are, it's important to do other research too, looking at the technical analysis, a wide range of commentary and the latest news on the coin. Always conduct your own due diligence before trading. Remember, cryptocurrency markets are volatile and never trade more than you can afford to lose.
FAQs
How many litecoins are left?

The maximum supply of LTC tokens cannot exceed 84 million. According to data on CoinMarketCap , as of 2 December 2022, the total number of LTC tokens in circulation exceeded 71 million. This means that there are around 13 million LTC tokens left.
How many litecoins are lost?

Approximately every four years or 840,000 mined LTC blocks, the total number of litecoins released into circulation is cut by half, in a process known as halving. There have been two halving events. The first one took place in 2015, when the number of LTC per block was cut to 25 from the initial 50. The second halving happened in August 2019, when LTC rewards were reduced to 12.5 LTC per block.
How many litecoins are mined per day?

The number of litecoin tokens coming into circulation per day may change depending on investor sentiment.
Related reading