What are hawks and doves?
Content
'Hawks' and 'doves' refer to policy making decisions of central bankers. Central banks are responsible for setting national interest rates through monetary policy, and levels of quantitative easing via government bond purchases. Hawks more strongly believe that controlling inflation is the top priority. Doves believe that economic expansion takes priority over inflationary concerns.
What does hawks and doves mean?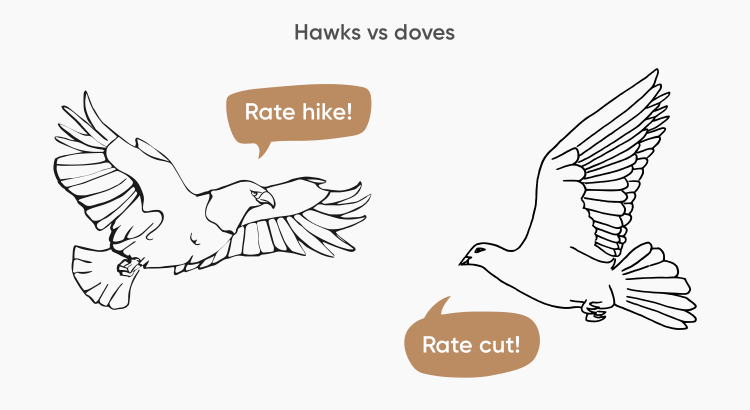 Hawks tend to predict higher future inflation rates. They are more concerned with policy decisions that exert upward pressure on inflation, such as low interest rates or high levels of quantitative easing. On the other side are doves. They're less concerned with the effects of potential rising inflation, and place a higher priority on things like increasing employment through central bank stimulus. Doves believe low interest rates encourage economic growth through increased consumer spending and business expansion. In the middle are centrists. They believe the role of the central bank is to meet predetermined inflation targets. They are not opposed to high or low interest rates, or various levels of quantitative easing in order to achieve the desired target.
Hawks and doves examples
Advantages of a hawk policy
High interest rates can encourage consumer savings as people are less likely to borrow money. But high interest rates can increase the number of people who qualify for things like a mortgage because increased profitability for the lender negates some of the risk typically associated with financing higher risk groups. The most hawkish members of central banks are careful to avoid deflation – the decrease in domestic prices for goods and services – which can lead to a steep rise in the cost of imported goods.
Advantages of a dove policy
When interest rates are low, consumers are more likely to borrow money to make large non-essential purchases, like vacations, and increase credit card debt on smaller purchases. Increased purchasing can spur business expansion and job growth, which leads to even higher levels of spending. Unlimited financial stimulus will inevitably lead to an erosion in the value of money and inflation. Doves must be careful not to overheat the economy too quickly.
Hawks and doves explained
The terms 'hawk' and 'dove' have faced criticism for being overly simplistic. Many central bankers have changed their opinions on fiscal policy over time or in the face of unexpected scenarios. Major economic crises can turn the most hawkish banker into a dove, if only for a short time. Equally, rampant inflation can convince normally dovish policy makers to institute aggressive austerity measures in the short term. As the world enters a new financial period of 'modern monetary policy', these terms could become less used to describe general views and more relevant in regards to individual decisions.