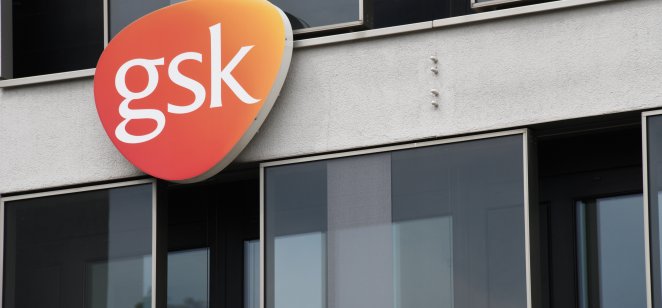 Content
UK-based healthcare company GlaxoSmithKline (GSK) has seen its share price rise by close to 12% year-to-date, as the company has also rejected three unsolicited offers from consumer goods company Unilever (ULVR) for its consumer healthcare business.
The pharma giant recently confirmed its intention to spin off the business into a new company called Haleon, which began trading on the London Stock Exchange (LSE) on 18 July 2022.
So, is GlaxoSmithKline a buy, hold or sell right now?
In this article, we look at the company's recent announcements, share price performance and the potential long-term outlook for the stock.
GSK settles Gilead dispute, rejects Unilever offer
GSK has three main divisions – pharmaceuticals, vaccines and consumer healthcare. The company's majority-owned ViiV Healthcare subsidiary, a specialist HIV company, settled the case against Gilead Sciences (GILD) concerning its patents relating to dolutegravir, which is used with other medicines to treat HIV. US-based Pfizer (PFE) and Japanese pharmaceutical company Shionogi & Co (4507) are also shareholders in ViiV Healthcare.
As part of the settlement, GSK, Shionogi and Gilead have negotiated a patent licence agreement under which Gilead has a worldwide licence to use "certain ViiV Healthcare patents relating to dolutegravir". Gilead will make the $1.25bn payment in the first quarter of 2022, and will also pay a 3% royalty on the future US sales of its Biktarvy treatment.
On 1 February, GSK announced that the United States Food and Drug Administration (FDA) has approved its Cabenuva complete long-acting HIV injectable treatment regimen for use every two months. The FDA approved the treatment for monthly use in January 2021.
The GSK share price rose to £16.49 on 2 February, up from £16.43 on 31 January. The stock had climbed to £17.08 on 17 January, after the company announced on 15 January that it had rejected Unilever's offers.

Unilever's most recent offer for the consumer healthcare business was received on 20 December 2021 – £41.7bn in cash and £8.2bn in shares, for a total of £50bn. The business is a joint venture with Pfizer, in which GSK holds a majority 68% stake, while Pfizer owns 32%.
GSK said that "all three proposals were made on the basis that they fundamentally undervalued the Consumer Healthcare business and its future prospects", citing "increasing household penetration of its leading brands and capitalising on new and emerging growth opportunities arising from innovation and the use of new technologies and digital platforms, all underpinned by continued strong execution and financial discipline".
Over the medium term, GSK expects increased revenue from oral care, vitamins, minerals and supplements (VMS), and pain relief; increasing innovation in the US and China; and extended growth in emerging markets to continue driving sales higher.
What is your sentiment on GSKl?
Vote to see Traders sentiment!
GSK spins off consumer healthcare business
GSK spun its consumer healthcare business into a new company, Haleon, with the shares debuting on the LSE at 330p on 18 July 2022.
GSK previously stated it expected the new firm to be a "world leader" in consumer healthcare, offering the prospect of attractive organic sales growth, operating margin expansion, and consistent high cash generation.
Products in Haleon's portfolio include leading brands such as Sensodyne, Voltaren, Panadol and Centrum.
As of 18 July, the GSK share price was yet to fully recover from the collapse in share prices at the beginning of the Covid-19 pandemic in March 2020. The stock traded up to £18.46 in January 2020 – its highest level since November 2001. It then fell to £14.03 in March 2020, and while it bounced to £16.88 in April 2020, it subsequently declined to £11.91 in February 2021.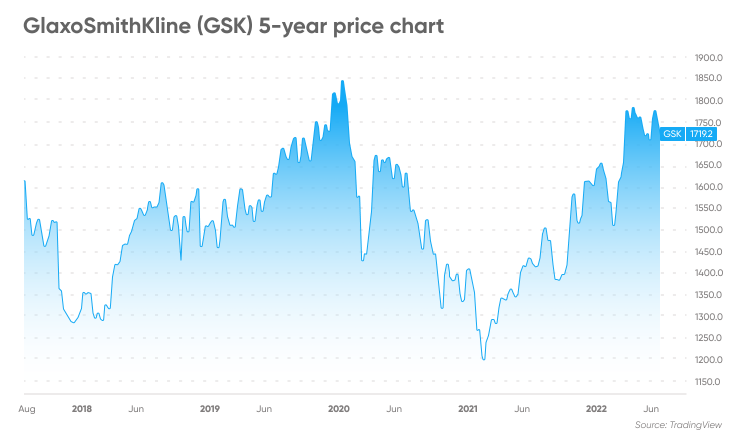 When did GlaxoSmithKline split?
The split was completed on 18 July and Haleon shares admitted to the LSE main market. It was originally approved at GSK's annual general meeting (AGM) on 6 July.
Following the demerger, Haleon's total issued ordinary share capital means that GSK shareholders jointly own 54.5%, of the business. Pfizer will continue to hold 32%, GSK will hold 6%, and 7.5% will be held by Scottish limited partnerships that provide funding to GSK pensions.
Pfizer is expected to reduce its stake in Haleon following the company's initial public offering (IPO) and the lock-up period.
GlaxoSmithKline share price forecast: How do analysts view the stock?
As of 18 July 2022, the average GlaxoSmithKline share price forecast from nine analysts that have issued a rating was £17.83, ranging between a low of £15 and a high of £21, according to MarketBeat. There were three buy ratings, five hold recommendations, and one sell.
Laura Hoy, equity analyst at Hargreaves Lansdown, wrote in a recent note: "Things are ticking over nicely at GlaxoSmithKline as the group gears up to separate its Consumer Healthcare business. This arm of the business garnered a lot of attention when Unilever expressed an interest in buying it, but there's been no word of another potential suitor."
Hoy added: "However, last year's results show the (healthcare) business benefits from a degree of operating leverage – despite sales being flat for the year, the business saw profits rise 9%. This will be a welcome tailwind when the business gets the boot as a chunk of its cashflow will be used to pay off the mountain of debt it'll be packed off with."
On 5 January, Deutsche Bank reiterated its hold rating with a GSK share price prediction of £13.50, the most bearish forecast, while on 7 January, Goldman Sachs issued the most bullish price target of £20.
On 2 February, Jefferies Financial Group issued a GSK stock forecast setting a price target at £19.25 a share, while JP Morgan Chase set a GSK stock price target of £17.10.
18 February saw HSBC analyst Steve McGarry reiterate a 'buy' rating on the stock while raising the price target to £21.70 from £20.00 ahead of the planned Consumer Health spin-off in mid-2022.
On 21 April, Morgan Stanley analyst Mark Purcell raised the price target on GSK to £17.90 (from £17.50) while maintaining a 'hold' rating.
As of 18 July 2022, algorithm-based forecast site Wallet Investor was positive on the short-term outlook but bearish in its long-term GSK stock analysis. It predicted that the share price could fall to £16.99 by the end of 2022. Over the long-term, the GSK price could rise slightly to £17.08 by the end of 2023, £17.32 in December 2025 and £18.07 by July 2027.
When looking at price forecasts, you should remember that analysts and algorithm-based forecasters can and do get their predictions wrong.
We recommend that you always do your own research before making any investment decisions and remember that past performance is no guarantee of future returns. You should never invest money that you cannot afford to lose.
FAQs
Will GSK stock go up or down?

As of 18 July 2022, the outlook for the GSK share price was mixed, with some analysts predicting that the stock could gain value over the next year, while others expected it to fall.

Keep in mind that forecasters can and do get their predictions wrong. You should do your own research to make informed trading decisions. Keep in mind that past performance is no guarantee of future returns.
Is GSK stock buy, sell or hold?

Whether GSK is a buy, hold or sell for your portfolio depends on your investing goals and timeframe, among other factors. You should do your own research into the company's performance and evaluate the level of risk you are prepared to accept before investing.
Further reading: