Elrond price prediction: What is Elrond (EGLD)?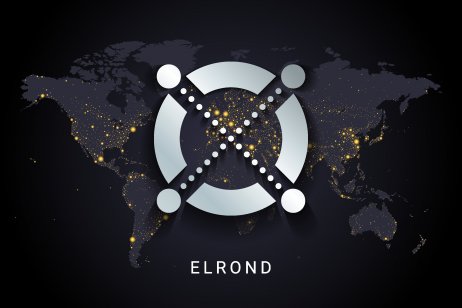 It aims to solve a puzzle that continues to bewilder blockchain experts, but what is elrond (EGLD)?
Let's take a look and see what we can find out, and also examine some of the elrond price predictions that were being made as of 6 December 2022.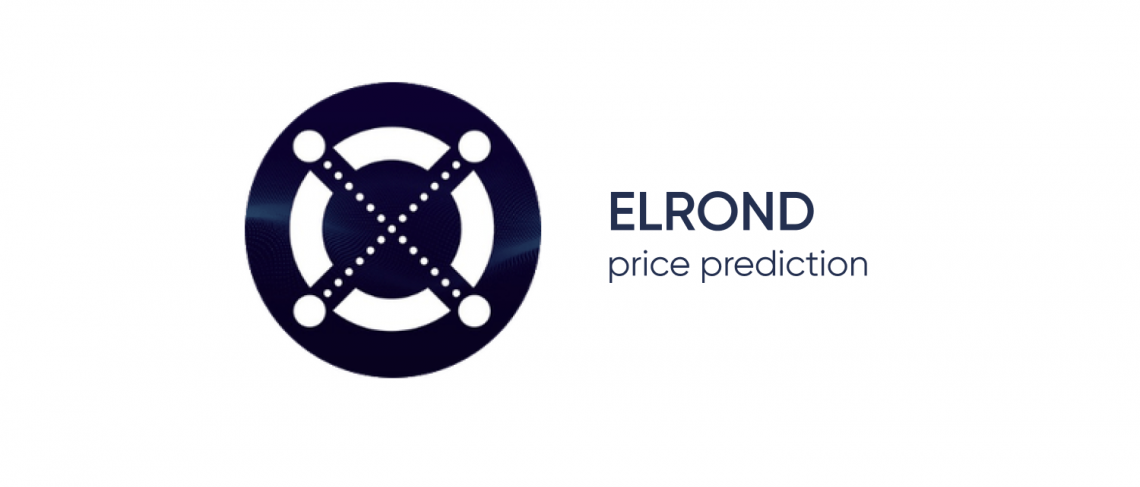 Elrond explained
There are, ultimately, three things that any reasonable investor might want from their blockchain. The first is that it should, ultimately, be decentralised, in keeping with the ethos of blockchain technology.
The second is that it should be scalable, meaning that, as it gets bigger and busier, the system does not slow down, so people using it avoid wasting time and, perhaps more importantly, avoid wasting money.
The third is that it should be secure, meaning users will not have to worry about their funds or projects being hacked or stolen.
Unfortunately, it is hard to have all three at once. A system that is decentralised and scalable might, ultimately, not be too secure. One that is scalable and secure will probably be subject to a central authority. Meanwhile, one that is secure and decentralised will, more likely than not, be pretty hard to make work to scale.
This is a problem so notable that Vitalik Buterin, the man behind the Ethereum (ETH) blockchain, gave it a name; the blockchain trilemma. Not only has this name stuck, but the problem has, for the most part, remained in developers' heads as they seek to create the platonic ideal of blockchain technology.
Now, seeing as this is a pretty well-known problem, at least in the world of crypto, it is perhaps not a massive surprise to understand that, not only do developers want to crack the puzzle, there are systems, networks and blockchains that claim to have already solved the problem once and for all.
One of these systems is Elrond. This particular blockchain, founded by Romanian brothers Beniamin and Lucian Mincu, aims to be faster and more secure than its rivals while maintaining a strongly decentralised structure.
It uses something called secure proof-of-stake (PoS) – basically, people who hold onto the system's native token can add blocks to the blockchain. This allows people to build their own apps and create their own tokens. It also allows the use of smart contracts, computer programs which automatically execute once certain conditions are met.
Every blockchain needs to have its own native cryptocurrency, and Elrond has the conveniently named elrond, formerly known as egold, which takes the ticker handle EGLD. This coin is used to earn rewards for adding blocks to the blockchain, and it can also be bought, sold and traded on exchanges.
One thing to mention about Elrond is that it was set up as a de facto proof-of-stake blockchain before Ethereum carried out its switch to PoS in September 2022.
As we look forward, it will be interesting to see what, if anything, Elrond does to avoid being ignored in favour of Ethereum, if that, indeed, happens at all.
Elrond price history
EGLD price history from launch to present – Credit: Currency.com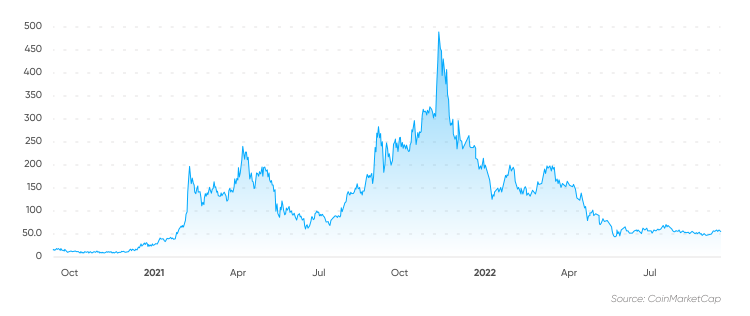 Let's take a look at the EGLD price history. While past performance should never be taken as an indicator of future results, knowing what the coin has done in the past can give us some much-needed context when it comes to either making or interpreting an elrond price prediction.
Elrond's price remained almost flat during the second half of 2020. In December 2020, its price finally gained traction, surging from $9.29 on 1 December to $24.27 on 15 December, a gain of about 162% in two weeks. It ended the year at $24.64.
The start of 2021 was a good time for crypto, as the market boomed, and elrond joined in, with the coin's price shooting from $26.07 on 1 January to $196.02 on 9 February, a 650% increase.
However, the rally was short-lived, and the bears finally regained control. Elrond's price fell 44% to $109.75 on 23 February before it recovered to $239.24 by 11 April. After that, though, a downturn became a collapse and it fell to $59.45 on 22 June.
In the autumn of 2021, elrond caught a lift on a growing market, with the crypto reaching an all-time high $542.58 on 23 November. After that, though, things fell down and elrond closed the year at $238.63.
So far, 2022 has been a bad year for crypto as a whole, and elrond has not escaped the worst of the turbulence. The coin's price experienced peaks and troughs throughout the first few months of the year, with a high of $213.13 on 28 March a positive.
After that, however, the crypto's value sunk below $200 in early April, and worse was to come the following month, as the the depegging of the UST stablecoin and the collapse of the associated LUNA cryptocurrency saw EGLD fall below $100 for the first time in nearly a year on 11 May on its way to a low of $72.46 the following day.
Worse was to come the following month as the news that the Celsius (CEL) crypto lending platform had cancelled withdrawals confirmed the bear market and sent elrond spinning to a low of $38.39 on 13 June.
Since then, there have been fluctuations but EGLD has barely recovered. It was trading at around $44.02 on 6 December 2022. At that time, there were 23,785,046.27 EGLD in circulation out of a maximum supply of 31,415,926, according to CoinMarketCap. This gave the coin a market cap of around $1bn, making it the 39th largest crypto by that metric.
Elrond price predictions
Now, let's take a look at some of the elrond price predictions that were being made as of 6 December 2022. It is important to remember that price predictions, especially for something as potentially volatile as cryptocurrency, very often turn out to be wrong. It is also worth noting that long-term crypto price predictions are often made using an algorithm, which means that they can change at a moment's notice.
First, CoinCodex had a short-term elrond price prediction for 2023 that suggested the coin could continue to rise, reaching $50.65 on 5 January. The site's technical analysis for ELGD was bearish, with 14 indicators sending out negative signals against just 13 that were bullish.
Next, DigitalCoinPrice made an elrond coin price prediction that said the crypto could reach an average of $108.76 next year, before trading at $148.21 the year after that. By 2025, the site said, the coin could trade at $192.79, while the site made an elrond price prediction for 2030 of $621.70 before suggesting it could trade at $843.01 in 2031.
Meanwhile, CaptainAltCoin had an EGLD price prediction that said the coin could slip to $35.63 by the start of 2023, with it recovering to $44.73 by August 2023. The site then went on to make an elrond price prediction for 2025 that it would trade at $92 before dropping to $82.04 in 2027. After that, there could well be a return to form, as the site suggested elrond could be worth $230 in 2030. It made an elrond price prediction for 2040 of $460.
Finally, WalletInvestor made an elrond crypto price prediction that said the coin was in for a tough 12 months, arguing that it could fall to $4.389 by 2023.
When considering a EGLD token price prediction, it's important to keep in mind that cryptocurrency markets remain extremely volatile, making it difficult to accurately predict what a coin or token's price will be in a few hours, and even harder to give long-term estimates. As such, analysts and algorithm-based forecasters can and do get their predictions wrong.
If you are considering investing in cryptocurrency tokens, we recommend that you always do your own research. Look at the latest market trends, news, technical and fundamental analysis, and expert opinion before making any investment decision. Keep in mind that past performance is no guarantee of future returns. And never trade with money that you cannot afford to lose.
FAQs
Is elrond a good investment?

It is hard to say. A lot will depend on how it deals with Ethereum becoming a proof-of-stake blockchain, along with the overall performance of the market as a whole.

Remember, you should always carry out your own thorough research before making an investment. Even high-market-cap cryptocurrencies have proved vulnerable to the current bear markets. So investors should be prepared to make losses and never purchase more than they can afford to lose.
Will elrond go up or down?

It is difficult to tell. While the likes of CaptainAltCoin are optimistic, sites such as WalletInvestor are rather more downbeat. Remember, price predictions often end up being wrong and prices can go down as well as up.

In volatile cryptocurrency markets, it is important to do your own research on a coin or token to determine if it is a good fit for your investment portfolio. Whether EGLD is a suitable investment for you depends on your risk tolerance and how much you intend to invest, among other factors. Keep in mind that past performance is no guarantee of future returns. And never invest money that you cannot afford to lose.
Should I invest in elrond?

Before you invest in elrond, make sure you do your own research, not just on EGLD, but on other proof-of-stake blockchain coins.

Ultimately, though, this is a question that you will have to answer for yourself. Before you do so, however, you will need to conduct your own research and never invest more money than you can afford to lose because prices can go down as well as up.