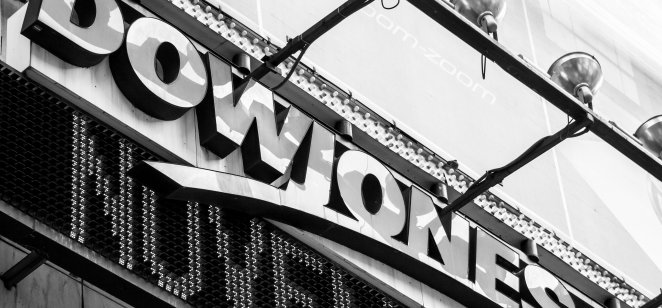 It has been a very tough few months for the Dow Jones Industrial Average (US30), which has suffered in a challenging economic environment.
The closely-watched index, which tracks 30 of the most prominent, actively traded US companies, hit an all-time high of 36,799.65 points at the start of this year.
But it had fallen close to 14% – more than 5,000 points – to 31,500.68 by the close on 24 June 2022 as fears mounted that aggressive interest rate hikes by the Federal Reserve (Fed) could trigger a recession.
So, what will happen next? Will the US30 Index reverse recent losses or is there likely to be further pain to come before fortunes turn around?
In this Dow Jones forecast, we look at the recent performance, see how it compares with other US indices, and reveal what analysts predict for the coming months.
Dow Jones analysis: How has the US30 Index performed?
The Dow Jones, which dates back to the late 1800s and contains prominent names such as Apple (AAPL) and Coca-Cola (KO), has endured a rollercoaster ride over the past year.
While it's spent much of this time above 34,000 points, the recent falls mean it's now trading 8% lower than it was back in June 2021.
However, the longer-term performance of the US30 index is better. As of 27 June, the index has been 47.55% higher than the 21,384.28 level it was at five years ago.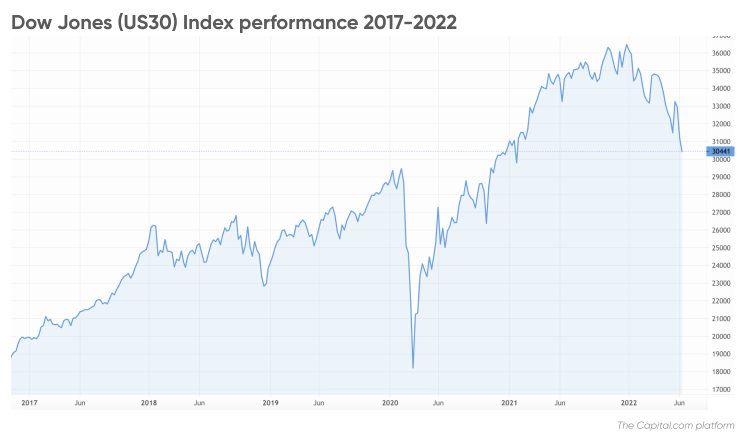 How other US indices have suffered
Of course, the Dow isn't alone when it comes to being affected by economic issues. In fact, it's been holding up better than other US markets.
For example, the S&P 500 (US500), Wall Street's benchmark index, was down to 3,666.77 points on 16 June — its lowest level all year.
The tech-heavy Nasdaq Composite (COMP), meanwhile, plummeted to close at 10,646.10 on 16 June — 39.1% lower than its 15,832.80 level in early January 2022.
However, major US stock indices showed signs of optimism at the end of last week, as the Dow closed up +2.68%, the S&P 500 (US500) closed up +3.06%, and the Nasdaq 100 Index closed up +3.49%. All three indexes posted two-week highs on 24 June, following an easing of recession fears due to an announcement by St. Louis Fed President James Bullard, who said fears of a recession in the US were overblown.
A comment by Goldman Sachs Chief Economist Jan Hatzius also put investors at relative ease — Hatzius stated that the bank does not have a US recession in its baseline forecast.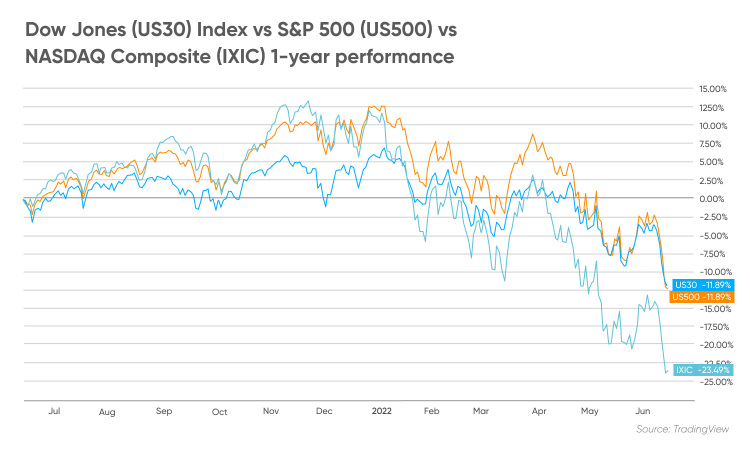 Gloomy economic growth forecasts
According to Geir Lode, head of global equities at Federated Hermes Limited, the global economy's health has been deteriorating.
"We are seeing decelerating economic growth and persistent, high inflation," he said. "The World Bank has revised downward the global economic growth forecast for 2022, from 3.2% to 2.9%."
This has prompted monetary policy movements. "To rein in surging prices the Fed has to increase rates, which can result in a recession," he said. "However, the pandemic-induced supply-chain shock and the Ukraine conflict are beyond the central bank's control."
"The war in Ukraine, lockdowns in China, supply-chain disruptions, and the risk of stagflation are hammering growth. For many countries, recession will be hard to avoid,"
said
World Bank President David Malpass.
Inflation running hot
The recent US consumer price index (CPI) inflation reading for May has been a key factor, according to Mona Mahajan, senior investment strategist at Edward Jones.
"The inflation data broadly came in hotter than expectations, with the headline figure coming in at 8.6% year-over-year, above expectations of 8.2%, while core CPI (excluding food and energy) came in at 6.0%, slightly above the 5.9% forecast," she wrote in a note.
However, she remains relatively upbeat in the face of this data.
"We do not believe a recession is inevitable here, and with the market pullback already pricing in a fair amount of pessimism toward the economic outlook, we view the upside versus downside in markets as more compelling today," she added.
Dow Jones forecast: "A perfect storm"
David Jones, chief market strategist at Capital.com, believes it has been something of a perfect storm for equity markets this year.
"Selling feeds more selling…which is a waterfall effect for markets."
by
David Jones, Chief Market Strategist at Capital.com.
"Investors came into 2022 worried about inflation, just how 'sticky' it would prove to be and how aggressive the Fed would be when it came to raising rates," he said.
He pointed out the market was already concerned about the potential overvaluation of certain areas, with the Nasdaq 100 (US100) peaking in November 2021.
What is your sentiment on US30?
Vote to see Traders sentiment!
"We are now back to worrying about inflation and central bank action stifling the global economy," he said. "We have seen many times in the past how selling feeds more selling and it feels like we definitely have that at the moment, which is a waterfall effect for markets."
However, he is potentially more optimistic about future prospects, adding:
"I wouldn't rule out the chances of a bounce in equities, but for now this is likely to be just a chance to sell at better levels before the next turn lower, rather than an absolute bottom."
Dow Jones forecast: Is there a prospect of bear markets?
Ryan Detrick, chief market strategist at LPL Financial, believes that stocks were due for a "potential pause" after the big rally that came in the wake of the March 2020 lows.
"It is important to know that year three of bull markets (where we are right now) can be choppy and frustrating, while midterm years tend to see a 17% correction on average," he said.
Detrick also pointed out that bear markets without recessions tend to last an average of seven months.
"The only bear markets that took more than 46 days to bottom after the initial 20% decline were associated with recessions – 1970, 1973, 1982, 2001 and 2008," he said.
In addition, bear markets not accompanied by recessions have historically experienced smaller declines, losing an average of 24%.
"Five of the past six non-recessionary bear markets saw the S&P 500 lose 22% or less," he added.
Dow Jones predictions: Will the index recover?
What is the Dow Jones forecast 2022? As of 27 June, the Economy Forecast Agency predicted the index to trade at 33,535 points by the beginning of July 2022 — the maximum value of the index was expected to be 35,547, the potential minimum was outlined at 31,523.
The Dow Jones prediction for the beginning of June 2024 was 38,557 points, according to the EFA. While the maximum value could be 40,870 points, the minimum was expected to be 36,244 points. The EFA didn't provide Dow Jones predictions for 2025.
According to Trading Economics, the US30 Index was expected to move down to trade at 30653.31 points by the end of the second quarter of 2022. Looking forward, the forecasting service suggested the index could drop to 28246.66 in 12 months.
Wallet Investor believed that the Dow could be a "not so good long-term (1-year) investment", expecting the index to plunge to 26,790.10 in a year. The website's forecast, however, had not been updated in several weeks due to "missing data or revoked stock".

Its Dow Jones forecast 2025 suggested the US30 could rebound and trade at 29,419.90 by the end of July. None of the forecasting tools provided a Dow Jones forecast for 2030.
Dow Jones forecast: What are the analysts expecting?
According to Danni Hewson, financial analyst at AJ Bell, the Dow's "kept its balance on the tight rope above the bear market", primarily because of its makeup.
"Oil Giant Chevron has been its principal saviour, up a whopping 43% since the start of the year as prices surge, but it's also got a decent stable of defensives which have managed to eke out gains despite testing conditions," she told Capital.com.
However, she pointed out that just seven of its 30 stocks have managed to stick in positive territory so far in 2022.
"Although it doesn't have the exposure to those growth darlings that have acted like a lead weight to other indices, many of its big names are in the same boat as inflation fears stoke nervousness and investors worry about an unexpected 'super hike' from the Fed," she said.
Looking ahead, the biggest single feature that separates the Dow from the rest of Wall Street is familiarity.
"Its components are household names," added Hewson. "They've weathered storms before and investors feel more comfortable taking a punt on falling stocks if those stocks were on their wish lists."
Note that analysts' and algorithm-based Dow Jones projections shouldn't be used as substitutes for your own research. It is important to do your own analysis and always remember your decision to trade depends on your attitude to risk, your expertise in the market, the spread of your portfolio and how comfortable you feel about losing money. You should never trade money that you cannot afford to lose.
FAQs
Is Dow Jones a good investment?

A lot will depend on the economic environment. The current expectation seems to be that inflation could remain high over the coming months, necessitating further interest rate hikes from the Federal Reserve.
Will Dow Jones go up?

No-one knows for sure. Economists haven't ruled out a bounce for equities and the US30 index contains some household names that are often in demand from investors. However, analysts' predictions can go wrong. You can always conduct your own research before making any trading decision.
Should I invest in Dow Jones?

Companies on the Dow Jones index are some of the largest, most prominent US stocks. However, the index has been in a downtrend lately and lost 13.9% year-to-date by the close on 24 June 2022 amid recession fears and other macroeconomic headwinds. You need to carry out your own research before trading.