Dogecoin price prediction: DOGE to the moon?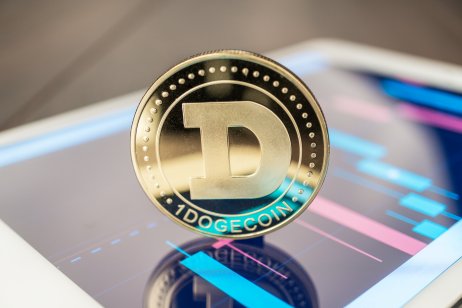 Dogecoin (DOGE) fell in value, along with other cryptocurrencies, in 2022, losing nearly 60% during the year. As of 20 April 2023, the crypto's price stood at about $0.09, having fallen by nearly 90% since its all-time high of $0.7376 in May 2021.
However, it is still one of the largest cryptos out there, and Elon Musk's takeover of Twitter had people talking about #dogecointothemoon once again before a market crash saw it fall. So what is the latest dogecoin forecast?
Let's take a look at some of the dogecoin price predictions and find out some more about the coin, too.
DOGE returned to the headlines in September 2022 as an amended lawsuit against Tesla (TSLA) CEO Elon Musk filed in a New York court added seven new investors as plaintiffs, as well as six new defendants, accusing them of racketeering.
The $258bn lawsuit was filed in June by investors who have lost money on the token, arguing that the defendants "profited tens of billions of dollars" while knowing that the value of dogecoin "depended solely on marketing". The dogecoin price skyrocketed by 1,234% from April 2021 to peak at an all-time high of $0.7376 the following month.
Dogecoin explained
The first of the dog-themed meme coins, DOGE was originally launched in 2013 by software engineers Billy Markus and Jackson Palmer, who worked at IBM (IBM) and Adobe (ADBE), respectively, as a satire on the proliferation of competitor coins, known as altcoins, attempting to capitalise on the success of bitcoin (BTC).
The cryptocurrency tapped into the popular Doge meme featuring a shiba inu dog, which became the coin's namesake and logo.
Markus and Palmer based the Dogecoin blockchain protocol on the open-source coding of the now-defunct luckycoin cryptocurrency. Luckycoin was a hard fork, or spin-off, from the litecoin (LTC) cryptocurrency, which in turn was a hard fork from bitcoin.
Although DOGE started as a joke it soon gained popularity among crypto users, as its low value, launching at $0.000232, made it convenient for small online transactions, such as tipping content creators on social media platforms.
The dogecoin price took off in 2021 as cryptocurrency markets rallied, gaining popularity on social media and prompting the launch of other shiba inu dog-themed coins.
As the project took on a life of its own, building up a large community, Markus and Palmer left the project and there was no development on the protocol. Musk tapped into the social media hype around the coin, tweeting that it was "the people's crypto".
Dogecoin Foundation
The Dogecoin Foundation was launched in 2014 to provide a governance and support framework for the project's community development. The foundation was later dissolved, but it relaunched in 2021 as the coin attracted new investors and the price soared. According to the foundation's website, it aims to provide:
Support for the dogecoin cryptocurrency through development and advocacy

Dogecoin trademark defence to prevent abuse and fraud

A roadmap and governance for the future of Dogecoin.
The foundation is led by members of the original development team as well as advisers, core developer Max Keller, Ethereum (ETH) co-founder Vitalik Buterin, and Jared Birchall, representing Elon Musk.
Dogecoin price history
Let's now cast our eyes over some of the DOGE price history. While past performance should never be taken as an indicator of future results, knowing what the crypto has done in the past can help give us some much needed context when it comes to either interpreting a dogecoin coin price prediction or making one of our own.
The DOGE price can be highly volatile, even in the context of cryptocurrency markets, as social media communities often drive large spikes in its value and subsequent crashes that generate mainstream media coverage.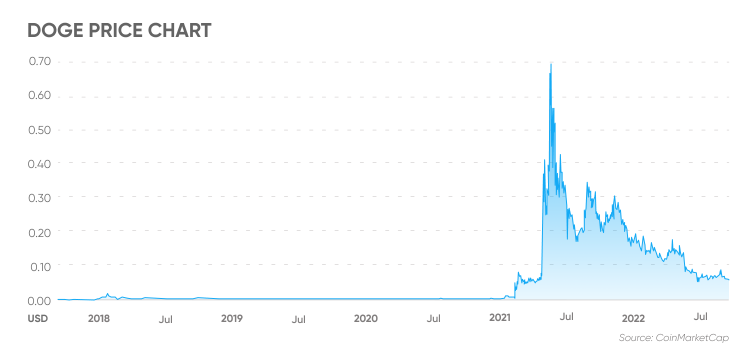 Dogecoin price analysis shows that the coin was relatively stable from 2013 until the cryptocurrency markets took off in 2021. The DOGE price soared from $0.004681 at the start of 2021 to its all-time high of $0.7376 on 8 May 2021, a gain of more than 15,650%.
It then quickly dropped in a "sell the news" response to Musk appearing on the Saturday Night Live TV show in the US. Musk referred to dogecoin as a "hustle", despite having talked it up in previous weeks.
DOGE was trading down around $0.30 by the end of May 2021, defying the most bullish dogecoin prediction for the price to exceed $1. It fell further to $0.1607 on 20 July, when cryptocurrency markets found a bottom.
A summer rally brought the price up to $0.351 on 16 August but it fell again to $0.1945 on 26 September. DOGE climbed to $0.2819 on 24 October, but turned bearish into 2022 along with the broader markets, remaining in a downward trend with lower highs and lower lows.
DOGE started the year at $0.1705 and moved up to $0.2032 on 14 January, but then sold off to $0.1272 on 24 January. The coin rebounded to $0.1716 on 7 February, but was unable to hold at that level. DOGE dropped to $0.1107 on 13 March before making another attempt at the $0.17 level on 5 April.
The price plummeted to $0.07004 on 12 May as cryptocurrency markets reacted to the collapse of the terra luna cryptocurrency and the US dollar reaching 20-year highs.
With bearish sentiment taking hold of crypto markets, DOGE dropped to $0.04972 on 18 June, its lowest level since early 2021. The coin traded in a $0.06-$0.07 range until a brief rally in meme stocks and coins driven by retail investors on social media brought the price up to $0.08864 on 16 August. But DOGE quickly dropped back to trade at around $0.06 again.
The dogecoin news in the wake of Musk's takeover of Twitter was initially positive, with the price rallying to a high of $0.1572 on 1 November before the collapse of the FTX exchange saw it trade at about $0.07665 on 21 November. Despite the post-FTX bakruptcy fall, though, DOGE was still worth more than it was two months earlier.
The crypto ended 2022 at $0.07029, but enjoyed something of a recovery in January, closing the month at $0.09617 before sliding down to a low of $0.08017 on 10 February before making climbing back to to $0.09126 on 19 February. Following this, the collapse of the Silvergate bank saw it collapse to $0.06302 on 10 March. After that, both DOGE and the market recovered. On 3 April, Elon Musk struck again when Twitter's blue bird logo was swapped for the Dogecoin emblem on the microblogging site. Perhaps unsurprisingly, this saw DOGE rally. The coin surged by more than 33%, moving from a low of $0.07663 to a high of $0.1026, the first time it had broken past $0.10 in 2023. By 12 April 2023, though, the traditional Twitter blue bird was back and DOGE had fallen down to around $0.082. Over the next week or so, it made a recovery and was trading at around $0.092 on 20 April 2023.
At that time, there were about 139 billion DOGE in circulation, representing the total supply. This gave the coin a market cap of around $12.9, making it the eighth largest crypto by that metric, according to CoinMarketCap.
Dogecoin price predictions
Let's now take a look at some of the dogecoin price predictions that were being made as of 20 April 2023. It is important to remember that price forecasts, especially for something as potentially volatile as cryptocurrency, very often turn out to be wrong. Also, many long-term crypto price predictions are made using an algorithm, which means that they can change at a moment's notice.
CoinCodex had a somewhat upbeat short-term dogecoin price prediction for 2023, saying the crypto could climb to $0.096137 by 25 April before continuing to rise to reach $0.109626 by 21 May. The site's technical analysis was, perhaps surprisingly, neutral, with 21 indicators sending bullish signals and just nine making bearish ones.
Wallet Investor had a rather gloomy DOGE price prediction, suggesting that it could drop to a mere $0,014 by 20 April 2024.
DigitalCoinPrice made a dogecoin crypto price prediction that gave an average of $0.18 in 2023, $0.22 in 2024 and $0.32 in 2025, based on historical data. The site's dogecoin price prediction for 2030 said the price could reach $0.94 that year, before breaking past the dollar barrier in 2031 to stand at a potential $1.30 that year.
CoinPriceForecast was far less bullish in its DOGE coin price prediction. It estimated that dogecoin could reach $0.114 at the end of 2023 and gave a dogecoin price prediction for 2025 that saw it close the year at a potential $0.1608 before arguing that it could reach $0.2361 by the end of 2030.
When considering a DOGE coin price prediction, it's important to keep in mind that cryptocurrency markets remain extremely volatile, making it difficult to accurately predict what a coin or token's price will be in a few hours, and even harder to give long-term estimates. As such, analysts and algorithm-based forecasters can and do get their predictions wrong.
If you are considering investing in cryptocurrency coins or tokens, we recommend that you always do your own research. Look at the latest market trends, news, technical and fundamental analysis, and expert opinion before making any investment decision. Remember that past performance is no guarantee of future returns. And never trade with money that you cannot afford to lose.
FAQs
Is dogecoin a good investment?

It is difficult to tell. Now that Elon Musk has taken over Twitter, it could work favourably for dogecoin. That said, DOGE has a reputation for being somewhat volatile, so we will have to wait to see what might happen, especially in the light of the recent market crash.

Remember, you should always carry out your own thorough research before making an investment. Even high-market-cap cryptocurrencies have proved vulnerable to the current bear markets. So investors should be prepared to make losses and never purchase more than they can afford to lose.
Will dogecoin go up or down?

It is hard to say. While the dogecoin predictions from the likes of DigitalCoinPrice are optimistic, sites like WalletInvestor are more gloomy. Remember that price predictions often turn out to be wrong, and that prices can go down as well as up.

In volatile cryptocurrency markets, it is important to do your own research on a coin or token to determine if it is a good fit for your investment portfolio. Whether DOGE is a suitable investment for you depends on your risk tolerance and how much you intend to invest, among other factors. Bear in mind that past performance is no guarantee of future returns. And never invest money that you cannot afford to lose.
Should I invest in dogecoin?

DOGE is the original meme coin, which suggests that it can, potentially, be even more volatile than other cryptos. Ultimately, though, this is a question that you will have to answer for yourself. Before you do so, however, you will need to conduct your own research and never invest more money than you can afford to lose because prices can go down as well as up.
Can DOGE hit $1?

No one can say for sure. At the time of writing, DigitalCoinPrice forecasted that DOGE could reach past $1 in 2031, but the majority of sites did not see it reaching the dollar. However, always remember to do your own research. Algorithm-based forecasts can be wrong and shouldn't be used as a substitute for your own research.