Dogecoin price prediction for 2021: should you jump on the crypto bandwagon?
Subscribe to Weekly Highlights
The major market events for the week ahead right in your inbox.
Subscribe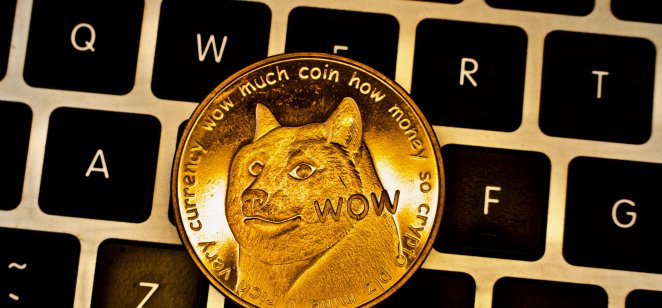 Content
Dogecoin (DOGE) is the latest cryptocurrency to catch a wave, becoming the 12th largest crypto by market capitalisation after Tesla founder Elon Musk posted a series of tweets in the past week.
Dogecoin gained 50 per cent in the space of a few hours on February 4 to reach a price of $0.05. That follows a spike of more than 900 per cent on January 29 when the coin soared to an all-time high before sliding back, with trading volumes exceeding those of Bitcoin (BTC).
Has all the attention got you wondering "Should I invest in Dogecoin" for outsized portfolio returns?
If you are not familiar with this previously lesser-known crypto, what is Dogecoin all about? What do you need to know about the altcoin before you decide whether to add it to your portfolio?
Things to consider are: the recent developments in the use of the controversial cryptocurrency, its volatile performance against the US dollar and the latest price forecasts.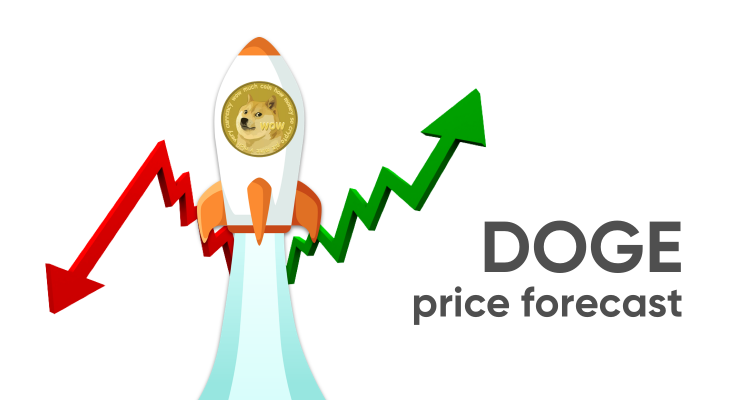 What is Dogecoin?
Dogecoin was launched in 2013 as a joke by software engineers Billy Markus from IBM and Jackson Palmer from Adobe, using a popular dog meme to parody the proliferation of cryptocurrency altcoins being touted as alternatives to Bitcoin. The co-founders are no longer directly involved in the DOGE cryptocurrency.
The Dogecoin protocol is based on the now-defunct Luckycoin, which was a fork, or spinoff, from Litecoin (LTC). As the supply of Dogecoin is not capped, there are more than 128 billion coins in circulation and the low price has made the currency popular in social media communities for small transactions. The Dogecoin price on launch in 2013 was $0.000232, so the rise to around $0.05 represents a 21,000 per cent increase.
Its popularity on social media makes Dogecoin prone to wild price swings, with various attempts by users on TikTok and Reddit to collectively drive up the price causing the market to spike.
What is your sentiment on TSLA?
Vote to see Traders sentiment!
The project's latest developments: will DeFi drive adoption of Dogecoin?
The use of Dogecoin has evolved beyond a fun meme on social media. It is now being accepted by some online stores for payment and Dogecoin investment is forming part of diversified cryptocurrency portfolios. DOGE now has a market cap of $6.39bn, according to digitalcoinprice.com, ahead of altcoins like Uniswap, Aave, EOS and Monero.
As of January 26, Dogecoin cryptocurrency was available on the Ethereum network. The Ren Project is an open protocol for the transfer of value between blockchains that has partnered with OpenDAO, which facilitates the use of real-world assets on-chain, to launch renDOGE. This allows Dogecoin holders to convert their DOGE into renDOGE and from renDOGE into DOGEO stablecoin on OpenDAO's app. They can then use the stablecoin as collateral for decentralised finance (DeFi) products like loans.
Michael Burgess, a chief operating officer for the Ren Project, said: "With another first for RenVM, Dogecoin is no longer a meme coin; it is now a viable financial instrument in its own right, thanks to RenVM and OpenDAO."
DOGE has also become available on more cryptocurrency exchanges, making investing in Dogecoin available to more people and supporting higher trading volumes. On January 13, three exchanges added support for DOGE: Huobi Futures for margin swaps, FTX for spot and futures trading and WazirX for spot trading. Dogecoin trading is also available on the Binance, Bitfinex and OKEx crypto exchanges.
Dogecoin rides a crypto rollercoaster
Like other cryptocurrencies, Dogecoin is characterised by high price volatility. The value of Dogecoin has soared by 774 per cent against the US dollar in the year to date. A year ago, the coin was trading at $0.002493 falling to $0.001582 in March 2020, according to Coindesk data. In July DOGE almost doubled from $0.002286 to $0.004543 in the space of a few days. It then slipped to $0.002961 and had trended down to $0.002503 by early November 2020.
| | |
| --- | --- |
| Long position overnight fee | -0.1727% |
| Short position overnight fee | 0.1266% |
| Overnight fee time | 22:00 (UTC) |
| Spread | 0.005 |
| | |
| --- | --- |
| Long position overnight fee | -0.0500% |
| Short position overnight fee | 0.0140% |
| Overnight fee time | 22:00 (UTC) |
| Spread | 60.00 |
| | |
| --- | --- |
| Long position overnight fee | -0.0166% |
| Short position overnight fee | 0.0060% |
| Overnight fee time | 22:00 (UTC) |
| Spread | 3.0 |
| | |
| --- | --- |
| Long position overnight fee | -0.0500% |
| Short position overnight fee | 0.0140% |
| Overnight fee time | 22:00 (UTC) |
| Spread | 0.00335 |
Dogecoin started 2021 on a bullish note, doubling on January 2 from $0.005405 to $0.011427, and was trading at $0.007432 on January 27, before the most recent rally took it to an all-time high of $0.07818.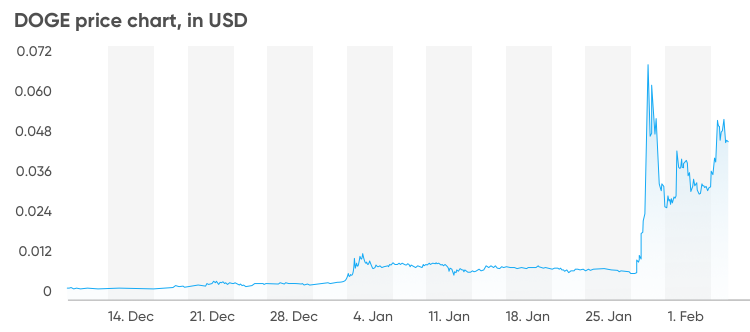 Will Dogecoin future price moves be equally dramatic?
Elon Musk's tweets and enthusiastic posts by Reddit users are not the only drivers for the Dogecoin rally. A recent rise in the price of Bitcoin followed by a period of consolidation is prompting more retail investors to look at altcoins.
The combined value of the cryptocurrency market climbed above $1tr in January for the first time, as Bitcoin traded at a record high of $41,941.56, according to data from CoinMarketCap and CoinGecko.
Analysts at Arcane Research said in a recent note: "Bitcoin's sideways price action is giving room for altcoins to thrive." In January 2021, the volume on decentralised exchanges surpassed its previous all-time high reached in September 2020.
What do Dogecoin predictions indicate about the direction of the price from here?
According to an online forecasting website Wallet Investor, DOGE could double again from the $0.05 level to reach $0.10 later this month. However, its Dogecoin price prediction then puts the cryptocurrency at $0.0343 by the end of March, trending up to $0.0390 by the end of December 2021.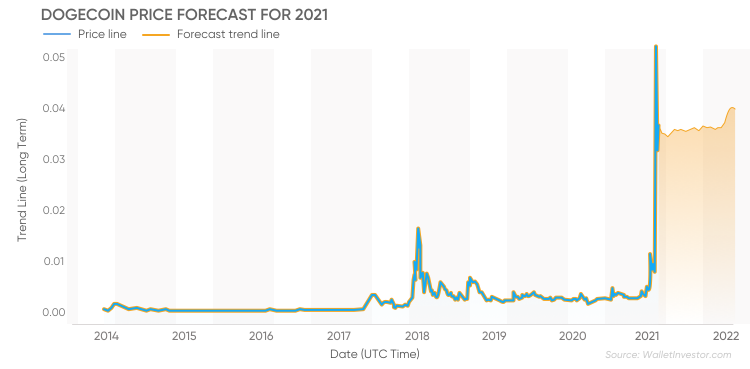 Its long-term forecast indicates the price could reach $0.0417 at the end of 2022, $0.0441 at the end of 2023 and $0.05096 in January 2026.
Cryptocurrency aggregator Coinswitch predicts that DOGE could move up by more than $0.005 in the coming month or two, noting that it has been adopted as a means of payment by online stores such as eGifter, AllGamer.net and others. Taking a longer-term view, by 2025 Coinswitch expects Dogecoin to range between a low of $0.0281 and a high of $0.0450.
The Dogecoin forecast from digitalcoinprice.com is more bullish, predicting the price will average $0.073692 in March and reach $0.081293 by the end of 2021.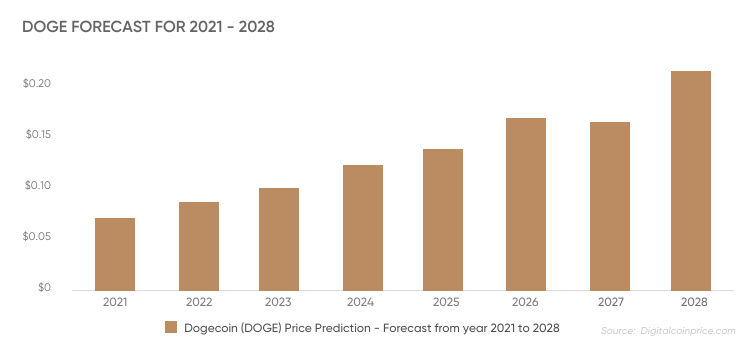 Over the longer term, the forecast puts the price at an average of $0.152755 in 2025 and $0.238451 in 2028.
Cryptocurrency markets are prone to rapid, sharp price changes, so if you decide to open a position in Dogecoin, you should be prepared for the high volatility in the price along the way even if the long-term outlook is bullish.