DigiByte price prediction: Can the security-focus token rebound?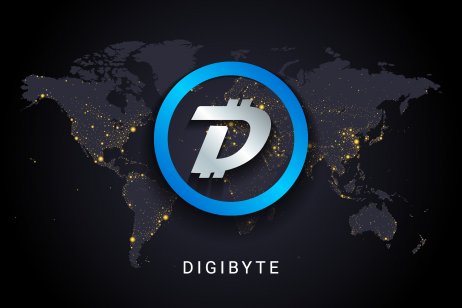 While its price at the end of March may have shown a lot of promise for DGB, the utility token of security-focused blockchain network DigiByte, the reality turned out to be somewhat different and it has fallen 55% to $0.018 today (6 May).
There does not seem to be any clear business reason for the big decline other than a malaise in the cryptocurrency space that has seen most of the majors suffer big falls today including bitcoin (BTC) down 8%, Avalanche (AVAX) down 13%, Solano (SOL) down 10%, Polkadot (DOT) down 10% and Ethereum (ETH) down 7%.
This loss of confidence in the sector may be due to the US Federal Reserve hiking interest rates by 50 basis points, moving them into the 0.75%-1% range, while also predicting additional ones, which may have unsettled what is an already volatile and sensitive instrument. The Fed also noted that the Russian war in Ukraine continues to pose upside risks to inflation adding to the discomfort.
David Z Morris, chief insights columnist at CoinDesk, wrote:
"Higher Fed interest rates usually draw capital away from speculative sectors because savers and investors are drawn to safer returns in government bonds. At the margins, this will inevitably pull value out of both tokens and crypto startups (along with tech and venture capital more generally)."
Despite being established for eight years and supported by a strong community, the DigiByte token price was also under pressure from the broader risk-averse sentiment in the market amid the imminent interest rate hike.
The DGB prices fell to $0.0168 on 24 February 2022, down 25% from $0.0223 on 1 February, data from cryptoassets price-tracking website CoinMarketCap shows. DGB token price is also down 72% compared to a year ago.
Although DigiByte coin prices have fallen over the past year, the token value has increased by more than 55-fold from May 2017. DigiByte token prices started to rise from May 2017, two years after it was listed on exchange. The token price hit an all-time high at $0.157 on 2 May 2021 and fell in the months after.
Are you interested to learn more about DigiByte and the outlook for the project? Read on for the latest news and analysts' DigiByte coin price prediction.
What is DigiByte?
DigiByte is an open-source blockchain network that was launched on 10 January 2014 and uses a proof-of-work (PoW) consensus mechanism to verify its blockchain.
According to DigiByte's whitepaper, the project focuses on "speed, security and scalability," and could overcome the transaction speed restrictions on other networks such as Bitcoin and Ethereum. The network claimed it could confirm transactions in approximately 15 seconds, which is 40 times faster than Bitcoin and 10 times faster than Litecoin.
In 2017, DigiByte adopted the Segregated Witness (SegWit) protocol, which segregates the signatures from the transaction data in the input field of the block. This allows more transactions to be stored within a block and increases transaction speed.
To further bolster its on-chain security, "DigiByte has employed five unique and independent algorithms" since September 2014. Other PoW blockchains generally utilise only a single mining algorithm to mine new blocks and create new assets into circulation. According to DigiByte, this "provides greater security to the network while helping prevent any 'rented hash power' from attacking the blockchain."
"By having some of the algorithms remaining "GPU friendly", it allowed for people to mine DigiByte from home, contributing to the security of the DigiByte network from their desktop PC."
DigiByte has created an ecosystem, which enables distributed applications (DApps), document notarisation/validation, token issuance, and asset digitization.
DigiByte has also applied its security-focus technology to create a new user log-in protocol, Digi-ID. This is a security protocol built on DigiByte blockchain, which uses public/private key cryptography for its users to sign-in on websites and applications. This eliminates the requirement for username, password for authentication, hence Digi-ID does not need to store data about the users on the blockchain.
Token supply and distribution
The DigiByte token is the native utility coin for the ecosystem. According to DigiByte, the supply cap of its utility token is at 21 billion, and it is expected to be fully mined by 2035. Compared with 21 million Bitcoin, the massive supply of DigiByte is "designed to be ready for mass adoption."
Validators are rewarded with DGB tokens, but the reward will be reduced by 1% monthly. After 2035, miners will be paid by transaction fees. According to CoinMarketCap as of 6 May, DGB has a circulating supply of 15.31 billion coins and live market cap of $272m ranking it 155th in the cryptocurrency league.
In addition to mining, buyers can buy the token on exchanges such as Binance, OKX, DigiFinex, Bybit and Mandala Exchange.
In contrast to other cryptocurrency projects, DigiByte was not funded through an initial coin offering (ICO) or significant premined coins. As a result, there are no controlling parties to the project. According to DigiByte, the founder, developers and the community developing the project are unpaid volunteers.
Who is behind DigiByte?
The founder and creator of DigiByte is Jared Tate. According to Tate's profile on DigiByte, he is a US citizen who has been involved with Bitcoin since 2012. The board members consist of Hans Koning (chair), Rudy Bouwman (vice-chair & secretary) and Rutger Krijnen (treasurer).
The DigiByte Foundation is a non-profit, volunteer managed organisation set up to promote the project.
Project risk profile
According to cryptocurrency research and data site Is This Coin A Scam, the DigiByte project has a safety rating of C or 'good', data on 6 May 2022 shows. According to the site, DigiByte scored a B on community, sentiment and its credibility. The two metrics of development and trading volume were awarded a D rating while awareness was awarded an F. The score is based on the site's research on social media platforms such as Reddit and Twitter.
Market reviews
The security of the cryptocurrency and its blockchain has garnered positive reviews from investors, who believe the token could be a good investment choice. Investor Chris MacDonald wrote on investment guide website The Motley Fool:
"DigiByte is uniquely poised in the world of proof-of-work blockchains with the most secure network available. This gives the coin resilience, and is more great news for investors looking for a long-term hold in the crypto world."
MacDonald also cited two other factors that support the outlook for DigiByte: the low transaction costs and relatively fast processing speed, and the verified community for the project.
However, as DigiByte is a PoW coin, "there are no further opportunities for generating a return on the asset other than holding it," warned MacDonald. The high computational power required to solve the algorithms will also be more energy-intensive and less environmentally friendly.
DigiByte forecast
Tech News Leader expected that the DGB/USD rate could rise in the next few years and reach new highs by 2027. The data provider forecast the token price could climb up to $0.035 in 2023. By 2027, DGB coin was predicted to reach $0.12 and continue to rise to $0.72 in 2032.
In contrast, a second analyst Price Prediction offered a less bullish DGB price prediction for 2022 to 2025. Its forecast was for an average DGB coin price of $0.027 in 2022, rising to $0.091 in 2025, and $0.59 in 2030.
According to Wallet Investor, DigiByte coin price was expected to rise to $0.032 in the next 12 months, and could reach $0.08 in five years' time.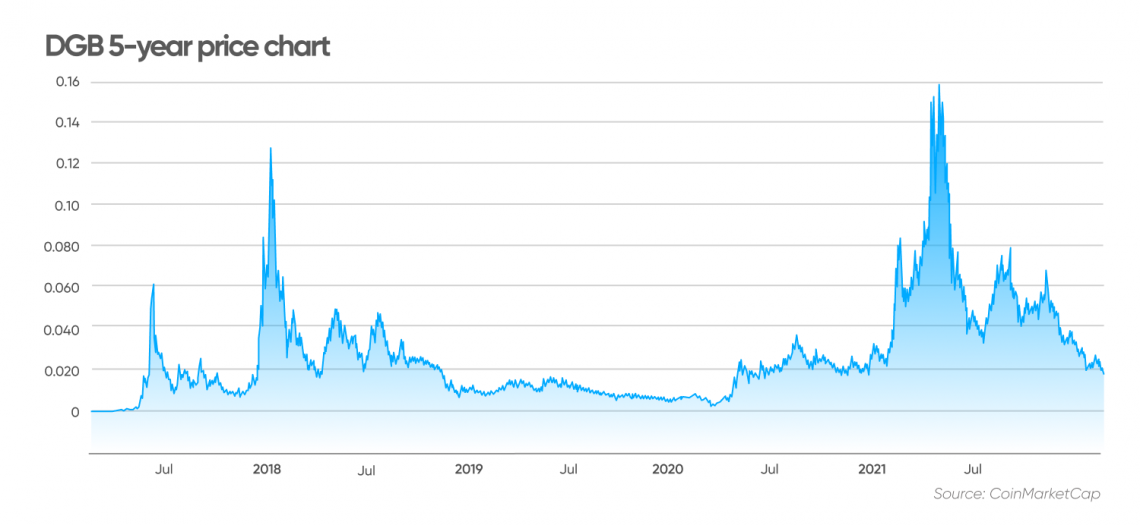 While making crypto price predictions investors should remember that the market is volatile. Forecasts are based on inferences drawn from the past performance by analyst's and may go wrong, due to market gyrations, change in policies and unknown parameters. Investors should also consider the token's collaborations, partnership deals and fundamentals before relying completely on the predictions.
You should do research and base your decision to buy cryptocurrencies on their attitude to take a risk. Investors should gauge how comfortable they are about losing money, as you should never invest money that you cannot afford to lose.
FAQs
Is DigiByte a good investment?

DigiByte is an established project with eight years of development history and a strong community. However, whether DGB is a good investment or not will depend on your investment goal, portfolio composition and risk profile among other factors.
Will DigiByte price go up or down?

Analysts Tech News Leader and Price Prediction expect DigiByte prices to rise between 2022 to 2030. However, analysts' forecasts can be wrong and have been inaccurate in the past. Cryptocurrency is an extremely high-risk investment and capital will be at risk, you should do your own research and never invest what you cannot afford to lose.