CRO coin price prediction: What is cronos (CRO)?
It is the native token of two blockchains, but what is cronos (CRO)?
Let's take a look and see what we can find out, as well as looking at some of the cronos price predictions that were being made as of 20 December 2022.
Cronos explained
The cronos (CRO) coin is the native cryptocurrency of both the Crypto.com blockchain and the Cronos EVM chain, which run parallel to one another.
The Cronos EVM chain claims to be the first Ethereum-compatible blockchain built using the Cosmos software development kit. It is open-source, meaning that anyone can use it, and it's permissionless, meaning that two users can carry out a transaction without having to get the permission of a central authority figure on the network. The aim is to let developers move applications from other blockchains instantly, allowing them to benefit from low transaction fees.
Crypto.com, which is based in Hong Kong, operates as a platform and app where users can buy, sell and earn digital assets. It was founded in 2016 by Kris Marszalek, a Polish-born entrepreneur, together with Bobby Bao, Gary Or and Rafael Melo, and has since acquired more than 50 million users.
The platform offers a non-fungible token (NFT) marketplace, as well a Visa card that allows people to gain 8% cashback and can be used in around 40 countries. It has a crypto wallet, a token-swap facility, the possibility of earning daily rewards and interest, and the ability to monetise crypto assets without having to sell them.
According to the Crypto.com whitepaper, the Cronos ecosystem "represents the next major phase in the adoption and utilisation of Web 3.0 by hundreds of millions of users".
Apart from powering the system, cronos is also used for staking, which rewards users with perks such as free Netflix and Spotify subscriptions, a number of cashback fee rewards, better interest rates, higher yearly percentages on the Crypto.com exchange, an additional 2% a year on fixed-term deposits, and numerous other rewards.
By staking CRO, users can become liquidity providers. The cronos cryptocurrency is also used to settle transaction fees on the Crypto.com chain.
What is your sentiment on CRO/USD?
Vote to see Traders sentiment!
Cronos price history
Let's now take a look at the CRO price history. While past performance should never be taken as an indicator of future results, knowing what the coin has done in the past can help give us some important context if we want either to examine a cronos price prediction or make one of our own.
CRO went live in mid-December 2018, when it was worth about $0.0153. The coin's value then rose almost sevenfold to $0.103 on 15 March 2019, before more or less stagnating until the late spring of 2020, when its value started to grow steadily.
Between 14 March 2020, when the cryptocurrency was valued at $0.03187, and 31 August 2020, the token rose more than fivefold, reaching $0.1785. These gains could have been due to the launch of the Crypto.com wallet in late March.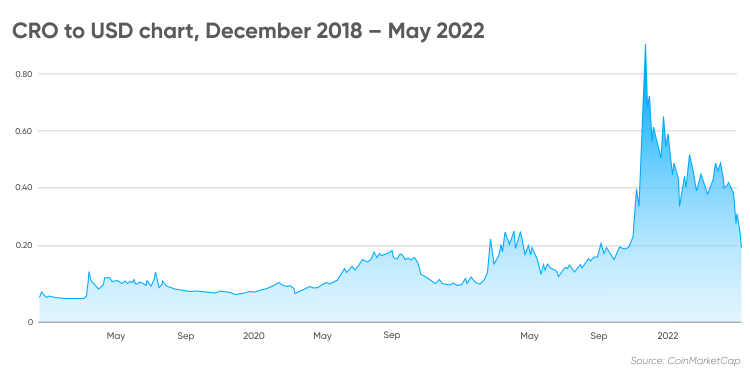 The next big CRO gains came at the start of 2021, when it responded to a bullish market and jumped by around 285%, from $0.06362 on 4 February 2021 to $0.2452 on 15 April 2021. The crypto then slid down but staged a comeback in the autumn, reaching an all-time high of $0.9005 on 23 November 2021. After that, though, the price drifted back down and it closed the year at $0.5575.
Crypto.com did not shy away from boasting of its fast-achieved popularity and great successes, becoming the first global crypto exchange to launch its own NFT platform, gaining the endorsement of Academy Award-winning actor and writer Matt Damon for its global brand campaign.
But 2022 has been a poor year for CRO. It fell down initially, before managing to briefly top $0.50 on 9 February. However, positive sentiment surrounding its value did not last long, despite it rebranding from crypto.com to cronos in an attempt to reflect "the decentralisation of the coin and tremendous growth of Cronos ecosystem".
The price of CRO started to decline once Crypto.com decided to slash some of its staking rewards, as well as ending some prominent partnerships.
By 12 May 2022, with the market in turmoil after the depegging of the UST stablecoin and the collapse of the associated LUNA cryptocurrency, CRO was down to $0.1694. Things got even worse the following month, when the cancellation of withdrawals on the Celsius (CEL) crypto lending platform confirmed the bear market, and cronos sank to $0.09902 on 18 June.
In other CRO news, the platform announced on 25 July 2022 that it had launched a Google Pay in-app feature "allowing users to purchase crypto quickly and securely".
A few days earlier, on 23 July 2022, the platform also announced a series of updates to its Crypto.com Visa cards.
By 5 September 2022, cronos was worth about $0.1185. By 13 October, despite the release of a roadmap setting out how the system would become more scalable, the price had dropped to $0.09653. After that, there was a recovery to $0.1183 on 6 November, but then things got really bad.
It was revealed that Cronos had accidentally transferred ether (ETH) worth around $400m to the wrong crypto account.
The news came right after the collapse of the FTX (FTT) crypto exchange, and the price of CRO crashed by almost 30% in a matter of hours, sinking to a low of $0.05629 on 14 November. By comparison, it had traded at a little over $0.08 the previous day.
After that, there was another drop to $0.06156 on 28 November. It made something of a comeback to trade at $0.06572 on 6 December before it fell back to $0.05629 on 20 December 2022.
After the FTX collapse, Cronos published its holdings. On 11 November it appeared to have assets of more than $2bn but, by 16 November 2022, that figure was down to a little over $600m, before rising back to $3.3bn as of 1 December. Either way, it is important to note that the platform had no debts.
At that time, there were about 25.26 billion CRO in circulation out of a total supply of just over 30.26 billion. This gave the coin a market cap of about $1.4bn, making it the 28th-largest crypto by that metric.
CRO coin price prediction round-up
Let us now take a look at some of the cronos price predictions that were being made as of 20 December 2022. Keep in mind that price forecasts, especially for something as potentially volatile as cryptocurrency, are often wrong. Also, long-term crypto price predictions are often made using an algorithm, which means they can change at any time.
CoinCodex made a short-term cronos crypto price prediction that said the coin could fall to $0.050730 by 25 December, with it then potentially making a recovery to $0.057184 by 19 January 2023. The site's technical analysis was bearish, with 24 indicators making negative signals against nine making bullish ones.
CoinsKid made a CRO coin price prediction for 2023 that said the coin could close the year at $0.0562 before potentially reaching $0.1192 in December 2024. The site made a cronos price prediction for 2025 that said CRO could be worth $0.1226 by the end of the year, before potentially trading at $0.1913 in December 2026.
DigitalCoinPrice had a cronos coin price prediction that said the coin could be worth $0.068 this year, $0.13 in 2023 and $0.19 in 2024. The site's CRO coin price prediction for 2025 said CRO could be worth about $0.25 that year.
By 2027, though, its forecast suggested the coin could reach $0.30, before reaching $0.41 in 2028 and potentially closing the decade at $0.57. The site made a CRO coin price prediction for 2030 that said CRO could trade at $0.80 that year before reaching $1.08 in 2031.
Finally, Wallet Investor struck a far more bearish note in its CRO price prediction, suggesting that the crypto could face a torrid time over the next year and drop to a mere $0.0127 by December 2023.
When considering a CRO coin price prediction, it is important to keep in mind that cryptocurrency markets remain extremely volatile, making it difficult to accurately predict what a coin or token's price will be in a few hours, and even harder to give long-term estimates. Analysts and algorithm-based forecasters can and do get their predictions wrong.
If you are considering investing in cryptocurrency coins or tokens, we recommend that you always do your own research. Look at the latest market trends, news, technical and fundamental analysis, and expert opinion before making any investment decision. Keep in mind that past performance is no guarantee of future returns. Never trade with money that you cannot afford to lose.
FAQs
Is CRO coin a good investment?

Whether cronos is a good investment for you depends on your personal circumstances and risk appetite.

Remember, you should always carry out your own thorough research before making an investment. Even high-market-cap cryptocurrencies have proved vulnerable to the current bear market, so investors should be prepared to make losses and never purchase more than they can survive losing
Will CRO coin go up or down?

No one can say for sure. As of 20 December 2022, DigitalCoinPrice gave an upbeat outlook on the future of CRO, while Wallet Investor predicted the cryptocurrency could fall substantially over the next year. Remember that price predictions are often wrong, and that prices will go down as well as up.

In volatile cryptocurrency markets, it is important to do your own research on a coin or token to determine if it is a good fit for your investment portfolio. Whether CRO is a suitable investment for you depends on your risk tolerance and how much you intend to invest, among other factors.

Past performance is no guarantee of future returns. If you cannot afford to lose it, do not risk your money.
Should I invest in cronos?

This is a question that you will have to answer for yourself. Before you decide whether or not to invest in cronos (CRO), you will need to carry out your own research, both on the CRO coin and other exchange-related cryptos.

Never invest more money than you can afford to lose, because prices will go down as well as up.