COTI coin price prediction: Can it regain momentum upwards?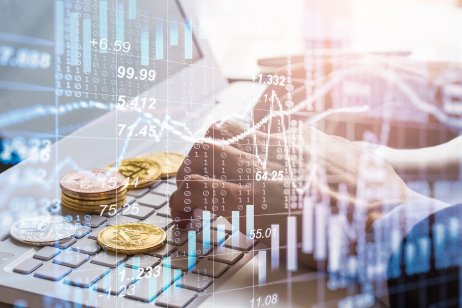 On the day decentralised payment processing platform COTI, the self styled coin of the internet, announced that the public testnet version of its stablecoin Djed had gone live, the price of the coin dropped 12% to $0.19.
Djed, announced last September, is an algorithmic stablecoin designed to stay at a steady value through the use of a combination of collateral and a reserve token called Shen. The testnet is to allow for proving the main functionalities of the protocol in a "fictitious and safe space using trial funds".
This fall may not be the fault of the Djed testnet. Today (6 May) other altcoins have also suffered including: Avalanche (AVAX) down 13%, Solano (SOL) down 10%, Cardano (ADA) down 8%, Polkadot (DOT) down 10% and Ethereum (ETH) down 7%.
What are the underlying forces that are driving the price? What is a realistic future target price for COTI?
In this article we consider the latest COTI coin price prediction and market analysis to help you decide if it is worth a place in your portfolio.
Developing partnerships to boost adoption
Developers at COTI are working in partnership with their peers at the Cardano blockchain and ADA cryptocurrency. Over the past few months it has announced a range of new partnerships and new merchants for the ADA Pay digital payment platform.
On 15 December it announced a partnership with ADA Handle, an NFT-powered naming solution for the Cardano wallet address, in which the pair will "explore the possibility of allowing support for Handle address resolution directly within their ADA Pay platform".
On 21 December it announced it was partnering with AdaSwap, an ecosystem aiming to establish the first decentralised exchange on the Cardano network.
On 28 December it said it had formed a partnersip with ErgoDEX, a decentralised non-custodial exchange that "facilitates liquidity transfers between the Ergo and Cardano networks". It added that COTI and ErgoDEX will work together to determine ways to integrate Djed, the Cardano-based stablecoin with ErgoDEX.
This COTI coin review looks at the network's recent developments and the movement of the cryptocurrency price to help you decide whether now is the right time to add it to your portfolio.
COTI runs fintech products on blockchain
So, what is COTI? COTI is a fintech platform that uses blockchain to run a range of products, including payment processing, financing, white label payment systems, loyalty programmes and cross-border remittance technology. Organisations can build their own payment solutions and digitise any currency to create so-called "stablecoins", which are pegged to physical currency.
The COTI network is based on seven key elements of operating an effective payment infrastructure:

COTI was co-founded by Samuel Falkon, vice president of business development at COTI Group and chief revenue officer at online payment service provider Paywize, a COTI subsidiary that offers merchant credit card processing. Falkon is also the founder of Israel-based management consulting firm Gil Scott. COTI co-founder David Assaraf also co-founded Israel-based fintech start-up Frequants.
What are the latest COTI developments?
On 25 October COTI announced a partnership with CardWallet, a DeFi and wallet system for Cardano, to bring a non-custodial wallet and an "easy-to-use" payment platform to the CardWallet community. The company said it will "work together to integrate the ADA Pay solution to CardWallet to provide a robust payment system for CardWallet's users."
COTI is to become the official issuer of Djed, a new decentralised finance (DeFi) DeFi-focused stablecoin for the Cardano network, which should provide a DeFi tool for operations and avoid transaction fees. The new stablecoin will be based on an algorithmic design using smart contracts to ensure price stability and providing an instrument for DeFi transactions, said COTI CEO, Shahaf Bar-Geffen. "The stablecoin is designed for paying transaction fees on the Cardano network in order to avoid "volatile and exorbitant gas fees" and make transaction costs more predictable," he said.
In September came the announcement that it was working with OccamFi, the Cardano oriented DeFi suite solution provider, to explore strategic co-development initiatives and opportunities to merge the launchpad capabilities of its OccamRazer with the ADA Pay solutions offered by COTI.
Later that month COTI revealed it was partnering with Ardana the decentralised stable coin hub, to bring stablecoin crypto-to-fiat payments to the Cardano community, as well as consumers & merchants worldwide. With Ardana's decentralised stablecoin payments coming to AdaPay, users will be able to purchase goods using their stablecoins wherever AdaPay is accepted.
COTI also announced a partnership with payment processing gateway Simplex. This will enable it to offer bank accounts and Visa debit cards on the Cardano blockchain to people in the UK and European Economic Area said the company, adding that "these financial tools will help address economic inequality".
Earlier in 2021, cFund, the venture fund for the Cardano ecosystem, invested its first $500,000 in COTI in April, strengthening the relationship between the projects. Using COTI's payment processing technology, ADA Pay allows merchants to accept the ADA cryptocurrency as payment and convert the proceeds into 35 fiat currencies instantly to avoid exchange rate volatility. Bricks-and-mortar stores can use a point-of-sale QR code scanner to process transactions in ADA.
COTI is currently working on a project with Cardano that it says "will be very instrumental in Cardano's ecosystem.. as Cardano grows, so will COTI". COTI reported the latest update on the relationship on 8 December.
On 6 April it was announced that the Cardano DeFi Alliance (CDA) has added COTI to its consortium of projects with the primary mission of standardising Cardano best practices within the DeFi ecosystem. Shahaf Bar-Geffen, COTI's CEO said: "We are happy to join CDA. By powering Djed, the main native algorithmic stablecoin of the Cardano DeFi network, we feel it is only natural to take part of this important alliance to contribute to the standardisation of best practices within the Cardano DeFi ecosystem".
COTI operates a cross-chain bridge. In June, developers tested a reprocessing procedure that allows the bridge to automatically reprocess Ethereum-based ERC-20 COTI coin to native COTI delayed transactions, as well as increase scalability and improve flows from the native coin to the Ethereum version.
The native COTI coin had been trading at around the same price as the ERC-20 version, with both versions listed on the Huobi Global exchange on 26 August. The ERC-20 version was also listed on Coinbase on the same day.
On 2 September, COTI's developers outlined a growth plan "to bind everything that we do and new things that we are planning to do into one coherent system and evolve our offering from payments to a fully-encompassing next-generation financial system".
This includes:
A decentralised COTI treasury to collect fees and reward users

A stablecoin factory offering clients around the world the ability to issue their own stablecoin on top of the COTI Trustchain

Enterprise and merchant services under the COTI Pay Business brand to offer fully integrated backend systems with cryptocurrency and fiat currency processing along with wallets

Treasury services including borrowing and lending COTI and vault services

Ecosystem and partnerships such as ADA Pay
The developers said: "Our upcoming Treasury model combines the best of Defi and COTI's staking 3.0 program.
"The Treasury will grow as our core services continue to grow, while introducing new services that will grow the demand for $COTI and will streamline $COTI fees to the Treasury."
With the listings launched, the COTI network upgrade to Mainnet 2.0 was launched on 2 November adding new features and increase scalability. The developers are designing a Mainnet 3.0 upgrade that they expect to happen "roughly a year from now".
On 15 November COTI announced a partnership with Centaurify, an NFT and smart contract platform, with the aim of "tokenising" tickets for NFT event tickets, digital collectibles, and more. Centaurify will implement ADA Pay, which is powered by COTI, to make it possible for users to pay with their ADA tokens.
On 24 November it announced a partnership with decentralised finance (DeFi) developer SundaeSwap Labs "to explore ways to implement the Djed stablecoin — the first stablecoin on Cardano — with the SundaeSwap decentralised exchange (DEX)".
In a tweet on 25 November it announced a "new community node was to be added on 1 December". Called The Prime Node it brings the total staking volume to 160 million. It was the 15th COTI Community node and the 22nd in total.
On 15 December it announced a partnership with ADA Handle, an NFT-powered naming solution for the Cardano wallet address, in which the pair will "explore the possibility of allowing support for Handle address resolution directly within their ADA Pay platform".
On 17 December it said that COTI would, along with four other cryptos, will be listed on India's largest exchange, CoinSwitch Kuber.
On 21 December it announced a partnership with AdaSwap, an ecosystem aiming to establish the first decentralised exchange on the Cardano network.
On 22 December COTI announced that its native coins could be converted into Euros in a user's COTI bank account.
On 28 December COTI revealed in a tweet it had teamed up with ErgoDEX, a decentralised exchange "that facilitates liquidity transfers between the Ergo and Cardano networks".
On 11 January 2022 COTI, announced it had entered the "implementation phase" of its proposed stable coin Djed and has "laid the groundwork that will enable Djed to remain competitive among other algorithmic stablecoins."
In parallel the organsation has been working on partnerships to advance the coin once launched and the first to be announced is with DOEX, a decentralised exchange for native assets on the blockchain of esisting partner Cardano. "DOEX aims to enable the seamless, non-custodial exchange of assets within Cardano and across other blockchains via smart contracts, automated market making, and cross-chain bridges," said the statement.
On 18 January a second deal then followed with MeowSwap, a Layer 2 decentralised exchange (DEX) also built on Cardano. "Both COTI and MeowSwap are eager to offer immense DeFi benefits not only to existing Cardano users, but to new users that seek decentralised finance based on scalability, accessibility, transparency, peer review, and true decentralisation' said COTI.
On 4 February the COTI Treasury, an algorithmic and decentralised pool of COTI, where users who deposit their coins will be rewarded, went live. That reward will be a share of the Treasury which is intended grow as the pool collects fees from the COTI ecosystem. As of 22 February the Treasury balance was almost $60m (286 million COTI)
Coti said the establishment of the Treasury is on its "path to becoming the next generation financial ecosystem".
COTI has also announced a partnership with NFT-DAO on 15 February which has integrated ADA Pay to the Akkadia marketplace to allow their users to pay with their ADA.
Adding to its Cardano base is another deal forged with World Mobile on 17 February which will generate transactions to be settled in both the settlement layer (Cardano's public blockchain) and in the World Mobile Chain (WMC) layer "effectively working as a side chain of Cardano".
On 21 February it announced a new partnership with Aada Finance, a crypto assets lending platform built on the Cardano blockchain. Its smart contract allows users to deposit assets and collect interest or borrow assets and perform financial actions. "The integration comes as part of our plan to create strategic alliances with other Cardano projects" said COTI.
On 22 March COTI announced the foundation of an investment fund: COTI Ventures. It has an initial budget of $10m from COTI's and founders' own funds "which will be used to invest in equity, tokens and other forms of capital in early-stage startups developing solutions related to COTI's ecosystem".
COTI price analysis: what is the COTI coin news?
COTI launched in June 2019 at 0.087 against the US dollar. The COTI/USD price slipped below $0.01 to $0.0073 in November 2019 but began to trend higher in 2020 as cryptocurrency prices rose, reaching $0.093 in September.
The price of COTI skyrocketed during the first quarter of this year, reaching a new all-time high. The coin surged from $0.047 on 1 January to $0.573 on 23 March. It then dropped back in line with a retreat in prices across the cryptocurrency markets.
COTI fell to a low of $0.089 on 20 July as the markets bottomed out. It rallied to an intraday high of $0.485 on 25 August ahead of its exchange listings on 26 August. On 20 January the coin was trading at $0.368.
How does the latest COTI forecast guide our expectations about the direction and growth of the market for the coming years?
COTI crypto price prediction: can it sustain an upwards trend?
On 6 May forecasting service Wallet Investor's COTI price prediction estimated the coin will trade around $0.38 in May 2023, and may then climb to $1.1 in five year's time.
In its coti crypto price prediction DigitalCoin was less bullish for the longer term. It predicted the price will average $0.24 in 2022 and an average of $0.49 in 2027. The site predicts the cryptocurrency may reach an average of $0.86 in 2030.
Gov Capital's COTI price prediction forecasted the coin will trade at $0.83 in a year's time and climb to $5.1 in five years.
The COTI coin price prediction from Price Prediction estimated that COTI will average $0.89 in 2025, up from $0.28 in 2022, climbing to $2.74 by 2028 and $5.91 by 2030.
It's important to keep in mind that cryptocurrency markets remain extremely volatile, making it difficult to accurately predict what a coin's price will be in a few hours, and even harder to give long-term estimates. As such, analysts and online forecasting sites can get their COTI predictions wrong.

This provides a COTI overview but we recommend that you always do your own research, and consider the latest market trends, news, technical and fundamental analysis, and expert opinion before making any investment decisions. And never invest more than you can afford to lose.
FAQs
Is COTI coin a good investment?

Prices for altcoins like COTI are highly volatile, offering a heightened risk and reward profile for investors. You should do your own research based on your personal risk tolerance. It is crucial to remember that past performance is no guarantee of future results.
What will COTI crypto be worth in 3, 5 and 7 years?

According to the coti predictions, there is potential for the COTI price to continue rising in the coming years, particularly if other cryptocurrency prices remain bullish.
Will COTI reach $1?

According to cryptocurrency prediction sites, COTI may reach $1 in the next few years, depending on how the protocol develops.
What affects the price of COTI?

The potential for the COTI platform to drive growth in the adoption of cryptocurrency payments at traditional merchants, as well as the ability to process cross-border remittances on the blockchain, could drive up the value of the cryptocurrency as the native token. Sentiment on the broader market, led by bitcoin, is also likely to drive the COTI price.
Read more: Cardano price prediction: Can ADA be revived after recent falls?