Celsius price prediction: Can CEL make a comeback?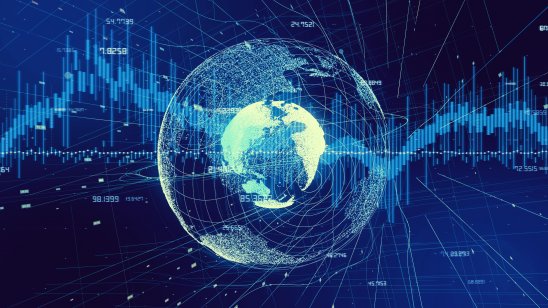 It became infamous when it had to file for bankruptcy, but what is celsius (CEL)? Let's take a look and see what we can find out, as well as examining some of the Celsius price predictions that were being made as of 22 September 2022.
What is Celsius?
Celsius (CEL) was founded in 2017 in London, and was designed as a one-stop destination for DeFi financing for cryptocurrency users. The platform has three critical actors:
Lenders: Depositors who earn interest on their account balances.

Celsius trading platform: The platform facilitates transactions, monitors risk and establishes trading fees.
The Celsius ecosystem is powered by two foundational pillars: the Celsius wallet and the Celsius token.
Celsius Wallet: The Celsius Wallet is a cryptocurrency wallet that enables users to use their crypto as collateral for loans and lend their crypto to earn interest on their deposits.

Celsius token: The Celsius token (CEL) is the utility token for the Celsius system. It is used as a fee for borrowers of crypto assets and rewarded as interest to lenders contributing their assets. An important feature is the deployment of dollar loans using cryptocurrencies as collateral and the possibility to pay interest on these loans at a discounted rate. Since it is based on the Ethereum (ETH) blockchain, it is a token, rather than a coin. You might see references to such things as a Celsius coin price prediction, but technically speaking these are wrong.
Crypto asset holders were supposed to be able to earn up to 9% interest on their loaned crypto by moving it on the Celsius Network. Celsius said that it intended to provide a diverse range of financial solutions at competitive interest rates, ranging from one-day to one-year contracts.
Additionally, the Celsius lending protection pool was supposed to safeguard Celsius Network users who lend cryptocurrency. Celsius's protection pool ensures any defaulted loans or stolen cryptocurrency can be promptly reimbursed.
Things go wrong
Unfortunately for Celsius' investors, things went badly wrong in June 2022. As the market felt the after-effects of the previous month's crash, more and more investors attempted to withdraw their money from Celsius, which led to it cancelling withdrawals and transfers on 13 June. In turn, this spooked the market.
According to a Medium post shared by the platform, the decision to pause transfers or withdrawals for an indefinite period of time was made to "stabilise liquidity" while it took steps "to preserve and protect assets", prompting a backlash from customers fearing their funds could be lost.
Following this revelation, several Twitter users voiced their disappointment and complained about losing access to their cash and having liquidity concerns. As a consequence, the price and the users' short-term confidence collapsed.
Things got even worse the following month when Celsius filed for Chapter 11 bankruptcy protection in a New York state court.
After that, though, there was another odd turn of events, as recordings emerged of a meeting that Celsius CEO Alex Mashinsky had with staff where he appeared to announce that the company was working towards a relaunch. The New York Times reported him telling employees: "Are we going to be in the dustbin of companies that were great or almost great or great for a while but disappear?"
He added: "The community is behind us."
Celsius price history
Let's take a quick look at the CEL price history. While past performance should never be taken as an indicator of future results, knowing what the token has done in the past can give us some much needed context when it comes to either interpreting a Celsius price prediction, or else making one of our own.
Celsius has been experiencing a bearish trend after reaching its all-time high of $8.02 in June 2021.
Since then, the CEL token has been trading downwards. It closed the year at $4.37, down more than 45% from the all-time high.
The bearish performance continued in 2022, and the CEL token reached $2.05 on 27 January.
After the mid-June collapse, triggered by Celsius's decision to hold withdrawals, CEL token price tumbled to a 52-week low of $0.1554 on 13 June.
Since then, there has been something of a recovery, with the price reaching a post-crash high of $4.46 on 13 August before moving back down again.
On 22 September 2022, the Celsius token was worth about $1.64. At that time, there were 238,863,519.83 CEL in circulation out of a total supply of 695,658,160. This gave it a market cap of about $384m, making it the 86th largest crypto by that metric, according to CoinMarketCap.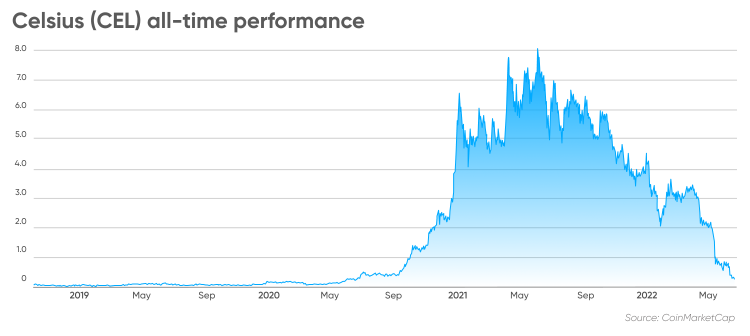 Celsius price predictions
Let's now take a look at some of the Celsius price predictions that were being made as of 22 September 2022. It is important to remember that price forecasts, especially for something as potentially volatile as a cryptocurrency, very often end up being wrong. Also, many long-term crypto price predictions are made using an algorithm, which means that they can change at any time.
First, CoinsKid made a Celsius price prediction for 2022 that saw the token potentially close the year at $2.04, before it forecast it to reach $2.52 in September 2023. By September 2024, the site thought the crypto could show more recovery, trading at a possible $2.14. A year from then, the site thought CEL could be worth $4.49, before reaching $8.86 in September 2026, closing the year at a potential $11.00.
Next, LongForecast had a CEL price prediction which suggested the token could close the year at $1.31 before going on a lengthy bear run which sees it falling to $0.77 in March 2023 and dropping further to $0.55 at the end of the year. The site then made a Celsius price prediction for 2025 that involved the crypto reaching a high of $1.64 in February before moving back down to close the year at $1.16. By October 2026, the site said that CEL could be worth $1.36.
Meanwhile, CaptainAltCoin had a Celsius token price prediction which saw it slump to $0.9898 in January 2023 before it recovered somewhat to trade at $1.36 in September next year. By 2025, the site said, CEL could be worth $2.25, before predicting it could drop to $2.08 in September 2027. The site then made a Celsius price prediction for 2030 that saw it reach $5.61 that year, before it stuck its neck out to suggest the token trade at $11.23 in 2040.
Finally, WalletInvestor was very downbeat in terms of its Celsius crypto price prediction. The site said CEL could go through another tough time next year, with the price potentially dropping to $0.183 by the end of September 2023.
When considering a CEL token price prediction, it's important to keep in mind that cryptocurrency markets remain extremely volatile, making it difficult to accurately predict what a coin or token's price will be in a few hours, and even harder to give long-term estimates. As such, analysts and algorithm-based forecasters can and do get their predictions wrong.
If you are considering investing in cryptocurrency tokens, we recommend that you always do your own research. Look at the latest market trends, news, technical and fundamental analysis, and expert opinion before making any investment decision. Keep in mind that past performance is no guarantee of future returns. And never trade with money that you cannot afford to lose.
FAQs
Is celsius a good investment?

It is hard to say. A lot will depend on how the Celsius platform battles back from bankruptcy, as well as how the market performs as a whole. How long potential investors memories are will also have an impact.

Remember, you should always carry out your own thorough research before making an investment. Even high market-cap cryptocurrencies have proved vulnerable to the current bear markets. So investors should be prepared to make losses and never purchase more than they can afford to lose.
Will Celsius go up or down?

It is difficult to tell. While the likes of CaptainAltCoin are, ultimately, optimistic, sites such as WalletInvestor are rather more downbeat. You must remember, too, that price predictions very often turn out to be wrong, and that prices can go down as well as up.

In volatile cryptocurrency markets, it is important to do your own research on a coin or token to determine if it is a good fit for your investment portfolio. Whether CEL is a suitable investment for you depends on your risk tolerance and how much you intend to invest, among other factors. Keep in mind that past performance is no guarantee of future returns. And never invest money that you cannot afford to lose.
Should I invest in the Celsius token?

That is a question you will have to answer for yourself. Before you do so, however, you will need to conduct your own research and never invest more money than you can afford to lose because cryptocurrencies are highly volatile and prices go down as well as up.