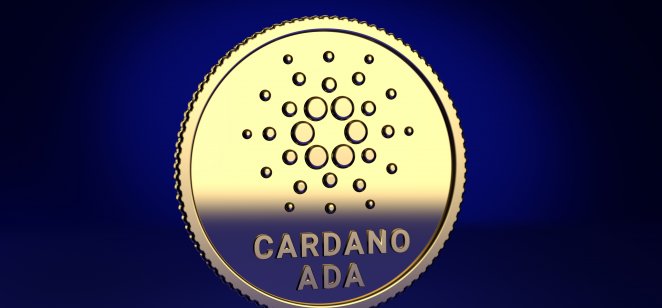 Content
The Cardano cryptocurrency, ADA, has seen increasing volatility in the past month as investors in the project look for indications for the launch of its delayed Vasil upgrade.
The ADA price rose in early June, with the upgrade expected at the end of the month, but fell in mid-July as testing identified bugs that need to be resolved before the hard fork can go live. The price then spiked three times in late July but has been unable to sustain gains above the $0.50 level.
Why has the Cardano price been going up in the past month, and what other factors are driving Cardano price prediction? To answer these questions, we take a look at how the project is developing and what the latest Cardano expectations could indicate about the future price direction of the ADA coin.
Next Cardano hard fork approaches
Founded in 2015 and launched with a $62.2m initial coin offering (ICO) in 2017 by Charles Hoskinson, a co-founder of Ethereum (ETH), Cardano was one of the first blockchains to use a proof-of-stake (PoS) consensus mechanism.
What is Cardano used for? According to its website, today it "combines pioneering technologies to provide unparalleled security and sustainability to decentralised applications, systems, and societies."
Hoskinson co-founded Hong Kong-based blockchain research and engineering company Input Output Hong Kong (IOHK), which develops the Cardano project along with the Cardano Foundation and Japanese software firm Emurgo.
The Cardano blockchain is named after 16th century Italian polymath Gerolamo Cardano. The network's native coin, ADA, is named after Ada Lovelace, a 19th century mathematician considered to be the first computer programmer.
The blockchain implements the Ouroboros protocol, which enables the network's decentralisation and allows it to scale up while remaining secure.
Much like Ethereum, which is in the process of a series of upgrades, Cardano is implementing a series of hard forks to expand its feature set. In March 2021, the Mary hard fork enabled the network to become a multi-asset platform.
The next upgrade to the Cardano blockchain will be the Vasil hard fork, which has been delayed from 29 June.
"The Vasil upgrade will bring increased functionality, performance, scalability, and interoperability to Cardano through new features and improvements," according to IOHK.
"As well as bringing improvements to smart contracts, the upgrade is part of the Basho phase of the Cardano roadmap, which focuses on scaling and network & ledger optimization and will bring multiple improvements to the ledger."
The upgrade is named in honour of Vasil St. Dabov, a Cardano ambassador who passed away last year.
Three separate bugs were found during testing of the hard fork in June, Hoskinson said in an update on 1 August:
"This is the most complicated upgrade to Cardano in its history, because it includes both changes to its programming language, Plutus, as well as changes to the consensus protocol, and a litany of other things."
Hoskinson added that "it shouldn't be too long… before an alternative hard fork date gets selected."
Many of the improvements the upgrade will introduce originated from Cardano Improvement Proposals (CIPs) raised by developers in the community.
"Additionally, a number of new cryptographic primitives will be provided, and script validation processes will further see adjustments and optimizations contributing to consistency in block propagation times and higher transaction processing rates," IOHK said.
In addition to work on the upgrade, IOHK launched the Cardano sidechain Alpha using the Ethereum Virtual Machine on 12 June.
The Milkomeda C1 sidechain launched in March and Nico Arqueros, CEO and co-founder of dcSpark and a core contributor to the Milkomeda Protocol, tweeted on 31 July that the chain had processed close to 7.5m transactions.
This is great for @Cardano ???????? Milkomeda C1 continues to grow consistently making ADA more valuable

Some of the current stats:

- 7,485,720 transactions
- 96,026 wallets -- we may break 100k wallets in August after the launch of the first game ????

Hope u are having great wknd ✌???? pic.twitter.com/3TaGlnjI3R

— nicoarq (@NicoArqueros) July 31, 2022
The chain has connected to more than 96,000 wallets. Arqueros hinted at the launch of the protocol's first game in August. Users will be able to play a Milkomeda game from the Cardano mainnet
"More details coming up soon but also we are working on direct integration with Cardano using (sort of) wrapped smart contracts," the Milkomeda account tweeted.
Cardano price analysis: Why has Cardano price been going down?
Can ADA reach $5? The ADA coin value has tended to track the pattern of cryptocurrency market trends, rising in the late 2017 and early 2021 rallies, and shedding value during broader sell-offs.
Expectations were high when the ADA price hit its all-time high of $3.10 on 2 September 2021, ahead of the Alonzo hard fork, which introduced smart contracts to the blockchain. Developers deployed over 100 smart contracts following the launch but then, as the chart shows, the ADA token sold off and failed to participate in the November crypto rally that took bitcoin (BTC) and ether (ETH), the two largest coins, to fresh highs.
What is your sentiment on ADA/USD?
Vote to see Traders sentiment!
ADA started 2022 at $1.36 and moved to $1.63 on 18 January. It then slipped to $0.7528 on 24 February as investors sold off assets at the start of the Russia-Ukraine conflict. The price recovered to the $1.24 level in late March, but was unable to maintain the upward trend, falling back to $0.7424 by the end of April.
The coin dropped to an intraday low of $0.4065 on 12 May as crypto markets reacted to the collapse of the Terra UST and LUNA tokens and the US dollar climbed to a 20-year high against a basket of other currencies, known as the Dollar Index (DXY).
ADA rebounded to $0.6823 as crypto prices rose, then pulled back to $0.4234 in mid-June. The price moved up to $0.546 on 20 July before retreating to $0.4521, then trading around $0.50 into the start of August.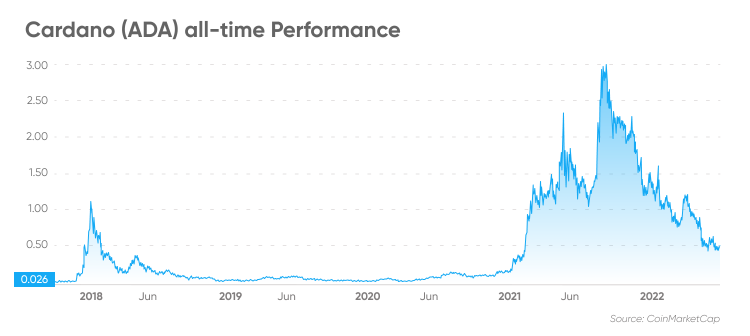 Cardano price prediction: Should you buy or sell the coin?
As the Cardano ecosystem expands, what impact could it have on a Cardano price prediction? Let's take a look at the latest Cardano price analysis and forecasts.
The short-term outlook for the ADA price was bearish, as of 2 August, according to technical analysis data compiled by CoinCodex. The site's Cardano crypto price prediction indicated that the token could trade up to $0.51783 by 7 August but slide to $0.428721 by 30 August.
Looking forward, Wallet Investor's Cardano price prediction for 2022 was also bearish, with the ADA token forecast to fall to $0.0515 by the end of the year and slide to $0.044 by the end of 2023.
The ADA price prediction generated by the website's algorithm estimated that the token could stabilise at $0.0429 by the end of 2025 and drop to $0.0378 in five years' time.
In contrast, the long-term ADA crypto price prediction from DigitalCoin was bullish. The crypto data provider's Cardano price prediction for 2025 indicated that ADA could average $0.96, up from $0.64 in 2022 and $0.73 in 2023, based on historical data. The price could then rise to $2.29 in 2030, the ADA prediction showed.
Price Prediction was more bullish for the latter half of the decade, with its Cardano price prediction for 2030 estimating that the coin could average $13.92, up from $1.93 in 2025 and $0.61 in 2022, based on its deep artificial intelligence-assisted technical analysis.
The Cardano coin price prediction from Gov Capital showed the coin rising at a faster pace in the next five years, from $0.761 at the end of 2022 to $6.039 by the end of 2025 and $10.254 by August 2027, based on its technical analysis using deep learning processes.
The Cardano price prediction from The Economic Forecast Agency had ADA ending 2022 at $0.55 , dropping to $0.26 by the end of 2023, then turning up to $0.48 by the end of 2024 before sliding to $0.30 by the end of 2025.
When looking for an ADA coin price prediction, it's important to keep in mind that cryptocurrency markets remain extremely volatile. That makes it difficult to accurately predict what a coin's price will be in a few hours, and even harder to give a long-term projection. As such, analysts and algorithm-based forecasters can and do get their predictions wrong.
If you are considering making a Cardano investment, we recommend that you always do your own research. Look at the latest Cardano crypto news, market trends, technical and fundamental analysis, and expert opinion before making any trading decision. Keep in mind that past performance is no guarantee of future returns. And never invest money that you cannot afford to lose.
FAQs
Is Cardano a good investment?

In volatile, high-risk cryptocurrency markets, it is important to do your own research on a coin or token to determine if it is a good fit for your investment portfolio. Whether the token is a suitable asset for you to trade will depend on your risk tolerance and how much you intend to invest. And never invest money that you cannot afford to lose.
How many Cardano coins are there?

There were 33.93 billion coins in circulation, as of 2 August, giving ADA a market capitalisation of $16.98bn and ranking it as the eighth largest cryptocurrency.
How many Cardano coins are there?

There were 33.93 billion coins in circulation at the time of writing (27 June), giving ADA a market capitalisation of $17.08bn and ranking it as the eigth-largest cryptocurrency.
Should I invest in Cardano?

Only you can decide whether a high-risk crypto currency like ADA is an appropriate investment for your portfolio. Always do your own research. And never invest money that you cannot afford to lose.
Further reading: