BONK price prediction: What is BONK?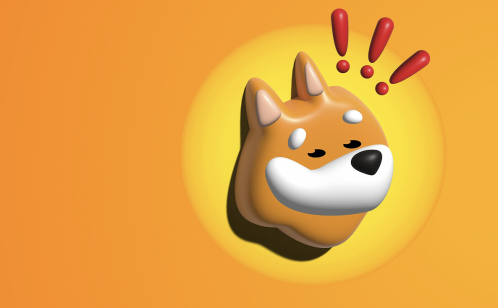 BONK is the meme coin that has helped give its parent blockchain's native cryptocurrency a boost, but what is BONK? Let's take a look and see what we can find out about this crypto – which is based on the Solana blockchain – and examine some of the BONK price predictions that were being made as of 4 January 2023.
SOL/USD price chart
BONK explained
One of the more notorious things in the cryptocurrency world are dog coins. These tokens, often also known as meme coins, are, in effect, tributes to dogecoin (DOGE), the crypto that was itself founded as a parody of the very first crypto boom but ended up, perhaps in spite of itself, becoming a major player in the world of the blockchain.
It could be argued that what we might describe as the second generation of dog coins, such as shiba inu (SHIB), were parodies of a parody and the ones that came after that are pretty much parodies of parodies of a parody. Nevertheless, there are a lot of dog coins out there, all trying to compete with one another and, while there is some debate regarding how useful they actually are, there are enough of them to be considered an entire sector of cryptocurrency.
Something that also became notorious over the course of the last two months of 2022 was the collapse of the FTX (FTT) exchange. This, coming at the end of a year where cryptocurrency struggled, caused the third notable market crash over the course of around six months and, perhaps understandably, made many people a lot more wary of investing in cryptocurrency at a time when economies across the world are struggling.
Therefore, it makes sense that any new cryptocurrency in a post-FTX world will, either explicitly or implicitly, attempt to take a stand against the errors that led to Sam Bankman-Fried's exchange to fall. One such crypto is BONK, which is, as you might have already guessed, a dog coin.
What makes BONK a little different from a lot of dog coins out there, is that it utilises the Solana (SOL) blockchain. While most dog coins use the Ethereum (ETH) blockchain, BONK's adoption of Solana might well be related to the blockchain's self-proclaimed speed and lack of expense.
There are, however, some very notable red flags when it comes to BONK.
First, there is no named, identifiable, founder or founders behind the project. While this is not uncommon in the world of crypto – after all, Satoshi Nakamoto, the founder of bitcoin, is almost certainly an alias – it might well deter people who are uncertain about crypto and who want to have someone that they can hold accountable.
Perhaps more importantly, though, there is no actual whitepaper when it comes to BONK. This means that there is nowhere for potential investors to see what the token is used for, or for what it wants to achieve.
Although there is a reference to a so-called bonkpaper on the token's website, there was no active link at the time of writing on 4 January 2022. This means that the crypto has been up and running despite there being relatively little information for around a week or so.
This lack of information might be completely innocent or it might be seen by some as a potential warning of some future problem, for example, a rug pull. While we have contacted BONK to ask for a copy of the whitepaper and a reassurance that the token was not a scam, at the time of writing we have not heard anything back.
Nevertheless, there is still some information about the BONK crypto out there. For instance, the system's website claims that people are able to gamble with the token using the boibook platform, that it can be traded on the Famous Fox Federation exchange and it can be lent and borrowed through the Solend crypto lending platform.
The token was also airdropped to people on the Solana network in late 2022 and early 2023 which, among other things, helped SOL regain its price after it had been hit by the collapse of FTX.
Something else we need to establish is that because BONK is based on Solana, it is, technically speaking, a token rather than a coin. While you might see references to such things as a BONK coin price prediction, such references would be wrong.
BONK price history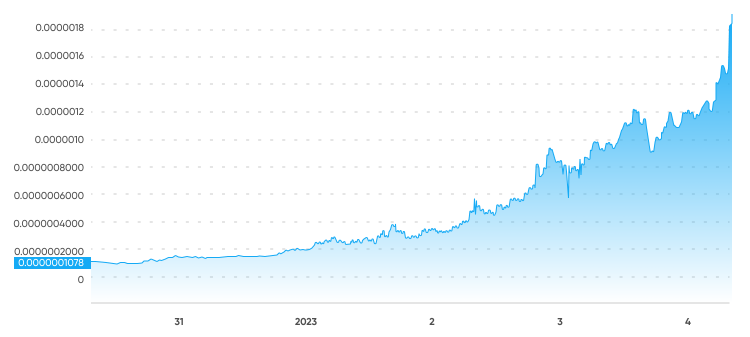 BONK price history from launch to present – Credit: Capital.com
Let's now cast our eyes over the BONK price history, such as it is. Although past performance should never be taken as an indicator of future results, knowing what the token has done in the past can help give us some very useful context when it comes to either interpreting a bonk price prediction or attempting to make one of our own.
BONK first came onto the open market in late 2022 and, on 30 December, it opened at $0.0000001095 before it climbed to $0.0000001972 at the close of the year on 31 December.
The following day, news of the airdrop boosted the token's price to a high of $0.0000009564 on 2 January 2023 before it dropped a zero and traded at a high of $0.000001263 on 3 January.
At the time of writing on 4 January, it was worth about $0.00000258. BONK had a self-reported circulation of 56 trillion out of a total supply of a little under 100 trillion. If the self-reported figure were accurate, it would have a market cap of around $108.6m, which would, at least in theory, make it something like the 159th largest crypto by that metric.
BONK price prediction round-up
With that all out of the way, let's take a look at what few BONK price predictions were being made as of 4 January 2023.
Keep in mind that price forecasts – especially when it comes to a commodity as potentially volatile as crypto (and even more so when it comes to a recently-launched crypto token) – very often turn out to be wrong. Also, you should bear in mind that many long-term crypto price predictions are made using an algorithm, which means that they can change at a moment's notice.
First, at the time of writing, CryptoPredictions.com made a BONK token price prediction that estimated the crypto could close 2023 at $0.0000035775 before moving up to $0.0000044212 one year on after that. The site had a BONK price prediction for 2025 that projected it could open the year at $0.0000044692 and close 2025 at $0.000004883, before it could go on to $0.000005454 by the end of 2027.
Next, PricePrediction had a BONK price prediction for 2023 that suggested it could close the year at $0.00000368 before going on to $0.00000832 in December 2025. The site went on with a BONK price prediction for 2030 that indicated it could open the year at $0.00003637 and close 2030 at $0.00005081. By December 2032, the site predicted that BONK could be worth around $0.00009829.
Finally, WalletInvestor offered an optimistic BONK crypto price prediction. The site argued that it could reach $0.0134 by 4 January 2024 and $0.0296 in five years' time.
When considering a BONK token price prediction, it's important to keep in mind that cryptocurrency markets remain extremely volatile, making it difficult to accurately predict what a coin or token's price will be in a few hours, and even harder to give long-term estimates. As such, analysts and algorithm-based forecasters can and do get their predictions wrong.
If you are considering investing in cryptocurrency coins and tokens, we recommend that you always do your own research. Look at the latest market trends, news, technical and fundamental analysis, and expert opinion before making any investment decision. Keep in mind that past performance is no guarantee of future returns. And never trade with money that you cannot afford to lose.
FAQs
Is BONK a good investment?

It is hard to say. You need to keep in mind that the token had, at the time of writing on 4 January 2023, only been on the open market for about a week. You should also remember that it is a dog coin created by an anonymous founder (or founders) and there was not a full whitepaper available to potential investors at the time writing. With crypto having taken a battering throughout 2022, a lot will depend on whether, when and to what extent the overall cryptocurrency market can recover.

You should always carry out your own thorough research before making an investment. Even high market cap cryptocurrencies can be affected by bear markets. So investors should be prepared to make losses and never purchase more than they can afford to lose.
Will BONK go up or down?

No one can really tell right now. Although CryptoPredictions.com, PricePrediction and WalletInvestor offered relatively optimistic forecasts at the time of writing that imply it could increase over time, it is important to keep in mind that the BONK crypto has only been in active circulation for a relatively small amount of time. You should remember also that price predictions very often end up being wrong, and that prices can, and do, go down as well as up.

In volatile cryptocurrency markets, it is important to do your own research on a coin or token to determine if it is a good fit for your investment portfolio. Whether BONK is a suitable investment for you depends on your risk tolerance and how much you intend to invest, among other factors. Keep in mind that past performance is no guarantee of future returns. And never invest money that you cannot afford to lose.
Should I invest in BONK?

Before you decide whether or not to invest in BONK, you will have to do your own investigation, not only into BONK but also on other dog coins.

Ultimately, though, this is a question that you will have to answer for yourself. Before you do so, however, you must conduct your own research and never invest more money than you can afford to lose because prices can go down as well as up.