BitTorrent price prediction: Is the file-sharing coin a buy?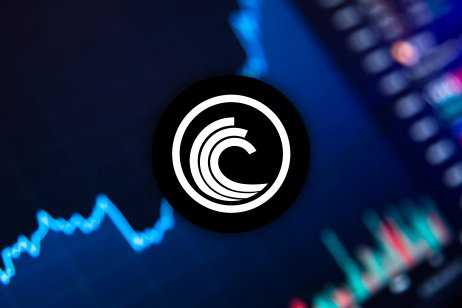 Peer-to-peer (P2P) file sharing network BitTorrent became known for its use in online piracy when it launched in 2001. But since its acquisition in 2018 by TRON blockchain founder Justin Sun, it has focused instead on providing file storage for developers of decentralisation applications (dApps).
The BTT cryptocurrency token was launched on the TRON blockchain in early 2019 and soared in value during the cryptocurrency rallies in 2021. The token was redenominated in January 2022 following the launch of the BitTorrent mainnet blockchain in December 2021.
The token's value has remained volatile, moving largely in line with the cryptocurrency market.
What's next for the BTT token? Here, we will take a look at the latest BitTorrent price predictions and analysis to help you better navigate the market.
BitTorrent launches new BTTC mainnet
What is BTT? BitTorrent is one of the world's largest P2P file-sharing networks, with more than 90 million active users and an installed base of more than two billion software clients.
The protocol was invented by computer programmer Bram Cohen in 2001 to facilitate the transfer of large files between users without the need for a central server. Cohen left BitTorrent in 2017 to launch cryptocurrency start-up Chia (XCH).
When TRON acquired BitTorrent, the BTT utility token was introduced to incentivise transactions. According to the project's whitepaper: "The token and extended protocol will create a token-based economy for networking, bandwidth and storage usage.
"The initial entry point is to introduce token-based optimisations to the existing BitTorrent protocol, providing a way for the value of shared bandwidth to be captured by network participants. The longer-term vision is to broaden the usage of the BitTorrent protocol far beyond current use cases by providing a distributed infrastructure platform to third-party app developers, creating the foundation for the decentralised web."
BTT acts as a transaction mechanism for the use of computing resources shared between BitTorrent clients, and provides liquidity for services in the ecosystem.
BitTorrent has traditionally seen structural inefficiency, as it's possible for users to complete file downloads before they have uploaded an equivalent volume. Once their downloads are completed there is no incentive for them to continue uploading.
BitTorrent Speed was introduced as an extension to the BitTorrent and µTorrent download clients, which enables downloaders to pay uploaders in BTT tokens for faster download speeds. That gives uploaders the incentive to share files for longer and provide more bandwidth and storage to the network.
According to its whitepaper:
"Due to expected volume, direct use of the public TRON blockchain for all transactions is unfeasible. Therefore, BitTorrent Inc will deploy an 'on-chain/off-chain exchange.' The exchange will enable the transfer of tokens between a high-performance private ledger and the public TRON blockchain."
On 12 December 2021, the BitTorrent Chain (BTTC) mainnet went live. BTTC is a cross-chain interoperability protocol that uses the proof-of-stake (PoS) consensus mechanism for validating transactions and sidechains to scale smart contracts. It enables interoperability with the Ethereum, TRON and Binance Smart Chain (BSC) networks and plans to add support for more blockchains in the future.
The BTT token was redenominated as part of the BTTC launch. The previous BTT tokens were swapped with the new tokens at a ratio of 1:1,000 and total supply increased to 990 trillion, maintaining the market capitalisation of around $665.4m at the time of writing (30 November 2022).
The old tokens will remain in use for some time and have been renamed as BTTOLD. Exchanges re-listed the token in January.
The new token was listed as BTTC on the Binance exchange, but has been listed as BTT or BitTorrent-New on other exchanges.
The new BTT tokens have several uses in the BitTorrent Chain ecosystem:
becoming a BTTC network validator

staking to gain rewards

BTTC governance votes

paying gas fees.
The BTTOLD tokens can still be used to pay fees for storing files in the BTFS system, BTFS mining and increasing downloads using BitTorrent Speed.
An upgrade to the BitTorrent File System (BTFS) went into testing on 7 January 2022 and went live on the BTTC mainnet on 22 February. The upgrade was designed to support cross-chain connectivity and multi-channel payments to make it easier to use and compatible with more applications. The upgrade migrated airdrop rewards from the TRON blockchain to BTTC.
As of 30 November 2022, over 371 million wallets had been created on BitTorrent Speed, and 4.32 million have active accounts on the TRON chain, according to the BitTorrent Weekly Report on 22 November. More than 9.66 million BTTOLD tokens have been airdropped to unique wallets.
BTT turns higher as crypto markets look for bottom
The redenominated BTT token rose in value from $0.000002393 on 11 January 2022 to $0.000003054 on 18 January, but then began to trade lower as cryptocurrency markets fell.
The price dropped to $0.000001691 on 24 February 2022 as financial assets fell across the board in response to Russia's invasion of Ukraine. BTT subsequently trended up to $0.000002332 on 31 March, but was unable to hold onto the gains in a bearish cryptocurrency environment, and dropped to $0.000001664 at the end of April.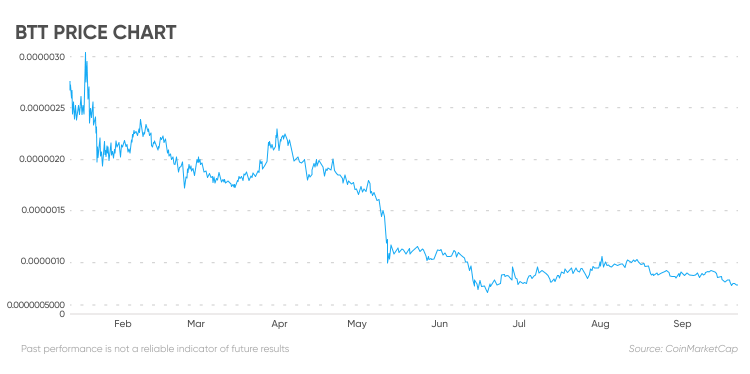 The BTT price fell further to $0.0000009956 on 12 May 2022 as the collapse of the Terra UST and LUNA tokens spread bearish sentiment throughout the crypto market. BTT continued to shed value, reaching a low of $0.000000705 on 18 June.
The price then turned higher, reaching $0.000001004 on 28 June 2022 as the markets attempted to rebound. In July, BTT traded down to $0.0000008046 in the middle of the month and up to $0.0000009989 at the end of the month.
The price briefly spiked to $0.000001065 on 1 August 2022 but was back down at $0.0000009565 the next day. The price slid from $0.000001021 on 13 August to $0.0000008736 on 21 August, moved up from $0.0000008799 at the start of September and hit $0.0000009271 on 11 September, but dropped to $0.0000007737 on 19 September 2022, its lowest level since June.
That was not the end of the turmoil in the crypto markets this year. Following the collapse of FTX, BlockFi has also announced a Chapter 11 bankruptcy filing in US, as the implications of fallout continue to reverberate across the industry.
Currently, the token's all-time low stands at $0.000000636, which it hit on 21 November. Despite some gains so far, we have yet to establish whether the fall of BlockFi will have further implications for the crypto market.
Can BTT break back above the $0.000001 level and establish further gains? What do the latest BitTorrent token price predictions from forecasters look like? Read on for a BitTorrent price prediction round-up.
BitTorrent price prediction: Can the price break out?
Short-term technical analysis for the new BTT token was bearish at the time of writing on 30 November, according to data compiled by CoinCodex. There were 10 indicators showing bearish signals and 14 bullish. CoinCodex's BitTorrent price prediction indicated that the price could decrease by 25% over the next month.
The BitTorrent price prediction for 2023 from algorithm-based forecasting site Wallet Investor was bearish, estimating that the BTT price could decline to $0.00000006 by the end of the year. By the end of 2025 it could be valued at just $0.000000004, the BTT price prediction showed.
DigitalCoinPrice expected a slow upward trajectory in its BitTorrent token price prediction, suggesting the coin could average $0.00000166 in 2023, from $0.000000828 in 2022. Based on historical data, the site's BitTorrent price prediction for 2025 showed the token could move up to $0.00000310 by the middle of the decade and average $0.0000100 in 2030.
The long-term BitTorrent crypto price prediction from The Economic Forecast Agency indicated that the price could end 2022 at $0.00000070 and then decline to $0.00000024 at the end of 2023. BTT could then trade up to $0.00000033 by the end of 2024 but $0.00000029 by the end of 2025.
Deep machine learning analysis from PricePrediction estimated that BTT could average $0.00000284 in 2023, rising to $0.00000630 in 2025. The cryptocurrency forecaster's BitTorrent price prediction for 2030 indicated the price could rise to $0.00004120 by 2030.
When trying to find an accurate BitTorrent price prediction, it's important to keep in mind that cryptocurrency markets remain extremely volatile, which makes it difficult to forecast what a coin's price will be in a few hours, and even harder to give long-term estimates. As such, analysts and algorithm-based forecasters can and do get their predictions wrong.
We recommend that you always do your own research, and consider the latest market trends, news, technical and fundamental analysis, and expert opinion before making any investment decision. Never invest more than you can afford to lose.
FAQs
Is BitTorrent a good investment?

Cryptocurrencies are highly volatile assets, making them high-risk investments. Whether BTT is a suitable fit for your investment portfolio depends on your personal circumstances and risk tolerance, among other factors.

You should evaluate the level of risk you are prepared to accept before investing and never invest money that you cannot afford to lose. Keep in mind that past performance is no guarantee of future returns, and never invest money you cannot afford to lose.
Will BitTorrent go up or down?

Among other factors, the future of the BTT coin could depend on the continued use of the BitTorrent client for file sharing, particularly BitTorrent Speed, as well as the use of the BitTorrent chain for decentralised applications. In the meantime, at the time of writing (30 November 2022), some forecasts did expect the BTT cryptocurrency to rise over the long term.

It's important to keep in mind that cryptocurrency prices are highly volatile and difficult to predict. As such, analysts and algorithm-based forecasters can and do get their predictions wrong. Keep in mind that past performance is no guarantee of future returns. Always do your own research, and never invest what you cannot afford to lose.
Should I invest in BitTorrent?

Only you can decide whether the BTT token is an appropriate investment for your portfolio. Always do your own research.

Keep in mind that past performance is no guarantee of future returns, and never invest money that you cannot afford to lose.