Bitgert price prediction: Where next for BRISE?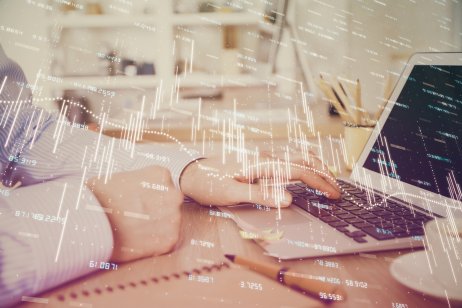 Bitgert (BRISE) outperformed the overall crypto market in 2022. Let's see what we can find out about it, and also take a look at some of the bitgert price predictions that were being made as of 6 April 2023.
BNB/USD price chart
Smart-contract functionality
According to Bitgert, the BRISE Chain relies on a system of proof-of-authority (PoA) to support short block times and low fees. The BRISE chain has smart-contract functionality and is compatible with the Ethereum Virtual Machine (EVM).
Developers can issue new tokens, run full nodes to gain access to live updates on transactions, blocks and consensus activities, and develop wallets and tools for dApps on the BRISE chain.
The launch of the network's incubation programme, Bitgert Startup Studio, has played a big role in the numerous projects that have emerged on the BRISE chain.
Bitgert Startup Studio helps developers and entrepreneurs issue cryptocurrencies for their projects, allowing them to raise funds via private or public token sales. The programme also provides marketing and technical support to launch projects on the BRISE chain.
OmniaVerse, a leading protocol on the BRISE Chain, said: "The Studio is the centre of the BRISE ecosystem. It's churning out the projects which range from DeFi to Sustainability to Gaming to Metaverse to you-name-it-they-have-it."
According to Bitgert, the top five projects on its network were the decentralised exchange Sphynx Labs, the NFT protocol Omniaverse, the staking platform Eco Finance, the metaverse 4D Twin Maps and the project development protocol Brisepad.
BRISE tokenomics
BRISE is the native token of the Bitgert network. It initially launched as a BEP-20 token on the Binance network. After the launch of the BRISE Chain, the coin was converted to its native BRISE chain, meaning it is now accurate to talk of such things as a bitgert coin price prediction.
Users staking their BRISE will receive staking rewards in BUSD, Bitgert's website says. The BRISE coin is also used as a peer-to-peer payment method within the BRISE dApp wallet, which has zero transaction fees. It allows both seller and buyer to transact crypto fees directly with each other without the need of a third party.
The platform has added a buyback concept to cryptocurrency, making the BRISE coin a "token more attractive to hold". The buyback policy gives investors more confidence to purchase and hold on to the coin, with the intention of growing demand and increasing the coin's value.
Each transaction collects 5% in buyback tax, which is stored within the contract. If a sale occurs, part of the buyback tax paid is used to purchase tokens from the liquidity pool, which are immediately burned following the buy.
Potential red flags
There are some potential red flags over how Bitgert operates and presents itself. For example, the system has passed an audit with a 98% security rating – but that audit was made by Bitgert itself, rather than an external organisation. One might wonder whether this is entirely within the spirit of what an audit is supposed to do.
Perhaps more worryingly, an investigation by our sister site, Currency.com, found a number of issues. First, the system's website said that Bitgert plans to give some money to charity, but there were no details, not stating any affiliates, charity numbers or giving an action plan. Second, the site's social media presence indicated the usage of Twitter bots. Third, the system's developers were unable to be cross-referenced on LinkedIn, while analysis of their photographs suggested that the images used were computer-generated. The photos have since been taken down.
In addition, a check on the system's website's credentials found that Bitgert appears to use the Withheld for Privacy (WFP) service, although domain details are seemingly those of WFP's generic example presented on the homepage, suggesting that Bitgert did not actually pay for this service. Bizarrely, the postcode given is the same as that of the Icelandic Phallological Museum, which houses the world's largest display of phalluses.
We have asked Bitgert for comment, but have not yet received a reply.
Bitgert price history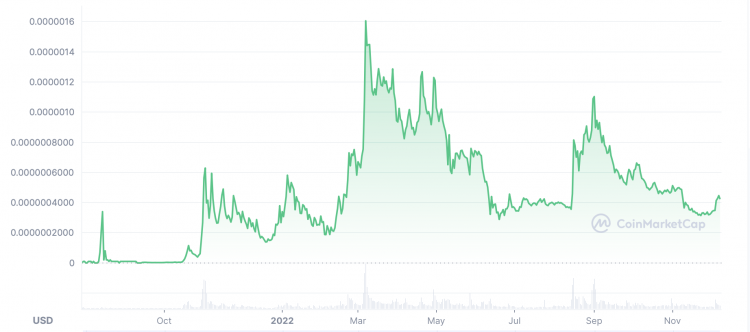 BRISE price history from launch to present - Credit: CoinMarketCap
While past performance should never be taken as an indicator of future results, a look at bitgert's price history can help give us some important context if we want to either interpret a bitgert price prediction or else make one of our own.
Whenn bitgert first came onto the open market in July 2021, it was worth about $0.000000003564, before it moved to reach an all-time high of $0.00000404 on 13 August 2021. A subsequent decline meant the token closed the year at $0.0000003399.
So far, 2022 has been a pretty upbeat year for bitgert, especially since the overall crypto market has been on a downturn. On 7 March, it reached a high of $0.000001849 but, after a series of market crashes, it dropped to $0.0000002634 on 18 June. Some recovery followed and, after 26 September's announcement that the coin was to be listed on the Huobi exchange, it reached a high of $0.000000677 the following day.
In November, though, the collapse of the FTX (FTT) exchange saw BRISE fall to a low of $0.0000003092 on 21 November, before the launch of the Bitgert Exchange saw it reach a high of $0.0000004515 on 7 December, with it closing the year down $0.0000003019. Despite the annual loss of around 11%, that meant it was one of the better-performing cryptocurrencies at a time when the overall market went down by more than 60%.
So far, 2023 has been an encouraging year for both crypto, although the news has been a bit more mixed for BRISE, with bitgert hitting a high of $0.0000006817 on 26 February before falling back down to around $0.0000004635 on 6 April.
At that time, there were around 395.7 trillion BRISE in circulation out of a total supply of one quadrillion. This gave the coin a market capitalisation of $183m, making it the 171st largest crypto by that metric.
Bitgert price predictions
Price forecasts, especially for something as potentially volatile as cryptocurrency, are very often wrong. Long-term crypto price predictions are also often made using an algorithm, which means that they can change at a moment's notice. However, what follows are some of the bitgert price predictions that were being made as of 6 April 2023.
CryptoPredictions.com had a BRISE price prediction which suggested the token could close this year at around $0.0000006. It predicted that the coin could then climb to $0.0000007 by the end of 2024. The site then made a bitgert price prediction for 2025 that argued the coin could start the year at a little under $0.00000072 and close it at $0.000000853.
TechNewsLeader made a bitgert crypto price prediction which argued that BRISE could be worth between $$0.00000066 to $0.00000076 by the end of this year, before averaging $0.00000146 in 2025. The site then went on to make a bitgert price prediction for 2030 that said the coin could average $0.000009595 that year.
DigitalCoinPrice made a bitgert price prediction for 2023 that argued the token reach $0.00000095 this year before hitting $0.00000151 in 2025. The site's bitgert price prediction for 2030 saw it potentially trade at an average of $0.00000477
WalletInvestor had a far more bearish and, some might argue, realistic bitgert coin price prediction when it said there could be tough times ahead for BRISE over the coming 12 months. The site said that it expected that bitgert could collapse to just $0.000000253 by early April next year.
When considering a BRISE token price prediction, it is important to keep in mind that cryptocurrency markets remain extremely volatile, making it difficult to accurately predict what a coin or token's price will be in a few hours, and even harder to give long-term estimates. As such, analysts and algorithm-based forecasters can and do get their predictions wrong.
If you are considering investing in cryptocurrency tokens, we recommend that you always do your own research. Look at the latest market trends, news, technical and fundamental analysis, and expert opinion before making any investment decision. Keep in mind that past performance is no guarantee of future returns. Never trade with money that you cannot afford to lose.
FAQs
Is bitgert a good investment?

This is hard to say. While the coin has been enjoying something of a recovery recently, things can change and, as we have said, there are some potential red flags surrounding the project.

Remember, you should always carry out your own thorough research before making an investment. Even high-market-cap cryptocurrencies have proved vulnerable to the current bear markets. So investors should be prepared to make losses and never spend more than they can afford to lose.
Will bitgert go up or down?

It is dificult to tell. Cryptocurrencies can be extremely volatile, and prices will go down as well as up. It is also important to remember that crypto price predictions very often turn out to be wrong.

Remember, you should always carry out your own thorough research before making an investment. Even high-market-cap cryptocurrencies have proved vulnerable to the current bear markets. So investors should be prepared to make losses and never put at risk any money they cannot afford not to get back
Should I invest in bitgert?

Before you decide whether or not to invest in bitgert, you will need to do your own research and keep in mind that there are some significant red flags associated with the project.

Ultimately, though, this is a question that you will have to answer for yourself. Before you do so, however, you will need to conduct your own research and never stake money you could not afford to lose because prices will go down as well as up.