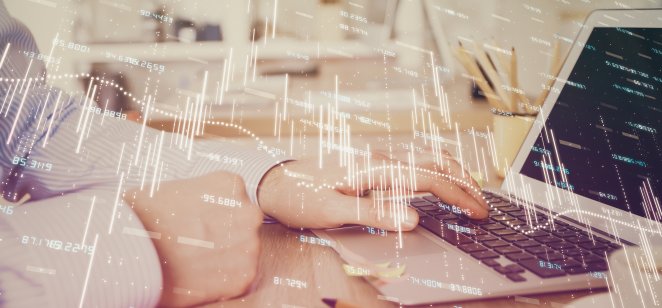 Blockchain network Bitgert and its native BRISE token have enjoyed a breakout year in 2022.
The cryptocurrency has gained about 56% year-to-date, as of 6 June 2022, on the back of the launch of Bitgert's blockchain mainnet in February 2022.
The release of Bitgert's blockchain mainnet, known as BRISE or BRC20, has brought smart contracts and decentralised application (dApp) capabilities to the network. Bitgert has since seen numerous dApp launches, ranging from decentralised finance (DeFi) protocols to non-fungible token (NFT) marketplaces.
Furthermore, BRISE's listing on various cryptocurrency exchanges, including KuCoin and Crypto.com, has helped the token post gains in a bearish cryptocurrency environment. However, data shows a large token concentration held by whale addresses.
In this article, you will learn about features of the Bitgert network, recent BRISE price action, the latest news, potential red flags of the project and the outlook for 2022 and beyond.
What is Bitgert?
Bitgert is a cryptocurrency network that claims to be a zero-cost gas fee blockchain. The Bitgert ecosystem currently hosts a decentralised finance (DeFi) protocol called Knit FInance, a non-fungible token (NFT) marketplace called Miidas NFT Marketplace and a decentralised exchange (DEX) called SPYNX Labs, among others.
Bitgert initially launched on the Binance Smart Chain (BSC) and used the binance coin (BNB) to pay out its rewards. According to Bitgert's roadmap, the project first launched in July 2021 with a website release and listing of its native BRISE token on Binance's DEX, Pancake Swap.
The project was initially known as 'Bitrise' before rebranding to 'Bitgert' in December 2021. In February 2022, Bitgert launched its native BRISE Chain, supported by the BRC20 smart contract, in what was the biggest development on the blockchain project so far. The launch of its native blockchain network has enabled developers to build dApps on the Bitgert network.
According to Bitgert, the BRISE Chain relies on a system of proof of authority (PoA) to support short block times and low fees. The BRISE chain has smart contract functionality and compatibility with the Ethereum Virtual Machine (EVM). Developers can issue new tokens, run full nodes to gain access to live updates on transactions, blocks, and consensus activities, and develop wallets and tools for Dapps on the BRISE chain.
The launch of the network's incubation program, Bitgert Startup Studio, has played a big role in the numerous projects that have emerged on the BRISE chain.
Bitgert Startup Studio helps developers and entrepreneurs issue cryptocurrencies for their projects, allowing them to raise funds via private or public token sales. The program also provides marketing and technical support to launch projects on the BRISE chain.
"The Studio is the centre of the BRISE ecosystem. Its churning out the projects which ranges from DeFi to Sustainability to Gaming to Metaverse to You-name-it-they-have-it," said OmniaVerse, a leading protocol on the BRISE Chain.
A number of projects hosted on the BRISE chain are still in their nascent phase. Waferrise, a passive income DeFi platform, expects its product release in the third quarter of 2022. OpenVault, an NFT staking platform, is projected to launch later in the year.
According to Bitgert, the top five projects on its network, as of 6 June, were: decentralised exchange Sphynx Labs, NFT protocol Omniaverse, staking platform Eco Finance, metaverse 4D Twin Maps, and project development protocol Brisepad.
Is Bitgert a good investment? BRISE analysis
BRISE is the native token of the Bitgert network. It initially launched as a BEP-20 token on the Binance network. After the launch of the BRISE Chain, the coin was converted to its native BRISE chain token.
Users staking their BRISE will receive staking rewards in BUSD, according to Bitgert's website. The BRISE coin is also used as a peer-to-peer payment method within the BRISE dApp Wallet, which has zero transaction fees. It allows both seller and buyer to transact crypto fees directly with each other without the need of a third party.
Additionally, the platform has added a buyback concept to cryptocurrency, making the BRISE coin a "token more attractive to hold". The buyback policy gives investors more confidence to purchase and hold on to the coin, which consecutively aims to grow its demand and increase its price.
Each transaction collects 5% in buyback tax, which is stored within the contract. If a sale occurs, part of the paid buyback tax is used to purchase tokens from the liquidity pool, which are immediately burned following the buy.
BRISE's maximum supply is capped at one quadrillion tokens, according to CoinMarketCap. As of 6 June 2022, the circulating supply of BRISE tokens stands at over 427 trillion.
According to BNB chain-based analytics platform BscScan, over 527 trillion BRISE tokens, representing more than 57% of total token supply, are currently in a "null address", which is typically used by blockchain networks to store 'burnt' tokens.
BscScan data showed BRISE tokens in the null address had increased from about 5 trillion tokens in early-July 2021 to about 5.73 trillion by late-May 2022.
The website's data also showed the second highest concentration of BRISE tokens held about 8.2% of total BRISE supply, while 8 other addresses held close to 14% of the total BRISE token supply, as of 6 June.
According to CoinCarp, the top 20 BRISE holders held over 90% of the token's total supply, as of 6 June, and the total number of BRISE-holding addresses was 150,550, up about 7.5% from a month ago.
At the time of writing (6 June), BRISE was trading at about $0.0000006107 with a market capitalisation of over $265m, data from CoinMarketCap showed.
Bitgert token news
Bitgert news that affected its price performance in 2022 includes:
On 23 May 2022, Bitgert announced that cryptocurrency platform Gate.io had integrated the BRISE chain.

On 28 April 2022, Bitgert's native token, BRISE, was listed on international cryptocurrency exchange KuCoin.

On 15 April, the BRISE Wallet integrated to the Bitgert chain, enabling users to send, receive, buy and sell BRC20 tokens.

On 14 April, crypto exchange BitForex said it now supported the Bitgert network on its platform, enabling trades to use it to deposit and withdraw BRC20 tokens.

On 17 March 2022, the Bitgert Bridge went live, enabling traders to swap Binance-hosted BEP20 BRISE tokens for the BRISE coin on the native Bitgert chain.

On 15 February 2022, Bitgert saw its biggest update to date as the Bitgert (BRISE) mainnet chain went live.

On 3 February 2022, Bitgert raised $5m for future developments of the network.

Bitgert launched on Crypto.com on 27 January 2022.
In early April, Bitgert announced the network would work on Web3 geo datamaps to provide dApps with crowdsourced maps and decentralised location services and on Web3 oracles to connect offchain data to blockchains in real time. Bitgert will also build decentralised marketplaces and a payment app called PayBrise to accept payments in BRISE.
Between the second quarter of 2022 and fourth quarter of 2024, Bitgert will work on a decentralised virtual private network (VPN) to enable users to surf the internet with 100% privacy and safety. It has also announced plans to work on a decentralised freelancer market for peer-to-peer hire of services with on-chain crypto payment systems.
BRISE coin price performance
At the time of writing (6 June 2022), Bitgert was the 2,857th largest cryptocurrency with a fully diluted market cap of over $610m. Data from CoinMarketCap showed its native token, BRISE, had soared close to 200% — from about $0.000000003564 in late-July 2021 to its current price of about $0.0000006107 on 6 June.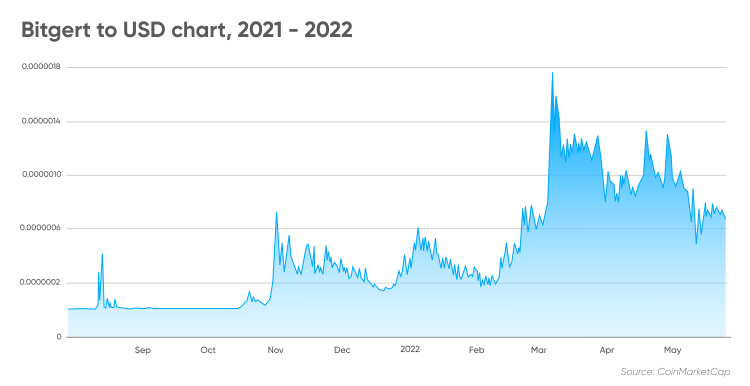 However, since hitting an all-time high of $0.00000404 on 13 August 2021, BRISE has been on a downward trajectory. The token has dropped 84% from its record highs and currently trades at a $0.0000006107 as of 6 June.
More recently, the price has fallen along with the broader cryptocurrency market, slipping over 31% in the last 30 days. However, the recent fall has not kept BRISE from posting positive returns in 2022. At the time of writing (6 June), the token was up more than 140% in the past 6 months.
In terms of short-term technical analysis, BRISE was trading below its five and 10-day moving averages, indicating a downward trend. BRISE's relative strength index (RSI) was at 44.48, as of 25 May, signalling that the token was neither oversold or overbought.
Bitgert coin price prediction 2022-2025
In a short-term bitgert future price prediction, CoinCodex predicted that the token would fall by 43.67% to $ 0.0000003511 by 11 June 2022.
CoinCodex added that technical indicators showed the current sentiment for BRISE as 'bearish', while the platform's Fear & Greed Index indicated 'extreme fear'.
A bitgert coin price prediction from Wallet Investor expected BRISE to hit an average price of $0.00000160 by the end of 2022, $0.00000271 by the end of 2023 and close ​​2025 at $0.00000540. Its five-year BRISE coin price prediction suggested the cryptocurrency could trade at an average price of $0.00000728 by May 2027.
According to Price Prediction's bitgert forecast, the token could hit an average price of $0.00000085 in 2022, $0.00000189 in 2024, $0.00000273 by 2025 and $0.00001731 by 2030.
DigitalCoin's BRISE price prediction expected the token to trade at an average of $0.000000797 in 2022. DigitalCoin also suggested the token could hit a maximum price of $0.00000127 in 2025 and $0.00000294 in 2030.
When looking for bitgert crypto price predictions, traders should remember that the cryptocurrency markets are extremely volatile. Algorithm-based forecasts and predictions are based on analysis of past performance, which is never a guarantee of future returns.
Always conduct your own research and remember that your decision to trade or invest should depend on your risk tolerance, expertise in the market, portfolio size and goals. Never invest or trade money you cannot afford to lose.
FAQs
Will bitgert token go up or down?

DigitalCoin's BRISE price prediction expected the token to trade at an average of $0.000000797 in 2022. DigitalCoin also suggested the token could hit a maximum price of $0.00000127 in 2025 and $0.00000294 in 2030. Remember that algorithm-based predictions can be wrong and you should always conduct your own research.
Does bitgert have a future?

In highly volatile cryptocurrency markets, it is important to do your own research to determine if it's a good fit for your portfolio. Whether BRISE is a suitable investment or trading opportunity for you depends on your risk tolerance, portfolio size and goals, and your expertise in the markets. Never invest or trade money you cannot afford to lose.