Bitcoin price prediction 2021: unanimously strong, but to what extent?
Subscribe to Weekly Highlights
The major market events for the week ahead right in your inbox.
Subscribe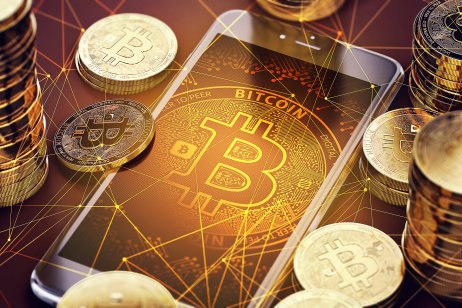 Content
As we move closer to the end of 2020, crypto traders start thinking about Bitcoin predictions for the next 12 months. Searching the web, you will inevitably face the headlines of Bitcoin being on track to a new all-time high, backed by the bullish views of numerous analysts setting brilliant price targets for BTC in 2021.
Bitcoin future value predictions start with $100,000 from the Stock-to-Flow (S&F) forecast model, to $170,000 predicted by Bloomberg strategist Mike McGlone, and go higher to $318,000 – the target set by Tom Fitzpatrick, the Citibank's analyst who called Bitcoin the "21st century gold".
Will Bitcoin rise so high? To get a clearer picture of what is going on with Bitcoin price analysis, we will consider the major BTC price drivers and try to build the Bitcoin 2021 prediction that may help you decide whether you are a bull or a bear for your future BTC trade.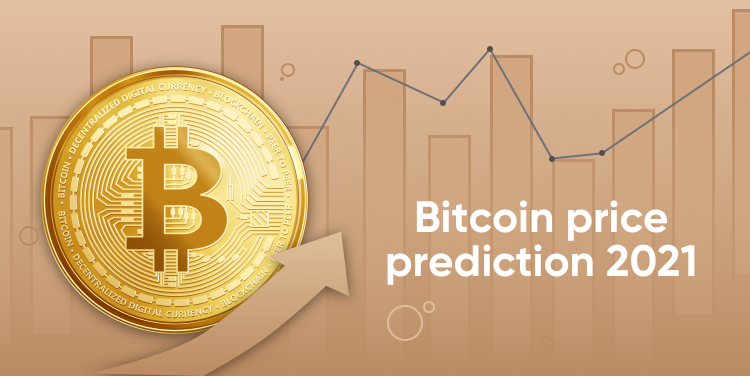 Bitcoin outlook: where we are now
Bitcoin has already given us good reasons to believe its price is on the verge of a new all-time high. Following the latest BTC analysis we can't help but mention the exceptional performance shown by the forever-number-one cryptocurrency.
The end of November 2020 surprises traders with Bitcoin steadily moving up to $19,000. In less than two months, Bitcoin has gained 90 per cent of its value, climbing from $10,400 on October 1 to $18,900 on November 21, 2020. Recently, Bitcoin's market capitalisation reached a high of $337 billion, which exceeded its prior record of $328 billion from December 2017.
The cryptocurrency has been moving closer to $20,000 for the first time in three years. If it manages to break through this serious psychological milestone, traders should be equipped with a detailed BTC projection to catch the best opportunity.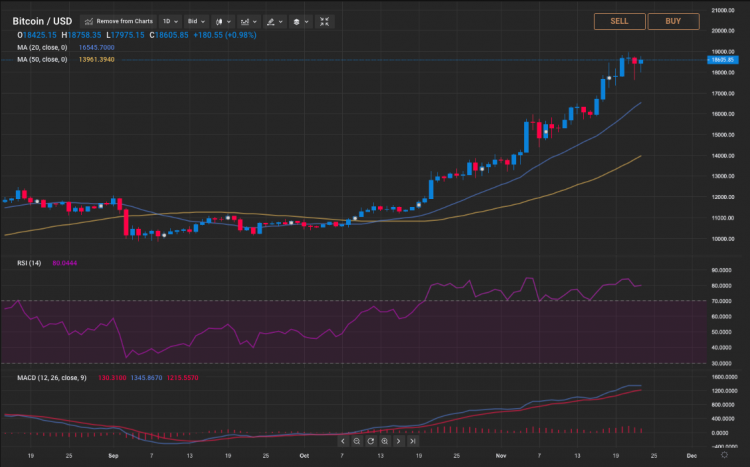 Among the most important factors that can help Bitcoin to break a new record are the growing institutional demand, the breach of $18,500 (a strong resistance barrier) and reduced selling pressure.
What is your sentiment on EA?
Vote to see Traders sentiment!
Selling pressure goes down
When Bitcoin holders want to sell BTC, they usually have to deposit first on exchanges. When the Bitcoin exchange registers a drop, it usually means that there is a low sell-side pressure in the market.
According to Glassnode, the year-to-date Bitcoin balance on exchanges fell 18 per cent, which indicates that Bitcoin liquidity is going downward.
In a broader sense, this data shows that Bitcoin holders are not going to sell their BTC at its current price level, despite that it rallied from $3,600 up to $18,800 within eight months.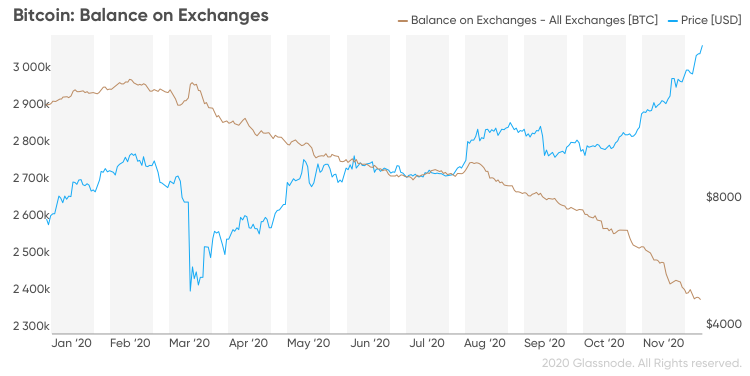 Demand from institutional investors goes up
According to BlackRock's chief investment officer of fixed income, Rick Rieder, Bitcoin "is here to stay". In his interview with CNBC, Rieder highlighted that millennials are open to cryptocurrencies and prone to digital payments, which serves as a good reason for Bitcoin adoption.
JP Morgan shares Reider's view that Bitcoin can potentially "replace gold to a large extent". According to JPMorgan's note from October 2020, Bitcoin is ready for "considerable" upside, as it competes with gold as an alternative currency: "Even a modest crowding out of gold as an 'alternative' currency over the longer term would imply doubling or tripling of the bitcoin price".
Millennials' support can accelerate further adoption of Bitcoin and strengthen its status as both a means of payment and a store of wealth.
Analysing the institutional trends, the Galaxy Digital CEO and billionaire investor Mike Novogratz believes that the Bitcoin boom in 2020 is driven by institutional buy-in and investors willing to hedge against traditional paper money.
New Bitcoin adepts: PayPal, Square and Fidelity Investment
In October 2020, the international payments provider PayPal enabled its clients to sell and buy Bitcoin and other cryptocurrencies right from their accounts. According to Bloomberg, 26 million merchants from PayPal's network started accepting cryptocurrencies.
Payment service Square also decided to hold part of its cash money in Bitcoin. The company bought 4,709 Bitcoin, which cost around $50 million. This money represents almost one per cent of total assets of Square as of the end of the second quarter of 2020.
Earlier this year, one of the largest asset managers in the world – Fidelity Investments with $3.3 trillion assets in assets – introduced the creation of its first Bitcoin mutual fund.
These are just three examples of the latest Bitcoin adoption among institutional investors.
Price of Bitcoin breaks out above 18,500
As Bitcoin breaks one barrier after another, the confidence that the market has enough momentum to break through the crucial resistance levels mounts.
On November 18, Bitcoin plunged sharply from $18,500 to around $17,200, just a couple of minutes after reaching its two-year high. A couple of days later, Bitcoin hit another multi-month high of around $19,000.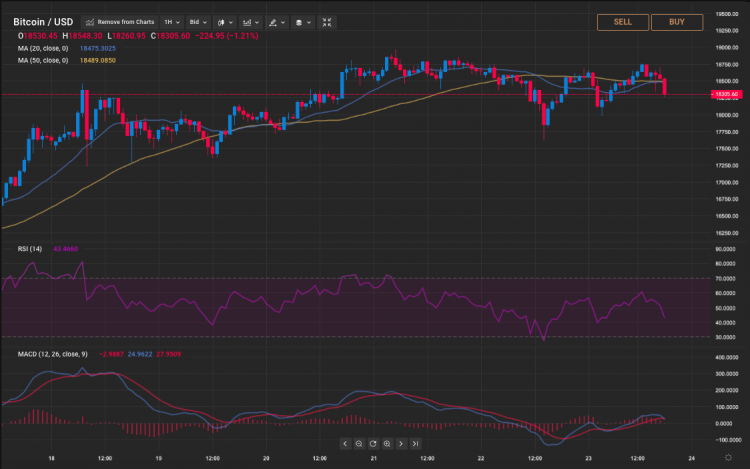 Bitcoin price prediction 2021
It's a rare occasion when analysts are so unanimous in their Bitcoin predictions. While the price targets for the Bitcoin projected value differ, everyone seems bullish about the BTC/USD shiny rally in 2021.
Sharing his view on the BTC price prediction 2021, Tom Lee, the managing partner of Fundstrat Global Advisors, supported the view that Bitcoin will replace gold as a hedge against inflation and a store of value. In an interview with Yahoo Finance, Lee said:
"Bitcoin's killing it this year – it's just crushing all other hedges and asset classes this year, but in 2021 I think Bitcoin could be the year of the fireworks... the best is probably yet to come".
Bitcoin forecast: $65,000, $100,000, $170,000 or $318,000
How high will Bitcoin go up?
BTC forecast #1: ,000 by Mike Novogratz
The billionaire investor expects the price of Bitcoin to surge to $65,000, suggesting 2021 to be a good time to be a buyer. He believes that Bitcoin will hit $20,000, then it could pull back again to around $16,000, before going up above $60,000 by the end of 2021 due to the "network effect" with a pull of new buyers and lower Bitcoin supply.
Novogratz expects that Bitcoin scarcity will help to drive Bitcoin price in the coming years as Bitcoin holders start viewing it as a store of value rather than a purely speculative asset.
"People are going to Bitcoin because there's 20 million Bitcoin that will ever be mined, there's complete scarcity in it. People believe it's a store of value. It's a social construct, and you can't change that," said Novogratz.
Bitcoin 2021 prediction #2: 0,000 by S2F creator
According to the creator of a popular bitcoin prediction model Stock-to-Flow (S2F), who uses the Twitter name "PlanB", the benchmark cryptocurrency will reach $100,000 by December 2021.
The S2F model calculates the Bitcoin expected price 2021 by considering its decreasing supply and growing demand. As Bitcoin is halved every four years, the supply is gradually diminishing and inflation is rising. In theory, this could boost the demand for Bitcoin and cause a drastic surge of the BTC price.
During the second halving in July 2016, Bitcoin price was fluctuating at around $640. Seventeen months later Bitcoin surged to its all-time-high of $20,000. If the pattern repeats, Bitcoin can reach from $100,000 to $288,000 by December 2021.
Current #bitcoin price action is nice, but we are waiting for a real jump (like the red arrows early 2013 and 2017). IMO that will be the start of the real bull market, and indeed phase5. January 2021? pic.twitter.com/orzwdCOcvP

— PlanB (@100trillionUSD) November 22, 2020
BTC/USD forecast #3: 0,000 by Bloomberg strategist
Analyst Mike McGlone from Bloomberg shared another bullish view on the Bitcoin price forecast 2021. He believes the cryptocurrency has not yet finished its upward momentum and sets the level of $170,000 as the BTC price target for 2022.
"If you look at past performance, which is potentially indicative of the future, the next year or two could add a zero to the back of the number," said McGlone. If Bitcoin finished 2019 at $7,000 and now it is traded above $17,000, adding a one in front of its number, it could possibly add zero at the back of its price, making it $170,000.
Bitcoin price prediction 2021 #4: 8,000 by Citibank analyst
To finish this long story on a positive note let's address the most bullish view expressed lately by the Citibank analyst Tom Fitzpatrick. He believes Bitcoin will skyrocket in 2021, hitting the $318,000 price target.
But why is the senior analyst at Citibank so bullish? He explains his forecast by Bitcoin's historical trajectory. Remembering the exponential growth of the Bitcoin price in 2010 and 2011, Fitzpatrick expects a similar sort of movement to unfold in 2021.
He also mentions that during the period of increased inflation, caused by the Fed interventions and near-zero interest rates implemented to minimise the impact of the coronavirus pandemic, people see cryptocurrencies as a hedge against inflation and a safe-haven asset.
Bottom line
Only time will tell us whose BTC projection was right. However, experts seem unanimous in predicting bright prospects for Bitcoin for the next 12 months.
Bitcoin is stronger than ever. Let's see how it goes and make profitable trades accordingly.
Read more: Bitcoin reached an all-time high: is now the time to get involved?