Bitcoin gold price prediction: What is bitcoin gold (BTG)?
Subscribe to Weekly Highlights
The major market events for the week ahead right in your inbox.
Subscribe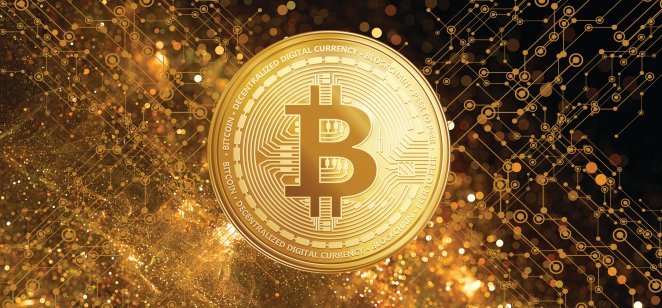 Content
It is an offshoot of the world's largest crypto, but what is bitcoin gold (BTG)? Let's take a look and see what we can find out, as well as examining some of the bitcoin gold price predictions that were being made on 26 September 2022.
What is Bitcoin Gold?
Bitcoin Gold is a community-led cryptocurrency initiative built on a hard fork of bitcoin (BTC).
Bitcoin Gold was created as an open-source protocol with a purpose to decentralise mining of the cryptocurrency back to regular computers, as bitcoin mining became increasingly centralised among large miners with costly processing equipment.
The vision of "One CPU, one vote" formed by the pseudonymous Bitcoin founder Satoshi Nakamoto was exploited by the manufacturers and distributors of mining equipment monopolised by a small number of entities.
In July 2017, Jack Liao, CEO of LightingAsic and BitExchange, said he was researching a Bitcoin hard fork to switch from Nakamoto's original SHA256 algorithm to Equihash. Satoshi's notion of "One CPU, one vote" was substituted in Bitcoin Gold with "One ASIC, one vote".
Unlike Bitcoin and Bitcoin Cash, Bitcoin Gold's Equihash proof-of-work (PoW) algorithm allows miners to mine coins using common graphics processing units (GPUs) instead of relying on the more costly and speciality application-specific integrated circuit (ASIC) computers.
Bitcoin Gold enabled many people to participate in the mining process by using widely accessible equipment made and sold by well-known mainstream firms. The algorithm aims to address the scalability issues that can affect the Bitcoin blockchain.
Bitcoin Gold is powered by BTGPay, a marketplace that connects users, merchants and e-commerce businesses that accept BTG, the network's native token.
Protocol upgrades and enhancements
Over time, the developers have shifted their focus for how the Bitcoin Gold blockchain will develop, noting:
"At inception, Bitcoin Gold was focused on providing a cryptocurrency in the Bitcoin model, but which was more decentralised for miners. Today, our focus is on making BTG a more trustless and useful cryptocurrency for everyone, and that change in focus is evident in our current development roadmap."
The roadmap for 2021 focused on four areas: interoperability with other blockchains; shifting from board-based governance to a decentralised autonomous organisation (DAO) model; infrastructure updates; and establishing a robust and effective lightning network to run on the blockchain.
A lightning network is a second-layer technology applied to bitcoin that uses micropayment channels to scale its blockchain's capability, essentially allowing participants to transfer bitcoins between one another without any fees using their digital wallets.
One thing worth mentioning at this stage is that the system's blog has not been updated since 18 May 2021 and there have been no fresh posts on its Twitter feed since 15 July last year.
Partnership with Phala Network
As a step in the development of interoperability, in May 2021, Bitcoin Gold announced a partnership with Phala Network to create low-cost, trustless cross-chain bridges to the Polkadot blockchain for BTG and other bitcoin-based blockchains. Blockchains are designed to be "trustless", which means they operate through consensus, rather than having to trust a single organisation or third party to work.
The bridges, which will leverage Phala's confidential computing technology, will first link BTG to the Polkadot ecosystem, but are also being built so that they can work with any other tokens that run on blockchains based on bitcoin's underlying technology, which includes litecoin (LTC), bitcoin cash, dogecoin (DOGE) and bitcoin SV (BSV).
The announcement said: "This will provide a path for the liquidity of the $36bn market value of this coin family into the Polkadot ecosystem for use in smart contracts, DeFi [decentralised finance], DEXes [decentralised exchanges], and more."
Bitcoin gold price history
Now, let's cast our eyes over the bitcoin gold price history. While past performance should never be taken as an indicator of future results, knowing what the coin has done in the past can give us some very useful context if we want to either interpret a bitcoin gold price prediction or make one of our own.
Bitcoin gold's historical chart shows that despite all the price swings and volatility periods, the BTG has never climbed back to the highs of 2017.
Based on the earliest available price data from 2017, the BTG price declined from its all-time high of $539.72 on 23 October to $127.51 on 2 November, a sharp decline of more than 76%. A strong bull rally pushed the price to $453.45 on 20 December. It closed the year 43% lower at $261.72.
| | |
| --- | --- |
| Long position overnight fee | -0.0500% |
| Short position overnight fee | -0.0500% |
| Overnight fee time | 22:00 (UTC) |
| Spread | 0.00000718 |
| | |
| --- | --- |
| Long position overnight fee | -0.0500% |
| Short position overnight fee | 0.0140% |
| Overnight fee time | 22:00 (UTC) |
| Spread | 5.50 |
| | |
| --- | --- |
| Long position overnight fee | -0.0500% |
| Short position overnight fee | 0.0140% |
| Overnight fee time | 22:00 (UTC) |
| Spread | 66.00 |
| | |
| --- | --- |
| Long position overnight fee | -0.0500% |
| Short position overnight fee | 0.0140% |
| Overnight fee time | 22:00 (UTC) |
| Spread | 0.0015646 |
The bearish period continued in 2018. BTG's price declined to $84.62 on 5 February and closed the year at $12.64. During the start of 2019, the BTG token continued to trade in a bearish market and declined to $9.43 on 7 February before spiking to $31.39 on 25 June. However, a strong retracement brought the price to $4.92 on 17 December. It closed the year at $5.29. The bitcoin gold chart looked flat in 2020. The coin closed the year at $8.41.
The broader cryptocurrency market was bullish during the onset of 2021, and BTG spiked from $8.49 on 1 January to $140.3 on 6 May, an increase of more than 1,550%. However, the glory was short-lived, and its price fell to $34.18 on 22 June. It closed the year at $40.60.
The downtrend continued in 2022, and the BTG coin reached a 52-week low of $25.19 on 24 February as the broader cryptocurrency market took a hit following Russia's invasion of Ukraine.
In late March, the coin rallied to reach a high of $46.89 on 23 March, but then things fell apart, with losses exacerbated by the depegging of the UST stablecoin and the collapse of the associated LUNA cryptocurrency, which meant BTG dropped to $15.25 on 12 May.
Any hopes of a recovery were nixed in June, as the Celsius Network (CEL) crypto lending platform had cancelled withdrawals confirmed the bear market and BTC fell to $13.59 on 14 June. In late July, there was a recovery which saw BTG trade at $36.21 on 29 July.
After that, the coin fell back down and, on 26 September 2022, it was worth about $21. At that time, there were 17,513,923 BTG in circulation, representing the total supply. The coin had a market cap of around $369m, making it the 89th largest crypto by that metric.
Bitcoin gold price history from launch to present (Credit – CoinMarketCap)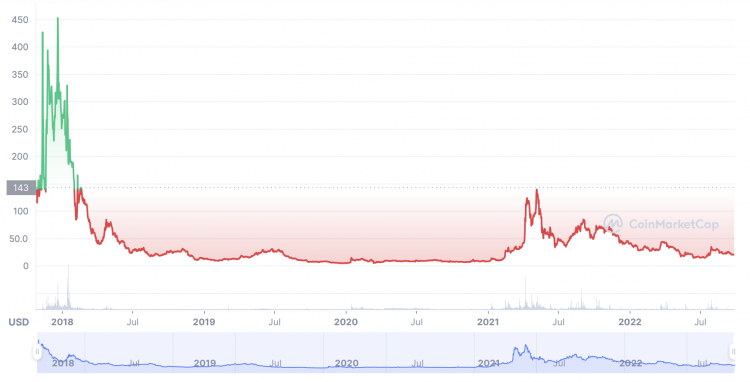 Bitcoin gold price predictions
With that all out of the way, let's take a look at some of the bitcoin gold price predictions that were being made as of 26 September 2022. It is important to remember that price forecasts, especially when it comes to something as potentially volatile as cryptocurrency, are very often wrong. Also, many long-term crypto price predictions are made using an algorithm, which means that they can change at a moment's notice.
First, CoinCodex made a short-term bitcoin gold price prediction for 2022 which suggested that the coin could fall to roughly $21.08 on 1 October dropping further to $19.07 by 26 October. The site also said that it had found 19 technical indicators to be bearish and a further 13 to be bullish.
Next, CryptoNewsZ had a BTG price prediction which said that the coin could reach as high as $64.02 by the end of the year before, suggesting that the growth could slow to $66.67 in 2023. By 2024, the site said, the crypto could be trading at around $89.47. The site then went on to make a bitcoin gold price prediction for 2025 that saw it potentially be worth somewhere between $90 and $110, while the following year the forecast indicated that BTG could possibly be down to $92.
Meanwhile, DigitalCoinPrice had a bitcoin gold coin price prediction that argued BTG could reach $22.41 this year before more than doubling to $47.19 in 2023 and moving up to $67.54 in 2024 and then scoring $84.92 in 2025. The run of fortune will stop in 2026, when the site said the coin could drop to $74.77, but then the prediction suggested there could be a recovery to $103.98 in 2027 and $147.95 in 2028. The site claimed that BTG could close the decade at $210.35 before making a bitcoin gold price prediction for 2030 of $293.38. The site then went on to say that the coin could reach $399.92 in 2031.
Finally, WalletInvestor was far more bearish then the other sites we have mentioned when it came to a bitcoin gold crypto price prediction. The site said that it thought BTG was in for a gloomy 12 months, dropping to a little under $5.06 by September 2023.
When considering a (BOND token price prediction), it's important to keep in mind that cryptocurrency markets remain extremely volatile, making it difficult to accurately predict what a coin or token's price will be in a few hours, and even harder to give long-term estimates. As such, analysts and algorithm-based forecasters can and do get their predictions wrong.
If you are considering investing in cryptocurrency tokens, we recommend that you always do your own research. Look at the latest market trends, news, technical and fundamental analysis, and expert opinion before making any investment decision. Keep in mind that past performance is no guarantee of future returns. And never trade with money that you cannot afford to lose.
FAQs
Is bitcoin gold a good investment?

It is difficult to tell. A lot will depend on whether it can branch out and on how useful the crypto can make itself. The performance of the overall crypto market will also have an impact.

Remember, you should always carry out your own thorough research before making an investment. Even high-market-cap cryptocurrencies have proved vulnerable to the current bear markets. So investors should be prepared to make losses and never purchase more than they can afford to lose.
Will bitcoin gold go up or down?

It is hard to tell. While sites like DigitalCoinPrice are more optimistic when it comes to a BTG price prediction, sites like WalletInvestor are rather more bearish in their outlooks. It is important to remember that price predictions very often end up being wrong, and that prices can go down as well as up.

In volatile cryptocurrency markets, it is important to do your own research on a coin or token to determine if it is a good fit for your investment portfolio. Whether BTG is a suitable investment for you depends on your risk tolerance and how much you intend to invest, among other factors. Keep in mind that past performance is no guarantee of future returns. And never invest money that you cannot afford to lose.
Should I invest in bitcoin gold?

This is a question that you will have to answer for yourself. Before you do so, however, you will need to conduct your own research and never invest more money than you can afford to lose because prices can go down as well as up.
Related reading