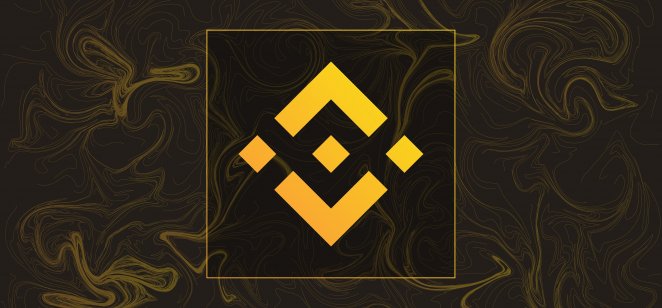 Content
BNB, the native token of Binance, the world's largest cryptocurrency exchange by daily traded volume, has taken a hit along with the rest of the cryptocurrency sector, shedding a third of its value since the start of June.
BNB is consistently ranked in the top five largest coins and tokens by market capitalisation. But the strong bearish turn the cryptocurrency markets have taken has dragged the BNB price lower.
What is a realistic target price for the coin in the future? This article looks at the latest Binance price projections to help you decide whether to buy, hold or sell the coin.
What is the binance coin (BNB)?
BNB is the native token of the Binance ecosystem, which includes its cryptocurrency exchange.
Binance, which was banned in the UK in 2021, was co-founded in July 2017 by CEO Changpeng Zhao, known as CZ, a former head of tradebook futures development at Bloomberg, head of development at Blockchain and a co-founder of Chinese fiat-to-crypto exchange OKCoin in 2014, He Yi, co-founder of OKCoin, and Roger Wang, the company's chief technology officer, who previously worked at Nomura Securities and Morgan Stanley.
The name Binance is based on the concept of Binary Finance. The Binance ecosystem spans beyond the exchange to include the Binance Chain, Binance Smart Chain (BSC), Binance Academy, Trust Wallet, Binance Research and Binance Launchpad projects, which use blockchain technology to provide various financial services.
The BNB token is used to pay for transaction fees on BSC, participation in token sales and digital payments. Exchange users who pay their transaction fees with BNB receive discounts of 10% to 25%. Binance reduces the supply of BNB every quarter in coin burns based on the amount of trading volume.
Binance will continue the quarterly coin burns until 100 million BNB are destroyed, equivalent to 50% of the total supply. On 19 April, the 19th BNB burn destroyed 1.8m BNB in an auto-burn, worth around $741m. The 20th burn, scheduled for the second quarter, is estimated to burn another 1.95 million BNB coins, valued at around $629m at the time of writing (21 June).
The Binance coin was initially an ERC-20 token operating on the Ethereum blockchain. But the company launched its own Binance Chain blockchain, which uses the Tendermint byzantine-fault-tolerant (BFT) consensus mechanism. As the Binance Chain was not designed to support smart contracts, unlike Ethereum, the BSC was launched in September 2020 as a parallel chain to run smart-contract-based applications. This has become more important with the emergence of decentralised finance (DeFi) applications and non-fungible tokens (NFTs).
What is your sentiment on BNB/USD?
Vote to see Traders sentiment!
Binance Labs expands investments
Binance Labs, the ecosystem's venture capital arm, invests in cryptocurrency projects and has made a slew of announcements this month.
The venture said at the start of June that it had closed a new $500m investment fund supported by global institutional investors, including DST Global Partners and Breyer Capital. The fund will "invest in projects that can extend the use cases of cryptocurrencies and drive the adoption of Web3 and blockchain technologies," according to the announcement.
On 6 June, Binance Labs announced an investment in decentralised exchange (DEX) PancakeSwap's CAKE token. PancakeSwap, which launched in September 2020, has become the largest decentralised application (dApp) on the BNB Chain with over 400,000 daily active users.
"PancakeSwap has been leading the development and mass adoption of BNB Chain. Given that PancakeSwap is the most widely used dApp and the DeFi project with the highest TVL [total value locked] on BNB Chain, we have and will continue to provide strong support for the project," said Bill Qian, Head of Binance Labs.
On the following day, 7 June 2022, the firm's blog announced that Binance Labs had also taken part in the seed funding round of the ApolloX DEX, along with Kronos Research, Lingfeng Capital, SafePal, Token Pocket, 3Commas, and LUX Capital. ApolloX will use the funding to add new features to its trading service and shift to self-governance as a decentralised autonomous organisation (DAO).
Binance Labs made a "strategic investment" in Tatsumeeko, an immersive fantasy role-playing game, several days later — on 9 June, as per the company's blog. Tatsumeeko will use the investment to develop the game to be released on the Ethereum and Solana blockchains.
Binance has also added new functionality, selecting TripleA as a global cryptocurrency payment gateway for Binance Pay, which enables users of the Binance app to pay retailers using cryptocurrency. On 15 June, Binance Pay announced a partnership with transport app Splyt to allow Binance users to access ride-hailing services and experiences from within the Binance app.
On 23 June, Binance revealed an exclusive multi-year partnership with Portuguese football superstar Cristiano Ronaldo, which aims to give Ronaldo's fanbase a "compelling entry point into the world of NFTs."
| | |
| --- | --- |
| Long position overnight fee | -0.0500% |
| Short position overnight fee | 0.0140% |
| Overnight fee time | 21:00 (UTC) |
| Spread | 0.00000002 |
| | |
| --- | --- |
| Long position overnight fee | -0.0500% |
| Short position overnight fee | 0.0140% |
| Overnight fee time | 21:00 (UTC) |
| Spread | 5.00 |
| | |
| --- | --- |
| Long position overnight fee | -0.0500% |
| Short position overnight fee | 0.0140% |
| Overnight fee time | 21:00 (UTC) |
| Spread | 60.00 |
| | |
| --- | --- |
| Long position overnight fee | -0.0500% |
| Short position overnight fee | 0.0140% |
| Overnight fee time | 21:00 (UTC) |
| Spread | 0.0008653 |
"Over the course of the agreement, Binance and Cristiano Ronaldo will create a series of NFT collections for sale exclusively on the Binance NFT platform. The first NFT collection will be released later this year and feature designs created in collaboration with Ronaldo," the announcement said.
BNB retreats in crypto sell-off
The binance coin chart shows that the price soared in 2021, from $37.91 at the start of the year, to an all-time high of $690.93 on 10 May. It closed the year at $511.71, for a gain of 1,268.9%. But the price dropped to $371.37 on 24 January 2022 and fell further to $361.23 on 24 February in line with the wider cryptocurrency markets led by bitcoin (BTC).
The BNB price has remained volatile, rising to a high of $408.48 on 1 March before retreating to $360.30 on 14 March then trending higher with other cryptos to reach $459.81 on 5 April.
But BNB then turned lower and plunged to $216.36 on 12 May as cryptocurrency markets sold off sharply. The price moved up to $336.67 on 25 May but subsequently retreated again.
On 6 June, The US Securities and Exchange Commission (SEC) started an investigation on whether Binance's initial coin offering (ICO) of its Binance coin (BNB) token in 2017 was an unregistered security offering, as reported by Bloomberg citing confidential sources.
Responding to the allegations, a spokesperson for Binance told CoinDesk via email: "As the industry has grown at a rapid pace, we have been working very diligently to educate and assist law enforcement and regulators in the U.S. and internationally, while also adhering to new guidelines. We will continue to meet all requirements set by regulators."
The BNB token plunged down 4% on the news, and briefly slid below the $200 mark on 15 June. On 16 June, the price rebounded to $222.83. Two days later, BNB slipped further down to a low of $186.22 but has since been on the rise.
At the time of writing on 24 June, BNB was trading around the $233 mark. The coin is down 28.85% over the past month and is trading 55.83% lower than it did on 1 January 2022 (YTD).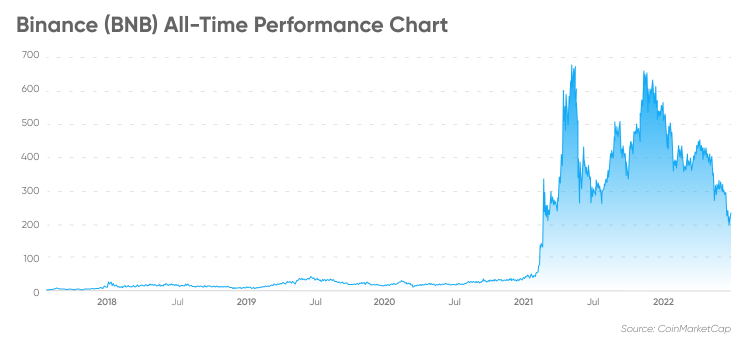 What are the expectations from forecast sites for the BNB token for the rest of the year and beyond? Is there potential for the price to rebound or will it continue to shed value?
BNB price prediction: Will the BNB price bottom out?
Short-term sentiment on the BNB price was bearish at the time of writing on 21 June, according to CoinCodex, with 14 technical analysis indicators showing bullish signals compared with 16 bearish signals. CoinCodex's BNB price prediction has estimated that the price could fall 3.98% to $ 223.60 by 29 June.
Meanwhile, forecasting service Wallet Investor was extremely bearish on its longer-term BNB price prediction, with the website's algorithm predicting that the BNB price could crash to $24.773 by the end of 2022 and fall lower to $23.763 by the end of 2023. Wallet Investor's BNB price prediction for 2025 had the price rising slightly to $26.151 by the end of that year.
DigitalCoinPrice was also bullish in its BNB coin price prediction. Based on historical data, the site's BNB price prediction for 2022 indicated that the price could average $307.20 and then move up to $330.69 in 2023, $448.85 in 2025 and $1,065.49 by 2030.
Price Prediction was even more bullish in its BNB coin forecast. The website's deep artificial intelligence-assisted technical analysis projected that the BNB price could rise from an average of $368.75 in 2022 to $520.39 in 2023 and $1,153.20 in 2025. Price Prediction's BNB price prediction for 2030 showed the coin soaring in value to $7,046.05 by 2030.
When evaluating a binance coin price prediction, it's important to keep in mind that cryptocurrency markets are extremely volatile, making it difficult to accurately predict what a coin's price will be in a few hours, and even harder to give long-term estimates for the future. As such, analysts and algorithm-based forecasters can and do get their predictions wrong.
If you are considering investing in cryptocurrency tokens, we recommend that you always do your own research. Look at the latest market trends, news, technical and fundamental analysis, and expert opinion before making any trading decision. Keep in mind that past performance is no guarantee of future returns. And never invest money that you cannot afford to lose.
FAQs
Is binance coin (BNB) a good investment?

In volatile cryptocurrency markets, it is important to do your own research on a coin or token to determine if it is a good fit for your investment portfolio. Whether the BNB token is a suitable asset for you will depend on your risk tolerance and how much you intend to trade. And never invest money that you cannot afford to lose.
Will the BNB price go up or down?

Forecast sites were generally bullish on the potential for the binance coin price as of 21 June 2022, although they differed on how high the coin could trade over the coming year, emphasising the importance of developing your own view rather than relying on estimates.
Should I invest in BNB?

You should keep in mind that analysts' forecasts can be wrong and have been inaccurate in the past. If you are considering investing in any cryptocurrency, including BNB, you should always do your own research first. And never invest more money than you can afford to lose.