What is an Arnaud Legoux Moving Average (ALMA) indicator?
The ALMA is a technical analysis tool that aims to give investors and traders a more reliable trading signal by reducing the noise that can interfere with traditional moving averages. It eliminates the small fluctuations in an asset price to make the trend clearer.
The ALMA reduces price lag and creates a smoother line than other moving averages. Rather than a straightforward moving average for a certain period, it applies a moving average twice – from left to right as well as right to left.
Who invented the Arnaud Legoux Moving Average indicator?
The ALMA is a relatively new technical indicator, as many of them were developed during the 1970s, but it has quickly become popular. Arnaud Legoux and Dimitrios Kouzis Loukas developed the average in 2009 as they sought to address the weaknesses of simple moving averages (SMAs) and exponential moving averages (EMAs). They were inspired by Gaussian filters, which remove detail and noise to create a smooth image.
Legoux and Kouzis Loukas aimed to provide a leading indicator, as SMAs, EMAs and Smoothed Moving Averages (SMMAs) are considered lagging indicators.
Why is an Arnaud Legoux Moving Average useful for traders?
The Arnaud Legoux Moving Average gives traders clear, reliable price signals, identifying the direction of price trends to help them decide when to open and close trading positions in an asset.
Moving averages typically assume that the most recent price is more valuable than prices for the previous days, however, this does not take into account higher price uncertainty in the present. The ALMA attempts to provide a fuller picture by giving less weight to the most recent price and presenting a smoother price trend.
For example, standard moving averages assume that the price tomorrow will likely be the same as today. However, if today's price is an outlier then that assumption is misleading. The ALMA assumes that the price tomorrow will likely be similar to what it was in recent days, but not necessarily the same as today.

The ALMA addresses two issues with moving averages, the smoothness of the trend line and the responsiveness of the indicator. A smooth simple moving average can take longer to provide a clear signal, resulting in a trader missing out on a profitable opportunity. And yet a short-term moving average can be more responsive but present a choppy trend with no clear signal.
The ALMA is designed to provide both smoothness and responsiveness. It aims to help traders using a tested trading system to generate profits from positions even in markets where margins are tight, like foreign exchange. As it is more responsive, the ALMA can be useful for day trading.
How to calculate ALMA price trends and interpret them?
The Arnaud Legoux Moving Average calculation is based on a weighted sum using a specified time period, the Gaussian filter offset and a standard deviation. As the average is applied from left to right and right to left, it creates a combo line that the standard deviation sharpens.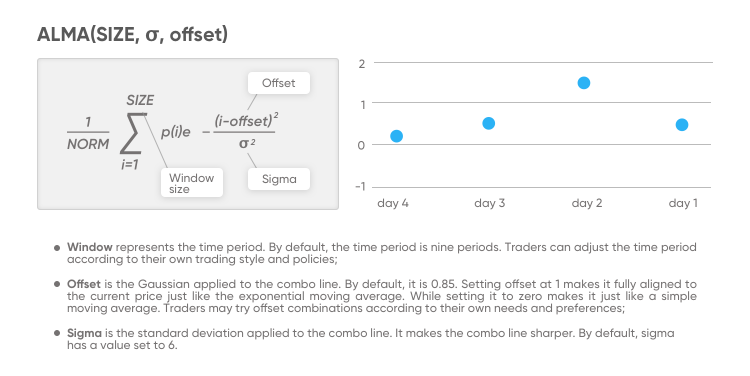 The Arnaud Legoux Moving Average formula works best on a longer length and a four-hour technical analysis time frame, which is typically used by swing traders. It highlights the direction of the price trend to identify whether it is bullish or bearish.
If the low end of each candle on a price chart is lower than the ALMA the trend is bearish, whereas if the low is above the ALMA it indicates a bullish trend. The larger the gap between the candles and the ALMA, the stronger the trend. If the gap is shown to be narrowing, it indicates that there could be a reversal in the trend.
Are you wondering how to trade with the ALMA indicator? What is ALMA trading strategy?
How to trade using the Arnaud Legoux Moving Average indicator
There are several different ways you can use the indicator, and you can pair it with other technical analysis tools for a fuller picture.
Limitations of using Arnaud Legoux Moving Average
While the ALMA is designed to improve on the weaknesses of conventional moving averages, it is still a form of average that is calculated using past data. It is well known that past returns cannot guarantee future results. There is no way for moving averages to account for the impact of future events on an asset price, such as a change in supply or demand or a broader market sell-off.
No technical indicators are 100% accurate as they can sometimes generate false signals. You should never rely on a single indicator and always use a range of them when making trading decisions. The ALMA indicator is based on price, so combining it with a volume-based indicator can give you additional information and a fuller picture of recent price performance.
You should only trade with money you can afford to lose and consider putting a stop-loss in place to limit your losses in case the price moves contrary to the technical signal.