Aptos price prediction: What is aptos (APT)?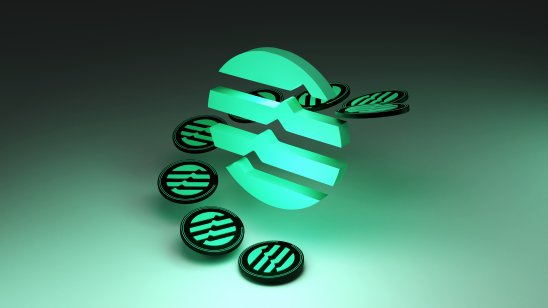 It is a crypto that has made waves since it launched in late 2022, but what is aptos (APT)?
Let's take a look and see what we can find out, and also examine some of the aptos price predictions being made as of 17 April 2023.
Aptos explained
With the sheer variety of cryptocurrencies that are out there, it can be somewhat hard to keep in mind that the thing that links most of them together, with the notable exception of Ripple (XRP), is the blockchain.
The decentralised ledger which allows people have their transactions and system alterations recorded but does not have a single point of authority is crucial to the world of crypto and, by extension, decentralised finance (DeFi).
One might think that, with so many blockchains in existence, there would be little point in releasing a new one. However, with the world of the blockchain being potentially confusing, arcane and filled with jargon, some developers may hope they can be the ones to create a blockchain that breaks through boundaries and spearheads the mainstream adoption of crypto.
Aptos is one such blockchain. It aims to be scalable, meaning that it won't slow down when it gets busier than usual, thus saving people time and money, as well being secure and reliable.
As the whitepaper says: "The Aptos blockchain has been developed over the past three years by over 350-plus developers across the globe. It offers new and novel innovations in consensus, smart contract design, system security, performance and decentralisation. The combination of these technologies will provide a fundamental building block to bring web3 to the masses."
The platform was founded by CEO Mo Shaikh and CTO Avery Ching, who were former employees of Facebook's owners, Meta. They were part of the team responsible for the (ultimately cancelled) attempts to create the Diem blockchain and the Novi crypto wallet. While those plans never came to fruition, the skills and technology that were there are, they claim, being used for this new project, which also works with non-fungible tokens (NFTs).
Every blockchain needs to have its own native token and Aptos has two. The aptos coin, also known by its ticker handle of APT, is designed to be staked to keep the system going, with rewards paid out to stakers and the people who operate the system. Indeed, the blockchain uses a proof-of-stake (PoS) consensus mechanism, which means that blocks can only be added by people who already hold the coin.
People with APT are also able to vote on proposals that have an impact on the blockchain's future, making it, at least in part, a so-called governance coin. The coin can also be bought, sold, and traded on cryptocurrency exchanges.
Something to note here is that aptos is a relatively new crypto project, with the mainnet launched on 12 October and the coin finally hitting the open market in the early hours of 19 October 2022.
As far as tokenomics go, the crypto has a total supply of one billion. Of this one billion, 51% are available to the wider community, with 19% going to core contributors, 16.5% to the team behind the platform and 13.48% going to investors. As of 10 January 2023, more than 187 million were in circulation, with the remainder of the tokens set to be issued over a 10-year period.
Aptos price history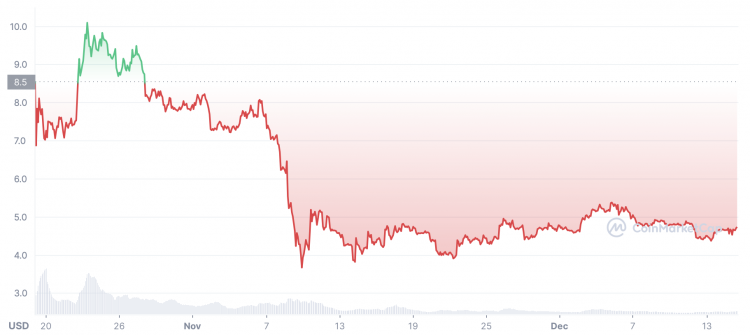 APT price history from launch to present – Credit: CoinMarketCap
With that all explained, let us take a look at the APT price history. While past performance should not be taken as an indicator of future results, knowing what it has done since it was released can help give us some potentially useful context when it comes to either interpreting an aptos price prediction or making one of our own.
Aptos first came onto the open market in the small hours of 19 October 2022, when, according to data from CoinGecko, it was worth $13.73. Going from CoinMarketCap's figures, it soon fell pretty spectacularly, down to a low of just under $6.69 a few hours later, before making a recovery as the day went on to stand at around $7.90 in the early afternoon and slipping to trade at around $7.10 at lunchtime on 21 October.
The poor early performance was not helped by reports of the system's Discord being muted, which Shaikh claimed was a measure taken to prevent against scams.
However, after that it rallied, reaching a high of $10.25 on 23 October. The coin then fell somewhat to spend the next couple of weeks circling around the $7 mark, but the collapse of the FTX (FTT) exchange damaged both the market and the APT crypto, which sank to an all-time low of $3.60 on 9 November.
The news later that month that the Aptos blockchain was one of the blockchain organisations involved in the Web3 Recovery Intiative program, founded by Binance (BNB), saw a price rise to close the month at $4.78. The price hovered around that point before plummeting to $3.09 on 29 December and then closing the year at $3.45. The New Year saw the crypto market rally somewhat and, by the morning of 10 January 2023, APT was worth about $5.80, its best price in two months. The rise in the coin's value was down, at least in part, to news that the PancakeSwap decentralised exchange was proposing to continue operating on the Aptos blockchain.
A bouyant market saw the price of APT continue to rise, culminating in a high of $19.90 on 30 January. The price then slid down, reaching a low of $9.77 in the wake of the collapse of the Silvergate bank on 10 March, before it recovered to trade at around $12.30 on 17 April 2023.
The coin's circulation gave APT a market cap of a little under $2.3bn, making it the 30th-largest crypto by that measurement – a pretty impressive feat for something which had only been openly traded for less than six months.
Aptos price prediction
With that all over and done with, let's take a look at some of the aptos coin price predictions that were being made as of 17 April 2023. Do note here that price forecasts, especially when it comes to something as potentially volatile as cryptocurrency, often turn out to be wrong. Also, many long-term crypto price predictions are made using an algorithm, which means they can change at any time.
First, CoinArbitrageBot thought that things could go pretty well when it came to making its APT price prediction. The site said that it could trade at $13.43 in 2023 before reaching somewhere approaching $30.43 in 2024, while it went on to make an aptos price prediction for 2025 of about $53.37 before suggesting the crypto plummet back down to $27.69 in 2026.
DigitalCoinPrice had an aptos crypto price prediction that said the token could reach $25.66 this year, $29.16 in 2024, and $42.30 in 2025. The site then said APT could potentially close the decade at $91.37. The site then went on to make an aptos price prediction for 2030 that saw it trade at $126.95, before it potentially hit $175.55 in 2031.
Meanwhile, CryptoPredictions had an aptos price prediction for 2023 that suggested it could close the year at a $13.10, before moving to $13.09 12 months from then. By the close of 2025, the site argued the crypto could be worth a little under $12.83, with it forecast to potentially break through the $20 barrier to trade at just under $25.20 two years from then.
Finally, WalletInvestor was also optimistic in terms of its aptos coin price prediction, suggesting that the coin could be trade at $30.97 by April next year and at a little under $104.66 in five years time.
When considering an APT coin price prediction, it's important to keep in mind that cryptocurrency markets remain extremely volatile, making it difficult to accurately predict what a coin or token's price will be in a few hours, and even harder to give long-term estimates. As such, analysts and algorithm-based forecasters can and do get their predictions wrong.
If you are considering investing in cryptocurrency coins or tokens, we recommend that you always do your own research. Look at the latest market trends, news, technical and fundamental analysis, and expert opinion before making any investment decision. Keep in mind that past performance is no guarantee of future returns and never trade with money that you cannot afford to lose.
FAQs
Is aptos a good investment?

It is difficult to tell. A lot will depend on the future behaviour of the overall crypto market, too.

Remember, you should always carry out your own thorough research before making an investment. Even high market cap cryptocurrencies have proved vulnerable to bear markets, so investors should be prepared to make losses and never purchase more than they can afford to lose.
Will aptos go up or down?

No one can really tell right now. Keep in mind that price predictions very often end up being wrong, and that prices can, and do, go down as well as up.

In volatile cryptocurrency markets, it is important to do your own research on a coin or token to determine if it is a good fit for your investment portfolio. Whether APT is a suitable investment for you depends on your risk tolerance and how much you intend to invest, among other factors.

Keep in mind that past performance is no guarantee of future returns and never invest money that you cannot afford to lose.
Should I invest in aptos?

Before you make a decision about whether or not to invest in aptos, you will have to do your own research, not only into APT, but into other blockchain coins as well.

Ultimately, though this is a question that you will have to answer for yourself. Never invest more money than you can afford to lose, because prices can go down as well as up.