Algorand price prediction: What is next for Algorand?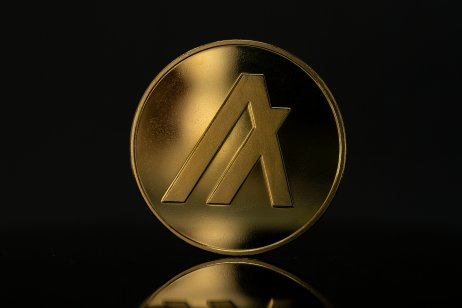 The Algorand blockchain aims to support a range of applications while remaining scalable and secure but, in terms of crypto, what is algorand (ALGO)?
Let's see what we can learn, and take a look at some of the algorand price predictions that were being made as of 22 September 2022.
Who founded Algorand?
Alogrand was launched in 2019 by Silvio Micali, a computer-science professor at the Massachusetts Institute of Technology and recipient of the 2012 Turing Award for his work on digital currencies and blockchain protocols.
Algorand is a Layer 1 blockchain project that aims to compete with Ethereum (ETH) by overcoming technical barriers to decentralisation, scale and security. The blockchain is forkless, so it does not need to split to implement major changes or upgrades to the code.
The Algorand blockchain uses something it describes as a permissionless, Pure Proof-of-Stake (PPoS) consensus mechanism that finalises blocks in seconds to compete with payment and financial networks in transaction processing.
The network can handle 1,200 transactions per second (TPS) and the Algorand Foundation emphasises that the use of PoS is environmentally sustainable.
ALGO is the native cryptocurrency for the Algorand blockchain and is used to secure the network as well as pay transaction fees.
Fast transaction speeds
As Algorand enables smart contracts along with high transaction speeds, it aims to play a role in the adoption of decentralised finance (DeFi), payment solutions and regulated digital assets. The network also enables developers to issue non-fungible tokens (NFTs) straight on the blockchain through its Algorand Standard Assets (ASA) functionality.
"Algorand's performance and core functionality are uniquely positioned to support the growing NFT ecosystems – solving for scale, speed, costs and environmental impact as NFTs grow ever more popular," according to the project's website.
The Algorand price has been under water since its launch in mid-2019, with the exception of a spike into positive territory in September 2021.
Algorand is facing increasing competition from other Layer 1 blockchains, such as Terra, Binance and Avalanche. There is roughly $112.83m of total value locked (TVL) on Algorand, ranking it the 34th largest crypto, according to data compiled by DeFi Llama. By comparison, Ethereum has more than $128bn TVL and Terra has over $29bn.
It does have the potential to increase its share, but the approaching transition from Proof of Work (PoW) to PoS on the Ethereum blockchain in the ETH2.0 upgrade will address some of that network's shortcomings that algorand is designed to deal with. Ethereum is expected to offer lower transaction costs and much faster processing speeds following the upgrade.
Ethereum compatibility
On 17 February, the Algorand Foundation announced a $10m grant to add Ethereum Virtual Machine (EVM) compatibility to the Algorand blockchain. Staci Warden, CEO of the Algorand Foundation, said:
"Algorand believes in a multi-chain world and this SupaGrant will move us towards that inevitability. Running smart contracts written for Ethereum on Algorand eliminates the barriers for popular DeFi protocols and NFT projects to serve multiple chains while significantly decreasing the costs to those who participate."
A bridge to the Ethereum blockchain will enable Algorand to connect to Ethereum decentralised applications (DApps) and attract more liquidity.
On 2 March, the Algorand Foundation announced a major upgrade to expand the blockchain's smart contract functionality and cross-chain interoperability.
The introduction of contract-to-contract calls will enable developers to build complex dApps that can interact with other smart contract-based dApps to extend their functionality and usability.
The upgrade also launched post-quantum secure Falcon Keys, which in the future will "be used to generate State Proofs, a new blockchain infrastructure that will allow Algorand to be trustlessly accessed in low-power environments such as mobile phones, smart watches and on other blockchains".
Paul Riegle, chief product officer at Algorand, said:
"The power and composability of Algorand's smart-contract platform has transformed in recent months. Developers are building versatile decentralised applications that have and will continue to disrupt a wide variety of industries."
In September 2022, Algorand hired Michele Quintaglie, a former communications executive for Visa, as its CMO.
Algorand price history
Let's take a look at the ALGO price history. While past performance should never be taken as an indicator of future results, knowing what the coin has done in the past can give us some much-needed context if we want to either interpret an Algorand price prediction or make one of our own.
The ALGO token price launched at $2.16 in late June 2019 and quickly dropped to $0.64 within weeks. The price chart shows that ALGO fell further to $0.19 in September 2019 and reached a low of $0.13 in March 2020, when cryptocurrency prices bottomed out.
The ALGO price moved up to $0.33 at the end of 2020 and followed the broader market trend higher to $1.71 in February 2021. ALGO retreated in March, slipping back below the $1 level, but unlike other cryptocurrencies, which reached new highs in April and May 2021, the Algorand price traded no higher than the $1.70 level and slid to $0.70 when the markets bottomed out on 20 July.
Algorand did participate in the 2021 summer rally and set a new high above $2.38 on 12 September. But it was unable to hold on to the gains, dropping to $1.57 on 21 September. The coin traded back up to $1.83 in November, but fell again to end the year at $1.66.
The decline accelerated into 2022, with ALGO trading at a low of $0.68 on 14 March, but the market turned higher with other cryptocurrency prices, moving back above $0.90 in recent days in late March.
By April, however the rally seemed to be over. ALGO closed the month at $0.56 and the downtrend would continue from then. Following a series of market crashes, the crypto reached a low of $0.2765 on 18 June.
Following that, though, there has been something of a recovery and, on 22 September 2022, it was worth about $0.3735. At that time, there were 6.93 billion ALGO in circulation out of a maximum supply of 7,349,490,307. This gave the coin a market cap of $2.5bn, making it the 28th largest crypto by that metric.
ALGO coin price predictions
With that all out of the way, let's take a look at some of the Algorand price predictions that were being made as of 22 September 2022. Keep in mind that price forecasts, especially for something as potentially volatile as cryptocurrency, very often turn out wrong. Also, it is important to remember that long-term crypto price predictions are often made using an algorithm, which means that they can change at a moment's notice.
First, CryptoPredictions.com has an Algorand price prediction for 2022 that sees the coin close the year at a little over $0.46 before dropping to around $0.39 in September 2023. Two years from then, the coin could rebound to $0.60, before it potentially reaches $0.69 in September 2026, closing that year at $0.7154.
Next, DigitalCoinPrice made an ALGO crypto price prediction that sees the coin hit $0.40 in 2022, $0.82 in 2023 and $1.14 in 2024. The growth could continue into 2025, when the forecast is for it to reach a potential $1.52, before the site suggests it could drop to $1.28 in 2026. By 2027, the site says there could be a recovery to $1.83, reaching $2.59 in 2028 and closing the decade at $3.64. The site then makes an Algorand price prediction for 2030 of $5.11, with it possibly reaching $6.94 the following year.
Gov Capital's ALGO coin price prediction has Algorand trading up to $0.40 by the end of 2022 and climbing to a little under $1.56 by the end of 2023. The site then makes an algorand price prediction for 2025 that sees it start the year at $3.09, reaching $4.40 on 22 September and closing 2025 at $4.63.
Finally, WalletInvestor casts a far more bearish note in its ALGO price prediction. The site says there could be a tough 12 months ahead for the coin, saying it could drop to a mere $0.01036 by September 2023.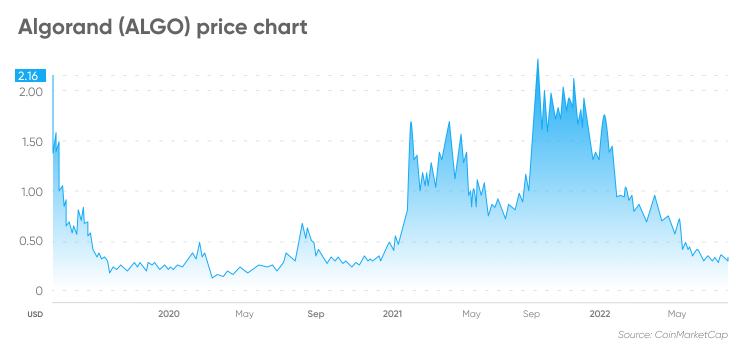 When considering an ALGO price prediction, it's important to keep in mind that cryptocurrency markets remain extremely volatile, making it difficult to accurately predict what a coin or token's price will be in a few hours, and even harder to give long-term estimates. As such, analysts and algorithm-based forecasters can and do get their predictions wrong.
If you are considering investing in cryptocurrency tokens, we recommend that you always do your own research. Look at the latest market trends, news, technical and fundamental analysis, and expert opinion before making any investment decision. Keep in mind that past performance is no guarantee of future returns. And never trade with money that you cannot afford to lose.
FAQs
Is ALGO a good investment?

It is hard to say. A lot will depend on what Algorand does next, as well as how the market performs as a whole.

Remember, you should always carry out your own thorough research before making an investment. Even high market cap cryptocurrencies have proved vulnerable to the current bear markets. So investors should be prepared to make losses and never purchase more than they can afford to lose.
Will the ALGO coin price go up or down?

It is difficult to tell. Although sites like DigitalCoinPrice are upbeat, the likes of WalletInvestor are more pessimistic. It is important to remember that price predictions very often get things wrong and that prices can go down as well as up.

In volatile cryptocurrency markets, it is important to do your own research on a coin or token to determine if it is a good fit for your investment portfolio. Whether Algorand is a suitable investment for you depends on your risk tolerance and how much you intend to invest, among other factors. Keep in mind that past performance is no guarantee of future returns. And never invest money that you cannot afford to lose.
How many ALGO coins are there?

On 22 September 2022, there were 6.93 billion ALGO in circulation out of a maximum supply of 7,349,490,307.
Is Algorand safe?

Algorand states that the blockchain is secured against attacks at the consensus and network levels, while safeguarding individual users' accounts.
Should I invest in Algorand?

This is a question that you will have to answer for yourself. Before you do so, however, you will need to conduct your own research and never invest more money than you can afford to lose because prices can go down as well as up.