Abbvie stock forecast: Can it keep up momentum?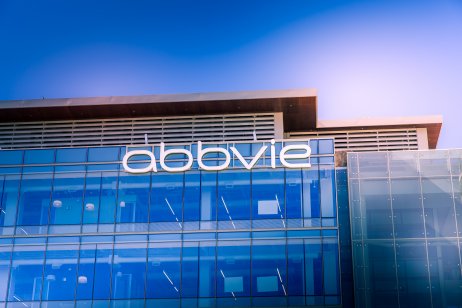 American biopharmaceutical company Abbvie (ABBV) has surged nearly 13% year to date (YTD), and 35% year-over-year (YOY), as of 30 June. This has been in spite of a string of macroeconomic headwinds such as the ongoing Russia-Ukraine war that has contributed to record high inflation in the US and the UK, and the company's psoriatic arthritis drug Adalimumab, known as Humira, facing biosimilar rivals in the US from 2023.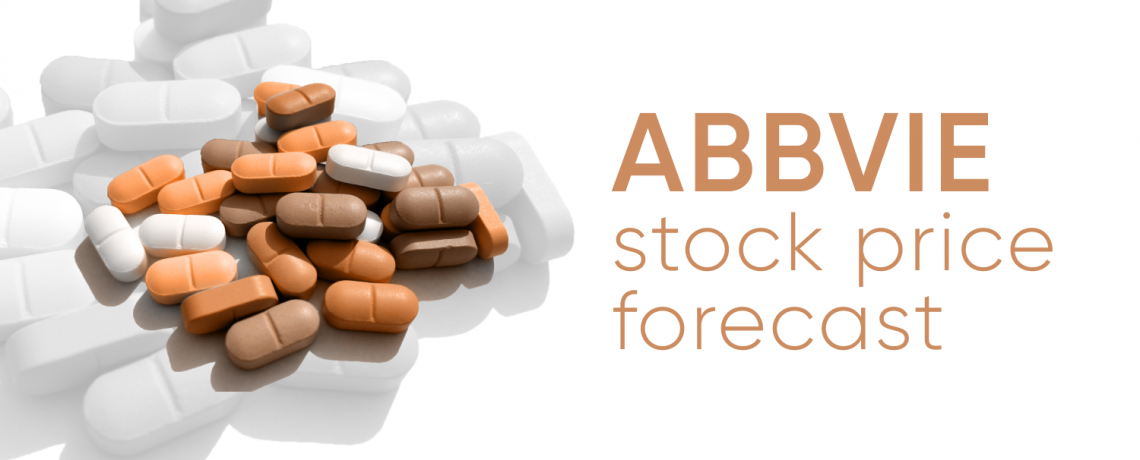 ABBV has several positive factors pushing its price performance. These are mostly related to the US Food and Drug Administration's (FDA) approval of Abbvie's drug Rinvoq for ulcerative colitis and positive top-line results from the Phase 3 induction study U-EXCEL.
In this article we take a closer look at the Abbvie stock forecast, after analysing the firm's latest earnings, price moving news and analyst comments.
Abbvie stock price analysis: Past year performance
Abbvie stock price has put up an impressive performance in 2022. The stock's growth marks a significant outperformance over the broader markets. The S&P 500 (US500) lost 9.1%, the Dow Jones (US30) slid 9.7%, and the Nasdaq Composite fell 23% during the same period.
A major reason behind Abbvie's stellar performance amid the ongoing economic crises is the resolution of the company's Humira (adalimumab) litigation with Alvotech in March 2022. Under the terms of the resolution, AbbVie will grant Alvotech a non-exclusive licence to its Humira-related patents in the US, which will begin on 1 July 2023.
According to the Abbvie stock technical analysis, as of 30 June, the Relative Strength Index (RSI) was pointing to 'neutral' at 62.18. ABBV closed at $152.49 on 29 June, which was above its 200-day moving average (MA) of 136.42, indicating a bullish signal for the stock's price movement ahead, according to data from TradingView.
According to CompaniesMarketCap, the biopharma's market capitalisation stood at $272.38bn, making it the world's 30th most valuable company.
ABBV price moving news
There has been a raft of price-moving news for Abbvie, which may positively affect the stock price.
On 14 January 2022, the FDA approved Abbvie's arthritis treatment drug, Rinvoq (upadacitinib), for the treatment of adults with moderately to severely active ulcerative colitis. Data from two Phase 3 induction studies and one maintenance study supported the approval.
In February, a Phase 3 induction study saw positive top-line results. It revealed that patients with moderate to severe Crohn's disease receiving Abbvie's Rinvoq achieved steroid-free clinical remission in significantly higher numbers than patients receiving a placebo.
That same month, the FDA extended the review period for Skyrizi (risankizumab), a treatment drug for moderate to severe Crohn's disease in patients aged 16 and older. The review period was extended by three months in order for the FDA to review additional data submitted by AbbVie. Skyrizi is a collaboration between Boehringer Ingelheim and AbbVie, with AbbVie leading development and commercialisation globally.
The company also successfully completed the acquisition of Syndesi Therapeutics SA in March. The acquisition expanded AbbVie's neuroscience portfolio, adding first-in-class modulators of the synaptic vesicle protein 2A, including lead molecule SDI-118 currently in Phase 1b studies.
Abbvie fundamental analysis: Q1 2022 earnings
Abbvie's first quarter 2022 financial results for the quarter ended 31 March revealed that diluted earnings per share (EPS) increased to $2.51 on a generally accepted accounting principles (GAAP) basis, up from $1.99 a year earlier. Net earnings also saw a steep rise to $4.49bn from $3.55bn, while net revenue jumped to $13.54bn from 13.01bn.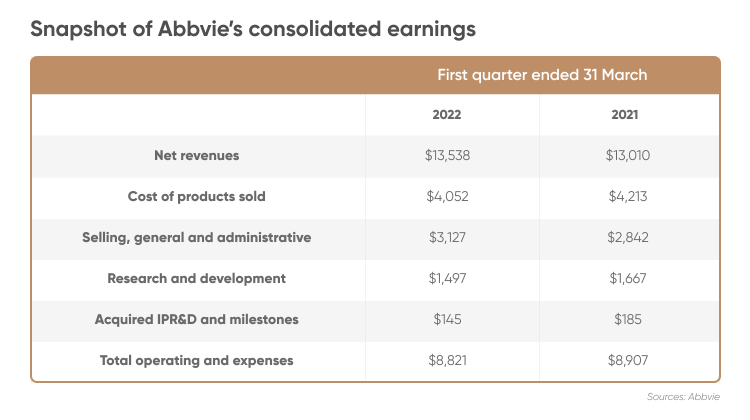 Noting the stellar earnings reported by the firm in the first quarter, Richard A. Gonzalez, chairman and CEO of AbbVie, said:
"This year is off to a strong start. Our first quarter results highlight the diversity of our portfolio and include compelling performance from key growth drivers Skyrizi, Rinvoq, Aesthetics and Neuroscience. Our momentum combined with ramping contributions from new products and new indications will drive accelerating revenue and EPS growth through the rest of the year."
An overview of the company's net revenue in Q1 shows a major portion of revenue came from its immunology portfolio, which brought in $6.14bn. Abbvie's haematologic oncology portfolio, neuroscience portfolio and aesthetics portfolio reported net revenues of $1.65bn, $1.49bn and $1.37bn, respectively.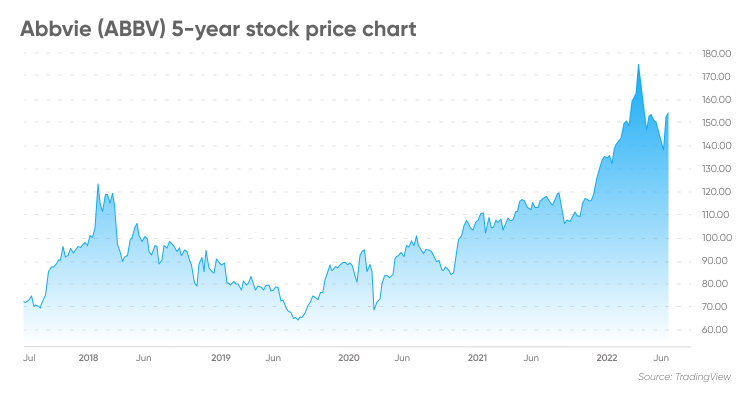 Abbvie stock forecast: Company guidance and analysts' predictions
For full year 2022, Abbvie predicted the adjusted diluted EPS guidance range at $14.00 to $14.20 and $13.92 to $14.12. This included an unfavourable impact of $0.08 a share related to acquired in-process research and development (IPR&D) and milestones expenses incurred during the March quarter.
The company's full-year adjusted diluted EPS guidance excluded any impact from acquired IPR&D and milestones that may be incurred beyond the first quarter of the year, as both cannot be reliably forecasted.
Fawad Razaqzada, market analyst for City Index and FOREX.com, commenting to Capital.com, said:
"ABBV has done very well to add to its impressive gains from the past couple of years. Year-to-date, the stock was up slightly more than 12% while benchmark global indices have all fallen sharply amid surging inflation, interest rate hikes and slowdown worries. While some of the gains are due to investor perception that it is a strong company, some view ABBV as a defensive stock, with most of the other stocks in the sector also doing well. Thus, it is likely that ABBV will continue to find support on the dips in this type of market environment."
As of 30 June, analyst ratings compiled by MarketBeat shared different price targets for Abbvie stock. The consensus rating was 'moderate buy' based on 16 analysts' ratings, with 10 recommending 'buy', five 'hold' and 'sell'.
The analysts' 12-month consensus ABBV stock price target was $159.75. It had an upside potential of 4.76%, based on the closing price of $152.49 on 29 June. The stock projection varied from the low price target of $135 to the high of $200.
Out of the most recent ratings, BMO Capital Markets' Gary Nachman raised its price target from $161 to $174 with an 'outperform' rating, while Truist Financial analyst Robyn Karnauskas raised the Abbvie stock prediction from $118 to $135 while raising rating to a 'buy'.
According to the algorithm-based forecaster Wallet Investor in its Abbvie stock forecast for 2022, the price could reach $169.852 by the end of December, $199.491 by 2023 and $229.304 by 2024. The Abbvie stock forecast for 2025 had the price at $259.018.
Although Wallet Investor did not provide targets for 2030, its longer-term Abbvie stock prediction expected the price to hit $300.386 in June 2027.
When looking for ABBV stock forecasts, it's important to bear in mind that analysts' forecasts can be wrong. Projections are based on making fundamental and technical studies of the ABBV stock price performance. Past performance is no guarantee of future results.
It is important to do your own research, and remember that your decision to trade depends on your attitude to risk, your expertise in the market, the spread of your investment portfolio and how comfortable you feel about losing money. You should never invest money you cannot afford to lose.
Is AbbVie stock a good stock to buy?

Abbvie has a strong pipeline of projects ahead, and has recently received US FDA approval of its ulcerative colitis drug Rinvoq.

Whether these factors make ABBV a good investment for you or not will depend on your portfolio composition, investment goals and risk profile, among other factors. Different trading strategies will suit different investment goals with short or long-term focus. You should do your own research and never invest money you cannot afford to lose.
Will AbbVie stock go up or down?

As of 30 June, analysts' price predictions compiled by MarketBeats and long-term forecasts by Wallet Investor projected that the ABBV stock price could rise. Wallet Investor suggested that the price could hit $300.386 in June 2027.

Note that analysts' ABBV stock forecasts can be wrong. Forecasts shouldn't be used as a substitute for your own research. Always conduct your own due diligence before investing. And never invest or trade money you cannot afford to lose.
Should I invest in the Abbvie stock?

Only you can design whether Abbvie stock is the right investment for you. Always do your own research on a stock's price performance and predictions before making an investment. Remember that past performance is not a guarantee of future results and you should never invest more money than you can afford to lose.