1inch price prediction: what is 1inch?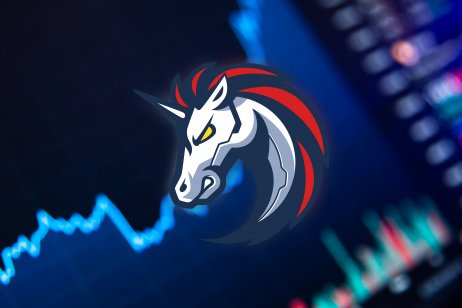 It is one of the many crypto tokens that helps power a decentralised exchange, but what is 1Inch? Let's take a look and see what we can find out, and also examine some of the 1inch price predictions that were being made as of 30 March 2023, too.
1Inch explained
One of the most important concepts in the world of both cryptocurrency and blockchain technology as a whole, is that of decentralised finance (DeFi).
This is the idea that, since there are a large number of people across the world who do not have access to traditional banking (1.7 billion, according to a 2017 report by the World Bank) but are still able to access the internet, it should be easy and straightforward for them to access financial services via an app.
Indeed, decentralisation is a key part of the world of crypto – the idea that there is no single authority figure is a key selling point for many coins, tokens and blockchain networks.
Another vital idea when it comes to crypto is that of the exchange. After all, a cryptocurrency cannot really be seen to have a value if it cannot be bought, sold or traded, and an exchange is a key driver in the trade in virtual coins and tokens.
However, there are two different kinds of crypto exchange. Firstly, there are centralised exchanges (CEX). These are the big players in the exchange world, with sites such as Binance (BNB) and Coinbase (COIN) leading the way.
The thing with CEXes is that there is some concern about their centralised nature. Some decentralisation evangelists believe that having trades subject to a centralised authority goes against the very ethos of cryptocurrency, while the fact remains that people can only trade cryptos that the CEX lists in the pairs that are available on the platforms.
Decentralised exchanges
A potential alternative to this comes in the form of the decentralised exchange, or DEX. A DEX lets people list what they want and buy for the price they are will to pay in a peer-to-peer network.
These systems use smart contracts, computer programs that automatically execute when certain conditions are met, and liquidity pools to operate. While they can be rather complex, their supporters claim that their flexibility and lack of decentralisation make them a useful solution.
There are many DEXes out there, and 1Inch is just one of them. What makes it a bit different to the many other decentralised exchanges out there is that it is a bit more than one single DEX. Rather, it collates information from the various DEXes that clutter up the blockchain and condenses everything, in theory giving customers the opportunity to find out where the best prices are and how to get them.
Every blockchain-based platform needs its own cryptocurrency, and 1Inch has the conveniently-named 1inch native token. This crypto is used to allow holders to vote on the future of the system as well as on the parameters of new products launched. Liquidity provers can vote how the pools are set up, with, as is usual for governance tokens like 1inch, a voter's power linked to the amount of tokens held.
1Inch is run by a decentralised autonomous organisation (DAO). However, the system does have two named founders, Russian developers Sergej Kunz and Anton Bukov, who came up with the concept in 2019 before the token launched the following year.
According to the system's website, there have been more than 4.4 million different wallets used on the platform and 29 million or more trades, with more than $282bn worth of money going through the network.
It is worth pointing out at this stage that 1inch is based on the Ethereum (ETH) blockchain, meaning that it is, technically speaking, a token, rather than a coin. You might see references to such things as a 1inch coin price prediction but, if we are going to be precise and accurate about such things, they are wrong.
1inch price history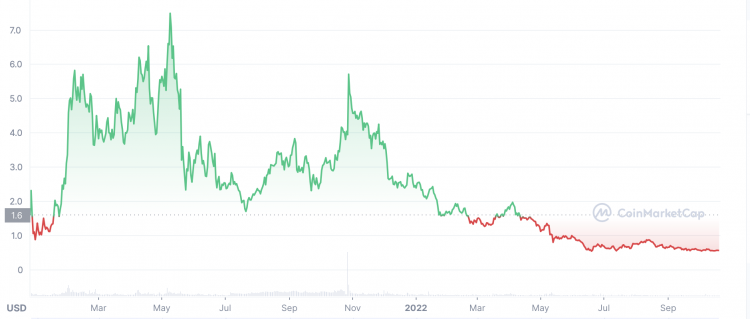 1inch price history from launch to present - Credit: CoinMarketCap
Let's now take a look at the 1inch price history. While past performance should never be taken as an indicator of future results, knowing what the token has done in the past can help give us some much needed context when it comes to either interpreting a 1inch price prediction or else making one of our own.
When 1inch first came onto the open market in late 2020, it was worth about $1.60. The start of the following year saw the crypto market explode, and 1inch was able to cash in on the bull market, reaching an all-time high of $7.87 on 8 May that year. Following that, though, it was all downhill and, despite a rally to highs over $5.70 in late October, the price ultimately slumped to close the year at $2.39.
So far, 2022 has been a bad year for crypto in general and for 1inch in particular. It looked like the fall to $1.19 in the wake of Russia's invasion of Ukraine would be the low point as the token rallied to $2.07 on 1 April. However, that turned out in to be an April Fool's Joke, with a series of market crashes bringing it to a low of $0.5178 on 18 June.
After that, there was some recovery but any hopes of a return to previous form where snuffed out following the collapse of the FTX (FTT) exchange in November and, on 30 December, 1inch sank to an all-time low of $0.3738 before it closed the year at $0.384, representing an annual loss of nearly 85%.
So far 2023 has seen the crypto market slowly recover, and 1inch has joined in with the trend. Following a series of announcements, and with a buoyant market, the token reached a high of $0.6896 on 21 February, its best price in more than six months. Although the collapse of the Silvergate bank saw it fall to $0.4159 on 10 March, it made a recovery and, on 30 March 2023, following the news that the DEX was to serve as a partner in the latest Binance (BNB) hackathon, 1INCH was worth about $0.55.
At that time, there were about 834.8 million 1inch in circulation out of a total supply of 1.5 billion. This, in turn, gave the token a market cap of around $459m, making it the 90th largest crypto by that metric.
1inch price predictions
With that all over and done with, let's take a look at some of the 1inch price predictions that were being made as of 30 March 2023. It is important to remember at this stage that price forecasts, especially when it comes to a commodity as potentially volatile as cryptocurrency, very often turn out to be wrong. Also, many long-term crypto price predictions are made using an algorithm, which means that they can change at a moment's notice.
First, CoinCodex had a short-term 1inch price prediction for 2023 that was somewhat downbeat, suggesting the token could fall to $0.5096 on 4 April before making something of a recovery to $0.5476 by 29 April. Perhaps surprisingly, the site's technical analysis for 1inch was bullish, with 22 indicators sending positive signals compared to just six making bearish ones.
Next, DigitalCoinPrice made a 1inch crypto price prediction that said the token could stand at $1.16 this year and $1.35 next year. By 2025, the site said, the crypto could stand at $1.92, reaching $2.40 in 2026, $2.77 in 2028 and closing the decade at $4.04. The site then made a 1inch price prediction for 2030 of $5.64 before arguing it could get to $7.87 in 2031 and potentially break through the $10 barrier to trade at $10.52 in 2032.
Meanwhile, CaptainAltCoin had a 1inch price forecast that claimed the token could drop in the shorter term, falling to $0.3671 in May 2023. By March 2024, though, there was the potential for recovery, with the crypto predicted to stand at $0.752. The site then went on to make a 1inch price prediction for 2025 of $1.24 before arguing it could drop to $1.15 in March 2028. By 2030, however, the forecast said things could turn around to see 1inch standing at $3.10, before it made a 1inch price prediction for 2040 of $6.20.
Finally, WalletInvestor made a 1inch token price prediction that said the token was in for a rather difficult 12 months, with the predicted price for the crypto standing at a mere $0.196 in March 2023.
When considering a 1inch token price prediction, it's important to bear in mind that cryptocurrency markets remain extremely volatile, making it difficult to accurately predict what a coin or token's price will be in a few hours, and even harder to give long-term estimates. As such, analysts and algorithm-based forecasters can and do get their predictions wrong.
If you are considering investing in cryptocurrency tokens, we recommend that you always do your own research. Look at the latest market trends, news, technical and fundamental analysis, and expert opinion before making any investment decision. Keep in mind that past performance is no guarantee of future returns. And never trade with money that you cannot afford to lose.
FAQs
Is 1inch a good investment?

It is difficult to tell. The token has been hit by downward market movements this year, and it hard to see how it can either come back or stand out in a crowded DEX market. Also, a lot will depend on how the market performs as a whole.

Remember, you should always carry out your own thorough research before making an investment. Even high-market-cap cryptocurrencies have proved vulnerable to the current bear markets. So investors should be prepared to make losses and never purchase more than they can afford to lose.
Will 1inch go up or down?

It is hard to say. While sites like CaptainAltCoin are optimistic about what could happen to the crypto, the likes of WalletInvestor are far more bearish when it comes to their 1inch price forecast. Remember, too, that price predictions very often being wrong and that prices can go down as well as up.

In volatile cryptocurrency markets, it is important to do your own research on a coin or token to determine if it is a good fit for your investment portfolio. Whether 1inch is a suitable investment for you depends on your risk tolerance and how much you intend to invest, among other factors. Keep in mind with 1inch Network coin price predictions that past performance is no guarantee of future returns. And never invest money that you cannot afford to lose.
Should I invest in 1inch Network?

Before you decide whether or not to invest in 1inch, you will need to research not only the token but also other DEX cryptos.

Ultimately, though, this is a question that you will have to answer for yourself. Before you do so, however, you will need to conduct your own research into 1inch Network crypto price predictions and never invest more money than you can afford to lose because prices can go down as well as up.