What is X? Elon Musk vows to launch 'everything app' after Twitter buyout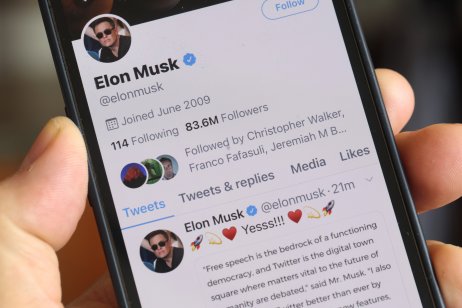 Following his lengthy Twitter buy out, Elon Musk was quick to tease his followers about a mysterious app simple known as "X"
The domain name "x.com" was owned by Musk in 1999, and was initially planned to be used for a financial services company. Before his Twitter deal was finalised, he bought back the domain.
Based on the recent chaotic attempts by Musk to reshuffle Twitter, it wouldn't be a far-fetched possibility that he completely re-brands the platform into a new social media site.
Tesla (TSLA) Price Chart
Since the Twitter vs Musk saga began in April 2022, Musk has always made clear was his belief that Twitter is in need of a change.
The Tesla (TSLA) owner's poor opinion of Twitter can easily be traced, ironically, on Twitter. Back to February 2017 he tweeted "Twitter is a hater Hellscape" And in July 2020 he tweeted "Twitter sucks"
In March 2022, Musk tweeted "Given that Twitter serves as the de facto public town square, failing to adhere to free speech principles fundamentally undermines democracy. What should be done?"
The same day he also polled his followers on the platform about whether Twitter adheres to the principle of free speech in a functioning democracy - 70% of voters said no.
It is this that sparked the idea of him taking over Twitter to make it "better" and perhaps even forming a different platform.
But two months in, jury is still out on whether Musk will be successful in improving Twitter.
Musk's subscription service known as Twitter Blue caused an increase in the number of imitation accounts on the site. A improvised version of the service was due to be release at the end of November but has now been delayed.
Key employees have been leaving the company, sparking regulatory and compliance concerns.
All of this has led brands to pause their advertisements on the site, due to risk of reputational damage. This is a serious issue for the Twitter, which earns 90% of its revenue from advertising deals. It is even a bigger issue for Musk, who needs to pay the loans he borrowed to purchase the platform for $44bn.
With "free speech" as his priority, he has in his most recent tweets accused Apple (AAPL) of not supporting Twitter in that goal.
Apple has mostly stopped advertising on Twitter. Do they hate free speech in America?

— Elon Musk (@elonmusk) November 28, 2022
After his takeover was succesful, Musk was quick to let his followers know that " Buying Twitter is an accelerant to creating X, the everything app"
His mysterious project X is something which had been in the works for a while.
The domain x.com was one he owned back in 1999, it was used as a hub for a financial services start-up which was eventually combined into another company and rebranded as PayPal (PYPL) by 2001.
In August 2022 Musk bought back the x.com domain and of course tweeted about it.
No further word yet on what exactly this app will be. However 70% of Musk's supporters who agree that Twitter does not support free speech, are sure to follow.