Warren Buffet investment sends HP (HPQ) stock flying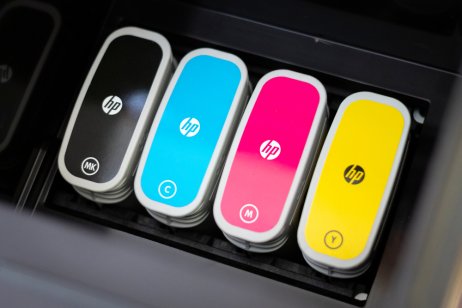 HP (HPQ) stock soared on Thursday as it was revealed that legendary investor Warren Buffett had acquired an 11.4% stake, worth over $4.2bn (£3.2bn, €3.8bn).
Buffett's Berkshire Hathaway (BRK.B), the investment firm with over $300bn (£229bn, €274bn) under management, disclosed its stake in a regulatory filing.
HP jumped 12% to $39.03 per share as trading opened Thursday in New York and was up 16% at noon.
HP (HPQ) stock
The filing shows the investment firm bought its HP stake over a three-day period at an average price of $35.77 per share.
Speaking exclusively to Capital.com, Morningstar analyst Mark Cash said the investment was an indication that Berkshire Hathaway (BH) "sees solid upside potential in HPQ, even at a mid-$30s entry point".

"The previous success of BH taking large stakes carries weight, as we see with the large share appreciation today. BH hasn't historically invested in tech often, IBM (IBM) being a miss and Apple being a hit."

The Morningstar analyst reckons that returning cash to shareholders and HP's status with the tech sector were attractive to Berkshire Hathaway.

"HP is aggressively returning capital to shareholders through buybacks and dividends (born out of defending itself from Xerox's hostile takeover attempt a couple of years ago) – including at least 100% of its free cash flow in FY22, with $4bn in share repurchases and a growing dividend. While we think the capital return program was forced on HP, it is in shareholders' interests.

"Within tech, HP can be considered a value play. It is working to diversify into market segments to help insulate from any IT or consumer spending slowdowns, so BH could envision stronger growth trajectory in higher margin spaces, but we still expect its core to be commodity PC and printer related," Morningstar's Cash said.
What is your sentiment on HPQ?
Vote to see Traders sentiment!
'The Sage of Omaha'
Known as "The Sage of Omaha", Warren Buffett is the world's most closely watched investor who follows the concept of "value investing", buying into big-name, dividend-paying companies which have strong business fundamentals.
Amongst Buffett's investments are Apple (AAPL), Coca-Cola (KO) and Bank of America (BAC). Berkshire Hathaway A-stock is the most expensive in the world, trading at over half a million dollars each but it has outperformed key indices over Buffett's 60-plus years at the helm.
The HP stake is the latest in a series of investments made by Berkshire Hathaway over the past month: it disclosed a 14.6% stake in Occidental Petroleum (OXY) and bought insurance company Alleghany (Y) for $11.6bn.
Oldest startup
Originally known as Hewlett-Packard, HP is the original Silicon Valley start-up that traces its origins to a Palo Alto, California garage in the 1930's. The company founded by William Hewlett and David Packard started out making audio equipment components and is currently focused on computers, printers and peripherals.
It spun-off its server and network equipment business into Hewlett Packard Enterprise (HPE) in 2015.
Taking advantage of the work-from-home trend, HP recently bought Poly, a maker of phones and video conference systems whose headsets were worn by Apollo astronauts.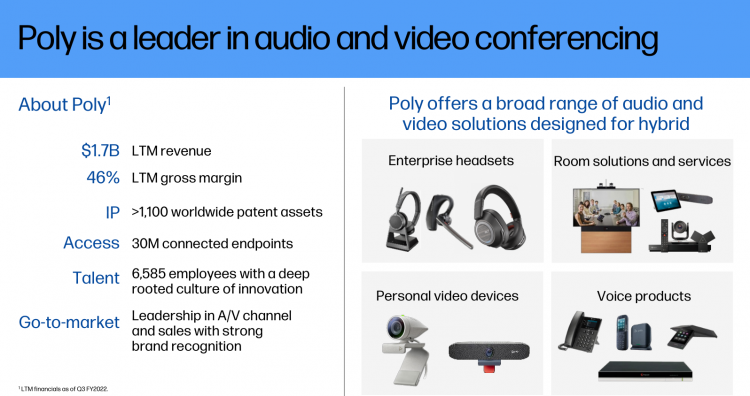 HP
HP already owns Teradici, a maker of remote computing hardware.
In late February, HP also reported earnings for the fiscal first-quarter ended 31 January. Net revenue rose 8.8% to $17bn. Net earnings were up 1% to $1.2bn.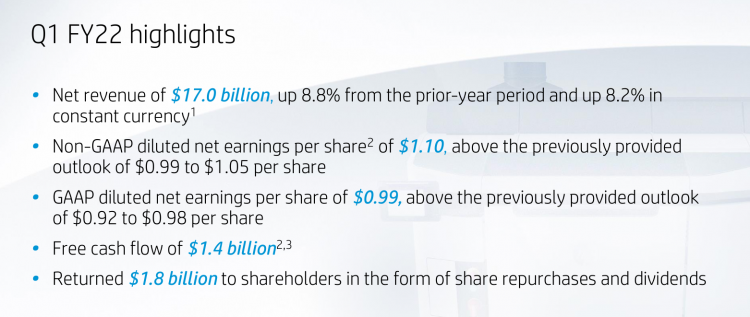 HP